Three Components to Proper Orchid Care
Most people think that caring for orchids is a difficult and time consuming task that is reserved only for the rich. This is a serious misconception. The truth is that there are over 25,000 species and more than 100,000 hybrids of orchids. The abundance of orchid types makes it possible for anyone to find an orchid that will fit their lifestyle, resources, and level of skill as a horticulturist.
Although some orchids have special requirements, in most cases orchids require th
e same amount of care as any other house or garden plant. There is one thing you must always keep in mind when caring for any plant. You need to find out the particular requirements that your flower needs. If you are looking for an orchid that is easy to care for, ask for the phaleanopsis. This is the popular white or purple orchid that you have probably received as a gift or purchased in a store. For all other orchids, we recommend asking about their specific requirements upon purchase. In addition, adhere to the simple steps below and you should be able to keep your flowers blooming throughout the season.
If taken care of correctly, orchids will bloom for at least three months. There are three main components to proper orchid care: lighting, watering, and pruning.
Lighting
First, you must make sure that your orchid plant is receiving the proper lighting. Your orchid needs to be placed by a window so that it can receive sunlight throughout the day. However, be careful to avoid the midday sun and instead focus on giving your flower morning and evening sunlight. For this reason, you should place your orchid in the eastern side of your home. If this is not an option for you, you can always substitute natural sunlight with fluorescent lights. Be sure to place the lights about a foot above the orchid's flowers, and limit exposure to normal daylight hours.
Temperature
Second, beware of the temperature and remember to water your orchids properly. Orchids thrive in temperatures above 55 degrees Fahrenheit but no higher than 80 degrees. Orchids exposed to temperatures over 90 degrees will most likely lose their buds or will stop blooming at all. To counteract any overexposure to heat you must water the flower so that it says moist. Always be sure not to over water the roots because this can kill the plant entirely. It is best to either water the plant once every ten weeks, or simply keep the orchid in a water tray constantly. Again, make sure that the roots do not touch the water tray or it will soak up too much water.
Pruning
Lastly, a great tip for maintaining your orchid and keeping it in bloom as long as possible is to fertilize the plant before it blooms. Then, once it has bloomed you will not need to fertilize it again. In conjunction with this, you should also carefully prune the orchid while it is in bloom. You will then make it possible for a second set of flowers develop. With proper adherence to these simple guidelines, you will be able to grow your own beautiful orchid plant that will exhibit a rich and healthy bloom throughout the season.
Read More Articles
Dealing with Fertilizer Powders
Eliminating Spider Mites from Houseplants
Orchid Roots and Culture are Connected
Presoaking Inert Media for Orchids
Provided by EzineArticles.com

Why Should You Consider Planting Spring-Planted Bulbs in Your Garden?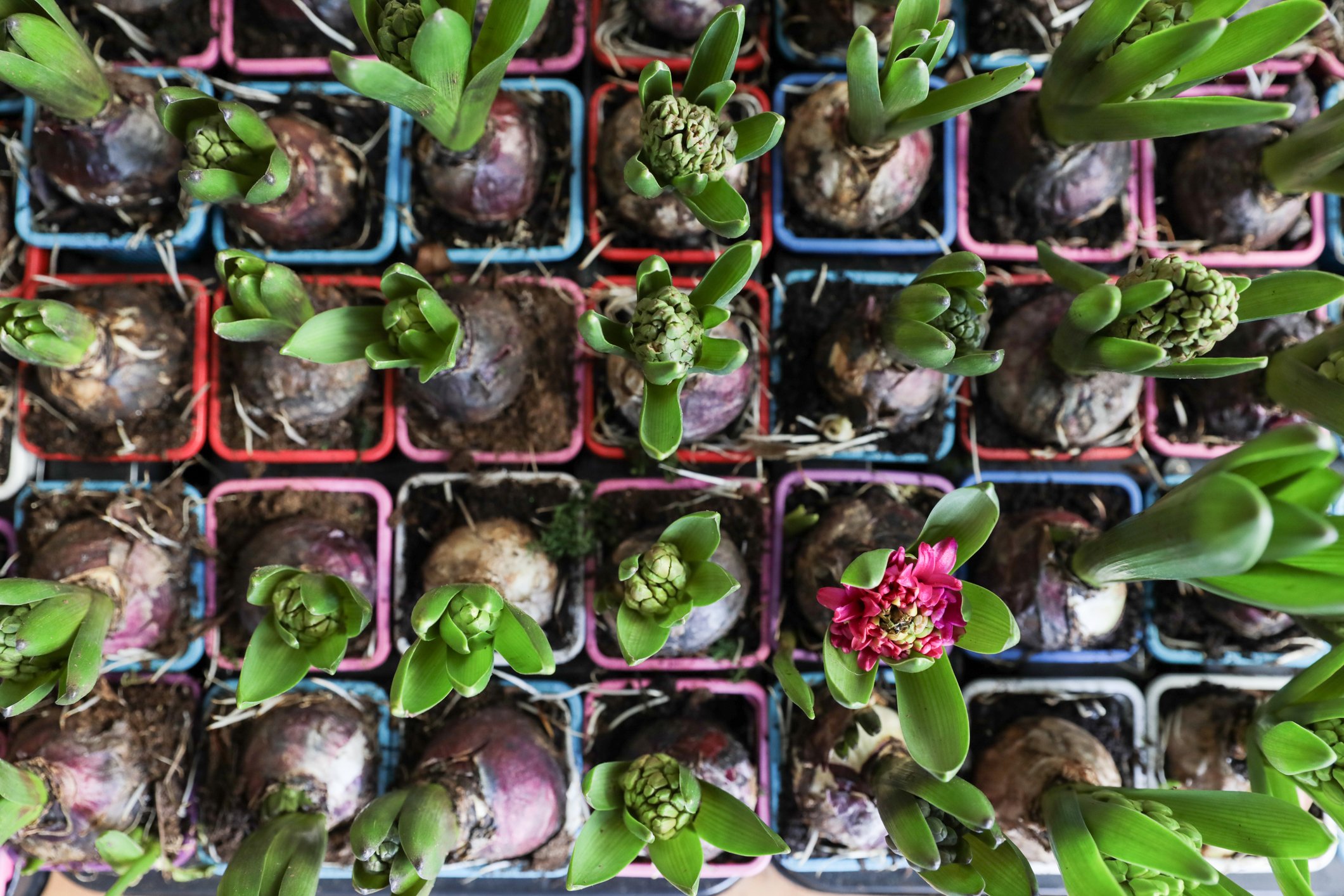 Spring is a great time to plant bulbs in your garden! Not only do they add a pop of color, but they also provide a number of benefits. In this blog post, we'll outline the benefits of planting spring planted bulbs in your garden. We'll discuss what bulbs are, what flowers come from bulbs, how to plant them, when to plant them, and how to care for them. So, go ahead and plant some spring-planted bulbs in your garden this spring!
What Are Spring Bulbs?
Do you love the beauty and colors of springtime? If so, then you should consider planting spring bulbs in your garden. Spring bulbs are a popular type of flower that is planted in the springtime. They come in many different colors and are known for their beautiful blooms. Not only do they add beauty to your garden, but they are also easy to care for.
When selecting spring bulbs for your garden, it's important to choose ones that look good together and have a variety of colors. Some of the most popular types of spring bulbs include tulips (a yellow bulb), daffodils (a blue or purple bulb), crocuses (a white or multicolored bulb), and hyacinths (an orange or yellow flower). When selecting which ones to plant, it's best to choose a mixture so that your garden looks colorful throughout the year.
What Flowers Come from Spring-Planted Bulbs?
There's no better way to add color and brightness to your garden than by planting bulbs. Not only are they easy to care for, but they also come back year after year. When choosing which bulbs to plant in your garden, it's important to consider what flowers you want them to produce. Some common bulbs you can plant include tulips, daffodils, hyacinths, and crocuses. All these bulbs will produce beautiful flowers that will add a touch of color and brightness to your garden. You can also choose to plant other types of bulbs, such as grape hyacinths or lily-of-the-valley bulbs. These plants produce smaller flowers but are very fragrant.
The Advantages of Planting Spring-Planted Bulbs
Do you love the look of brightly colored flowers in your garden, but you don't have the time or energy to tend to them? Planting spring-planted bulbs is a great way to add color and interest to your garden without any of the work. Bulbs are easy to care for and require very little maintenance—all you need is some water and sunshine. Plus, bulbs can be planted in a wide variety of locations, including in pots and containers. This makes them perfect for adding interest to any area of your garden.
Another advantage of planting bulbs is that they are relatively inexpensive. You can buy a large container of bulbs for just a few dollars, and they will last for many years with proper care. Plus, bulb plants are relatively easy to transplant if you ever want to move them somewhere else in your garden. Last but not least, planting bulbs is a great way to add color and brightness to your garden all year long!
How to Plant Spring Bulbs?
Color is one of the most important factors when it comes to garden design, and spring-planted bulbs are a great way to add some extra color to your landscape. Not only are they beautiful on their own, but they also provide a wonderful contrast against the cooler colors that will be in season during the summer. Spring-planted bulbs are easy to plant and care for, and there are a variety of different varieties available that will perfectly complement your garden.
When Should You Plant Spring Bulbs?
With the arrival of spring, it's time to start thinking about planting bulbs in your garden. There are a variety of beautiful bulbs that can be planted in the spring, and they're easy to care for, making them a great choice for someone who wants to add color and interest to their yard without much effort.
Consider the season when deciding which bulb to plant in your garden. Spring-planted bulbs will typically bloom earlier than bulbs planted in the fall, so make sure you choose the right one for your garden. There are a variety of different types of spring-planted bulbs to choose from, so find one that will fit well into your landscaping. With a little planning and effort, you can have a beautiful garden that blooms all year.
How to Care for Spring-Planted Bulbs?
Spring is a wonderful time to plant bulbs in your garden. Here are a few tips on how to get started:
First, be sure to research which types of bulbs work best for your garden and climate. Some popular choices include tulips, daffodils, hyacinths, and crocuses. Once you've selected the bulbs you want to buy, purchase them in advance so that you have plenty of time to plant them in the ground or in pots.
Once you have your bulbs home, it's time to take care of them! Make sure that their soil is moist but not soggy – this is crucial for bulb growth. Water them regularly during dry weather, and be sure not to overwater them, as this can damage their roots. When the flowers start blooming, cut the stems close to the ground so that the bulb will continue flowering indoors. After the flowers fade away (usually around mid-March), allow the foliage (orchids tend not to shed their leaves) to die back naturally. Enjoy your beautiful spring-planted bulbs!
In Short
Spring bulbs are a great way to add color and life to your garden. Planting these bulbs will provide you with beautiful flowers throughout the spring and summer. Bulbs are easy to care for and can be planted in almost any type of soil. Be sure to plant your bulbs in the fall so that they have time to establish themselves before the first frost. With a little love and care, your spring bulbs will thrive and bring you enjoyment for years to come.