The Differences Between Pure Neem Extract and Neem Oil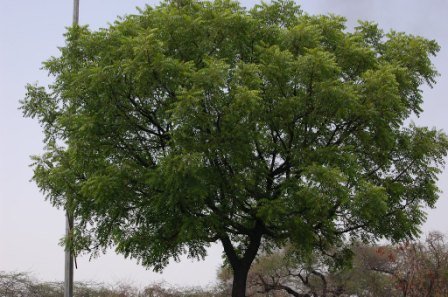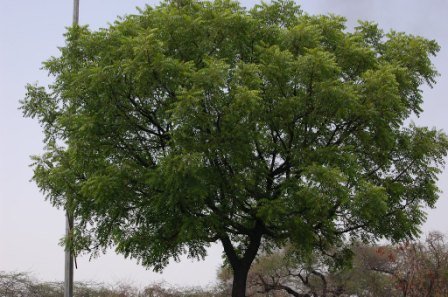 Articles written in Sanskrit are proof that people have been using neem for thousands of years. Neem seeds are pressed and what oozes out is neem oil. But starting in 2005, research scientists that retired from a global chemical company found a way to extract the pure neem extract from neem seeds – capturing 93% of the bioactive ingredients from the Neem trees in Africa.
This pure neem extract is a highly concentrated liquid that is mixed with water [two drops per one ounce of water] and applied to plants as a foliar spray once a week. The plants quickly transform and take on the properties of robust and healthy neem trees from Africa. Over centuries, these trees have evolved and adapted to survive and even thrive in the harshest climates on earth—such as sub-Saharan Africa. Many times these trees are visible whenever you see an African lion safari on TV. You observe the dry desolate landscape and then, in the middle of nowhere, you see a giant, lush, green tree. They are absolutely loaded with bioactive nutrients, and have an active ingredient called Azadirachtin that protects it from harmful pests.
When a locust swarm passes through eating everything in sight, the only plants left are the ones with Azadirachtin. Azadirachtin does not poison the insects like a pesticide; instead, it triggers a stop eating response and the bugs will ultimately starve to death. Harmful pests have learned that they don't want to be anywhere near these plants, so they avoid them. African villagers also like to gather under these trees because they provide the best shade (they remain green all year) and there are no bugs anywhere near them.
In May 2013, industry author "Grubbycup" wrote an article titled, "Blessed by Neem" that was published in another magazine that gives the best explanation I've seen of how and why pure neem extract works the way it does.  According to this article, extracts from the neem tree are often used to treat a variety of insect problems. Pests that can be treated with them include: aphids, beetles, cockroaches, flies, fruit flies, fungal infections, grasshoppers, leafminers, mosquitoes, moths, nematodes, snails, spider mites and thrips. Neem is an EPA-approved pesticide that is not only fairly non-toxic to people and animals, but also to beneficial insects including bees.
Quoting Grubbycup: "One of the most potent components in neem is the limonoid Azadirachtin, which causes some insect larvae to be unable to metamorphosize, and thus prevent them from becoming adults and reproducing."
He said that Azadirachtin is similar in structure to the hormones used by insects to control development. Once introduced, it blocks the normal functioning of these hormones and prevents the insects from becoming sexually mature. It is also responsible for a fair amount of neem's repellant properties. Neem also contains the limonoids salannin and meliantriol (both inhibit feeding) and nimbin, which has antiviral properties.
The extraction process is complicated, but the basic concept is simple: capture the biotechnology of robust, healthy trees (Neem) that have adapted to the harsh climates of sub-Saharan Africa and transfer those properties to plants grown in the United States.  Organibliss™ is an all-natural plant growth enhancer [fertilizer] that is primarily pure Neem extract that captures 93% of the bioactive ingredients from the Neem tree. It controls harmful pests such as spider mites, controls plant diseases such as Powdery Mildew and significantly increases the yield (average of 30 – 50%).
James E. Kostrava, is CEO & Founder of Organibliss, LLC.  He can be reached at 989.839.2342 or email: Jkostrava@organibliss.com and you can visit their website at Organibliss.com.
Want more information? Read these articles:
Azadirachtin and Neem: What is the Difference?
Neem Oil is an Amazing Product
Solving and Preventing Garden Fungi Problems Naturally
The Proper Use of Organic Sprays and Pesticides

A Dream: Retiring in Canada
Introduction
The prime of a person's life is represented by the golden years. If you've put in a lifetime of hard work, responsibility, and adhering to a strict work schedule, you can finally retire to your "cape" and relax in your own home, which need not be in the city where you currently reside. If you have made the decision to relocate for your retirement, you may be looking for the best Canadian city to retire to spend your time in.
Even if you already have a list of preferences for where you want to retire, this list can be a great resource. The adoption of a pragmatic and practical approach when selecting a retirement city can help you enjoy a happy and financially secure retirement.
Everyone has their own set of preferences, priorities, likes, and dislikes when it comes to just about anything and everything. This includes everything from minor details such as a favorite cup of coffee to major decisions such as choosing the right career path. As a result, it is understandable that each individual would have their own ideas about how and where to spend their retirement years.
Fredericton, NB
The city of Fredericton serves as the provincial capital of the province of New Brunswick. Although it is a small city in terms of population for a capital, it is a fortunate mix for retirees. In spite of the fact that the city is not particularly crowded, its status as the regional capital means that it has many amenities that a city of its size does not typically have (though public transportation is not available on Sundays). Real estate prices are low enough that you can afford a home if you have enough savings, which is especially true if you are looking to purchase a condominium.
In addition, the rent is significantly less expensive. It has a humid continental climate and is located on the banks of the river. So, if you like to fish, it could be a fantastic place to settle down in. For a city of its size, the city has a large number of historical buildings and museums, as well as parks and gardens. It also hosts a large number of festivals. The city's largest hospital, which has more than 300 beds and several specialists, as well as a level 3 trauma center.
It's possible that Fredericton will be the perfect place for you if you're looking for a nice, affordable blend of nature and a moderately large city.
Kingston, Ontario
When it comes to living in a city where half of the population is made up of young students rather than old retirees like yourself, Kingston might be the best Canadian city to retire to. Because of its strategic location, it has a long and illustrious history, particularly in the military sphere.
As a retiree, you'd appreciate Kingston's laid-back atmosphere and easygoing pace of life. Almost half of the year, the city is bathed in sunshine. Transport in the local area is efficient, quick, and reasonably priced. One of Kingston's most significant assets, however, may be its world-class medical facilities. Kingston General Hospital is one of the largest hospitals in the province of Ontario and is located in Kingston. Many wonderful places to visit or spend your retirement time in the city, such as Lake Ontario Park and the Museum of Healthcare, which is the only museum of its kind in the country, are available to you. Many outdoor activities are available to you in the city as well, including sailing, fishing, golf, and hiking, among many others.
Burlington, Ontario
There are 115 parks in the small community of Burlington, so getting some exercise and fresh air will not be a problem. Given that it's only about 40 minutes away from Toronto, it's possible that you'll enjoy living in this charming little town if you have family in the city. It has a vibrant creative community as well as a sufficient number of art venues, especially given the size of the city. In addition, the city is very bicycle-friendly.
Even though there is a major hospital in the town, you may need to travel to Hamilton, which is not far away, if you have a serious medical problem. The high cost of living in Burlington is a chink in the city's armor. Even if you decide to rent a place in the city, you may find it to be an expensive place to live. However, if you can find a way to avoid this expense (by living in a co-op or a small house, for example), the city will appear to be quite affordable. Alternatively, you can choose one of the city's retirement homes. In addition, the city offers a diverse range of retirement living options, including active retirement living, assisted living, and home care.
Kelowna, BC
When it happens to come to retirement homes, Kelowna is a bit of a cliche, to say the least. Until the most recent census, retirees accounted for more than 18 percent of the population, which is significantly higher than the national average. This city experiences all four seasons, although housing can be expensive (especially if you try to live near the lake). If you are an oenophile (a fancy way of saying wine enthusiast), Kelowna is the place to be. It's the perfect combination of nature, peace, and the big-city hustle and bustle (especially in tourist season).
If you don't mind living a little outside of the city for cheaper housing, if you enjoy driving and taking part in outdoor recreational activities such as picnics by the lake, you might find Kelowna to be a reasonable price. The primary medical facility, for example, is quite large, with over 700 beds, and the number of doctors per capita is sufficient given the city's population density. The dry weather is a major draw for many retirees who come to this city to enjoy their golden years.