Perfecting Nutrient Delivery Through Fertigation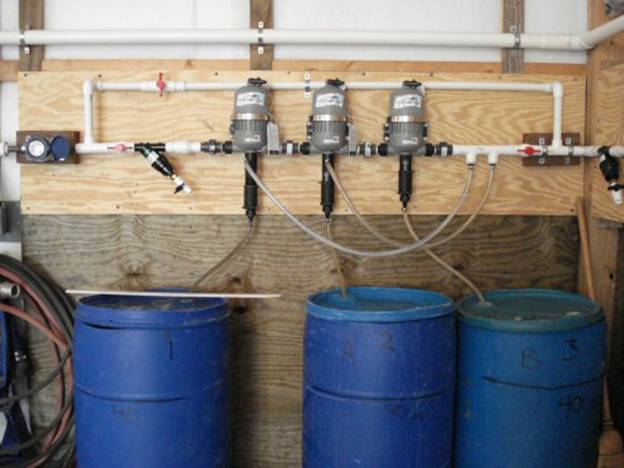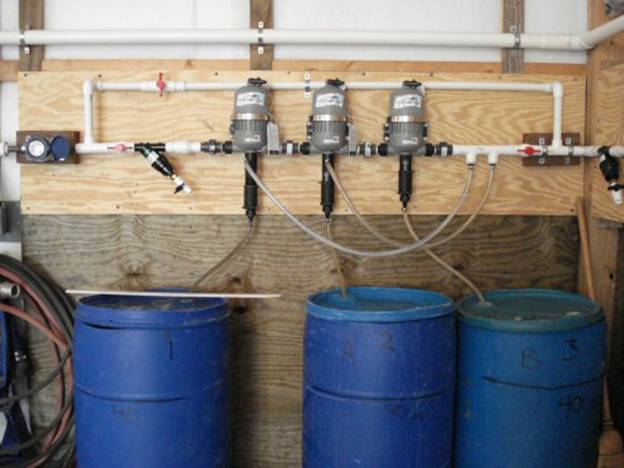 Nutrient management can get tricky, even for the most seasoned grower. Finding the ideal nutrient delivery method may involve some degree of trial and error, but there a number of factors that can help growers narrow down what nutrient delivery method makes the most sense, based on their crop needs.
Fertigation, which is a combination of the words fertilization and irrigation, is the process of adding water-soluble nutrients into an irrigation system. Fertigation can be accomplished in three ways, by hand, using a dilute tank or an in-line injection system.
Hand-Feed Only When Necessary
Hand-measuring nutrients and water is not only tedious, it also carries a high rate of error. It's quite common for growers to overdose or under dose fertilizer and incorrectly distribute it. One mistake can devastate yield and force growers to begin the growing cycle from scratch. However, it's important to note that when plants require a pesticide or a cleanser, hand measuring is perfectly acceptable, as manually dosing pesticides or cleanser greatly helps in avoiding unnecessary damage to the plant.
Micro dosing, or the act of constantly spoon-feeding small amount of nutrients to soil-based crops, is another part of fertilization that growers can overlook. Will Kacheris, who's helped many growers implement automated fertigation systems at GrowSpan, explained, "Micro dosing is an important part of a commercial operation where certain yields and distinct properties of plants are expected by the buyer, think of a certain color flower, therefore nutrients must be precisely delivered to the plant."
He continued, "Additionally, and probably most known, is that micro dosing significantly reduces fertilizer cost and waste instead of spreading it through an entire area, usually doing nothing but feeding weeds."
Although micro dosing may become time-consuming, growers at least won't have to bother with temperature or moisture adjustments in order to activate the nutrients. A grower can feed a crop exclusively for a desired color, gaining the ultimate control over the plant.
Dilute Tanks Versus In-Line Injectors
Dilute tanks are considered the simplest method of fertigation and can be operated manually or with full automation. The mixing and distribution process are separated, meaning that the feed solution can be taken out of the tank without it negatively affecting the accuracy of the dosage. Dilute tanks can also save a grower a last-minute trip to get fertilizer if they unexpectedly run out, since there will be a pre-made feed solution ready to go.  Growers are advised to opt for a dilute tank control system if the entire crop can be given a single nutrient solution, the water pH doesn't need to be adjusted often and the solution strength does not change frequently.
In-line injection systems continuously inject feed solution into the water stream and then mix them together further down the line of the fertigator. An in-line injection system is more appropriate when crops need more than one nutrient formula and the solution strength must be adjusted when necessary. This method is commonly practiced in commercial hydroponics. In-line injection operates on the main water supply and does not require a central reservoir to hold plant nutrients. This saves growers time, since they can skip the process of filling up batch tanks with fertilizer. Although these systems are more popular than dilute tanks, they must be properly designed and maintained in order to deliver accurate doses. A low buffer volume and inadequate blending can result in dosing errors.
Automation Improves Growth and Quality
Before committing to a fertigation setup, growers need to assess whether or not automation makes sense for their needs. If all the crops can be fed with the same solution and the irrigation drain water does not need to be
recirculated, a non-automated setup is perfectly adequate. Conversely, if multiple solutions need to be injected for one feeding and irrigation drain water is going to be recirculated, an automated fertigator is recommended.
For growers at the commercial level or looking to scale up to it, automated fertigation simplifies the fertilizing process, while also making it more precise. Automated fertigation can significantly improve water and nutrient absorption, reduce fertilizer usage and strengthen the root systems, thereby lowering the risk of disease.
Advancements in fertigation technology have made the automated fertigation process extremely efficient and well-worth the initial investment, especially for professional growers. Any growing operation can have their automated fertigator fully integrated into their environmental control system via Wi-Fi.
Drip fertigation, a type of in-line injecting system, is the most popular way to fertigate hydroponically-grown crops. It makes use of piping with a very small diameter that delivers water and nutrients to the plant's root zone. Studies have shown that automating this process can support important growth factors, such as plant height, number of days to initial budding and fruit size. Long-life plants do well with drip fertigation, although plants with short lifespans may require a different setup.
Kacheris explained, "For shorter life plants, floating rafts or NFT are more efficient uses of space and media, but a crop like tomatoes or cucumbers will benefit from room to spread its roots. In terms of nutrient delivery, both options are much, much better than sprinklers, which waste an incredible amount of water when used improperly."
Substrate moisture sensors are one of the newer facets of automated drip irrigation technology. When the sensors detect low moisture levels, they trigger irrigation from the fertigator, ensuring that plants always receive an appropriate amount of water. Substrate moisture sensors are excellent ways to conserve water. Some moisture sensors can also measure electrical conductivity (EC) and temperature, as well. These sensors work best when placed in spots that are likely to dry out the fastest, however they can also be put in plants that dry slowly. Moisture sensors can greatly aid in lowering water consumption and avoiding disease and pathogens.
Don't Overdo Nutrients
Growers should always be cognizant of nutrient concentration levels before using fertilizer in any type of fertigation set-up. NPK refers to the ratio of nitrogen, phosphorus and potassium in a given nutrient solution. These three macro-nutrients are the building blocks of plant growth, so it is essential for growers to know exactly how much they are providing. The higher the number, the higher the concentration of each nutrient. For instance, a fertilizer that reads 10-30-20 will contain ten percent nitrogen, thirty percent phosphorus and twenty percent potassium. Different crops have their own NPK requirements, so growers must match the fertilizer with the nutrient needs of their plant.
When selecting a fertilizer, growers should also ensure that it's high in nutrients, dissolves quickly and is completely soluble with the water, type of substrate and irrigation system it will be used with. The incorrect fertilizer can clog or corrode an irrigation system, so it's crucial for growers to verify that they're using the correct nutrients.
Equally important to using the correct nutrients, is using the right amount of them. Nutrient solutions can be more concentrated than they need to be, so ensuring the appropriate water-to-nutrient ratio prior to feeding can spare a crop from being poisoned by too much nitrogen, phosphorus or potassium. Additionally, growers must make a habit of flushing the fertigation system before turning it off to clear out lingering nutrients. Forgetting to flush the system too many times can lead to clogged lines.
As with the use of any chemicals, there is the potential for accidental leaks, which can contaminate a local water supply. Avoid this by making sure a backflow prevention device and a spill tray are installed on the fertigator. Backflow prevention laws vary from state to state, so it's important for growers to be aware of their local requirements.
By consistently maintaining healthy soil moisture and delivering nutrients with ideal NPK ratios, growers can see the fruits of their labor truly pay off. The benefits of integrating an automated fertigation system are twofold. First and foremost, growers can raise crop quality by a considerable amount, raising the monetary value of their product. Secondly, automation noticeably improves water and fertilizer economy, which cuts down on production costs. A properly installed automated fertigation system can empower growers to take control at every level of the growing process, no matter what kind of crops are grown.
Background information for this article was provided by GrowSpan. For more information visit GrowSpan.com.
Read More Articles
Drip Irrigation for Greenhouses
Effectively Integrating Drip Irrigation & Fertigation into Growing Operations
How to Winterize Your Irrigation System
Understanding Direct Irrigation Technology

Preventing Pest Infestations in a Greenhouse
The spring season brings new beginnings for plant growth. The landscape becomes green again and multitudes of colors and fragrances fill the air as flowers break through the ground's surface. The new life brought on by spring is rejuvenating for horticulturists. It is not just plants and flowers that "come alive" during this time of year. Just as new plant life emerges all around us in spring, new life for pest insects is also resurrected. As temperatures rise and the summer months approach, more and more insects leave dormancy and begin new life cycles. This is why it is so important for greenhouse gardeners to be aware of and take counter measures against pest insects during the spring and early summer seasons. In many cases, a few simple preventative steps can reduce the likelihood of a devastating pest insect attack.
Sanitation
Sanitation is the number one defense against pest insect infestations. Keeping the greenhouse and the plants clean and tidy can do wonders in preventing pest insects and pathogens. Periodically wiping down the surface of the greenhouse and removing dead or dying vegetation will greatly reduce the possibility of pest insects. Plants should be closely monitored for pest insects on a weekly basis (at the very least).
It is a good idea to set up a quarantine area in the greenhouse. Whenever a new plant is purchased or gifted, it should be quarantined immediately for a week or two to ensure it does not harbor pest insects. After the quarantine period is over and the plant has received a clean bill of health, it may join the other plants in the greenhouse. Bringing new plants into a greenhouse is the most common way a greenhouse gardener will introduce pest insects into his or her own garden. If pest insects are observed on any new plant, it should be thoroughly treated before being introduced to the other plants in the greenhouse.
Monitoring for Pests
As previously mentioned, it is important for greenhouse growers to monitor their gardens for any signs of pest insects. Yellow sticky traps are great tools for monitoring a greenhouse. Yellow sticky traps are similar to fly paper in that they "catch" flying insects in a glue-like substance. By closely examining the yellow sticky trap, a gardener can see if and what types of pest insects are present in the garden. Yellow sticky traps allow a horticulturist to identify potential problems before they get out of hand.
Identifying the Pest Insect
Identifying the pest insect early and accurately is vital to stopping a few pest insects from becoming an infestation. When monitoring the plants, there are some tell-tale signs that will indicate which pest insect a gardener may be dealing with.
Spider Mites
The first sign of a spider mite problem usually shows up in the form of yellow speckling on the surface of the leaves, which is caused by the insects sucking nutrients from the underside of the plant leaves. The speckling from spider mite damage will resemble light yellow spray paint misted on the leaves. Closer examination of the bottom of the leaves will reveal clusters of very tiny red mites and their eggs. A magnifying glass may be necessary to see them. In more extreme infestations, webbing may be found in-between or on the tips of branches and leaves. This webbing looks very much like a spider web and is how these nasty bugs received their name. Spider mites are difficult to get rid of and require a miticide for treatment.
Mealybugs
The first sign of mealybugs is normally cotton-like, fluffy masses found in the crotches or joints of the plant, typically near young tender growth. These tiny "cotton balls" are actually clusters of the slow moving mealybugs. These bugs can reproduce and lay eggs every seven days, so they should be treated immediately to reduce any possible contaminations. It's difficult to kill the eggs, often in the soil, so it's important to treat for live mealy bugs every five to seven days for three to four weeks to terminate all adults before they become mature enough to lay eggs.
Fungus Gnats
The first sign of a fungus gnat problem is typically the small, mosquito-like, black or gray insects that fly around aimlessly. They are most prevalent right after a watering or when the soil is disturbed. Fungus gnat larvae look like tiny, light-colored worms that wiggle around in the top layer of soil. They can sometimes be seen "dancing" in standing water after a feeding.
Thrips
The first sign of a thrip issue is usually "shiny streaks" that show up on the surface of the leaves. The shiny trails are actually the areas of the leaf where the thrip larvae have been feeding. Gardeners may also notice tiny black specs on the leaf surface; this is actually the larvae's fecal matter. To the naked eye, thrip larvae resemble fast moving grains of rice. The larvae can be many different colors, but are usually yellowish-green.
Scale
The first sign of scale is usually a protective covering or bumps on the stems and stalks of the plants. The females lay eggs underneath the protective covering, which will hatch in one to three weeks. The newly hatched nymphs leave the protective covering as tiny white specs and move around the plant to feed. Nymphs insert their piercing mouthparts into the plant and begin to feed, gradually developing their own protective covering as they turn into immobile adults. Scale do not pupate and may have several overlapping generations in one season. A scale infestation is difficult to eliminate and requires a systemic insecticide.
Treatment and Control
Early detection and treatment diligence are the keys to eradicating pest insects. A gardener can start treatment with an organic or all-natural insecticide that is designed for the particular pest insect he or she is battling. Yellow sticky traps are effective in capturing most flying insects, such as fungus gnats and white flies. Denatured alcohol is highly effective as a combatant against mealy bugs and scale by wiping it on the infected areas with a cotton swab or small paint brush. Pyrethrum is an organic derivative of the chrysanthemum plant and is extremely effective against many greenhouse pest insects. Pyrethrum is the primary ingredient in several commercial spray products commonly available at most garden centers. In some cases, a pest insect (scale and mites), cannot be controlled with an organic or all-natural approach.
When this occurs, the gardener may need to implement a systemic chemical control. Systemic pesticides, such as Orthene, are effective against pest insects because they enter the plant's tissue and kill the bugs as they feed on the plant tissue. Regardless of the treatment program, horticulturists should always use caution and be sure to read the manufacturer's directions for application.
For more information visit ArcadiaGlasshouse.com