Eliminating Those Pesky Whiteflies
 Your plants were thriving and everything was growing great, but now they don't seem to be producing as well and have an unhealthy appearance. On closer inspection you find tiny white "moths" resting on the underside of the leaves and if you disturb them they flutter and fly around the plant. Whiteflies are a common nuisance in greenhouses, and if left unchecked can cause great damage or even kill your plants.
There are over 1,200 different varieties of whiteflies, although the greenhouse whitefly (Trialeurodes vaporariorum), sweet potato whitefly Bemisia tabaci, and silverleaf whitefly Bemisia argentifolii are the most common varieties found. Whiteflies are not true flies, but are in the same family as mealy bugs, scales, and aphids. They lay their eggs on the underside of leaves, each one on a short stalk. Eggs are pearly white when first laid and gradually become brown or dark grey before hatching.
Young nymphs resemble tiny mealy bugs or aphids when first hatched, and don't move very far before settling down to a sedentary existence. After the first molt, they lose their legs and resemble small, white scales. These nymphs are oval, flattened, and appear translucent, with a white, green, or yellowish cast. After nymphs molt through a total of four "instar" or growth stages to a pupa-like stage, the adult whitefly emerges through a T-shaped slit cut in the outer skin. All four stages look similar in appearance, growing a little larger with each molt. The last part of the fourth nymphal stage is commonly referred to as the pupal stage and this stage is the most reliable difference between greenhouse whiteflies and sweet-potato whiteflies. The pupa of greenhouse whitefly is oval with straight, flat sides that are perpendicular to the leaf surface, forming a distinct "rim" with a fringe of short hairs around the top edge. The sweet-potato whitefly pupa is oval too, but appears more rounded or dome-shaped from the side view, and lacks the fringe of hairs.
Whitefly adults and larvae feed by sucking juices from the plant. While feeding, larvae produce honeydew, a sticky sweet substance that promotes growth of a black sooty mold that can eventually kill the plant. Any honeydew or mold should be wiped down with a soapy solution.
Farmers have sprayed whiteflies with pesticides for decades and as a result they are very prone to developing a resistance to pesticides and sprays, and can be very difficult to control. Whitefly Parasites and Whitefly Predators have been used to control whiteflies with great results. Whitefly Parasites (Encarsia formosa is one popular variety) fly around whitefly infestations and lay their egg inside the whitefly pupae. The pupae gradually turns black as the whitefly parasite consumes it from the inside out, eventually with another parasite emerging.
Whitefly parasites are most effective against the common greenhouse whitefly. Whitefly Predators (Delphastus punctillum) can consume from 150 to 600 whitefly eggs per day! They are voracious feeders, and are effective against a number of whitefly varieties, with a preference for sweet potato and silverleaf whitefly.
With any pest, and especially whitefly, early detection is the key to success. Whitefly are attracted to the color yellow making yellow sticky traps a great tool for monitoring and catching adults that may be on your plants. Yellow traps spaced throughout the greenhouse will attract whiteflies and other insects which will get caught in the sticky coating. For heavy infestations a vacuum cleaner can be used to suck the little creatures right out of the air. Follow up with soapy spray and then release some predators or parasites. General feeding predators such as green lacewings or pirate bugs might give some control as well.
Your plants are important. Be vigilant and aware of what is living in, on, and around your garden. At the first sign of trouble take action. The faster you act the better chance you have of wiping out the plague of plant pests that will inevitably find their way to your greenhouse.
---
Nathan Jackson is the owner of Nature's Control and Ladybug Indoor Gardens. You can send your specific bug questions to [email protected]. For more information, to request a catalog, or to find a local distributor, check out Naturescontrol.com or call (541) 245-6033.

Why Should You Consider Planting Spring-Planted Bulbs in Your Garden?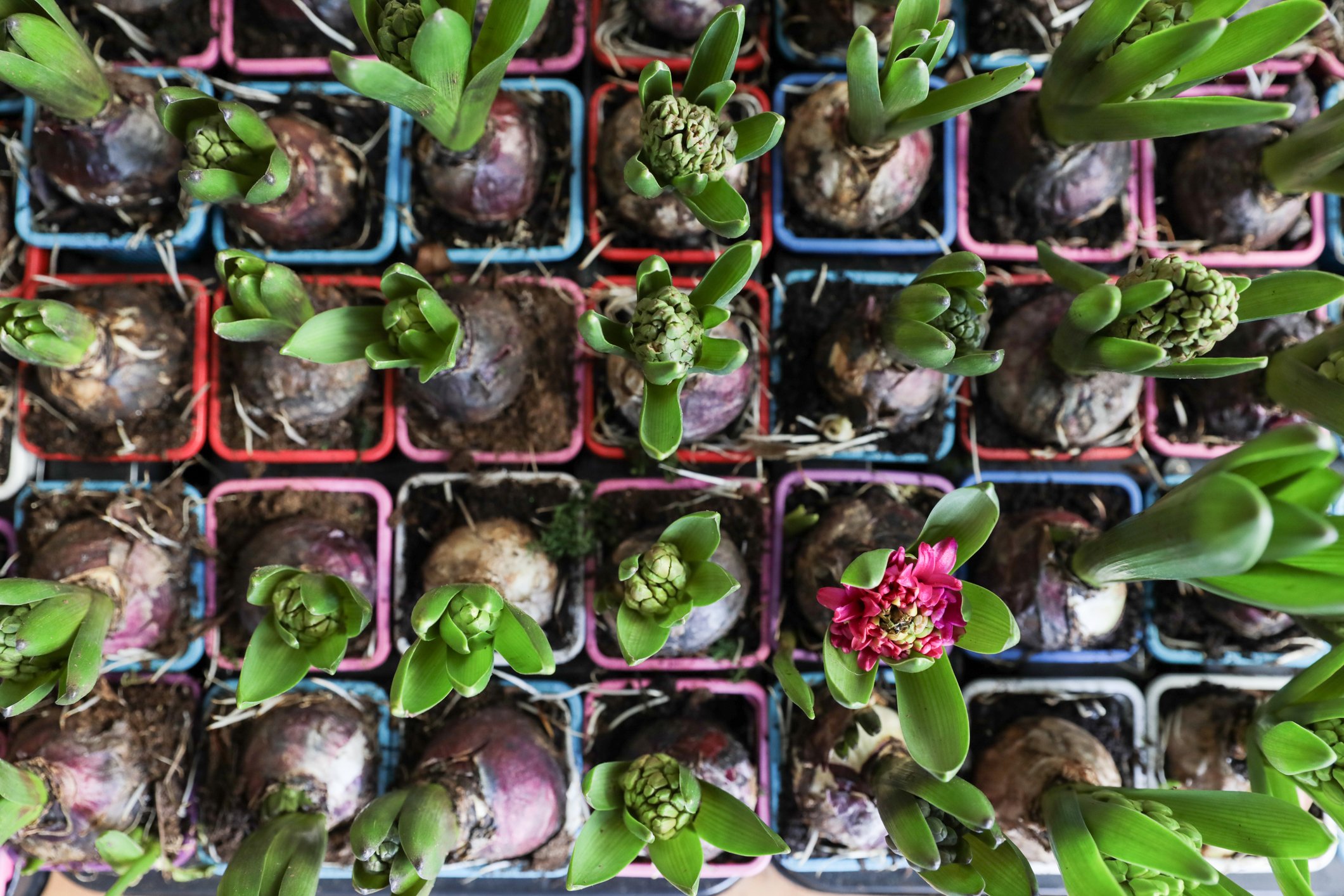 Spring is a great time to plant bulbs in your garden! Not only do they add a pop of color, but they also provide a number of benefits. In this blog post, we'll outline the benefits of planting spring planted bulbs in your garden. We'll discuss what bulbs are, what flowers come from bulbs, how to plant them, when to plant them, and how to care for them. So, go ahead and plant some spring-planted bulbs in your garden this spring!
What Are Spring Bulbs?
Do you love the beauty and colors of springtime? If so, then you should consider planting spring bulbs in your garden. Spring bulbs are a popular type of flower that is planted in the springtime. They come in many different colors and are known for their beautiful blooms. Not only do they add beauty to your garden, but they are also easy to care for.
When selecting spring bulbs for your garden, it's important to choose ones that look good together and have a variety of colors. Some of the most popular types of spring bulbs include tulips (a yellow bulb), daffodils (a blue or purple bulb), crocuses (a white or multicolored bulb), and hyacinths (an orange or yellow flower). When selecting which ones to plant, it's best to choose a mixture so that your garden looks colorful throughout the year.
What Flowers Come from Spring-Planted Bulbs?
There's no better way to add color and brightness to your garden than by planting bulbs. Not only are they easy to care for, but they also come back year after year. When choosing which bulbs to plant in your garden, it's important to consider what flowers you want them to produce. Some common bulbs you can plant include tulips, daffodils, hyacinths, and crocuses. All these bulbs will produce beautiful flowers that will add a touch of color and brightness to your garden. You can also choose to plant other types of bulbs, such as grape hyacinths or lily-of-the-valley bulbs. These plants produce smaller flowers but are very fragrant.
The Advantages of Planting Spring-Planted Bulbs
Do you love the look of brightly colored flowers in your garden, but you don't have the time or energy to tend to them? Planting spring-planted bulbs is a great way to add color and interest to your garden without any of the work. Bulbs are easy to care for and require very little maintenance—all you need is some water and sunshine. Plus, bulbs can be planted in a wide variety of locations, including in pots and containers. This makes them perfect for adding interest to any area of your garden.
Another advantage of planting bulbs is that they are relatively inexpensive. You can buy a large container of bulbs for just a few dollars, and they will last for many years with proper care. Plus, bulb plants are relatively easy to transplant if you ever want to move them somewhere else in your garden. Last but not least, planting bulbs is a great way to add color and brightness to your garden all year long!
How to Plant Spring Bulbs?
Color is one of the most important factors when it comes to garden design, and spring-planted bulbs are a great way to add some extra color to your landscape. Not only are they beautiful on their own, but they also provide a wonderful contrast against the cooler colors that will be in season during the summer. Spring-planted bulbs are easy to plant and care for, and there are a variety of different varieties available that will perfectly complement your garden.
When Should You Plant Spring Bulbs?
With the arrival of spring, it's time to start thinking about planting bulbs in your garden. There are a variety of beautiful bulbs that can be planted in the spring, and they're easy to care for, making them a great choice for someone who wants to add color and interest to their yard without much effort.
Consider the season when deciding which bulb to plant in your garden. Spring-planted bulbs will typically bloom earlier than bulbs planted in the fall, so make sure you choose the right one for your garden. There are a variety of different types of spring-planted bulbs to choose from, so find one that will fit well into your landscaping. With a little planning and effort, you can have a beautiful garden that blooms all year.
How to Care for Spring-Planted Bulbs?
Spring is a wonderful time to plant bulbs in your garden. Here are a few tips on how to get started:
First, be sure to research which types of bulbs work best for your garden and climate. Some popular choices include tulips, daffodils, hyacinths, and crocuses. Once you've selected the bulbs you want to buy, purchase them in advance so that you have plenty of time to plant them in the ground or in pots.
Once you have your bulbs home, it's time to take care of them! Make sure that their soil is moist but not soggy – this is crucial for bulb growth. Water them regularly during dry weather, and be sure not to overwater them, as this can damage their roots. When the flowers start blooming, cut the stems close to the ground so that the bulb will continue flowering indoors. After the flowers fade away (usually around mid-March), allow the foliage (orchids tend not to shed their leaves) to die back naturally. Enjoy your beautiful spring-planted bulbs!
In Short
Spring bulbs are a great way to add color and life to your garden. Planting these bulbs will provide you with beautiful flowers throughout the spring and summer. Bulbs are easy to care for and can be planted in almost any type of soil. Be sure to plant your bulbs in the fall so that they have time to establish themselves before the first frost. With a little love and care, your spring bulbs will thrive and bring you enjoyment for years to come.