Selecting and Growing Sunflowers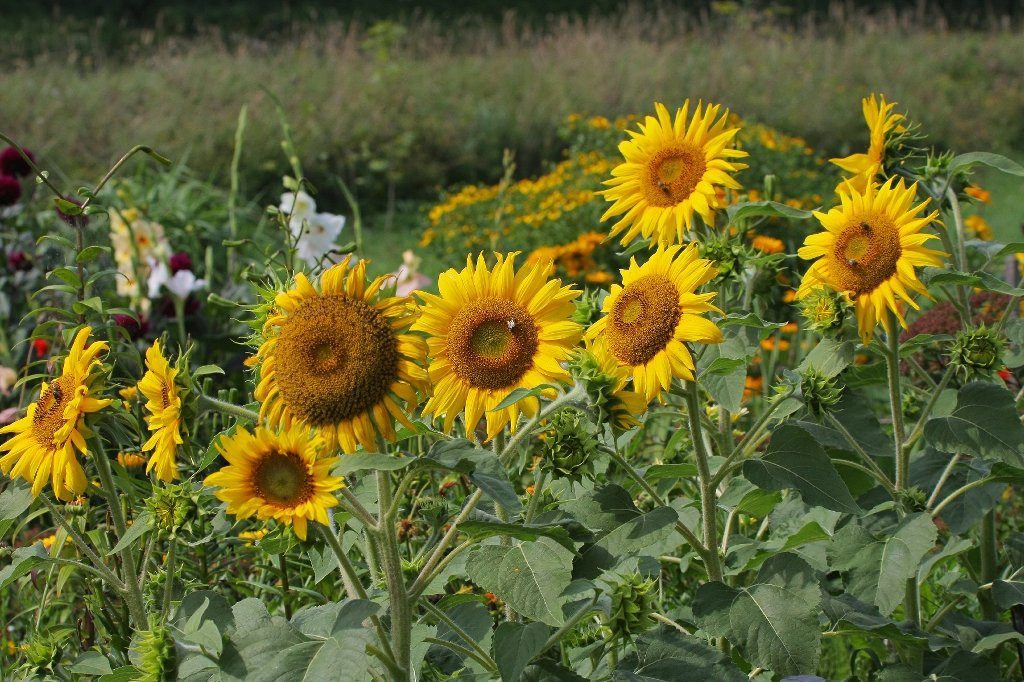 The sunflower is one of the most widely recognized flowers of all time. This large flower blooms in a wide variety of yellows, pinks, and even reds. With a little care you will be rewarded by the most noble of garden beauties. The many varieties have something to offer gardeners of any age regardless of space limitations. So let's get busy and you will have a garden to be proud of in no time.
Selecting a Growing Location
Your first must decide on where you want to grow your sunflowers. Consider the following:
Sun and Wind Exposure
As the name implies, sunflowers like the sun and do best when in a sunny location. A general guideline is to pick a spot that receives at least 6 hours of sunlight daily. If planted in a shady area, sunflowers may stretch to reach sun and thus will require additional staking support as they will if planted in a windy area. Tall varieties are often planted on a fence line to help with support.
Orientation to Other Plants
Particularly with the taller varieties of sunflowers you will want to consider how they may block sun and wind from your other garden plants. This can be a good thing if you are trying to shelter particular garden plants from too much sun or wind, but you must also consider if your sunflowers are going to negatively impact your other sun loving plants when selecting the best spot for your new friends. Sunflowers will face east at maturity so this may also be a factor you want to consider in their placement.
Days to Maturity
Most sunflower varieties have a maturity between 75 and 110 days. The nice thing is that you can grow them from the last freeze until winter sets in again. Consider planting a few each week to insure staggered blooms and enjoyment throughout the growing season. Stop planting 75-100 days before the first winter freeze is expected in your location.
Annual or Perennial Varieties
By far, most people plant annual sunflowers, but if you only plant annuals you are missing out on some beautiful long term friends. Perennials may take one to three seasons to begin producing blooms, but they are well worth the wait and can be great producers of flowers for years to come.
Color Coordination for your Garden
Most people are familiar with the classic giant sunflower that has one large yellow flower with a dark center. Fortunately for us sunflower lovers, there are many different colors and varieties to choose from. Vincent Van Gogh loved sunflowers for this reason. Take the time to select and place different size and color varieties as you paint the canvas of your new landscape. Some gardeners like to use larger varieties as the backdrop and progress to mid sized and then small varieties as they get closer to the house or other public sitting areas.
Plant Size and Spacing
If you want to have the most success with sunflowers and want your plants to be healthy it is generally best to follow the recommended spacing when planting. This will dictate how many plants you can have in a given area. Pay close attention to the spaces you intend to fill with sunflowers when you are selecting which varieties to plant.
Containers, Planter Beds or Open Space
With the increasing popularity and development of dwarf varieties more people are planting sunflowers in containers than ever before. Containers smaller than six inches are generally not recommended. Even if the plants can tolerate them, they dry out too quickly. In small six inch pots you generally will only want to plant one plant of a dwarf variety that has a mature height of three feet or less. Generally in this small pot the dwarf plants will not reach more than two feet. If you are planting in medium or large pots, eight inches and larger, you can slightly bend the rules for suggested spacing for the variety and plant three individual plants in each pot. It is still better to stick with small varieties (less than three feet) for medium pots and small or medium (three to five foot) varieties for large pots. It is absolutely critical that your containers have drainage holes. Sunflowers need well drained soil.
Is Pollen a Factor
Most people do not have problems with the pollen from sunflower gardens.  If you or someone you know is particularly sensitive to pollen you are in luck. Many varieties of sunflower are pollen free.
Uses Intended for Plants
Consider if you would like to have a steady supply of cut flowers from your plants. Some varieties are particularly good for long lasting cut flowers. With flower preservatives in the water and weekly water changes some varieties can last for several weeks. Are you a bird lover? Birds are particularly fond of the seeds produced by some varieties and butterflies are attracted by others. Do you intend to harvest and roast the seeds? Sunflowers have a myriad of uses. In the garden the stocks of large varieties can be dried and tied together to form rustic trellises for other plants and make good poles to help support plants including future generations of sunflowers.
Soil and Weather conditions
In general you will do best to adequately prepare the soil in transplanting, but some varieties of sunflower are particularly good in poor soil conditions. Some are particularly strong for extra hot conditions and periods of dry soil.  If your plants are going in a windy area you may want to consider bushy, branching varieties and/or be prepared to steak your plants.
Starting From Seed
If you decide to start your sunflowers from seed which is the most common way you will have several methods to consider each of which has advantages and disadvantages.
Direct seed method
Sunflower seeds can be sowed directly in the garden or containers, and in some instances this may be a viable choice. One problem is that seeds and small plants are much more susceptible to falling victim to pests and predators than even two or three week old transplants. In many areas the birds or rodents will dig up your seeds and have a feast before the seeds even get a chance to sprout. It may be more difficult to care for the germination and care of the young plants in your garden because seeds and sprouts must be kept moist and not be allowed to dry out. One other possible disadvantage is that you will always have some seeds that don't make it to becoming viable sunflower plants. If you are trying to have uniform planting in your garden it may be easier using transplants that have already been selected as strong prospects. For these reasons and others it is generally recommended that you germinate your seeds before transplanting in the garden or containers.
Using Professional Seed Starting Trays
Some people prefer to start many seeds at a time in professional seed starting trays which are a plastic tray with separate compartments for each plant and a drip pan. With this method you can start as many as three dozen seeds in one try and be able to weed out the weak ones and get the sprouts off to a great start before planting them in your garden where they will face harsher elements and predators. With this method you will want to use a potting mix that is specifically designed for starting seeds. These mixes are finer than even premium potting mixes and contain all the nutrition that your sprouts will need to make it through their first two or three weeks. This method is certainly acceptable, but it too has some draw backs. There is a chance even if you are careful when transplanting the plants from the container that you will damage the root system and stress the young transplant. It is for this reason that the following method may just be the best one available.
Starting with Peat Pots or Pellets
Peat pots are small pots that are made of pressed peat moss. They can be filled with seed starting mix and planted in the garden when your transplants are ready. There is however, an even easier alternative. Peat pellets are an ingenious innovation that consists of a compressed peat wafer inside a biodegradable mesh case. When  the pellet is soaked in water it swells to five times its size and makes the ideal starting medium for your seeds. You simply push a seed or two in the top of each soaked pellet place them near a sunny window and keep them moist. You can even buy these with plastic trays that have clear lids on them and act as mini greenhouses for sprouting your seeds. With these lids you often won't even need to add additional water to your pellets until after your seeds sprout. Once the seeds sprout you just remove the lid and continue to water your sprouts until they form their second set of real leaves, generally two to three weeks. Then just plant the bags in the garden.
Transplanting to the Garden or Containers
Transplanting is an exciting time. It is when you take the young plants that you have so carefully germinated from seed and place them in your garden where with proper care they will take off like wildfire. There are a few important considerations as you begin this phase of your sunflower adventure.
Spacing Considerations
New gardeners seem to be particularly prone to overcrowding their plants. Whether this is caused by a desire not to sacrifice any weak stragglers, or a desire to get as many plants in a given area as possible it is a serious mistake that will hamper your ability to grow quality plants. It is important to select the strongest young plants to include in your garden. As a general rule the seeds that germinate first tend to grow faster and produce stronger plants, by being picky and only selecting perhaps the top 50% of your starts to transplant into your garden you will be helping to insure a strong crop. Next, it is extremely important to try to follow spacing guidelines that are specified on seed packets for each variety of plant. Failure to do so will result in less healthy, rangy plants that are struggling to compete with one another for food, water, sun, and root and air space.
Preparing Soil
Sunflowers can be grown in a wide variety of soil types and conditions. Regardless of the type or condition of the soil into which you will be transplanting your young plants, it is a good idea to specially prepare the immediate area where each plant will be placed. A good recommendation is to dig a small six inch by six inch hole for each plant. You will then fill this hole with specially prepared soil for your transplant. This soil should consist of premium potting soil with time release fertilizer mixed in.  Premium potting soil will either be labeled as such or will be one of the more expensive mixtures. With potting soil you generally get what you pay for. Do not use soil labeled as top soil or garden soil. These blends compact too easily. The premium potting soil will hold moisture and allow your young plants root systems to develop quickly. The time release fertilizer will help to feed your plants for up to four months and add extra insurance to your regular fertilizing schedule. If you prefer to grow your plants organically you can use crab shell meal or fish pellets instead of the time release fertilizer to add to your soil.
Caring for your Growing Plants
Fertilizers – What Kind and How Often
If you have started your plants well they will have a good foundation for growth. You will want to have a regular feeding program for best results. Plants require three main nutrients to be healthy: nitrogen which promotes healthy foliage, phosphorus which promotes flowers and potassium which is for strong roots and overall vigor. All fertilizer products list the ratios of these three components in the order given above. Thus a label that reads 10-15-10 signifies that 10% of the contents is nitrogen, 15% is phosphorus and 10% is potassium. When your plants are in the growth stage, before their flowers start to form you can promote healthy foliage growth by fertilizing every two weeks with a chemical or organic fertilizer that has a nutrient sequence of 20-10-10 or one with the same ratio. Once your plants begin to form flowers you will want to switch your biweekly fertilization to a product with a ration of 10-20-10
One last tip! Sunflowers are generally hardy plants, but you can help to keep them pest free by spraying them with a mixture of ½ table spoon of liquid dish detergent to one quart of water each week.
Nick Fraser is a free-lance writer.
Want more information? Read these articles:
Agro-forestry, Permaculture Design and Nut & Fruit Harvests from Wooded Areas
How to Build a Sunflower Stalk Trellis
Preventing Pest Infestations in a Greenhouse
The spring season brings new beginnings for plant growth. The landscape becomes green again and multitudes of colors and fragrances fill the air as flowers break through the ground's surface. The new life brought on by spring is rejuvenating for horticulturists. It is not just plants and flowers that "come alive" during this time of year. Just as new plant life emerges all around us in spring, new life for pest insects is also resurrected. As temperatures rise and the summer months approach, more and more insects leave dormancy and begin new life cycles. This is why it is so important for greenhouse gardeners to be aware of and take counter measures against pest insects during the spring and early summer seasons. In many cases, a few simple preventative steps can reduce the likelihood of a devastating pest insect attack.
Sanitation
Sanitation is the number one defense against pest insect infestations. Keeping the greenhouse and the plants clean and tidy can do wonders in preventing pest insects and pathogens. Periodically wiping down the surface of the greenhouse and removing dead or dying vegetation will greatly reduce the possibility of pest insects. Plants should be closely monitored for pest insects on a weekly basis (at the very least).
It is a good idea to set up a quarantine area in the greenhouse. Whenever a new plant is purchased or gifted, it should be quarantined immediately for a week or two to ensure it does not harbor pest insects. After the quarantine period is over and the plant has received a clean bill of health, it may join the other plants in the greenhouse. Bringing new plants into a greenhouse is the most common way a greenhouse gardener will introduce pest insects into his or her own garden. If pest insects are observed on any new plant, it should be thoroughly treated before being introduced to the other plants in the greenhouse.
Monitoring for Pests
As previously mentioned, it is important for greenhouse growers to monitor their gardens for any signs of pest insects. Yellow sticky traps are great tools for monitoring a greenhouse. Yellow sticky traps are similar to fly paper in that they "catch" flying insects in a glue-like substance. By closely examining the yellow sticky trap, a gardener can see if and what types of pest insects are present in the garden. Yellow sticky traps allow a horticulturist to identify potential problems before they get out of hand.
Identifying the Pest Insect
Identifying the pest insect early and accurately is vital to stopping a few pest insects from becoming an infestation. When monitoring the plants, there are some tell-tale signs that will indicate which pest insect a gardener may be dealing with.
Spider Mites
The first sign of a spider mite problem usually shows up in the form of yellow speckling on the surface of the leaves, which is caused by the insects sucking nutrients from the underside of the plant leaves. The speckling from spider mite damage will resemble light yellow spray paint misted on the leaves. Closer examination of the bottom of the leaves will reveal clusters of very tiny red mites and their eggs. A magnifying glass may be necessary to see them. In more extreme infestations, webbing may be found in-between or on the tips of branches and leaves. This webbing looks very much like a spider web and is how these nasty bugs received their name. Spider mites are difficult to get rid of and require a miticide for treatment.
Mealybugs
The first sign of mealybugs is normally cotton-like, fluffy masses found in the crotches or joints of the plant, typically near young tender growth. These tiny "cotton balls" are actually clusters of the slow moving mealybugs. These bugs can reproduce and lay eggs every seven days, so they should be treated immediately to reduce any possible contaminations. It's difficult to kill the eggs, often in the soil, so it's important to treat for live mealy bugs every five to seven days for three to four weeks to terminate all adults before they become mature enough to lay eggs.
Fungus Gnats
The first sign of a fungus gnat problem is typically the small, mosquito-like, black or gray insects that fly around aimlessly. They are most prevalent right after a watering or when the soil is disturbed. Fungus gnat larvae look like tiny, light-colored worms that wiggle around in the top layer of soil. They can sometimes be seen "dancing" in standing water after a feeding.
Thrips
The first sign of a thrip issue is usually "shiny streaks" that show up on the surface of the leaves. The shiny trails are actually the areas of the leaf where the thrip larvae have been feeding. Gardeners may also notice tiny black specs on the leaf surface; this is actually the larvae's fecal matter. To the naked eye, thrip larvae resemble fast moving grains of rice. The larvae can be many different colors, but are usually yellowish-green.
Scale
The first sign of scale is usually a protective covering or bumps on the stems and stalks of the plants. The females lay eggs underneath the protective covering, which will hatch in one to three weeks. The newly hatched nymphs leave the protective covering as tiny white specs and move around the plant to feed. Nymphs insert their piercing mouthparts into the plant and begin to feed, gradually developing their own protective covering as they turn into immobile adults. Scale do not pupate and may have several overlapping generations in one season. A scale infestation is difficult to eliminate and requires a systemic insecticide.
Treatment and Control
Early detection and treatment diligence are the keys to eradicating pest insects. A gardener can start treatment with an organic or all-natural insecticide that is designed for the particular pest insect he or she is battling. Yellow sticky traps are effective in capturing most flying insects, such as fungus gnats and white flies. Denatured alcohol is highly effective as a combatant against mealy bugs and scale by wiping it on the infected areas with a cotton swab or small paint brush. Pyrethrum is an organic derivative of the chrysanthemum plant and is extremely effective against many greenhouse pest insects. Pyrethrum is the primary ingredient in several commercial spray products commonly available at most garden centers. In some cases, a pest insect (scale and mites), cannot be controlled with an organic or all-natural approach.
When this occurs, the gardener may need to implement a systemic chemical control. Systemic pesticides, such as Orthene, are effective against pest insects because they enter the plant's tissue and kill the bugs as they feed on the plant tissue. Regardless of the treatment program, horticulturists should always use caution and be sure to read the manufacturer's directions for application.
For more information visit ArcadiaGlasshouse.com