Greenhouse Glazing Options
A gardener who is planning on setting up a greenhouse faces many choices. Aside from the actual style of the greenhouse itself, the grower must make one very important decision: which transparent material to use. There are a few different options in regard to the transparent material, commonly referred to as the "glaze", that is used on the greenhouse.
Each glazing option has its own advantages and disadvantages and these should be examined closely before making a final decision. A grower's budget, his or her geographical location, the desire for an aesthetically pleasing greenhouse and the type of crop being grown will all come into play when trying to determine the best glazing option for a greenhouse. Light transparency and light diffusion are also key components in the greenhouse glazing decision making process. A closer look at some of the more commonly used glazing options will give a gardener a better understanding of the differences between them and which will best suit his or her needs.
Polyethylene Film
One very popular glazing option for greenhouses is polyethylene film. This film is especially popular for use on large hoop houses or temporary cold frames. Polyethylene has a few distinct advantages. First, it is the least expensive of all the greenhouse glazing options. Second, because of its construction, it works well with various sizes and styles of greenhouses. It can be cut and shaped easily, making it a popular choice for homemade greenhouse frames or do-it-yourselfers.
One disadvantage of polyethylene is its short life span. Most polyethylene films have a life expectancy of 1-4 years. This is extremely short compared with other greenhouse glazes and a fact that should be seriously considered if a grower is looking for a more permanent greenhouse. Polyethylene film also has a very low R-value. In other words, it does not have good insulation properties. A low insulation value equates to higher heating costs, especially if the greenhouse is operational during winter months.
Many gardeners who use polyethylene film will add a second layer to increase the thermal properties. A single layer of polyethylene has an R-value of around .85 while a double layer has an R-value of around 1.5. It should be noted that adding a second layer of polyethylene film will affect the light transmission. A single layer of polyethylene has a light transmission of 80-85% while a double layer has a 72-77% light transmission rating. However, a double layered polyethylene film greenhouse will offer better light diffusion than a single layer of film. Increased light diffusion equates to more even distribution of light throughout the entire greenhouse. Better light diffusion also reduces the likelihood of "hot spots" which could potentially cause damage to the plants within the greenhouse.
Polycarbonate (Corrugated)
Another material commonly used as a greenhouse glaze is corrugated polycarbonate. The advantages of corrugated polycarbonate include high light transmittance, a high impact resistance and a relatively low cost. Corrugated polycarbonate allows around 86-91% light transmission and has an R-value comparable to a single layer of polyethylene film. This also means the heating costs would be comparable to a single layer of polycarbonate as well. The low insulation value isn't its only disadvantage; corrugated polycarbonate scratches easily and scratches will affect the light transmission. For the most part, gardeners tend to avoid corrugated polycarbonate. Most will either opt for the polyethylene film, a multi-walled polycarbonate, or a glass glazing option.
Polycarbonate (Multi-Wall)
Multi-wall polycarbonate offers the best upfront value to gardeners wanting to set up a greenhouse. Multi-wall polycarbonate is very durable and offers an insulation value similar to the high-end double glass greenhouses. This is due to the air pocket created between the walls of the material. Multi-wall polycarbonate offers higher energy efficiency than many other glazing options. This is great for gardeners wishing to use the greenhouse year-round. Polycarbonate also lasts much longer than polyethylene film.
In fact, most polycarbonate materials are warrantied for ten years and have a 15+ year life expectancy. Multi-wall polycarbonate also comes in a variety of thicknesses with the most common thicknesses being 8mm, 10mm and 16mm. The R-value of multi-wall polycarbonate varies depending on the thickness but will range from 1.5-2.5. Polycarbonate is a great light diffusion material and automatically reduces the likelihood of hot spots. The light transmission for multi-walled polycarbonate ranges from 75-82%. Due to its higher energy efficiency, options in thicknesses, durability and longevity multi-walled polycarbonate has become a popular choice for a greenhouse glazing material. Polycarbonate has also become a popular choice when retrofitting older greenhouses to increase efficiency and productivity.
Glass (Single Pane)
For a long time glass was the only material used as a greenhouse glaze. Many of the older glass greenhouses had overlapping glass which created a series of problems including excess humidity and heat loss. Luckily, most of the newer glass greenhouse designs have sealed glass and have fixed the problems of the past. Perhaps the largest advantage of a glass greenhouse is that it looks incredible. For any gardener who desires the most aesthetically pleasing greenhouse glaze, glass is the top choice. Another advantage of a glass greenhouse is longevity.
Glass greenhouses are designed to last 25+ years and can definitely be considered a permanent structure. The biggest disadvantages of glass are its low impact resistance (even thick greenhouse glass is prone to cracks or breakage) and its high initial cost. Another disadvantage of a single pane glass greenhouse is its low insulation value. Single pane glass has an R-value around .90 which is comparable to polyethylene film. In other words, a single pane glass greenhouse will be less energy efficient when it comes to heating. Generally speaking, single pane glass greenhouses should be avoided in northern climates or where heating will be required throughout the winter months. Single pane glass offers the highest light transmission rating of any greenhouse glazing option with an 88-92% rating. For some plant varieties too much direct sunlight is a bad thing. Depending on the geographical location and the plants being grown, a gardener with single pane glass may need to install shade cloth to avoid burning caused by hotspots.
Glass (Double Pane)
Double pane glass is the most aesthetically pleasing and energy efficient greenhouse glazing option available. However, these reputable qualities don't come cheap. Double pane glass greenhouses are by far the most expensive option for a greenhouse glaze. However, gardeners with a high priority for aesthetics and who want to grow year-round should seriously consider double pane glass.
Double pane glass has an R-value similar to the thinner multi-wall polycarbonate (about 1.5) which means the heating requirements would also be similar. Like single pane glass, double pane glass greenhouses are built to last 25+ years and can be considered a permanent structure. Double pane glass has a slightly lower light transmission rating than single pane glass (around 75-80%) but offers more light diffusion. Even though it is more expensive and difficult to install, double pane glass is the elite of the greenhouse glazes.
Although there are many differences between greenhouse glazes, they are all meant to accomplish the same feat: allow sunlight to reach the plants in the greenhouse. Any of the previously mentioned materials can be used to create a fully functional greenhouse. A gardener's geographical location, budget, intended use and personal preference will all be strong contributing factors when determining which greenhouse glaze is the best fit.
Horticulturists who live in northern climates or those looking for a year-round greenhouse should seriously consider the insulation value of the glazing material. For these gardeners, a more expensive but more energy efficient option should be viewed as a long term investment. In the long run a higher efficiency glazing option will pay for itself time and time again. On the other end of the spectrum, gardeners looking for a glazing material to be used on a temporary structure, like cold frames or hoop houses should look at the most cost effective option. As with any other aspect of gardening, experience is the best teacher. If you are contemplating setting up a greenhouse, research your glazing options, make an informed decision, and then get busy growing.
Eric Hopper resides in Michigan's beautiful Upper Peninsula where he enjoys gardening and pursuing sustainability. He is a Garden & Greenhouse contributing editor and may be contacted at [email protected].
Want more information? Read these articles:
11 Essential Greenhouse Accessories
Judge a Greenhouse by its Cover; Your Plants Will
Should You Buy a Manufactured Greenhouse or Build Your Own?
The Differences Between a Greenhouse and a Cold Frame
The Sunny Side of Life – Placement of a Greenhouse

The Ultimate Indoor Cleaning Manual: From Clutter to Comfort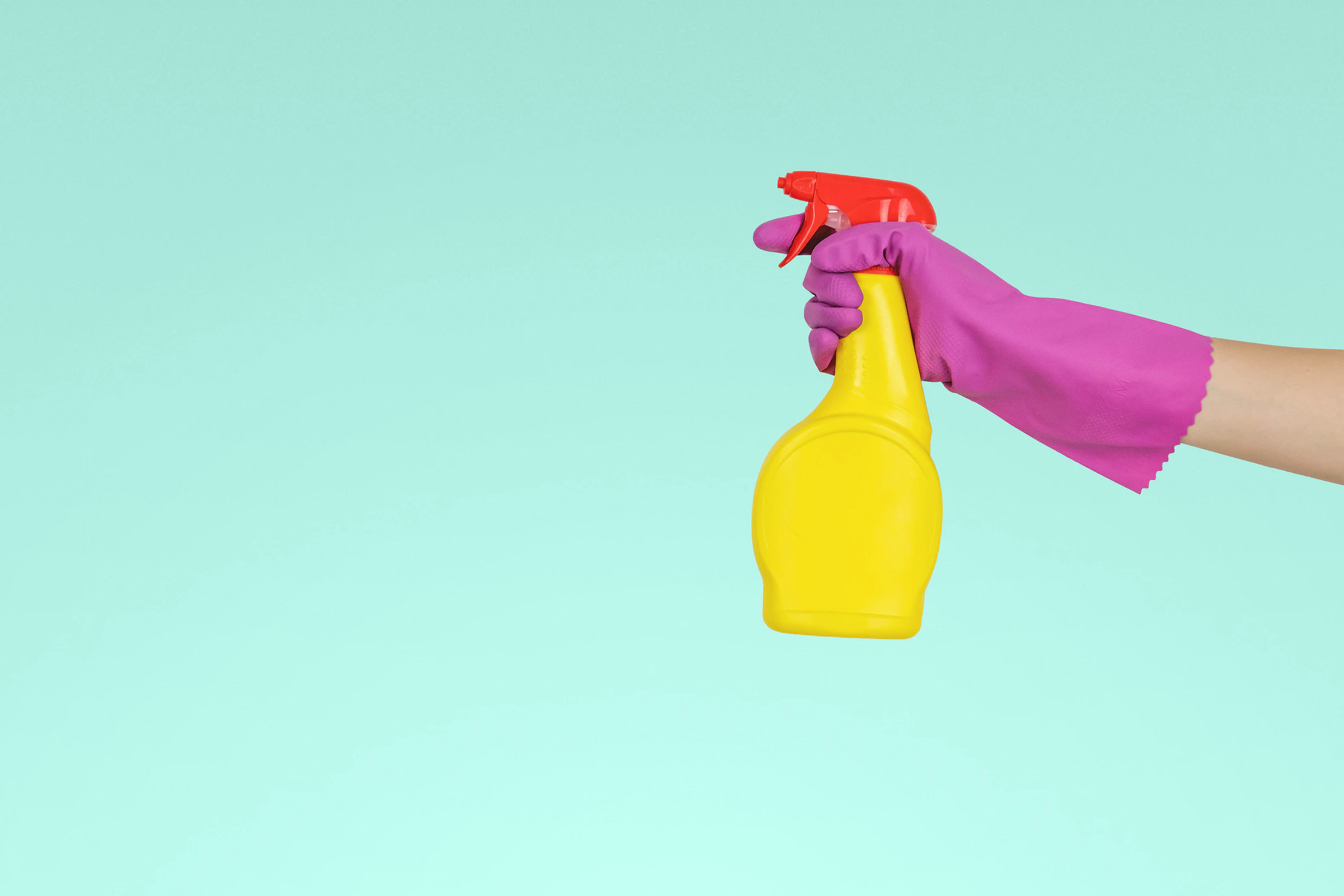 You're drowning in mess and don't know where to start? Dive into our ultimate indoor cleaning guide.
It's all about transforming your chaotic space into a cozy haven. We'll walk you through essential supplies, cleaning frequencies, and room-by-room strategies.
Plus, we'll tackle stubborn stains and give you expert tips to keep your home sparkling.
Ready to roll up your sleeves? Let's turn your home into the sanctuary you deserve.
Understanding Cleaning Frequencies
In light of maintaining a clean home, it's crucial to understand that cleaning tasks fall into five main categories: daily, weekly, monthly, seasonal, and yearly.
Your daily tasks, such as dishwashing and tidying, keep your home running smoothly.
Weekly and monthly chores, like vacuuming and deep-cleaning the bathroom, prevent buildup and save you time in the long run.
Seasonal tasks might include washing windows or deep-cleaning carpets, typically undertaken in spring or fall.
Yearly tasks might be those big projects like cleaning out the garage or washing the exterior of your house.
Essential Cleaning Supplies
You will need these basic cleaning supplies to effectively maintain your home:
a broom
a vacuum, a mop and bucket, or a steam mop or steam cleaner like Aqua Pro Vac
microfiber cloths
sponges
These tools are your household's best friends when it comes to cleaning. The broom sweeps away dust and dirt, while the vacuum tackles carpets and rugs.
The mop's wet cleaning abilities are perfect for hard floors.
Microfiber cloths are a godsend. They're reusable, eco-friendly, and excellent at grabbing dust and dirt.
Lastly, sponges are your go-to for scrubbing tasks.
Quick Cleaning Tips
Let's dive into some quick cleaning tips that can make your chores easier and more efficient.
Always have your cleaning supplies ready.
Categorize your tasks into daily, weekly, monthly, seasonal, and yearly. This ensures you're not overwhelmed and helps maintain a clean home.
For a quick clean-up, start by gathering trash from each room, collecting dishes, and starting a load of laundry. Clear clutter by putting items back in their proper places.
Remember that occasional deep cleanings, like washing your oven or windows, are just as important.
Comprehensive Cleaning Tutorials
Once you've got the right supplies and know how frequently to clean, half the battle is won. To further your skills, we'll cover some essential cleaning tutorials:
Fake a Clean House Fast
To fake a clean house, follow these quick steps:
Grab a laundry basket and walk through the main rooms. Scoop up anything that doesn't belong and stash the basket out of sight—in a closet or another room. Don't worry about sorting items now; just clear surfaces and floors.
Take a microfiber cloth and quickly wipe down any dusty spots on tables, TV stands, and other surfaces. If there's no time for a full dusting, focus on areas at eye level and spots where the light shines directly.
Align magazines, remotes, and coasters on your coffee table. Fluff and arrange couch pillows neatly, and fold throw blankets for an instantly orderly look.
Grab a damp cloth or cleaning wipe to quickly clean any conspicuous smudges or spills on countertops, mirrors, or glass surfaces that catch the eye.
Only do the most visible areas — like the living room and hallway. Don't worry about every corner; quickly remove visible dust, dirt, or crumbs.
Close the shower curtain, straighten towels, and wipe down the sink and counter. Replace the toilet roll with a full one and lower the toilet lid.
Put dishes into the dishwasher or stack them neatly in the sink. Wipe down counters, and use a cloth to quickly go over the refrigerator handle and any other high-touch areas.
Open windows to let in fresh air or light a candle for a pleasant scent. Lower the lights to create a cozy feel and hide less-clean areas, and consider turning on some background music.
Clean a Shower Curtain and Liner
To keep mold and mildew at bay, take down your shower curtain and liner and wash them in the washing machine with a couple of bath towels (to prevent wrinkling).
Use a gentle detergent and add 1/2 cup of baking soda during the wash cycle, followed by 1/2 cup of vinegar during the rinse cycle. Hang the curtain and the liner back up to air dry fully.
For extra tough mildew stains, pre-treat with a mixture of baking soda and water, or use a spray-on mildew remover before washing.
Clean a Top-loading Washing Machine
Keep your clothes smelling fresh by cleaning your top-loading washer regularly. Set the washer on the hottest, longest setting and add four cups of white vinegar to the water.
After a few minutes, pause the cycle and let the vinegar water mix sit for an hour. During this time, you can dip a scrubber in the vinegar water and clean around the top of the drum, the lid, and other parts of the washer.
After an hour, continue the cycle, then run another hot water cycle with a cup of baking soda to rinse out the vinegar and any loosened grime. Wipe down any remaining residues with a clean cloth.
Clean Your Oven
Start by removing the oven racks and soak them in hot, soapy water. Create a paste with baking soda and water and spread it throughout the inside of the oven, avoiding the heating elements.
Leave the paste on for several hours or overnight for best results. Use a plastic scraper to lift away the grime, then wipe the surfaces with a damp cloth.
Clean the glass door with a mixture of baking soda and water, and once all the residue has been removed, return the oven racks.
Clean Windows
For gleaming windows that invite sunlight into your home, mix equal parts water and vinegar in a spray bottle. Spray generously onto the glass and wipe away with a microfiber cloth, using circular motions to avoid streaks.
For any stubborn spots, rub gently with a cloth dampened in the water-vinegar solution. Don't forget to wipe the window frame and sill.
For best results, clean your windows on a cloudy day to prevent the sun from drying the solution too quickly and leaving streaks.
Room-by-Room Cleaning Guide
To tackle your home on a room-by-room basis and ensure no corner goes untouched:
Start with the most used areas like the kitchen or living room.
Equip yourself with your basic cleaning supplies and start by picking up any clutter, wiping down surfaces, vacuuming or sweeping the floor, and then mopping if necessary.
Move onto the less used rooms such as bedrooms and offices, following the same sequence.
Don't forget bathrooms – scrubbing the tub, sink, and toilet, and mopping the floor are essential here.
Remember, regular maintenance will make these tasks easier over time.
Dealing With Stubborn Stains
Stains can be pesky and really put a damper on your pristine home. Here are some simple ways to deal with obstinate stains:
Baking Soda Solution: Works wonders on most hard surfaces.
Vinegar and Water: Ideal for glass and mirrors.
Rubbing Alcohol: Perfect for removing ink and marker stains.
Hydrogen Peroxide: Great for stubborn bathroom stains.
Lemon and Salt: Natural alternative for rust and mildew.
Conclusion: Maintaining a Clean Home
A tidy environment not only brightens your mood but also reduces the time dedicated to intense cleaning sessions. So how do you maintain cleanliness consistently?
Start by creating a simple cleaning schedule that suits your routine. Divide tasks into daily, weekly, and monthly categories.
Small daily tasks like washing dishes, sweeping, and tidying up can prevent clutter accumulation.
Weekly tasks might include vacuuming and dusting, while your monthly schedule could include deeper cleaning tasks such as washing windows or cleaning the oven.