Understanding Grass Seed Germination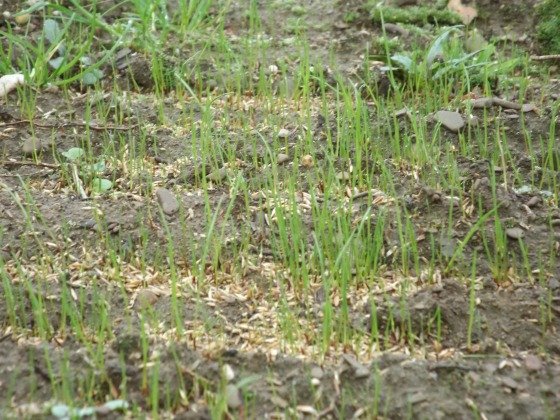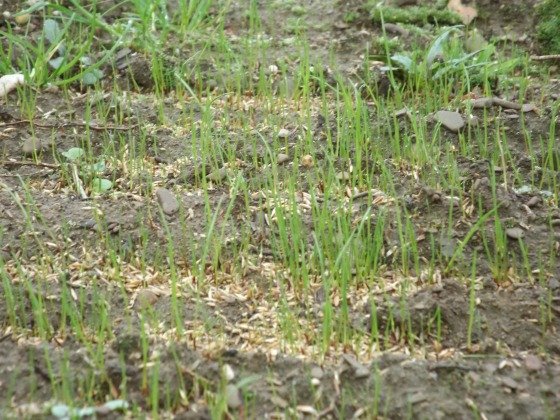 Time seems to freeze when you're waiting for a lawn to grow. Most people expect fairly quick results, but the truth is different types of grass germinate at much different rates. Some can be expected to sprout within a week. Others can take almost a month. How do we know when to wait it out and when to begin reseeding?
Type of Grass               Expected Germination Time
Bentgrass                                              10-14 Days
Bermuda Grass                                     10-30 Days
Buffalo Grass                                        14-30  Days
Centipede Grass                                   14-21 Days
Fescue                                                  7-14 Days
Kentucky Bluegrass                             14-30 Days
Rough Bluegrass                                 7-10 Days
Ryegrass                                             5-10 Days
Keep in mind that not all your seeds will sprout at the same time. If you've waited the expected time and your seeded area is still showing no signs of life, improper moisture level or soil temperature is probably the culprit.
The two most important factors in grass germination are water and soil temperatures. If there is too little
moisture your seeds will dry out and a dry seed is a dead seed. Don't try to add water now, it's too late. Too much moisture and your seeds will rot. Over saturated soil prevents sprouts from getting the oxygen they need for survival.
Water the grass seed just enough to keep the top 2 inches of soil moist. Giving the area a good watering a day or two prior to spreading seed can help avoid dry spots. The soil should be moist, but not spongy. If you notice water puddling on the surface, you are over-watering. A small amount of water given often is the safest bet.
Soil Temperatures
To understand the proper soil temperature, first you need to know that there are cool season grasses and warm season grasses. These names have nothing to do with the season of growth (they both grow spring through fall). Instead, the name implies the area where the grass thrives. Warm season grass thrives best in the warmer areas of the U.S or the Southern and Southwestern states.  Cool season grass grows best in the Northern, Midwest and Pacific Northwest regions of the U.S. There is a transition zone where both grasses can be used (often at the same time to ensure that grass is growing throughout the summer).
Cool Season Grass
Cool season grasses include Bentgrass, Bluegrass, Fescue, and Ryegrass. Cool season grasses begin growing in the spring and are happiest when temperatures are between 60-75 degrees (F). They are usually quick to germinate and quick to begin growing.
Warm Season Grass
Warm season grasses like Bermuda, Centipede, Zoysia, Buffalo, and Bahia grass, tend to be a little slower to germinate. Warm season grasses are happiest when the thermometer is reading 80-95 degrees (F). Once the air temperatures begin to drop below 65 degrees, the grass goes dormant and turns brown. Some homeowners overseed their warm season grass with cool season grass. This keeps their grass green throughout most of the year.
Overseeding
Overseeding is spreading seed over existing grass. This can be done to create a more lush lawn and fill in thin spots (before the weeds fill them in!) or as stated above, to grow both cool and warm season grass together. You can easily do this by mowing your grass short, spreading some seed and watering.
Germination
Most germination failure, especially with warm season grass, is because the grass seed was planted too early. Grass seeds have an outer shell (the hull) that prevents germination until conditions are right. Proper soil temperature is a big factor in the success you'll have. For cool season grass, the ideal soil temperature is a minimum of 45-55 degrees (F). For warm season grass, the ideal soil temperature is a minimum of 55-65 degrees (F). Most of us don't have a soil thermometer…and soil temperature is usually cooler than the air temperature…so I'm going to stick my neck out and say:
The perfect air temperature for spreading cool season grass seed is 60-70 degrees (F). The perfect air temperature for spreading warm season grass seed is right around 80-85 degrees (F).
A Helpful Tip
When choosing your grass seed look for the germination rate on the label. This is the percentage of seeds that germinated in lab tests and the higher the score, the better. A rating of 90-95% is ideal. Each year that you store your bag of seed will result in a 10-25% decrease in your germination rate. If you have a bag of seed that has been sitting for a few years, scoop out a handful and gently blow across the top. If they fly away, they are just dead chaff.
Pre-Germination
Pre-germinate your seeds to get a lush lawn, faster. Begin by placing your seeds in a burlap bag. Now place that bag in a tub filled with room temperature water and hold the bag down until it soaks up the water and stays submerged. Store your tub somewhere where the temperature is 65-75 degrees (F). Put a lid on the tub, cover it, or keep it in a dark room.
Each day, remove the sack and let it drain a little while you refill the tub with fresh room temperature water. Around the 7th day, begin checking for shoots emerging from the seeds. When you see shoots, take the burlap bag out of the tub and let it drain until it stops dripping. Dump out the water from the tub and cover the bottom of the tub with a layer of sand or compost.
Sprinkle the seed on top of the sand (or compost) and let it dry for 30- 60 minutes. Mix the seeds in with the sand/or compost, which makes it easier to spread. Spread it over the prepared area and rake it out to distribute it evenly. Water a little, as often as needed, and you will have a lawn in a few days.
Side Note
I frequently get asked which grass to grow in hot areas. For hot-dry areas Bermuda grass is the most drought tolerant. For hot-humid areas, Zoysia, St Augustine, Centipede and Bahiagrass do well.
Mike McGroarty is the owner of McGroarty Enterprises and the author of several books. You can visit his website at FreePlants.com and read his blog at MikeBackYardNursery.com.
Read More Articles
A Winter To Do List for the Yard and Garden
Lawn & Garden Water Saving Tips
Tips and Timing for Cutting Back Ornamental Grass

Integrating Greenhouse Elements into Roofing Design
Step onto the future pathway of sustainable living by integrating greenhouse elements into your roofing design. You might be asking, what does that mean? Let's dissect it. A basic understanding of roofing design combined with the principles of a greenhouse can lead to an array of environmental and economic benefits right above your head.
Understanding the Greenhouse Concept
Dive into the world of greenhouses. In essence, a greenhouse captures the sun's radiation, using it to create a warmer environment that supports plant growth year-round, despite outside weather conditions.
The same notion can be applied to houses through smart residential roofing services. Imagine roofs performing like greenhouses – conserving energy and contributing towards creating a comfortable indoor climate, regardless of the outdoor temperature extremes.
Breaking Down Greenhouse Elements
Crystalize the thought as you dissect the concept further. It primarily involves transparent roofs, insulation materials, and heat-absorbing surfaces. Transparent materials like glass or polycarbonate allow access to sunlight.
Insulation materials prevent escaping heat while dark, heat-absorbing surfaces collect solar energy during the daytime and release it during cooler periods.
The Science Behind Integration
Integrating these elements into your existing roof is pure science at play. By managing solar radiation penetration and understanding the theory of microclimates, you can implement this concept effectively.
There are plenty of ways to make greenhouses energy efficient and to integrate elements into roofing. Moreover, plants play a vital role in improving air quality, making them an integral aspect of such designs.
Comparative Analysis of Roofing Materials
Your next move is figuring out which materials are best for these setups. Consider the battle between glass and polycarbonate roofs: while the former offers better clarity and longevity, the latter is lighter and safer as it's virtually unbreakable. Similarly, different insulating materials come with their unique benefits and challenges.
Benefits of Greenhouse Roofs
You'll find that there's a list of advantages waiting for you when incorporating greenhouse components into your roofing design. Besides a significant rise in energy efficiency, you'll notice a decrease in your environmental impact.
When you understand rooftop gardens you will get to enjoy the many benefits associated with them. Your health and well-being may flourish too, thanks to better air quality and regulated indoor temperatures.
Overcoming Potential Challenges
Like every venture, it's not without its challenges. Fear not though, they're surmountable. Think about safety aspects, maintenance costs, and managing light penetration. Shatterproof materials can enhance safety and durability while understanding the full extent of maintenance required enables planning for the associated costs.
Innovative Designing Approaches
Forward-thinking designs don't stop at the basics. Consider integrating solar panels or even cultivating rooftop gardens into your concept. Combine materials to add further insulation or aesthetic appeal. The sky is the limit when it comes to experimenting with designs.
Ensuring Optimal Functionality
A well-functioning roof doesn't happen by accident. Correct installation techniques ensure longevity while regular maintenance practices preserve its optimum functionality. Over time, making needed upgrades can combat wear-and-tear effects, keeping it efficient and effective.
Regulations and Building Codes
Legalities are part of the process so understanding local laws is essential. Compliance with building codes ensures you're on the right side of the law. Sometimes, advocating for changes in regulations might just be the way forward, making sustainable living more commonplace.
Future Projections for Greenhouse Roofs
Industry growth hints at future developments that should get you excited. Anticipate technological improvements that will revolutionize greenhouse roofs even more. Demand for such modernized concepts is projected to escalate as individuals like yourself seek more sustainable living options. Modern roofing solutions such as cool roofs reduce carbon footprints.
Additional Considerations
Before you march forward and embrace the future of residential construction, there are a few additional considerations to heed. While all these pros make integrating greenhouse designs into your roof sound enticing, remember it's not one-size-fits-all.
Geographical Factors
Be mindful of the geographical location of your home. Certain climates may be more conducive to greenhouse roofs than others. A transparent roof in a region with extreme sunshine might lead to overheating concerns while in less sunny regions, you'll need to extract every bit of sunlight possible.
Energy-efficient roofs are no longer a distant dream but a very viable reality that is rapidly becoming mainstream in residential construction space across the globe.
Financial Outlay
The financial aspect should also factor into your decision-making process. Even though the upfront cost may seem elevated, weigh that against expected energy savings over the life of the roof. A quarter of your heat is lost through the roof.
Forecasting these figures can help make a long-term economic decision. Remember, investing in a greenhouse roof doesn't just impact you, but also plays a small part in saving the planet for future generations.
Lastly…
Embrace the future of residential constructions and pave a path to sustainable living by integrating greenhouse elements into your roofing design – offering a trifecta of benefits including energy conservation, environmental impact reduction, and overall health enhancement.
Take a step towards making your home a harmonious integration of man-made structures and nature, reflecting the perfect example of sustainability.