Key Tips On How To Prepare For A Swimming Pool Deck
Having a swimming pool is an excellent addition to your home. With that comes the deck, which is the area surrounding your pool. A properly planned swimming pool deck is essential to ensure that your landscaping is functional. It also creates a transition from one area of your backyard to another. Here are tips so that you can have your dream backyard pool area: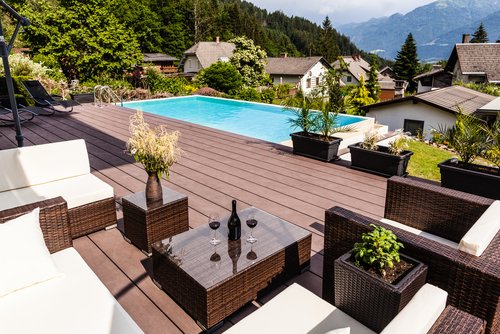 1. Think of your space
The size of your space will often influence the kind of deck that you can build. It's important that you're keen about your area because your design, budget, materials, and others, can then be planned accordingly. For most homeowners, there's one spot in the property where you can build the deck, and those with larger areas are fortunate to be able to choose as they please. Some of the factors affecting your deck are the lot size, view, shade and sun, proximity to the house, and privacy. Here are a few other considerations:
Small areas can have a multi-level deck that utilizes vertical space. Consult with local building codes for requirements when planning to do this in your property.
Irregular spaces can still have amazing deck designs. Talk to swimming pool experts for the best options to maximize your space.
Larger spaces have more options like a gazebo, dining area, and so on. Don't cram everything just because you have space; think about functionality, too.
2. Re-evaluate its uses and functions
Besides aesthetics, you need to know what the pool deck is going to be used for. This is essential to dictate the functionality of the design, the safety measures, and other options for your swimming pool decking. Brainstorm for ideas with your family and include each member who will be using the pool as much as possible. This way, you will know where balance or compromise is needed. Homeowners can use a pool deck for:
Hosting pool parties
Privacy and relaxation
Dining and grilling with family and friends
Quality time with kids
Spa surround
3. Choose the materials
A swimming pool deck can be made of various materials, and it's vital that you've evaluated your options as part of the preparation. Choosing the decking materials is an important step to ensure that you can afford the project, it's suitable for your space, and it can serve its purpose. Typical materials are concrete, brick, pavers, stone, wood, tile, turf, synthetic, or a mix of these. When choosing materials:
Opt for materials that blend with other areas and elements in your yard, including container gardens.
Consider how safety fences can be installed.
Choose materials that are resistant to frost, mold, mildew, algae, and other chemicals.
Go for those that aren't slippery when wet.
Final thoughts
Building a pool deck is an exciting project. As long as you've done the necessary preparations, you're swimming pool decking will look stunning. Use the tips above as a guide to your planning and preparation.