Hydroponic Systems in a Greenhouse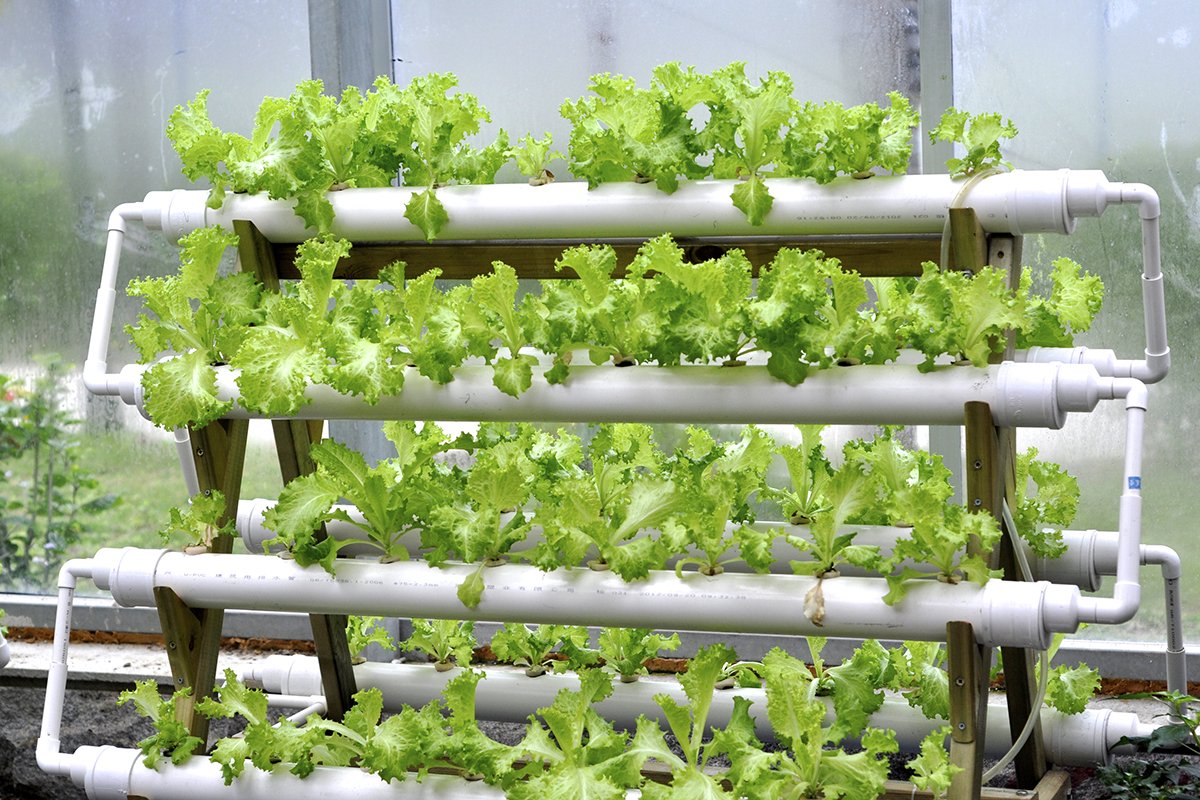 Accessibility to information, due mainly to the internet, has many home greenhouse hobbyists experimenting with hydroponic systems in a greenhouse. Hydroponic gardening is gardening without the use of soil. In other words, any type of growing system that bypasses the microbes in the soil and directly feeds the plants with nutrients can be considered hydroponics. There are many different hydroponic growing systems and each has its own advantages and disadvantages. A closer look at some of the systems commonly used by home hobbyists will give a grower a bit of insight into the fascinating world of hydroponic gardening and some inspiration to start experimenting.
Deep Water Culture
Deep water culture is perhaps the easiest hydroponic system to set up. A five gallon bucket or tupperware container can be converted into a deep water culture system with just a few parts from the hardware store. In a deep water culture system, the plant is held in place by a small amount of inert medium (usually gravel or clay pebbles). However, the vast majority of the plant's roots do not grow in the medium, but, rather, dangle down into the container where they are submersed in the nutrient solution. These systems are great because they are easy to build and can produce quick, vigorous growth. The biggest drawback of deep water culture systems is how susceptible they are to temperature changes. Since the roots are submersed in the solution, the temperature of that solution will greatly affect the way the plant's roots can receive oxygen. When temperatures are too warm, the plant's roots will not receive the oxygen they require and they will become susceptible to pathogens. For this reason, deep water culture should only be used by greenhouse growers in cooler climates or growers who have invested in cooling devices, such as water chillers or air conditioners. Without a cooling device, a grower may have a difficult time keeping the system's temperature in the desired range (65-75 degrees F).
Top-Drip
In a top-drip hydroponic system, the nutrient solution is delivered to each plant via a drip stake or drip line emitter. The individual plant modules will vary from system to system, but, generally, top-drip gardeners use standard potting containers. The medium for the containers can be any sort of inert medium or even soil if the grower wishes to have a more hybrid hydroponic/soil system. Top-drip systems can be set up as a recirculating system or a run-to-waste system. Recirculating top-drip systems will need a reservoir for holding the nutrient solution and the reservoir will need to be aerated. A timer is needed to trigger the pump for feeding intervals. The duration will fluctuate depending on the crop being grown and the particular stage of growth. Although top-drip systems are a little more expensive to start up than a deep water culture system, they fare much better at higher temperatures. Top-drip systems are also the preferred hydroponic system of commercial tomato growers.
Flood and Drain
A flood and drain system uses a table or trough which is flooded with nutrient solution for a given period of time and then drained. Traditional flood and drain systems use gravity to return the nutrient solution to the reservoir. In other words, once the pump that pushes water to fill the flood table is deactivated, the water drains back to the reservoir. Typically, containers filled with a medium, such as hydroton, stone wool, coco coir, or another soilless mix, are placed in the flood tables; however, the medium can also be placed directly in the table or trough. Flood and drain systems work well for hobbyists looking to experiment with hydroponics and/or beginner gardeners because they are easy to build and can accept a wide range of media. Like top-drip systems, flood and drain systems can offer a hybrid hydroponic/soil system to growers who are not ready to give up soil gardening completely, but still want to gain some of the benefits hydroponic gardening has to offer.
The previously mentioned hydroponic systems are commonly used by beginner hydroponic growers or hobbyists looking to do a little experimenting with hydroponics. Other systems, like aeroponics, nutrient film technique, and current culture, can also be used, but are typically reserved for growers with more hydroponics experience. That being said, remember that experimentation with hydroponic systems is a fun and exciting way to differentiate your greenhouse from others. There is no shame in trying out a new hydroponic system or trying to develop your own system for your particular greenhouse. Like other styles of gardening, hydroponic systems offer a lifetime of learning to anyone willing to give it a try.
For more information visit ArcadiaGlasshouse.com

4 Tips for Successful Hydroponic Growing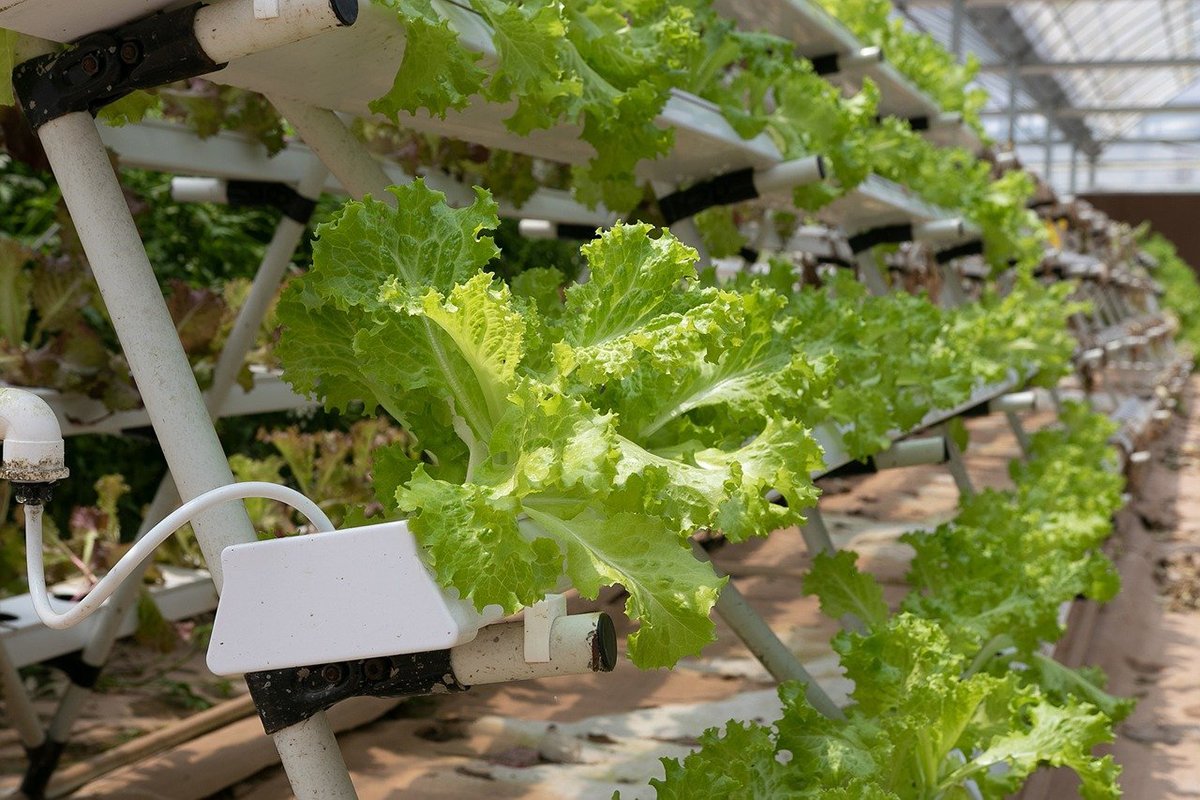 With the global population growing at a rate of approximately 1.05% per year or 81 million people annually, the increased demand placed on the Earth's natural resources calls for new and innovative solutions to farming methods and food production.
One possible solution which has developed in the field of horticulture is a method of growing plants known as Hydroponics. Here plants are grown without soil, by using a nutrient-rich growing medium such as coco coir, gravel, rockwool, or sand, allowing for nutrients to be absorbed directly into the plant's roots.
Without the need for soil, crops such as corn can be grown throughout the year, resulting in higher yields and fewer fluctuations in price. If you are looking for some growing tips for your hydroponic plants then read on.
Water
Before plants can be introduced to a hydroponic growing system it is important to check the quality of your water supply to ensure the pH levels are correct. Ideally, the water should have a pH of between 5.5 and 6.5 which can be measured using pH strips or a pH meter.
EC or Electrical Conductivity levels of water measure its ability to dissolve salts and other chemicals and should also be checked to ensure your plants receive the nutrients and minerals they need from the water. The temperature of the water should be kept between 68°F and 72°F and can be maintained through the use of a heater or chiller.
Lighting
One of the most important factors when it comes to hydroponic plant growth is light. Grow light for indoor plants is an essential factor in the cultivation of hydroponic plant growth, especially when there is less sunlight available.

Light-emitting diode lamps or LEDs are a preferred method for many growers due to their efficiency and effectiveness and their full spectrum of light which is similar to the rays of the sun.  Lighting can also be adjusted according to the life cycle of your plants.
Growing Medium
The right growing medium is another essential step when it comes to your hydroponic success. Due to the absence of soil in this method plants must be supported in other ways.
The growing medium must have the right combination of oxygen and moisture allowing for nutrients to be properly absorbed by the roots of the plants. Coco coir and rockwool are some of the popular mediums used by growers as they retain moisture and oxygen well.
Nutrients
Without the presence of soil to nourish your plants, hydroponic plants will require nutrient-based solutions which are specifically designed for growing plants hydroponically.
Hydroponic plants need 17 essential nutrients in order to grow and develop properly, therefore, a good quality nutrient fertilizer will be required. With a variety of nutrient-rich fertilizers on the market to choose from it is advisable to purchase from a reputable supplier and to ensure the solution is right for the types of plants you are growing and the stage they are at in their life cycle.
These four tips will help to ensure the success of growing your plants hydroponically.