Easy Ways To Incorporate Plants Inside Your Home
More homeowners these days are discovering the benefits of decorating with plants, and literally greening the home has been on trend in recent years. Besides adding glam and color to your home's aesthetics, another advantage it provides is wellness. They give off oxygen while absorbing carbon dioxide, and helps purify the indoor air you breathe.
When decorating with plants, it's worth keeping these five tips in mind: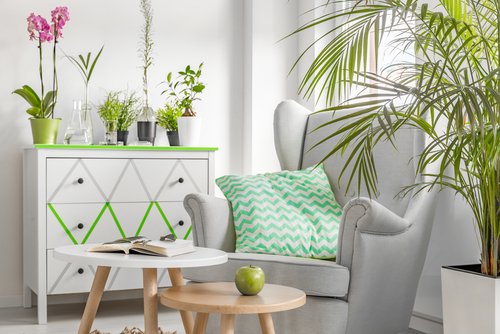 Group pots of greenery in odd numbers for a casual look. The symmetry of an even-numbered grouping makes the arrangement appear more formal.
To add interest, mix plants of various shapes, heights and widths.
Color choice depends on your preference. Similar hues provide cohesiveness but if you're aiming for variety in your décor, opt for foliage featuring different colors.
Like plant color, pots can be expressions of your design taste. You can have a set arrangement using plant containers of the same color and texture, or use variety to lend a more eclectic ambiance.
As living things, plants have preferred conditions. Be aware of these needs and make them part of your houseplant care routine. Some thrive in a moist environment while others like lots of light.
Decorating with houseplants
Incorporating plants in your décor is not that difficult to do. Try bringing nature inside your home with these simple but stylish suggestions.
Empty corners in your home can be tricky to decorate, and plants provide a way for you to get creative. Putting indoor trees like yucca and ficus in colorful Huge Commercial Planters takes care of the awkward space.
Don't throw away old dinnerware. Instead, use these to create tiny indoor gardens in your home. Arrange different kinds of succulents in a soup tureen, teacup or glass and top the soil with colored marbles to add more charm.


Think of indoor plants as living sculptures or artwork. Let them cascade over vessels to lend a sense of movement to your living room.

Alternatively, mimic a still life painting with an assembly of tiny succulents. Combine round and pointy shapes with shiny and matte surfaces, tying them together using a specific color scheme.

Create a green haven within your bedroom by trading one of your bedside lamps with a pot of fern or peace lily. Adding a sturdy plant in a sunny corner provides freshness. Greenery in the bedroom can help absorb pollutants from the air so that you breathe in purer air every time you get your beauty sleep.
Plants are an affordable way to freshen up your interiors. Whether your style preference is modern, traditional, minimalist, or eclectic; there is greenery to match it. Different species provide you with a range of colors, textures, and shapes to choose from. When you incorporate plants in your design, you not only breathe more life into your home but also enjoy the healing properties they provide.