G&G Product Review on O2 Grow Oxygen Generators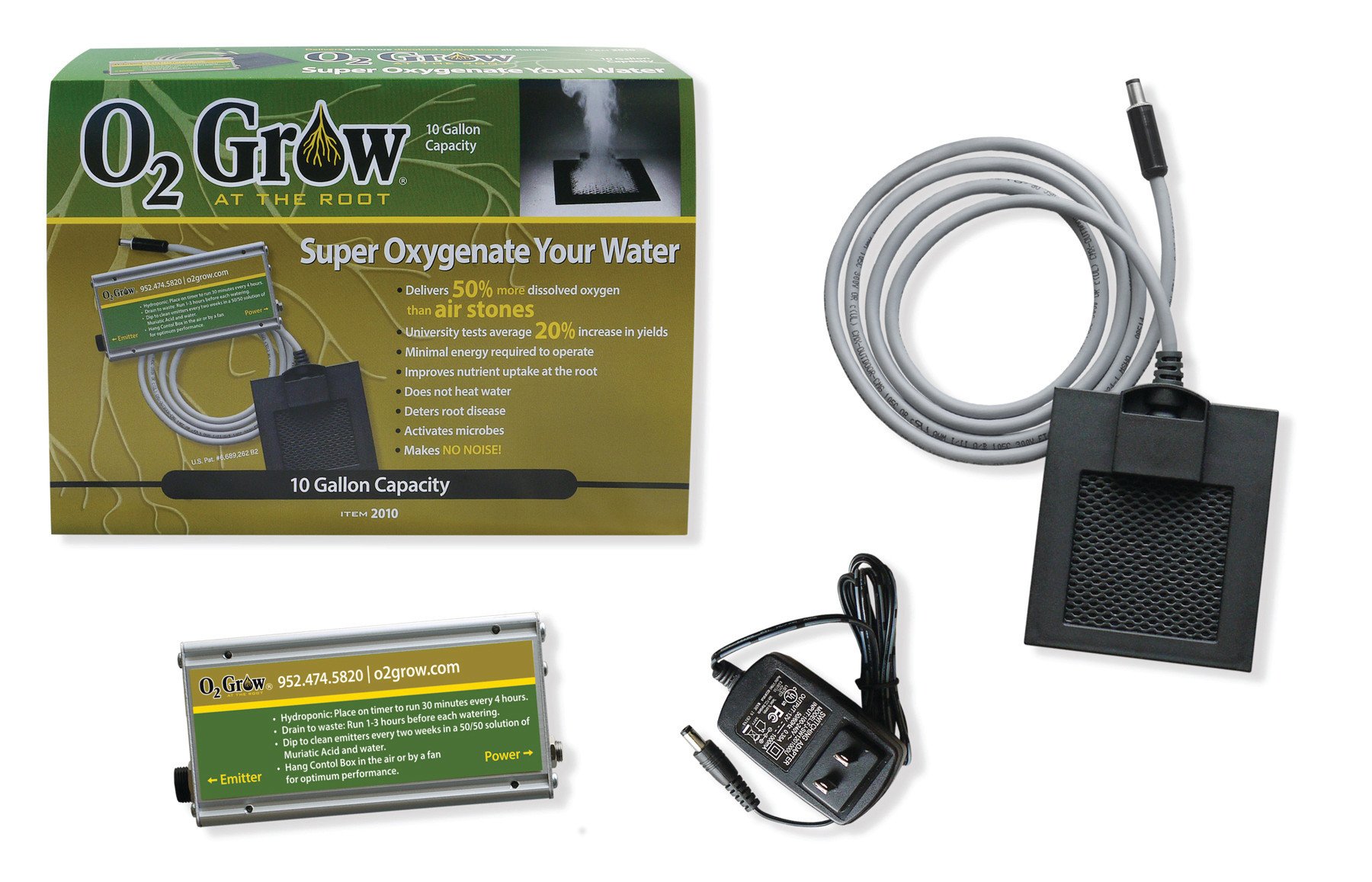 Indoor gardeners who use hydroponic systems have, at the very least, heard of dissolved oxygen. Dissolved oxygen is the molecular oxygen found in-between the water (H2O) molecules. It is the oxygen used by aquatic creatures and the aerobic organisms living in and around a plant's rhizosphere. When evaluating aquatic life, the water quality is rated by its dissolved oxygen content. The more dissolved oxygen, the better the water quality for living organisms to thrive.
These evaluations are done using a dissolved oxygen (DO) meter; a device used to measure the actual dissolved oxygen within a liquid. Many hydroponic growers don't realize that they can also use a dissolved oxygen meter to measure and monitor the dissolved oxygen content of their nutrient solutions. As with aquatic creatures, a higher amount of dissolved oxygen equates to a better environment for accelerated plant growth. Plants need about of 6 parts per million (ppm) dissolved oxygen to thrive, air stones or bubblers can achieve about 8 ppm and the O2 Grow Oxygen Generators will provide 12 ppm or higher. Dissolved oxygen levels over 10 ppm give the plants roots accelerated growth.
The Dissolved Oxygen Dilemma
Although growers may not understand everything about dissolved oxygen, they understand it is important for their hydroponic systems. Growers understand that, as plants grow, they use up the dissolved oxygen within the nutrient solution and that oxygen needs to be replenished. Perhaps the biggest dilemma concerning dissolved oxygen is that growers use inefficient methods to obtain or increase it in their hydroponic systems. In some cases, unbeknownst to the grower, the equipment he or she is using to increase the dissolved oxygen content may actually be working against him or her.
Mechanical air pumps and air stones are, by far, the most common ways hydroponic growers aerate their systems. The aquarium industry uses air pumps and air stones to help raise fish byproducts out of the water and add a little dissolved oxygen back into the water. The hydroponic industry adopted this as the standard for replacing the dissolved oxygen plants use as they grow. Most growers believe that the more air they pump through an air stone, the higher the solution's dissolved oxygen content will be. Unfortunately, this is not the case. In fact, it is mainly the bubbles from the air stone breaking the water's surface tension that puts dissolved oxygen back into the water. As the surface tension of the water is broken, some of the oxygen from the surrounding air is pulled into the water and captured. If more hydroponic growers used a dissolved oxygen meter, they would see for themselves that this method of aeration is not nearly as effective as they may have believed. Air is made up of only 21% oxygen, which is one of the main reasons why using air pumps and air stones to deliver oxygen to the water is not the most efficient method.
Another issue with air stones and air pumps is they will frequently increase the temperature of the nutrient solution. Many hydroponic growers understand the inverse relationship between dissolved oxygen content and the temperature of the nutrient solution. As the temperature of the water rises, its ability to hold dissolved oxygen decreases. Air pumps have mechanical motors, which create heat on their own. In addition to the heat created by the pump itself, most growers have the air pump placed in the growing area.
This means the ambient temperature of the air from within the grow room is literally being pumped right through the hydroponic system. As the warm air is pumped through the nutrient solution, it warms the solution. This, in turn, reduces the amount of dissolved oxygen the water can hold. Many growers combat this by adding another piece of equipment, a water chiller. Simply put, many growers are unknowingly chasing their tails by heating the nutrient solution with air pumps and then cooling it with water chillers. Along with raising the temperature of the nutrient solution, air from the gardening area could also contain CO2 or pathogens which have no business being pumped into the root zone of the plants.
The Dissolved Oxygen Solution
Oxygen Research Group, LLC, makes products that hydroponic growers can use to increase the dissolved oxygen content levels of the water, without increasing the temperature. Oxygen Research Group, LLC
manufactures and distributes O2 Grow Oxygen Generators. O2 Grow Oxygen Generators are nanotechnology oxygen emitters that use electrolysis to generate molecular oxygen. The electrolysis cycle separates the oxygen from the hydrogen when an electric current passes through an ion-containing solution or a liquid, such as water. O2 Grow Oxygen Generators are able to deliver 50% more oxygen than air stones. This is because O2 Grow Oxygen Generators create pure oxygen which can easily be absorbed back into the water and are not limited by the available oxygen in the air. When a higher amount of dissolved oxygen is present in the water, the plant's ability to uptake nutrients is increased. When a plant's ability to uptake nutrients is increased (assuming other variables are unchanged), the yield will increase.
Another benefit of using an O2 Grow Oxygen Generator is it will not increase the temperature of the water. In contrast to air pumps, which push warm air through the nutrient solution, O2 Grow Oxygen Generators create oxygen within the solution itself and never bring warm air or CO2 from the growing space into the root zone.
O2 Grow Oxygen Generators are also extremely energy efficient. The units convert AC current to low voltage DC, with the smallest unit drawing only 6 watts. When it is considered that the O2 Grow Oxygen Generator only needs to operate for a couple of hours per day, it is apparent just how little electricity they require over the course of a garden cycle. Remarkably, all of the units can even be run from a 12 volt battery. Most growers connect the O2 Grow Oxygen Generator to a cycle timer for automation. However, the very best approach a grower can take is to monitor his or her dissolved oxygen content with a dissolved oxygen meter. The hydroponic nutrient solution will have a maximum saturation point for dissolved oxygen. Or, in other words, a point at which the solution cannot hold any more dissolve oxygen. This is why it would be counterproductive to operate an O2 Grow Oxygen Generator 24 hours a day. In most cases, it only takes an hour or two for the nutrient solution to reach its maximum dissolved oxygen capacity.
Not Exclusively for Hydroponics
Although hydroponic growers are sure to be impressed by the results achieved with an O2 Grow Oxygen Generator, they are not exclusively made for hydroponics. An O2 Grow Oxygen Generator can be used for plants in soil containers as well. Simply run the O2 Grow Oxygen Generator in the watering can or holding reservoir for an hour or two (depending on volume and size of emitter) to maximize the dissolved oxygen content, then water the plants as usual.
Research Institution Testing
The University of Minnesota and the University of Tennessee have each tested the O2 Grow Oxygen Generators on a variety of plants, all with favorable results. The University of Tennessee saw a 20% increase in yield (root weight) with lavender. The University of Minnesota experienced increases in yields with a variety of crops, including 2006 bell peppers (58% increase), 2006 brandywine tomatoes (21% increase), 2007 bell peppers (32% increase), 2007 brandywine tomatoes (13% increase), 2007 hanging basket flowers (16% increase), 2013 Strawberries Evie 2 (18.3% increase), and 2013 BHN 589 tomatoes (15.8% increase). The research institution testing shows just how beneficial enhanced levels of dissolved oxygen can be for overall yield.
Growers of all levels are always looking for products or techniques to increase the yields of their gardens. Most growers understand that by increasing efficiency, they can automatically increase yields. O2 Grow Oxygen Generators not only increase the efficiency of an indoor garden, they are reinventing the way horticulturists deliver oxygen to the plant's root systems. By using a dissolved oxygen meter to test the nutrient solution's dissolved oxygen content, growers can witness for themselves the immense difference an O2 Grow Oxygen Generator can make in their gardens. By saturating the nutrient solution with the highest amount of dissolved oxygen possible, growers can rest assured that they are providing the plant's root systems with everything they need to maximize nutrient uptake. There is no other product on the market that enables a grower to increase the dissolved oxygen content to the levels that an O2 Grow Oxygen Generator can produce. Once a grower experiences the O2 Grow Oxygen Generator difference for themselves, he or she will never go back to air stones again.
For more information call 952.474.5820 or visit O2Grow.com.

A Dream: Retiring in Canada
Introduction
The prime of a person's life is represented by the golden years. If you've put in a lifetime of hard work, responsibility, and adhering to a strict work schedule, you can finally retire to your "cape" and relax in your own home, which need not be in the city where you currently reside. If you have made the decision to relocate for your retirement, you may be looking for the best Canadian city to retire to spend your time in.
Even if you already have a list of preferences for where you want to retire, this list can be a great resource. The adoption of a pragmatic and practical approach when selecting a retirement city can help you enjoy a happy and financially secure retirement.
Everyone has their own set of preferences, priorities, likes, and dislikes when it comes to just about anything and everything. This includes everything from minor details such as a favorite cup of coffee to major decisions such as choosing the right career path. As a result, it is understandable that each individual would have their own ideas about how and where to spend their retirement years.
Fredericton, NB
The city of Fredericton serves as the provincial capital of the province of New Brunswick. Although it is a small city in terms of population for a capital, it is a fortunate mix for retirees. In spite of the fact that the city is not particularly crowded, its status as the regional capital means that it has many amenities that a city of its size does not typically have (though public transportation is not available on Sundays). Real estate prices are low enough that you can afford a home if you have enough savings, which is especially true if you are looking to purchase a condominium.
In addition, the rent is significantly less expensive. It has a humid continental climate and is located on the banks of the river. So, if you like to fish, it could be a fantastic place to settle down in. For a city of its size, the city has a large number of historical buildings and museums, as well as parks and gardens. It also hosts a large number of festivals. The city's largest hospital, which has more than 300 beds and several specialists, as well as a level 3 trauma center.
It's possible that Fredericton will be the perfect place for you if you're looking for a nice, affordable blend of nature and a moderately large city.
Kingston, Ontario
When it comes to living in a city where half of the population is made up of young students rather than old retirees like yourself, Kingston might be the best Canadian city to retire to. Because of its strategic location, it has a long and illustrious history, particularly in the military sphere.
As a retiree, you'd appreciate Kingston's laid-back atmosphere and easygoing pace of life. Almost half of the year, the city is bathed in sunshine. Transport in the local area is efficient, quick, and reasonably priced. One of Kingston's most significant assets, however, may be its world-class medical facilities. Kingston General Hospital is one of the largest hospitals in the province of Ontario and is located in Kingston. Many wonderful places to visit or spend your retirement time in the city, such as Lake Ontario Park and the Museum of Healthcare, which is the only museum of its kind in the country, are available to you. Many outdoor activities are available to you in the city as well, including sailing, fishing, golf, and hiking, among many others.
Burlington, Ontario
There are 115 parks in the small community of Burlington, so getting some exercise and fresh air will not be a problem. Given that it's only about 40 minutes away from Toronto, it's possible that you'll enjoy living in this charming little town if you have family in the city. It has a vibrant creative community as well as a sufficient number of art venues, especially given the size of the city. In addition, the city is very bicycle-friendly.
Even though there is a major hospital in the town, you may need to travel to Hamilton, which is not far away, if you have a serious medical problem. The high cost of living in Burlington is a chink in the city's armor. Even if you decide to rent a place in the city, you may find it to be an expensive place to live. However, if you can find a way to avoid this expense (by living in a co-op or a small house, for example), the city will appear to be quite affordable. Alternatively, you can choose one of the city's retirement homes. In addition, the city offers a diverse range of retirement living options, including active retirement living, assisted living, and home care.
Kelowna, BC
When it happens to come to retirement homes, Kelowna is a bit of a cliche, to say the least. Until the most recent census, retirees accounted for more than 18 percent of the population, which is significantly higher than the national average. This city experiences all four seasons, although housing can be expensive (especially if you try to live near the lake). If you are an oenophile (a fancy way of saying wine enthusiast), Kelowna is the place to be. It's the perfect combination of nature, peace, and the big-city hustle and bustle (especially in tourist season).
If you don't mind living a little outside of the city for cheaper housing, if you enjoy driving and taking part in outdoor recreational activities such as picnics by the lake, you might find Kelowna to be a reasonable price. The primary medical facility, for example, is quite large, with over 700 beds, and the number of doctors per capita is sufficient given the city's population density. The dry weather is a major draw for many retirees who come to this city to enjoy their golden years.