Starting Seeds Indoors or in a Greenhouse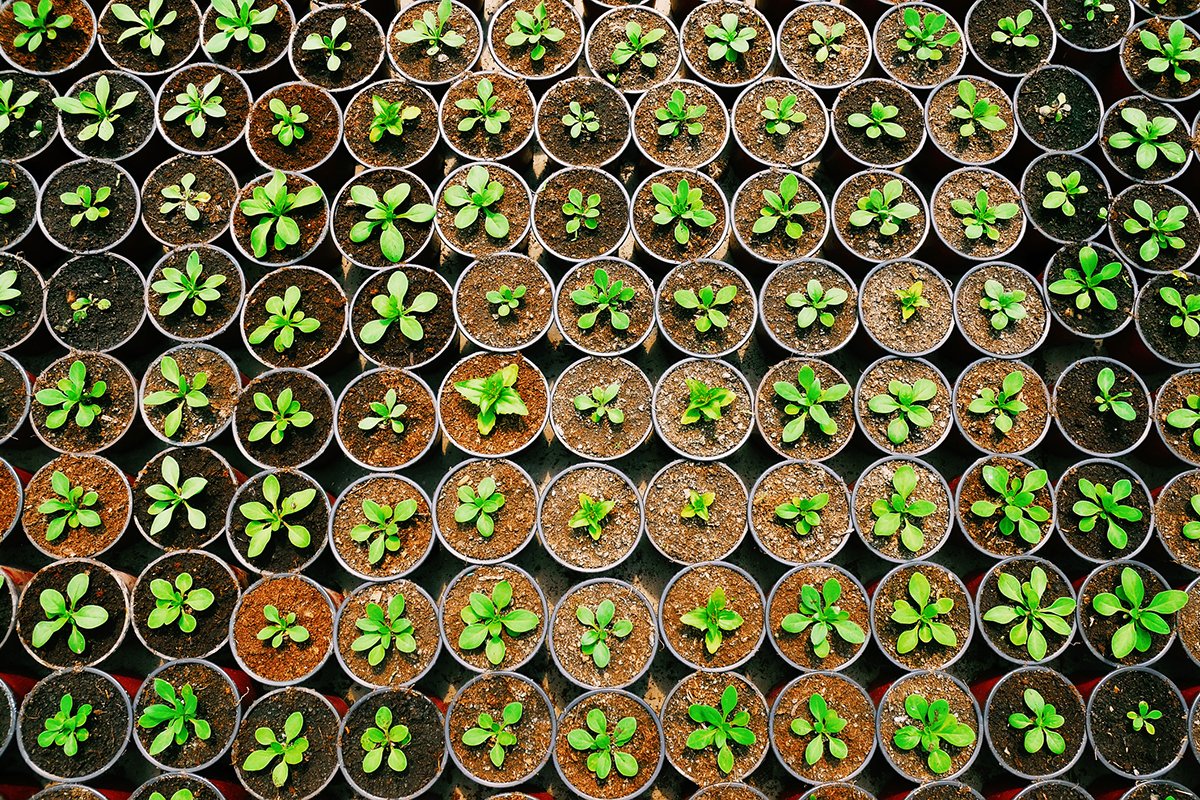 Spring is approaching and, for gardeners, this means a fresh start to another growing season. Many horticulturists choose to start seeds indoors or in a greenhouse in order to have plants ready to grow in the upcoming season. There are a few considerations every horticulturist should make before starting his or her seeds. Following a few simple guidelines will help make the seed starting experience both enjoyable and effective.
Timing
As with most things in life, timing is everything. It is important for a horticulturist to take into consideration his or her geographical location's average last frost date. A quick search on the internet or call to a local greenhouse can help a gardener determine in which zone he or she lives. Here are the zones and their corresponding average last frost date:
Zone 1 – June 15th
Zone 2 – May 15th
Zone 3 – May 15th
Zone 4 – May 15th
Zone 5 – April 15th
Zone 6 – April 15th
Zone 7 – April 15th
Zone 8 – March 15th
Zone 9 – February 15th
A good rule of thumb for starting seeds is to begin the germination process 6-8 weeks before your zone's average last frost date. It is also important to consider the particular plant varieties being grown. For example, many ornamental flowers can be started earlier, around 8-10 weeks before the average last frost date. Cold sensitive plants that require warmer temperatures to grow properly, like tomatoes, basil and peppers, should be started a little later, around 6-8 weeks before the average last frost date.
Grow Medium and Planting Containers
It is very important to make or buy a seed starting medium that is specific for starting seeds. Regular potting soil is too heavy and potent for most seeds. Plug trays or peat pellets are great for starting seeds, but will require transplanting after the seedling has developed its second set of true leaves. I personally prefer using small plastic cups with small holes poked in the bottom for drainage. These small cups are big enough for the plant to establish a heathy root structure and can usually be used until the plant is placed outdoors or into its finishing planting container. Filling a tray with medium and planting multiple seeds should be avoided, if possible. Not only does this create a less than desirable root structure, it also makes it difficult to separate the seedlings without damaging them.
Some seeds are very small and are extremely difficult to plant individually. One technique is to use the eraser end of a pencil to pick up and gently bury the seed into the medium.
Temperature and Humidity
Proper temperature and humidity are necessary for healthy seedling development. A heat mat is a great way to supply heat to the seedling bed, which helps initiate the germination process. Not only do heat mats provide the warmth necessary for germination, they also help keep the temperature more consistent around the seedlings. All plants, especially seedlings, thrive on consistency. Although not completely necessary, many gardeners like to use a humidity dome on their seedling trays. Generally speaking, seedlings prefer a higher humidity than the ambient air. Humidity domes are an inexpensive and simple way to maintain higher humidity for the seedlings. Humidity domes, like heat mats, will also help maintain consistent atmospheric conditions.
Lighting
If they are being grown indoors, seedlings should be placed as close to a window as possible. If they are being grown in a greenhouse, try to position the seedlings in an area that receives the most light. Many growers use an artificial light source for starting seeds indoors or in a greenhouse. If you have ever experienced leggy, stretched stems on seedlings, you have seen the results of inadequate lighting. An artificial light source above the seedlings will keep them compact and healthy. There are many different artificial light sources that can be used for seedlings, but T5 fluorescents are highly effective and relatively inexpensive. A light for starting seeds is a valuable tool and is well worth the investment.
Starting seeds in a greenhouse or indoors is a fun and easy way to get a head start on the growing season. Hobbyists who start their seeds at the right time, while also supplying the proper medium, atmospheric conditions and lighting will not only have higher germination success, but will also have many healthy seedlings ready to take on the upcoming growing season.
For more information visit ArcadiaGlasshouse.com

How Does a Greenhouse Work?
Gardening is a great way to get fresh air, physical activity, connect with nature, and spend time outdoors. But if you're looking to take your growing operation to the next level, you should look into greenhouse construction. Ideal for large agricultural operations or even just your backyard garden, a greenhouse can extend your growing season, provide optimal growing conditions, and protect your plants from predators.
We've all probably heard of a greenhouse, but before you make the investment, it's wise to do your research and understand your options. It's also important to understand how a greenhouse works and how it affects the growing conditions of your plants. Well, that's why we're here to help. In this article, we're taking a closer look at greenhouses and how this technology can help transform your growing season and plants.
What is a Greenhouse?
We've all heard of this type of structure, but do you really know what a greenhouse is? A greenhouse is a structure that consists primarily of transparent materials for the roof and walls. In the majority of cases, glass is used to allow sunlight into the space, but it then cannot exit, which creates a warming environment. Greenhouses range in size from shed-like structures you might see in someone's backyard all the way to industrial-scale operations where they can take up acres upon acres.
What is this all for? The purpose of this structure is to allow in sunlight, which warms the interior of the greenhouse while protecting the plants inside from cold temperatures, bad weather, and pests and predators like deer or rabbits. Greenhouses are popular and can be used throughout the world, especially in colder climates, to create an ideal growing environment for plants, herbs, or any type of produce.
Greenhouses are versatile and customizable and can be used by anyone, ranging from multinational companies to your neighbor who loves to garden. If you're looking to grow in optimal conditions, a greenhouse could be beneficial for you.
Benefits of a Greenhouse
Greenhouses are popping up everywhere—and for good reason. Take a look at just a few of the top benefits of having your own greenhouse:
Your own growing space: have you ever dreamed of having your own dedicated growing space? If so, you'll need a greenhouse. Don't worry about clutter or determining the best space for your plants. A greenhouse does all that for you and even will help you finally get organized with your growing.
Optimal growing conditions: by trapping heat and sunlight, a greenhouse creates ideal growing conditions for a wide range of plants and herbs. With a greenhouse, you're in control of the growing conditions.
Protection: spending time on your plants only to have them eaten or destroyed by local critters is one of the worst feelings. To keep your plants safe from pests like deer or rabbits, use a greenhouse that provides maximum protection. It's also an ideal method for keeping out disease and fungi that can harm or destroy your entire yield. With a greenhouse, give your plants the protection they need.
Extend your grow season: depending on where you live, you may have a rather short growing season, which can severely limit how much (and what types of plants) you can actually grow. A greenhouse changes all this by providing you with optimal growing conditions throughout the whole year. All you need is sun.
Save money: while the initial construction of your greenhouse will, of course, require some costs, most greenhouse owners end up saving quite a bit of money in the big picture. Since you can extend your growing season, you can grow more and more types of plants or produce. And since a greenhouse provides protection for your grow, you won't waste money on replacing damaged or dead plants nearly as often. It will also cut down on your need to buy expensive fertilizers throughout the year.
How Does a Greenhouse Work?
As you can see, there are quite a few reasons to use a greenhouse for your grow needs. Greenhouses will let you extend your growing season, and at the same time, protect your plants from pests and predators. But have you ever stopped to consider how this technology actually works? Well, let's take a closer look.
A greenhouse works by allowing sunlight to enter your space. This is why it's so important that the building materials are transparent, such as using glass. Light will enter the greenhouse and then the heat from the solar radiation is absorbed by the plants in the interior space of the greenhouse. Remember, the darker the surface area, the more heat is absorbed.
When heat is absorbed, the wavelength of the incoming light is changed. In this new length, the heat cannot exit the greenhouse as it was able to enter. So, effectively, the greenhouse traps these wavelengths of heat inside. The heat remains in the greenhouse and radiates throughout the space, warming up the environment inside. As long as you're receiving sunlight throughout the day, your greenhouse and your plants will stay warm.
Conclusion – How Does a Greenhouse Work?
A greenhouse construction project can truly transform your growing operation—no matter how large or small. From a full-scale operation to a simple home garden, a greenhouse could be the perfect solution to help you grow the best plants yet. By allowing sunlight and heat into the interior space, the greenhouse traps heat and ensures optimal growing conditions for your plants, herbs, and produce. A greenhouse enables you to have complete control over the growing environment, which will end up giving you the best yield yet.
Building a greenhouse is ideal for any space. Since you can customize the size and shape of your greenhouse, it can suit any yard or full-scale operation. Extend your grow season, create an amazing growing environment, protect your plants from pests and predators, and create your own dedicated growing space. All of these are just a few of the benefits when you've added a greenhouse to your space. If you're really looking to take your grow operation to the next level, there's no doubt about it, a greenhouse is a must.