Foody 12 Hydroponic Tower by Foody
Most people appreciate easy access to fresh produce. This is one of the main reasons many of us become horticulturists. As we go through the trials and tribulations in an attempt to perfect our green thumbs, we each find a "system" that works for us. What if I told you there was already a clever solution to the problem of finding easily accessible, sustainably grown produce? The folks at Foody have solved this quandary with their Foody Vertical Gardens.
The company "Foody" was spawned from a farmer's passion to help people grow their own food, no matter where they live. Foody Vertical Gardens allow anyone to grow fresh herbs, fruits, or vegetables year-round, indoors and/or outdoors. The vertical garden has a very small footprint (taking up only two square feet) which means it can fit just about anywhere. Aside from making fresh produce as accessible as possible, Foody Vertical Gardens are designed to increase production through their efficient use of space and reduced requirements of water and nutrients. All of this, combined with no need for herbicides, equates to a reduction in overall expenses for the grower. Foody's automatic hydroponic system, the Foody 12 Hydroponic Tower, makes growing your own produce as simple, and cost effective, as can be.
Foody 12 Hydroponic Tower
The Foody 12 is a hydroponic vertical garden which utilizes deep water culture (DWC) hydroponic technology. One of the largest advantages of the DWC technology is the rate of growth. Plants grown in the Foody 12 will grow more rapidly than plants grown in soil. The plants will come to maturity sooner and this enables the gardener to enjoy the fruits of his or her labor more quickly than with traditional soil gardening. The watering system on the Foody 12 is completely automated. The garden comes with a submersible pump and water distribution system. Individual siphons are in each growing pod which allow the water level to move up and down automatically ensuring excellent root aeration. The tower's three growing pods each hold 12 plants (the base holds another eight) and the pods can be rotated manually or by the optional automated drive system (an available accessory). The towers are made from BPA-free, food-grade materials which means they can be used for certifiable organic production. Towers are also UV resistant which ensures years of trouble-free use. The Foody 12 uses only 10% of the water normally required by plants grown in soil. Also, there is no need for herbicides because there are no weeds; just fresh produce at your fingertips. The vertical construction naturally reduces the need to bend over, making the Foody 12 a back saver as well. All the benefits and available options for the Foody 12 make it the most comprehensive vertical gardening system available. However, what makes the Foody 12 so great isn't just its small footprint or optional automated drive system; it is the fact that the Foody 12 gives anyone the ability to grow fresh food in the comfort of his or her home.
There is no doubt that we will continue to need solutions to our modern agricultural dilemmas. Companies, like Foody, who create effective, yet simple, horticultural solutions are sure to become household names. People desire access to fresh, sustainably grown produce and there is no better, or easier, way to obtain food security than by growing your own food using a Foody Vertical Garden.
For more information visit FoodyVerticalGarden.com

Make Indoor Vertical Gardening Convenient and Fun
It is always fun and fascinating to transform one of the walls of your home into an indoor vertical garden. It is not only easy and convenient to create one of these but it also never fails to add a little bit of color and fragrance to your room.
The vertical indoor gardens take up very small space when you make use of best bench top jointer. By making an indoor vertical garden in your room will add fresh blossom and also a splash of bright colors in your room.
There are various advantages of making your indoor vertical garden that will boost you in making one. Some of the benefits are as below:
Clean air: Plants are the best way to purify the air that surrounds you. The plants that you will plant in the vertical garden will help in the collection of dust, which is one of the greatest health benefits.
Great artwork: The gardens that hang upside down on the walls not only look beautiful but also attract the eyes of every person that enters the home. When you make a vertical indoor garden you make a great artwork on your wall without much difficulty.
Reduction of clutter: The plantation of vertical gardens reduces the stress and difficulty that you have to face in cluttering the pot plants. Also, the vertical gardens are more convenient and render great health benefits.
It is sure that by now even you want to make an indoor vertical garden in your home, right? Now the next question that arises is how to make it? There are different ways in which you make the best garden without much hustle. The various ways that you can make your home wall even more fascinating are as below:
Grand Living Wall
To get a perfect, fascinating look on your wall, you can always rely on making vertical gardens on a grand living wall of your home. It is always advisable to use 100% recyclable plastic free modular systems when you start making your garden. This way you can have flourishing flowers that in your home without any side effect.
You can also grow wall vertical gardening system that makes use of great creativity in designing your grand wall and giving it a completely new look. You can also flourish them with best insulators that will help to keep your room cool in summer and warm in winter.
Simple and Pretty Solutions
If you do not wish to plant the garden on the grand wall of your home, you can always start with making simple, stylish and small garden alike greenery on your wall. For instance, you can make use of recyclable plastic to make a small and stylish modular system that is easy to clean and much fascinating. The rustic frame is one of the best frames that come from reclaimed wood, and you can hang the frame anywhere you want in your home.
Lastly, you can add a blackboard frame with the plants. It will help you to know the names of the plants and give them water accordingly.
Beautiful Alternatives
When you are adding beautiful flora on your walls, it is advisable to even add some fauna to it. The addition of fauna to flora will add beauty to the fascinating walls. You can pick some of them from hippo, elephant or even rhino.
Also, you can grow vegetables or herbs on the walls and then later transport them in your meals, and by doing so, you get to eat fresh and healthy. You can make Stands for your small plants with the old milk bottles. Lastly, you can also use the DIY plant stands as a décor on your dining table.
How can you build your Indoor Vertical Garden without any Difficulty?
By simply following the basic five steps you can do your indoor vertical gardening without much hustle.
Step 1: Hanging the pocket planter at a place where it gets sufficient amount of sunlight.
Step 2: Properly measure the distance from the wall and then space the gourmets accordingly.
Step 3: Drill the necessary holes.
Step 4: After you drill the holes, slide the fasteners into them.
Step 5:  Lastly, just screw the pocket planters into the fasteners with proper care and start the plantation.
"To plant a garden is to believe in tomorrow."
Gardening is one of those activities that need much hard work and labor. To have the indoor vertical gardens is one of the best things when to comes to eat fresh and healthy food. Also, it helps in purifying the air and catching all dust surrounding it. There are various ways to decorate the walls of your home by using the mix and match technique with the different plants, herbs, and flowers.
Author Bio: Victor loves to contribute towards the eco-friendly environment. He tries to share as much information possible online to ensure how to use the woodworking tools in the best manner possible for gardening and wood landscaping.
Introduction to Vertical Gardening Within a Greenhouse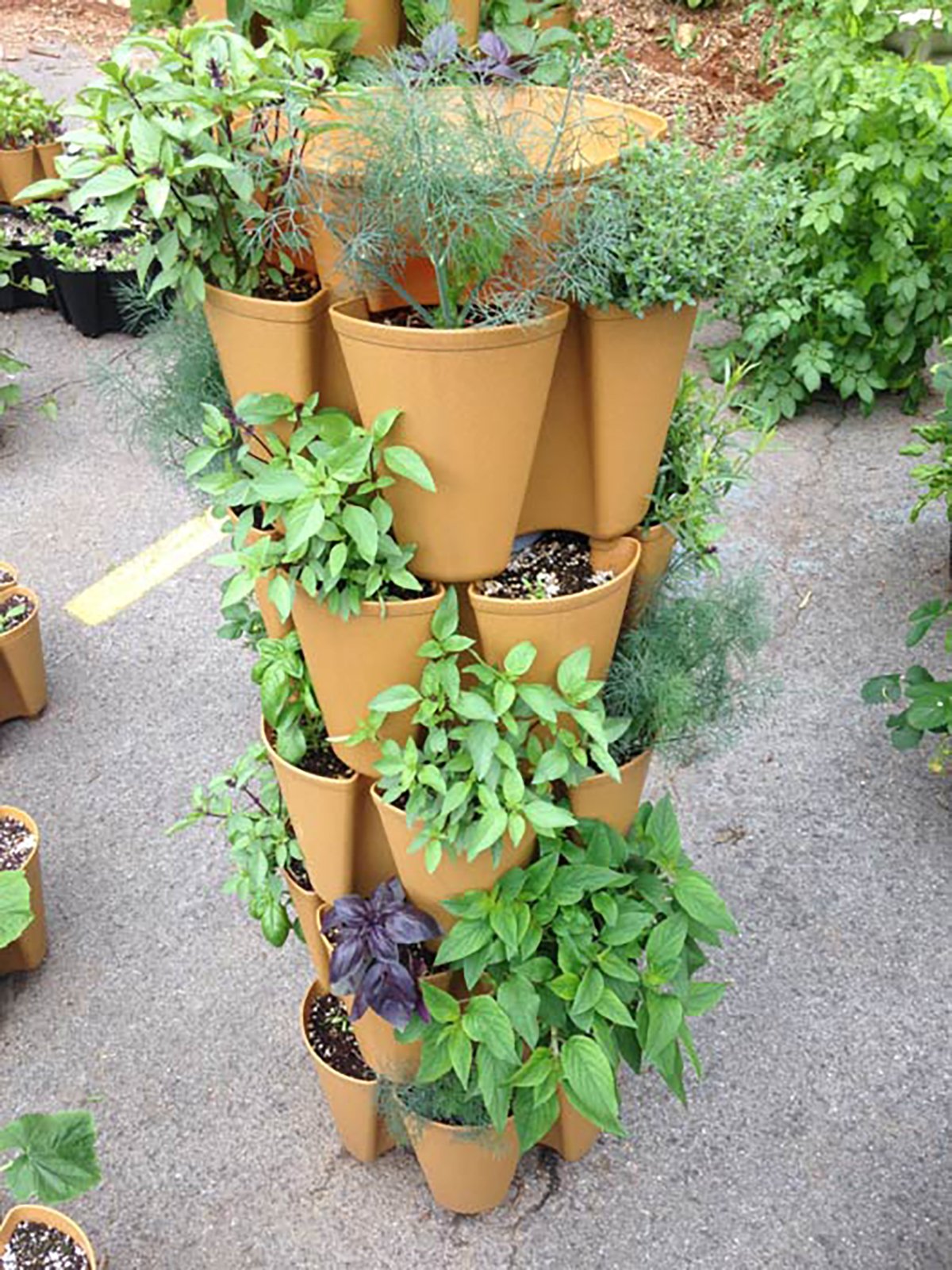 Vertical gardening is quickly becoming one of the most popular methods for maximizing the space within a greenhouse. Vertical gardening is exactly what it sounds like: gardening in vertical rows instead of horizontally. In other words, the plants are, in various configurations, stacked one on top of another. For greenhouse horticulturists, vertical gardening opens up the possibility of filling the greenhouse from the bottom to the top with foliage. There are many different ways a greenhouse horticulturist can utilize vertical gardening techniques, but shelving, vertical planters, and vertical hydroponic systems are the most popular methods.
Shelving
Believe it or not, greenhouse shelving is a form of vertical gardening. The shelving used in a greenhouse allows a gardener to stack plants on top of each other and better utilize the given floor space. There are many different ways greenhouse shelving can be set up in a greenhouse. Generally speaking, the shelving should be set up in multiple tiers with the highest tier on the wall that is opposite the side of the greenhouse that receives the most light. By doing this, the plants on the higher shelving will not shade out the other plants located lower in the garden.
Vertical Planters
Vertical planters are either manufactured or homemade planting structures designed to house plants in a vertical manner. An example of a homemade vertical planter is a plastic 55 gallon drum with holes cut into the side where the plants can be placed. Vertical planters are usually designed to be used with potting soil. Typically, these planters are watered from the top, allowing gravity to bring the moisture to all of the plants in the container. Strawberries and lettuce are two crops commonly grown in vertical planters with great success.
Vertical Hydroponic Systems
Vertical hydroponic systems utilize soilless gardening in a vertical position. Most vertical hydroponic systems are recirculating systems which means the nutrient solution is collected and reused after each feeding. The nutrient solution is commonly delivered to the upper most plant module so gravity can bring the solution to the remaining plants down below. Vertical hydroponic systems combine the speed of
growth associated with hydroponic gardening and the space maximizing benefits of vertical gardening.
Things to Consider with Vertical Gardening
There are a few things to consider when setting up a vertical garden. One big consideration is shading out other plants in the greenhouse. The tallest vertical system should be placed on the opposite side of the prevailing light. The best way to visualize an appropriate vertical garden in a greenhouse is to think of it as stadium seating. In other words, the plants are staggered from shortest to tallest so that the plants can receive the most sunlight possible. Another big consideration for vertical systems is nutrient consistency. This is most important in vertical hydroponic systems where the nutrient solution will be reused. Daily monitoring of nutrient and pH levels in a vertical hydroponic system is an absolute must. If constructing a homemade vertical system, make sure to take into account the additional weight of the plants and soil or medium. If a vertical system is extremely top heavy, it may need additional safety supports to prevent it from tipping or falling.
Trying a vertical gardening technique is a fun way for a greenhouse hobbyist to experiment with maximizing his or her given garden floor space. Experimenting with vertical gardening can be as simple as trying different shelving configurations or as advanced as an automated vertical hydroponic system. Vertical gardens allow greenhouse hobbyists to better utilize the space within a greenhouse by literally having plants from the floor to the roof. When the garden space is better utilized, more plants can be grown, which is good news for any greenhouse enthusiast.
For more information visit ArcadiaGlasshouse.com