4 Tips for Successful Hydroponic Growing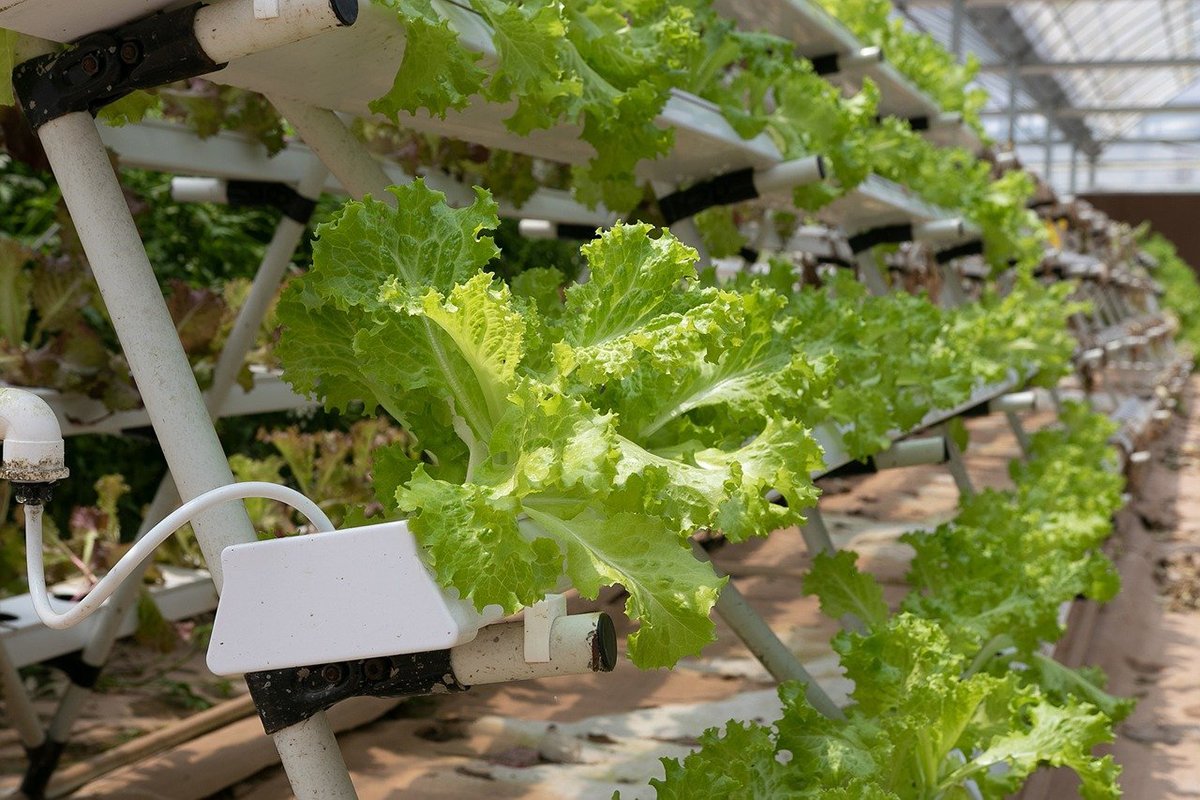 With the global population growing at a rate of approximately 1.05% per year or 81 million people annually, the increased demand placed on the Earth's natural resources calls for new and innovative solutions to farming methods and food production.
One possible solution which has developed in the field of horticulture is a method of growing plants known as Hydroponics. Here plants are grown without soil, by using a nutrient-rich growing medium such as coco coir, gravel, rockwool, or sand, allowing for nutrients to be absorbed directly into the plant's roots.
Without the need for soil, crops such as corn can be grown throughout the year, resulting in higher yields and fewer fluctuations in price. If you are looking for some growing tips for your hydroponic plants then read on.
Water
Before plants can be introduced to a hydroponic growing system it is important to check the quality of your water supply to ensure the pH levels are correct. Ideally, the water should have a pH of between 5.5 and 6.5 which can be measured using pH strips or a pH meter.
EC or Electrical Conductivity levels of water measure its ability to dissolve salts and other chemicals and should also be checked to ensure your plants receive the nutrients and minerals they need from the water. The temperature of the water should be kept between 68°F and 72°F and can be maintained through the use of a heater or chiller.
Lighting
One of the most important factors when it comes to hydroponic plant growth is light. Grow light for indoor plants is an essential factor in the cultivation of hydroponic plant growth, especially when there is less sunlight available.

Light-emitting diode lamps or LEDs are a preferred method for many growers due to their efficiency and effectiveness and their full spectrum of light which is similar to the rays of the sun.  Lighting can also be adjusted according to the life cycle of your plants.
Growing Medium
The right growing medium is another essential step when it comes to your hydroponic success. Due to the absence of soil in this method plants must be supported in other ways.
The growing medium must have the right combination of oxygen and moisture allowing for nutrients to be properly absorbed by the roots of the plants. Coco coir and rockwool are some of the popular mediums used by growers as they retain moisture and oxygen well.
Nutrients
Without the presence of soil to nourish your plants, hydroponic plants will require nutrient-based solutions which are specifically designed for growing plants hydroponically.
Hydroponic plants need 17 essential nutrients in order to grow and develop properly, therefore, a good quality nutrient fertilizer will be required. With a variety of nutrient-rich fertilizers on the market to choose from it is advisable to purchase from a reputable supplier and to ensure the solution is right for the types of plants you are growing and the stage they are at in their life cycle.
These four tips will help to ensure the success of growing your plants hydroponically.

Hydroponic Nutrients – The Essential Elements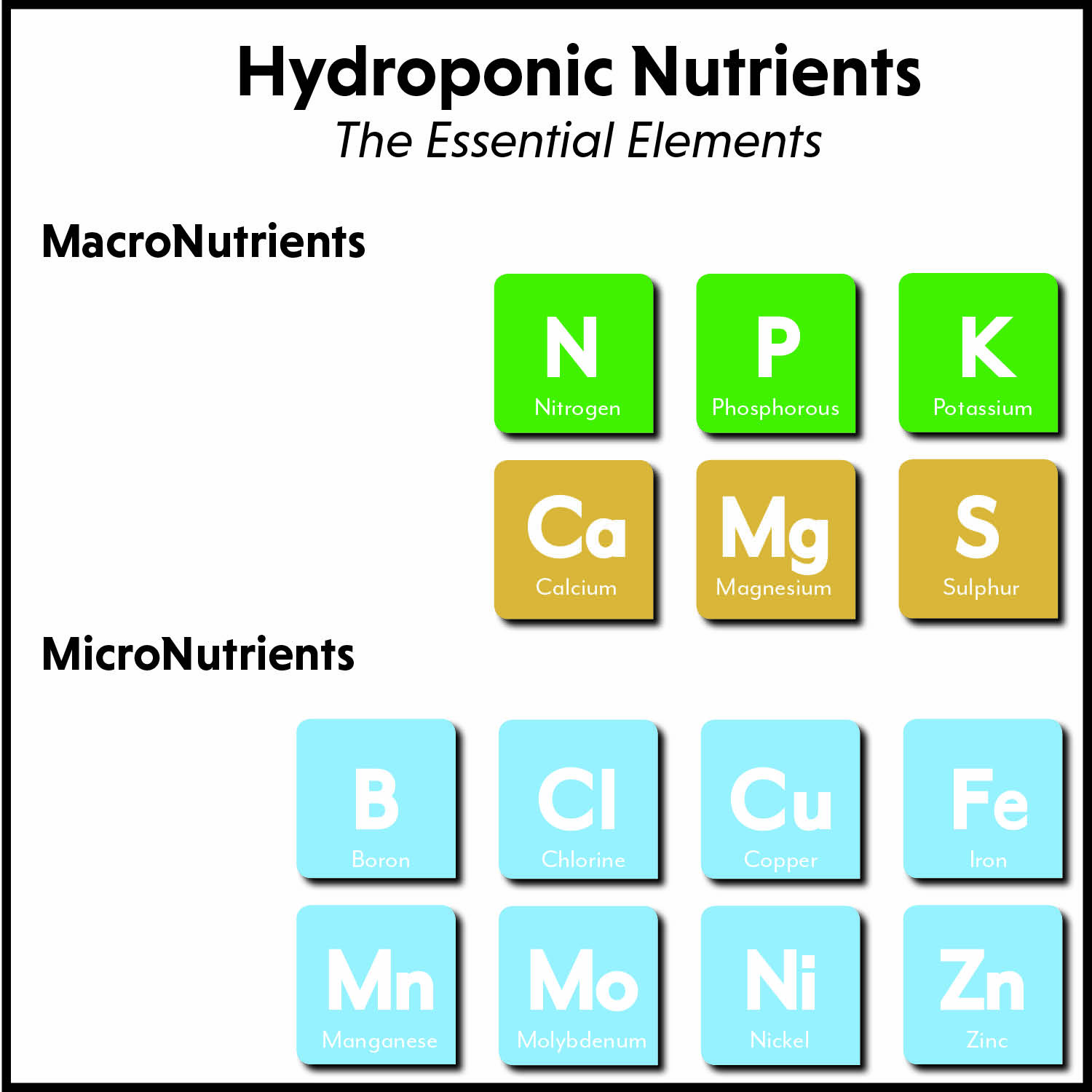 There are 17 essential elements needed for plant growth. Three of them (hydrogen, oxygen, and carbon) are non-mineral elements and are absorbed by plants through the air or water. The other 14 essential elements must be provided by the soil or fertilization. Since hydroponic gardening bypasses the soil, all 14 essential mineral elements must be furnished in the hydroponic nutrient solution.
These essential mineral elements are broken into two categories: macronutrients and micronutrients. The macronutrients are the nutrients used in higher concentrations relative to micronutrients which are absorbed in smaller amounts. When shopping around for hydroponic nutrients, a gardener will quickly notice three numbers on the nutrient solution's label. These numbers represent the N-P-K values or ratios of nitrogen (N), phosphorus (P), and potassium (K) in that particular formula. Nitrogen, phosphorus, and potassium are the primary macronutrients. In other words, they are absorbed in higher ratios than any other essential mineral element. This is why it is important for fertilizer labels to disclose the N-P-K ratio. A closer look at all of the macronutrients found in hydroponic fertilizers will give growers a better understanding of how each element affects plant growth.
Macronutrients
Nitrogen (N)
A basic component of proteins and chlorophyll, Nitrogen is the main nutrient responsible for vigorous growth and luscious green coloration.
Phosphorus (P)
Plays an important role in root stimulation and establishment for young plants. Phosphorus also promotes flowering, fruiting, ripening, and respiration.
Potassium (K)
Promotes movement of sugars and other nutrients (via osmosis). Potassium is directly linked to stem strength and rigidity. Potassium increases a plant's overall resistance to cold, drought and pathogens. Much like phosphorus, potassium plays an intricate role in the formation of flower buds and fruiting/blooming processes.
Calcium (Ca)
Builds and becomes part of the cell walls. Calcium is vital to plant structure and strength and promotes growth of young shoots and roots. Calcium is needed for ripening and seed production.
Magnesium (Mg)
Reinforces cell walls and is an important component of chlorophyll. Magnesium promotes the absorption of phosphorus, nitrogen, and sulfur. It also plays a vital role in the ripening of fruit and the germination of seeds.
Sulfur (S)
Contributes to chlorophyll production and is a necessary component of several proteins, enzymes and vitamins. Sulfur aids the plant's absorption of potassium, calcium, and magnesium.
Micronutrients
Micronutrients, although absorbed in lower amounts than macronutrients, play an equally important role in overall plant health.
Chlorine (Cl)
Involved in the stimulation of photosynthesis.
Iron (Fe)
Assists in biochemical processes, including the manufacturing of chlorophyll. Iron also contributes to the formation of some enzymes and amino acids.
Boron (B)
Essential for tissue growth within the plant. Promotes the absorption of water and helps regulate a plant's metabolism. Boron also assists in the formation of fruit.
Manganese (Mn)
Plays an essential role in nitrogen assimilation and protein formation. Manganese can speed up a plant's maturity and helps promote seed germination. It is also necessary for chlorophyll production.
Zinc (Zn)
Helps the development of enzymes and growth hormones.
Copper (Cu)
Plays a role in chlorophyll production and helps activate various enzymes.
Molybdenum (Mo)
It is needed for the production of nitrogen-based proteins and is essential for nitrogen assimilation by plants.
Nickel (Ni)
Regulates mineral metabolism, enzyme activity and other metabolic processes in plants.
Hydroponic Base Nutrients
There are many choices and it can become overwhelming trying to choose a brand of hydroponic nutrients (fertilizers). The first thing a hydroponic horticulturist should do is choose a base nutrient formula. A base nutrient formula will contain all the essential mineral elements, therefore providing all elements necessary for plant growth. Depending on the manufacturer, the base nutrients may be a one, two, or three part formula. Regardless of how many parts it is all base nutrient formulas do the same thing: provide the plants with the essential mineral elements. A good hydroponic base nutrient is all that is needed to get started growing hydroponically.
Can I Use my Hydroponic Nutrients for Soil Gardening?
Hydroponic base nutrients are designed specifically for use in hydroponic systems. Although they can be used in a pinch to fertilize plants in soil containers, they are designed for hydroponics which means the ratio of some elements will differ from fertilizers designed specifically for soil.
pH in Hydroponics
In order for the plants to absorb the essential elements in a hydroponic system, the pH of the solution must be in a particular range. A pH of 5.5 – 6.0 is the desired range for most hydroponic systems. If the pH gets above or below that range, the plants will be unable to absorb certain nutrients. This will eventually lead to a deficiency. Hydroponic growers will need to have pH buffers (pH up and pH down) on hand to make adjustments when necessary.
Finding a hydroponic nutrient formula can be overwhelming for new growers. Just remember, a good base formula and pH buffers are all you need to get started. Once you feel comfortable with your base formula, you can begin experimenting with the plethora of hydroponic nutrient additives available at your local hydroponic retailer.
For more information visit ArcadiaGlasshouse.com.