7 Environmentally Friendly Home Ideas
Home improvement might be at the top of your to-do list as you think about getting your house ready for summer entertaining. While planning how to give your home a new look, you can also make choices that are good for the environment and can be wise for your wallet and your health. These green choices will also help your house appeal to potential buyers.
Replace Your Faucets and Toilets With Low-Flow Options
You could throw away gallons of water each year without even knowing it. Switching out regular-flow toilets and faucets for low-flow ones is a relatively easy job with a big payoff to save water and lower your utility bill. You will need to invest in installing new low-flow toilets, but while they might cost a bit more, the water savings will be worth it. For example, replacing an older model toilet with a low-flow toilet could reduce your bathroom water usage by 50 percent. Apart from low-flow toilets, you could also look into installing a heavy-duty macerator pump. It's to install and makes your toilet system more water efficient, reducing water waste. In this way, you can save on water usage and help the environment as well. Low-flow aerators for showers and faucets are easy to install yourself and could also lead to 30 to 50 percent water savings. If you expect to have a lot of guests coming in and out of your home this summer, making these small changes can have a big impact. Low-flow toilets and sinks can also add to your home's value.
Opt for Native Plants
Unless you are an award-winning gardener, chances are your ideal garden is one that is beautiful and easy to maintain at the same time. Any professional landscaper will tell you that going with native plants can help you to keep your watering and pruning time to a minimum and ensure that your plants can look their best all season long. These plants will regulate themselves with your home's weather patterns, including rainfall and humidity levels. You will also likely be able to avoid pesticides and fertilizers. Because native plants are local, their prices will be lower than plants that have traveled across the country or the world before reaching you. Instead of buying plants, you can also ask a neighbor to take a cutting from their garden to start making your own grow.
Use Recycled Water in Your Garden
Depending on the climate where you live, collecting water can be an option for watering your garden to save on your water bill. Collecting rainwater could be as simple as having a bucket in your garden or getting a more involved system that collects water and distributes it to your plants. Collecting rainwater can also be used to clean your windows or wash your car.
Make Your Decor Green
When you're thinking about adding decor to your home, plants can be an environmentally-conscious choice. Adding more plants can add oxygen to your home environment and, in general, creates less waste than buying home decor items. Beyond plants, green can be a choice for rugs and furnishing made in bamboo or jute.
With these environmentally-friendly changes, you can give your home a new look with a green focus.

5 Tips for Creating the Perfect Outside Kitchen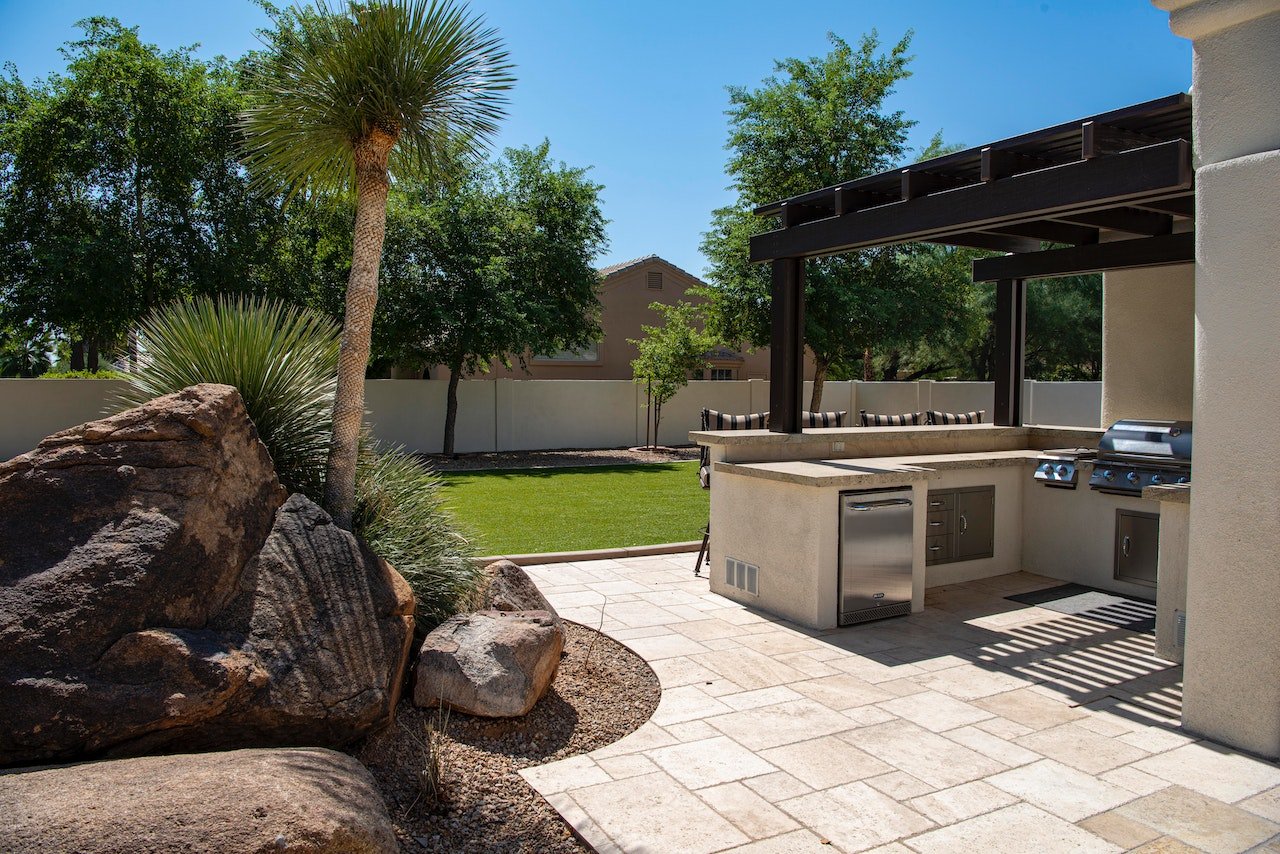 Building an outdoor kitchen is a great project to embark on if you want to up your DIY game. It's not that difficult to do, is pretty inexpensive, and if you make mistakes, they will be easy to correct. You do have to plan your project properly, however, and try to go for something modest for your first project unless you already have significant experience with this type of renovation. Here are some tips that will help you build a great outside kitchen.
Think Outside the Box
A lot of people will think about adding a grill to their kitchen and a nice lounging area, but there are many other accessories that you could add to your outdoor kitchen to make it more interesting. For example, you could consider getting a quality outdoor pizza oven like the Ooni Koda 16. These compact ovens from Ooni are portable, so you can move them or store them whenever you wish. This is an addition that is sure to please your children or you if you're a big pizza fan. Another great addition you could consider is a fire pit, or even better, a fire table. A hibachi station could also be a good option if you're a fan of Korean BBQ.
Choose Your Space Wisely
Another thing you have to do is make sure that you pick the right spot for the kitchen. Some people will want it to be in a central area, but it might not be the most convenient. You want a spot where you'll be protected from wind, so it would be better if you installed it near a wall. Consider shade as well unless you want to cover the area. It could also be a good option to connect your kitchen to your deck or to even build a deck for the kitchen for added convenience.
Carefully Think Out Your Layout
When picking a layout for your outdoor kitchen, you first have to decide if you're going to go with a simple or complex kitchen. This will all depend on where you want to build the kitchen, how much you intend to use it, and what kind of cooking you want to do there. Either way, you will need to have an area for cooking, one for preparation, and one for cleaning. You should also think about additional storage and have space for a fridge.
Another thing you sound consider doing is installing a countertop area that can be used as a buffet space or bar with stools. This will make the space even more convivial and give people different seating options.
Choose Your Materials Wisely
Choosing the right materials is also very important when building an outdoor kitchen. You want to use materials that will have the right look and feel, but also make sure that they'll be able to withstand the elements.
For the countertop, you should try using something like granite with a flamed finish. Try to pick earthy colors that will complement the outdoor setting, and make sure that the kitchen's materials are congruent with the rest of the house to create a cohesive look.
As far as the flooring goes, you can go with something like natural stone, terracotta, wooden pavers, anti-skid porcelain tiles, or cement finish tiles. For the seating, make sure that you pick moisture-resistant materials. Favor materials such as rattan, wicker, plastic resins, aluminum, wrought iron, and steel, since they're very durable and will withstand pretty much anything you throw at them.
For the cabinet boards, try to go with WPC and go for SS finish furniture and appliances unless you live in a coastal area. This is because the SS finish can corrode when they're salty in the air. The same goes for aluminum.
Don't Forget Lighting and Outlets
You also have to make sure that the area is properly lit if you intend to use it at night. There also needs to be sufficient outlets for all your appliances and accessories. Soft lighting will work best here as it will create a nice, cozy ambiance. You also probably have other lights in your backyard, so using softer lighting for the kitchen area will balance things out.
Task lighting is very important if you want to be able to see what you're doing but to stay safe as well. You can install countertop lights, but these could be tougher to install on an outdoor aisle. You could go with pendant lights if you want to make things easy for you there.
All these tops should allow you to build the outdoor kitchen of your dream all on your own. Make sure that you plan your project carefully before you start and be modest with your objectives if it's your first time doing this sort of project.