How to style a succulent bar for your next event
If you're looking to add a touch of style to your next event, why not try incorporating a succulent bar? Succulents are trendy, eye-catching, and can be used as part of various event décor. Plus, they make great take-home favors for guests!
Here are some tips on how to style a succulent bar:
1. Choose the correct location. Succulents need bright, indirect sunlight to thrive, so placing your succulent bar near a window or patio door is ideal.
2. Prep the area. Before setting up your succulent bar, clean and prep the surface, you'll be using. This will help ensure that your plants stay healthy and look their best.
3. Select a variety of succulents. When choosing succulents for your bar, choose a mix of different shapes, sizes, and colors to create an eye-catching display.
4. Provide adequate drainage. Succulents are sensitive to overwatering, so it's essential to make sure they have sufficient drainage. Use a tray lined with rocks or gravel, or consider planting your succulents in pots with drainage holes.
5. Add accent pieces. Add some accent pieces like driftwood, shells, or stones to style your succulent bar. You can also use succulents as part of a larger arrangement, such as a centerpiece for tables.
With these tips, you'll be able to style a beautiful and functional succulent bar for your next event!
What succulents make good bar decorations
When decorating a bar, there are many options to choose from. However, if you want something that is both stylish and unique, then using succulents is a great option.
There are a variety of reasons why succulents make good bar decorations. For one, they are low maintenance and don't require much care. This is ideal for busy bartenders who don't have time to worry about watering plants or trimming them back.
Another reason succulents are a good choice for bar decorations is that they can help create a relaxing atmosphere. Most succulents' soft, soothing colors can help create a calm and inviting space. This can benefit customers who want to enjoy a few drinks without feeling overwhelmed by their surroundings.
Finally, succulents are also relatively inexpensive. This is important for bars that want to save money on their decorating budget.
If you want to add style and personality to your bar, succulents are a great option. They are easy to care for, look great, and won't break the bank. So next time you decorate your bar, consider adding some succulents to the mix.
Tips for keeping your succulents alive and healthy
If you're like most people, you probably think that succulents are virtually indestructible. After all, they're drought-resistant and can survive in extremely hot or cold climates. However, even though they are tough plants, they still require some primary care to stay alive and healthy. Here are a few tips to keep in mind:
1. Light: Succulents need bright, indirect sunlight to thrive. If your plant is not getting enough light, it will become etiolated, which means it will become leggy and stretched out.
2. Water: One of the most common mistakes people make when it comes to succulents is overwatering them. These plants are used to surviving in arid conditions, so they don't need a lot of water. However, too much water can kill them. Therefore, it's best to err on caution and only water your succulents when the soil is completely dry.
3. Soil: Succulents need well-draining soil to prevent root rot. A good potting mix for succulents is mainly comprised of perlite or gravel.
4. Fertilizer: Although succulents don't need much fertilizer, they benefit from being fed every once in a while. Use a succulent-specific fertilizer and apply it sparingly according to the package directions.
5. Temperature: Most succulents can tolerate a wide range of temperatures but prefer to be in warm, dry conditions. If you live in an area with cold winters, it's best to bring your plants indoors during this time.
These simple tips can help ensure that your succulents stay alive and healthy for many years.

5 Tips for Creating the Perfect Outside Kitchen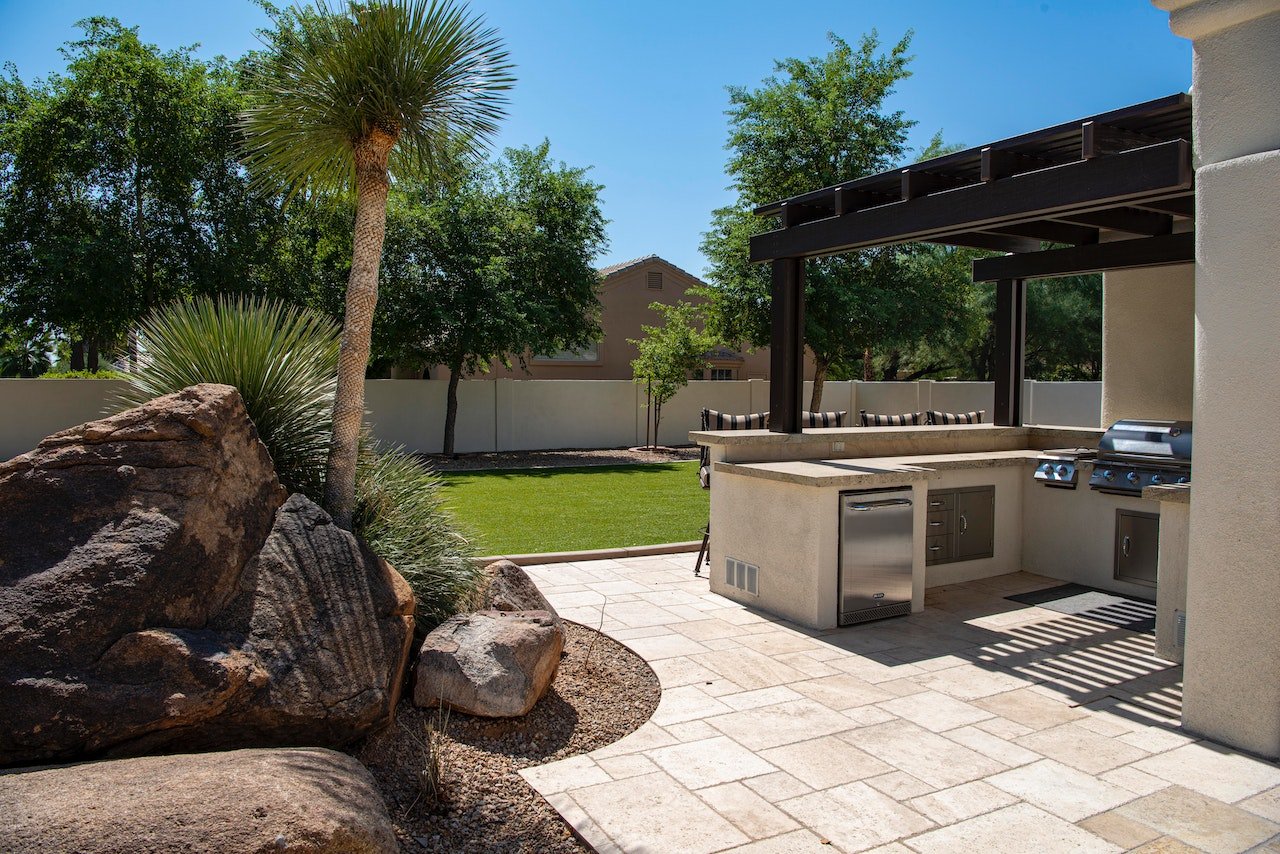 Building an outdoor kitchen is a great project to embark on if you want to up your DIY game. It's not that difficult to do, is pretty inexpensive, and if you make mistakes, they will be easy to correct. You do have to plan your project properly, however, and try to go for something modest for your first project unless you already have significant experience with this type of renovation. Here are some tips that will help you build a great outside kitchen.
Think Outside the Box
A lot of people will think about adding a grill to their kitchen and a nice lounging area, but there are many other accessories that you could add to your outdoor kitchen to make it more interesting. For example, you could consider getting a quality outdoor pizza oven like the Ooni Koda 16. These compact ovens from Ooni are portable, so you can move them or store them whenever you wish. This is an addition that is sure to please your children or you if you're a big pizza fan. Another great addition you could consider is a fire pit, or even better, a fire table. A hibachi station could also be a good option if you're a fan of Korean BBQ.
Choose Your Space Wisely
Another thing you have to do is make sure that you pick the right spot for the kitchen. Some people will want it to be in a central area, but it might not be the most convenient. You want a spot where you'll be protected from wind, so it would be better if you installed it near a wall. Consider shade as well unless you want to cover the area. It could also be a good option to connect your kitchen to your deck or to even build a deck for the kitchen for added convenience.
Carefully Think Out Your Layout
When picking a layout for your outdoor kitchen, you first have to decide if you're going to go with a simple or complex kitchen. This will all depend on where you want to build the kitchen, how much you intend to use it, and what kind of cooking you want to do there. Either way, you will need to have an area for cooking, one for preparation, and one for cleaning. You should also think about additional storage and have space for a fridge.
Another thing you sound consider doing is installing a countertop area that can be used as a buffet space or bar with stools. This will make the space even more convivial and give people different seating options.
Choose Your Materials Wisely
Choosing the right materials is also very important when building an outdoor kitchen. You want to use materials that will have the right look and feel, but also make sure that they'll be able to withstand the elements.
For the countertop, you should try using something like granite with a flamed finish. Try to pick earthy colors that will complement the outdoor setting, and make sure that the kitchen's materials are congruent with the rest of the house to create a cohesive look.
As far as the flooring goes, you can go with something like natural stone, terracotta, wooden pavers, anti-skid porcelain tiles, or cement finish tiles. For the seating, make sure that you pick moisture-resistant materials. Favor materials such as rattan, wicker, plastic resins, aluminum, wrought iron, and steel, since they're very durable and will withstand pretty much anything you throw at them.
For the cabinet boards, try to go with WPC and go for SS finish furniture and appliances unless you live in a coastal area. This is because the SS finish can corrode when they're salty in the air. The same goes for aluminum.
Don't Forget Lighting and Outlets
You also have to make sure that the area is properly lit if you intend to use it at night. There also needs to be sufficient outlets for all your appliances and accessories. Soft lighting will work best here as it will create a nice, cozy ambiance. You also probably have other lights in your backyard, so using softer lighting for the kitchen area will balance things out.
Task lighting is very important if you want to be able to see what you're doing but to stay safe as well. You can install countertop lights, but these could be tougher to install on an outdoor aisle. You could go with pendant lights if you want to make things easy for you there.
All these tops should allow you to build the outdoor kitchen of your dream all on your own. Make sure that you plan your project carefully before you start and be modest with your objectives if it's your first time doing this sort of project.