Maximizing Your Garden Space for Year-Round Enjoyment
Spending time in a green area—be it a park, forest, or your very own backyard—brings about an array of benefits, including a significant reduction in stress levels, enhanced focus and alertness, and higher energy levels. Unfortunately, statistics show that most families in the US spend around 90% of their time indoors, with many children and adults firmly glued to their phones, tablets, and desktop devices. If you have a garden, you have a true gift that many people across the planet do not have access to—a healing green space that is 100% your own. To make the most of it, consider incorporating one or more of the following elements into your landscape design.
Setting Up a Greenhouse for a Fun Family Activity
A garden needn't simply be a place of passive rest. Study after study has shown that being active in the garden through the pursuit of horticulturalism, can hone various skills ranging from hand strength to self-esteem. A greenhouse is a comforting, enclosed space where family members can work together for sowing seeds germinating tender crops, and other tasks, together, away from technology and its isolating effects. Those with green thumbs can also take a few activities outside the greenhouse, setting up a vegetable garden or trying their hand at aeroponics or other unique, water-saving ways of growing produce.
Designing an Appealing Deck
In order to entice family members to spend more time outside, creating a comfortable patio adjacent to the garden will definitely work. Beautiful wooden decking, comfortable outdoor furniture, shade sails or retractable awnings, and a fire pit are examples of exterior features that make great investments. A designer deck, for instance, can add up to $100,000 to the value of your home, yet installing decking can cost as little as $3,400 (approximately). Your patio should face the most beautiful aspects of your garden—be they flower beds, stately trees, or outdoor sculptures.
Enticing Your Kids Outdoors
Children need to spend time outdoors to stay active, hone skills such as strength and flexibility, and become confident about climbing trees, jumping, and testing their limits (in a safe, supervised fashion). You have many choices when it comes to keeping them happy. One is to build a treehouse. If you're not up for something quite so architecturally challenging, then buying a ready-made fort kit (which contains flexible poles and joiners and which can be used to make large and smaller forts alike) is a great way to give them a space of their own. You can also choose a scenic part of your garden for swings, a slide, and a playhouse. Make sure the flooring is soft (wet pour fours are ideal) and rubbery to withstand the impact of falls and jumps.
Your garden is so much more than a place in which to rest or enjoy a glass of wine while watching the sunset. It has the potential to accommodate a greenhouse, designer deck space, kids' space, or even a pool! The ideal garden has a bit of everything—the beauty of nature combined with the ability to encourage human beings to get active and create an important and consistent bond with the Great Outdoors.

5 Tips for Creating the Perfect Outside Kitchen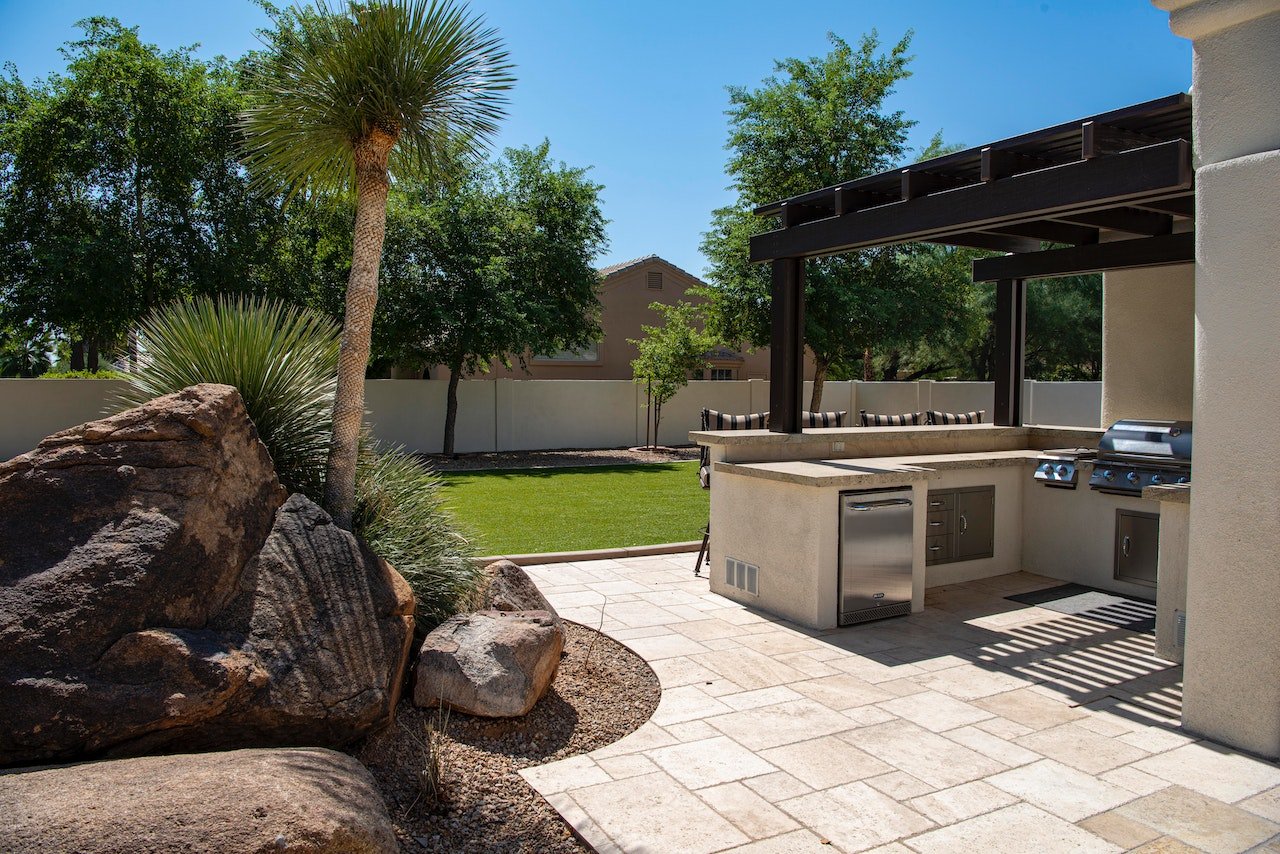 Building an outdoor kitchen is a great project to embark on if you want to up your DIY game. It's not that difficult to do, is pretty inexpensive, and if you make mistakes, they will be easy to correct. You do have to plan your project properly, however, and try to go for something modest for your first project unless you already have significant experience with this type of renovation. Here are some tips that will help you build a great outside kitchen.
Think Outside the Box
A lot of people will think about adding a grill to their kitchen and a nice lounging area, but there are many other accessories that you could add to your outdoor kitchen to make it more interesting. For example, you could consider getting a quality outdoor pizza oven like the Ooni Koda 16. These compact ovens from Ooni are portable, so you can move them or store them whenever you wish. This is an addition that is sure to please your children or you if you're a big pizza fan. Another great addition you could consider is a fire pit, or even better, a fire table. A hibachi station could also be a good option if you're a fan of Korean BBQ.
Choose Your Space Wisely
Another thing you have to do is make sure that you pick the right spot for the kitchen. Some people will want it to be in a central area, but it might not be the most convenient. You want a spot where you'll be protected from wind, so it would be better if you installed it near a wall. Consider shade as well unless you want to cover the area. It could also be a good option to connect your kitchen to your deck or to even build a deck for the kitchen for added convenience.
Carefully Think Out Your Layout
When picking a layout for your outdoor kitchen, you first have to decide if you're going to go with a simple or complex kitchen. This will all depend on where you want to build the kitchen, how much you intend to use it, and what kind of cooking you want to do there. Either way, you will need to have an area for cooking, one for preparation, and one for cleaning. You should also think about additional storage and have space for a fridge.
Another thing you sound consider doing is installing a countertop area that can be used as a buffet space or bar with stools. This will make the space even more convivial and give people different seating options.
Choose Your Materials Wisely
Choosing the right materials is also very important when building an outdoor kitchen. You want to use materials that will have the right look and feel, but also make sure that they'll be able to withstand the elements.
For the countertop, you should try using something like granite with a flamed finish. Try to pick earthy colors that will complement the outdoor setting, and make sure that the kitchen's materials are congruent with the rest of the house to create a cohesive look.
As far as the flooring goes, you can go with something like natural stone, terracotta, wooden pavers, anti-skid porcelain tiles, or cement finish tiles. For the seating, make sure that you pick moisture-resistant materials. Favor materials such as rattan, wicker, plastic resins, aluminum, wrought iron, and steel, since they're very durable and will withstand pretty much anything you throw at them.
For the cabinet boards, try to go with WPC and go for SS finish furniture and appliances unless you live in a coastal area. This is because the SS finish can corrode when they're salty in the air. The same goes for aluminum.
Don't Forget Lighting and Outlets
You also have to make sure that the area is properly lit if you intend to use it at night. There also needs to be sufficient outlets for all your appliances and accessories. Soft lighting will work best here as it will create a nice, cozy ambiance. You also probably have other lights in your backyard, so using softer lighting for the kitchen area will balance things out.
Task lighting is very important if you want to be able to see what you're doing but to stay safe as well. You can install countertop lights, but these could be tougher to install on an outdoor aisle. You could go with pendant lights if you want to make things easy for you there.
All these tops should allow you to build the outdoor kitchen of your dream all on your own. Make sure that you plan your project carefully before you start and be modest with your objectives if it's your first time doing this sort of project.