Biggest Design Errors and How to Fix Them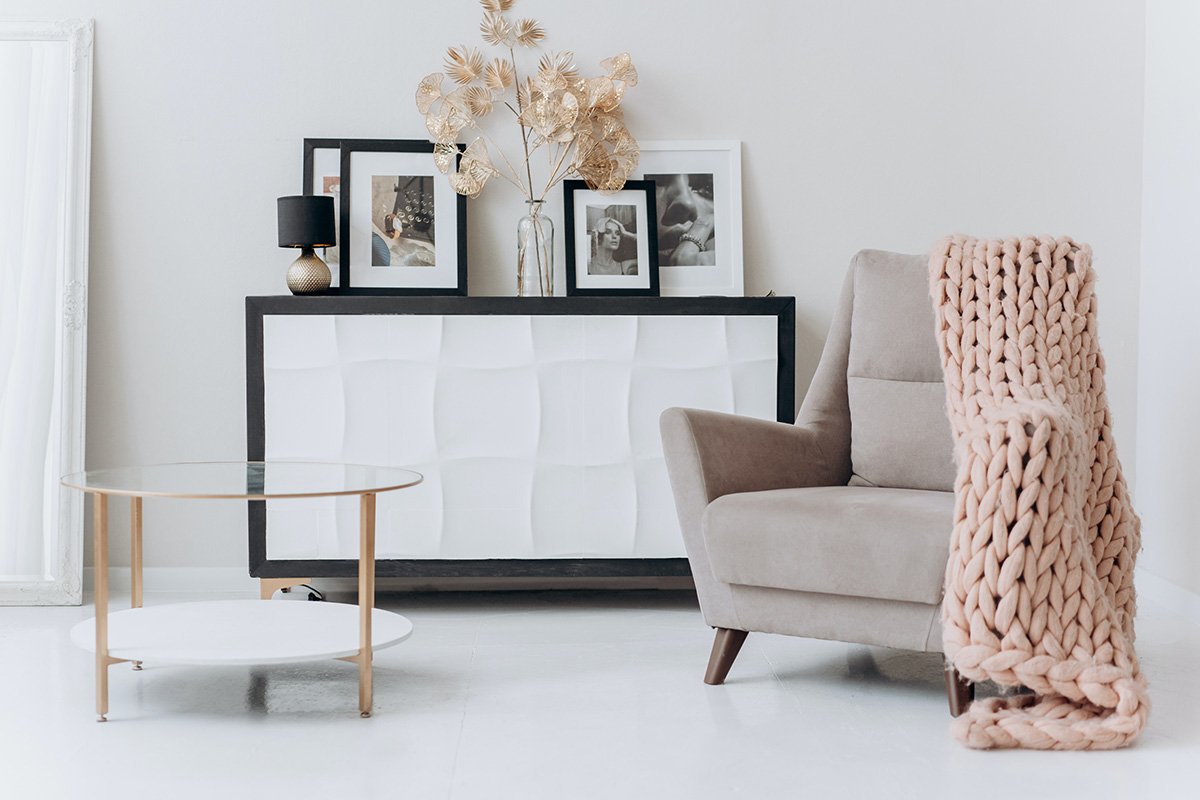 Decorating your home can prove to be a challenging task, especially if you don't have much experience with interior design or feel overwhelmed by the abundance of different ideas.
Most homeowners have one common goal: to create a cohesive look among various rooms to look their best and not look like a collection of random trinkets. You'll need to choose the right furniture, the perfect paint colors, and the ideal decor accessories for every space. This leaves a lot of room for making mistakes, but there's no need to worry, as there are many quick and easy ways to fix every design misstep.
With that being said, if you feel like you could use a few easy tips, we've prepared this article just for you.
Using Uncomfortable Furniture
Comfort is an essential factor in creating a cozy and liveable space instead of turning your house into one extensive showroom. There's no need to sacrifice comfort for aesthetics, so try to keep this in mind when shopping for furniture. If possible, always try to go to the store and try out sofas or chairs for yourself because what looks great in the pictures might be incredibly uncomfortable in real life.
Look for sectional sofas with stuffed cushions and choose fabrics such as cotton or linen. Clear plastic or rattan chairs might look great from a distance, but they can be impossible to sit on for longer than a few minutes without proper cushions. And don't hesitate to decorate your home with small touches that can improve comfort even more. For instance, a soft footstool or pillows can go a long way in making your furniture more comfortable – you can check the best adjustable pillow here.
Picking Neutral Colors Only
There's no shame in saying that you love classic and neutral colors. The truth is that they make for a safe and timeless choice, but at the same time, they can get pretty dull after a while. That's why it might be better to mix them up a bit.
For instance, if you choose to paint the walls in your room in colors such as eggshell, ecru, taupe, brown, or cream, you can try to add some bold accents by choosing the right furniture or decorations. Different shades of green make for a great accent color, so feel free to incorporate them into the decor in the form of an armchair, curtains, blankets, or pillows. Dusty pink, teal, crimson or purple can also help arrange a visually-interesting space. Don't be afraid to opt for bold accents to break up the monotony!
Picking Wrong Light Bulbs
Light bulbs play an essential role in determining the mood in a room and have the power to make or break entire interior designs. For instance, yellow light bulbs are perfect for creating a cozy atmosphere that will make anyone feel relaxed and comfortable after a long day at work or school. They should work best in bedrooms, living rooms, as well as for outside lighting.
Cool light bulbs can also prove to be helpful but in different rooms. They usually work best in kitchens, especially if you're going for a modern and sleek look, and in bathrooms that often have no windows and need bright lighting.
Overdoing It With Patterns
If you love patterns, then there's nothing wrong with using them liberally throughout your home; however, it would be better if you chose to stick to a few essential rules when mixing patterns. Try to use similar colors and use them on objects that vary in size.
Chevron and herringbone are pretty versatile but can be overwhelming in large quantities; that's why it's better to keep them for things like vases and pillowcases instead of grand wall art. It would help if you also kept in mind that plaid rarely works with polka dots, and floral prints don't go together with animal prints – there's too much going on at once.
Following these simple rules will help your house look much more harmonious and balanced in the end, especially if you use complementary patterns rather than striking ones that aren't likely to complement each other well under any circumstances.
Using the Same Stuff in Every Room
Usually, people like to decorate every room in a way that makes each of them look unique, but at the same time, try to keep them connected with the others. However, this might prove to be a big mistake if you don't mix up your accessories and furniture enough.
For example, if you have an elegant living room, keeping the same sofa in your study might be an easy but boring choice design-wise. The same goes for decor. If you find a piece of art that you like, you might feel tempted to buy more of it and set it in every room. Instead, you could perform a Google search using keywords to describe this accessory and find similar items that will help you create a cohesive look. 
Additionally, even if you like a particular shade of green or blue, using them as accent colors throughout the house might make your decor look dull. Instead, try to either go for different shades of your favorite colors or take a look at the color wheel and find opposite colors to create exciting contrasts.
Conclusion
Designing your home can be a very rewarding experience, especially if you take your time to do it right. However, it can also be pretty challenging, especially these days, when we're bombarded with new trends on each step. That's why knowing how to avoid and fix the most common interior design mistakes is so important. By following the tips in the article above, you'll be able to create a visually-appealing space that you'll be happy with for years to come. Good luck with transforming your space!

Suggestions for Renovating Small Spaces
Many homeowners feel limited by their lack of square footage, but with a few tips, you can make your small space open and inviting. Here are some suggestions for renovating small spaces to help you make the most of your home.
Keep It Simple
Keeping it simple means avoiding overly complicated designs or excessive embellishments. Instead, focus on creating a clean and uncluttered look. Trying too much in a small space can make it cramped and cluttered. Instead, focus on a few key elements that will make the most impact. For example, replacing old flooring and painting the walls can transform the look of a room without requiring a lot of time or money. The beauty of simplicity is that you can DIY most of these renovations, saving money.
Make a Plan
When renovating a small space, one of the most important things you can do is make a plan. Trying to wing it will only lead to frustration and a final product that falls short of your expectations. Instead, take some time to sit down and map out what you want to achieve. Once you have a clear idea of what you want, it will be much easier to move forward with your renovation. When making your plan, you must be realistic about what you can achieve. Don't worry if you're unsure where to start; renovation professionals like Easy Reno can assist you if you need help.
Get Creative With Storage
No matter how big or small your space is, there's always a way to be creative with storage and make the most of what you have. If you're not sure where to start, here are a few tips:
Think vertically: When space is limited, it's crucial to think about using all the available space, including vertical space. Wall shelves and racks are great for storing things like spices, cookbooks, and other kitchen essentials.
Invest in multipurpose furniture: For example, a coffee table with hidden storage is perfect for hiding away books, blankets, and other household items.
Get creative with nooks and crannies: Every home has those little nooks and crannies that can be hard to know what to do with. Instead of leaving them empty or filling them with random clutter, get creative and use them for storage. You can put baskets or bins in unused corners or use curtain rods to hang up clothing or towels.
Choose Furniture Carefully
Multi-purpose furniture is always an excellent choice for small spaces, as it can help to maximize the available space. For example, a coffee table with built-in storage can provide a place to stash books and magazines while offering a surface for snacks and drinks.
Consider a daybed that can serve as a sofa and a guest bed. When selecting furniture for a small space, it is also essential to consider proportion. For instance, using smaller-scale furniture will make a room feel more open and airier, while oversized pieces will make it cramped and cluttered.
Choose Colors Wisely
The right color scheme can make a space feel bigger, brighter, and more inviting. Conversely, the wrong colors can make a space feel cramped, dark, and dull. Light and neutral tones are usually the best bet when choosing paint colors.
These colors will reflect light, making the space feel open and airy. If you want to add a pop of color, consider using it as an accent rather than painting the entire space one color. You can add accents in different forms, including furniture, accessories, or even wall art.
Small space living can be challenging, but it doesn't have to be. These tips will help you make the most of your small space and create a functional and beautiful home.