Which Rose Is Best for Your Garden?
If there is a traditional garden flower among the millions of species it must be the rose. Officially 'Rosa', they come in an abundance of exciting colors and also in many different types and formations of blooms. Roses are beautiful, whatever type you choose, and many are fragrant too. But are they easy to grow? And what are the different types of roses you can buy for your garden?
In the article that follows we look at what to choose in a rose, where best to plant them for maximum effect, and what you need to do in terms of maintenance. Let's start by looking at some different types of roses.
What Types of Roses are There?
Roses come in a wide variety of types. For example, there are some roses where the blossoms look like Pentas, which are very popular with US gardeners. These are some of the various types of rose you could put in your garden:
English Roses are the most prevalent type and come in a vast array of colours. These are the hardiest form of rose and the original English garden rose.
Climbing Roses are often called vines but are not, they are simply roses that like to spread out more than the regular type.
Groundcover roses are fast growing shrubs with a less grand flower than other types and are useful for filling spaces.
Hybrid tea roses have been developed as garden roses with many large and colourful buds but are often affected by diseases so are avoided by some growers.
Rambling roses are another form of climber and a vigorous one. This traditional type of rose is found in formal English gardens.
Tea roses are the original form of rose from China that were first brought to the west by explorers. Just about every type of rose arises from this beautiful variety.,
Miniature roses are as described and are often grown in pots on patios; hence they are referred to as a patio rose. Very pretty, easy to grow and hardy.
These are a few of the types of roses you can find in your garden and garden stores across the USA, so are they easy to grow? Let's have a look in more detail about growing roses.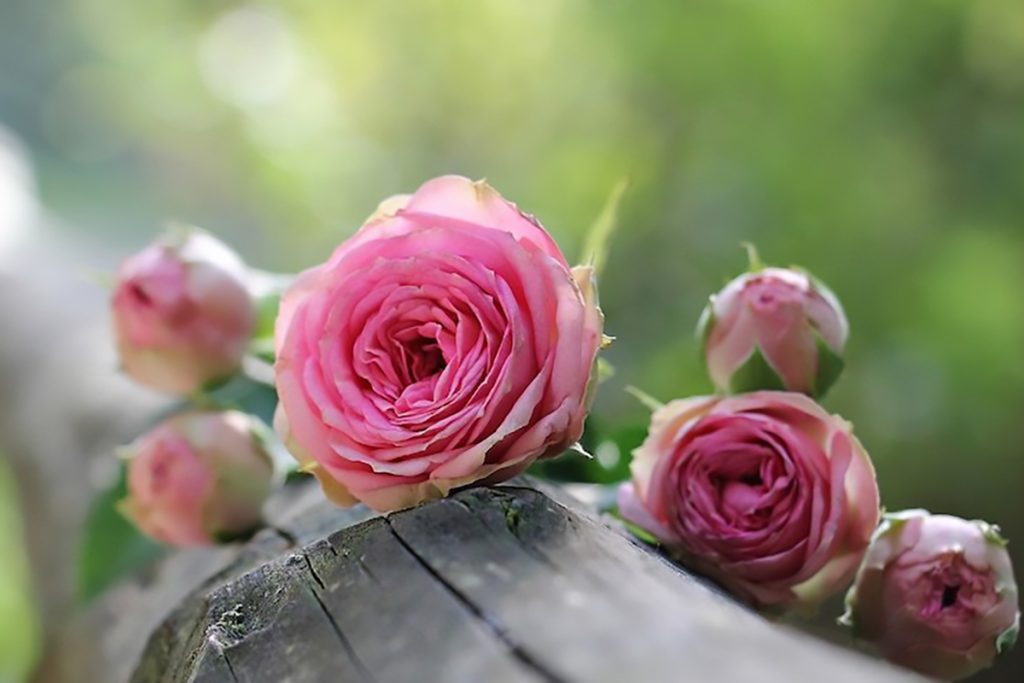 Are Roses Easy to Grow?
In general, roses are easy to grow and many types are in fact surprisingly hardy. However, it's best to know that roses will struggle in dry soil or ground that is waterlogged, so need to be kept at just the right level of moisture. Furthermore, when planted in the shade they will not flower as abundantly as when in a spot with access to light. Roses love sunlight and will reward you with bloom after bloom during the summer season. Look for colors such as deep reds, bright orange, pinks, and whites and you'll be able to put together a collection of roses that will be the pride of your neighborhood. Finally, a bit about tending for roses.
Tending for Roses
As we have said most types of roses are beautiful and hardy plants that will grow practically anywhere. You will need to wear gloves when pruning a rose – it should be cut back to encourage growth at the season's end – as they do feature sharp thorns. Also, cut away dead flowers to bring about replacement blooms throughout the season. Apart from keeping the ground in which the plant grows regularly watered – but not overwatered – that's just about all the maintenance needed, so check out the roses that take your fancy and give your garden more color.

Why Are Mosquitoes So Dangerous?
You might be surprised to hear that mosquitoes are the deadliest animal in the world. Yes, you read that right! Those pesky flies cause over 725,000 deaths every year, most of which are due to malaria.
Most of us know to avoid mosquitoes wherever possible, and it's common knowledge that they carry a parasite called malaria. However, these pesky flies can carry much more than a single parasite. They also transmit viral diseases, including Zika, West Nile, yellow fever, and dengue.
In countries where mosquitoes are prevalent, it's not uncommon to enter a home and see insect repellents or mosquito fogging systems, especially during summer where bugs seem to be everywhere. Many people also invest in professional mosquito fogging services to keep their homes pest-free.
Let's take a closer look at what happens when a mosquito bites you and how these pesky flies can transmit diseases to humans.
What Happens When a Mosquito Bites You?
Learning about how mosquitoes transmit diseases can make it easier for you to keep yourself and your loved ones safe.
There are three different types of mosquitoes (Anopheles, Aedes, and Culex) that exist across the world, and each one carries different diseases. It's only female mosquitoes that bite humans and such blood because they need this blood to supply nutrients for their eggs so that they can propagate.
A female mosquito can sense when a human is nearby by detecting the infrared (heat) waves that we emit from our skin as warm blood moves through our arteries and veins. They can also pick up on unique human scents.
When a mosquito punctures your skin with two tubes, one of which draws blood and the other of which injects an enzyme into your blood. This enzyme contains anti-coagulant proteins that prevent your blood from clotting, so they can enjoy a continuous flow of blood into their tube until they're full.
The anti-coagulant proteins that a female mosquito injects into your skin can cause a small allergic reaction that leads to an itchy, red bite.
How Do Mosquitoes Spread Diseases?
It's not just a raised, itchy bump that mosquitoes leave after they bite you; they might also infect you with a parasite or virus.
You can never be sure whether a mosquito is infected when it bites you, which is why it's essential that you protect yourself from them as much as possible.
When an infected female mosquito injects its anti-coagulant proteins into your bloodstream through its saliva, it can also deposit parasites or viral particles. Inside your body, the parasite or virus can multiply and grow and may cause serious side effects or even death.
The most common diseases that a mosquito transmits include:
Chikungunya
Dengue Fever
Malaria
West Nile Virus
Yellow Fever
Zika Virus
In the United States, West Nile Virus is the most common virus spread by mosquitoes.
How Do You Stop a Mosquito Bite from Itching?
Usually, mosquito bites don't require any treatment, and they will resolve by themselves after a few weeks. However, if you're experiencing excessive itching, swelling around the bite, or additional symptoms, like ongoing headaches, you'll need to take action.
It's best to avoid itching the bite as much as possible to prevent breaking the skin and risking infection. You might benefit from applying topical creams, which you can get from your healthcare provider, to soothe the swollen area around the bite.
Keep the bite area clean by washing it with soap and warm water each day. You might also want to cover it with a plaster or bandage to reduce the risk of infection and stop you from scratching the area.
Some of the recommended treatments for mosquito bites include:
Aloe vera
Antihistamines
Chamomile tea
Honey
Hydrocortisone
Oatmeal
How to Protect Yourself From Mosquitoes and Mosquito-Borne Diseases
Taking the right steps to prevent yourself from getting bitten by mosquitoes will reduce your risk of nasty bites and potential diseases. Here are some great things that you can do to protect yourself from those pesky flies:
Avoid traveling to areas of the world where mosquitoes are prevalent (usually countries around the equator where the weather is humid)
Keep your skin covered up as much as possible
Wear thick clothing so mosquitoes can't bite through it
Surround yourself with protective netting when sleeping
Use protective screens over doors and windows
Invest in a mosquito fogger to rid your garden of these pests
Avoid going outside during dusk and dawn when mosquitoes are out in full force