6 Tips To Pet-Proof Your Garden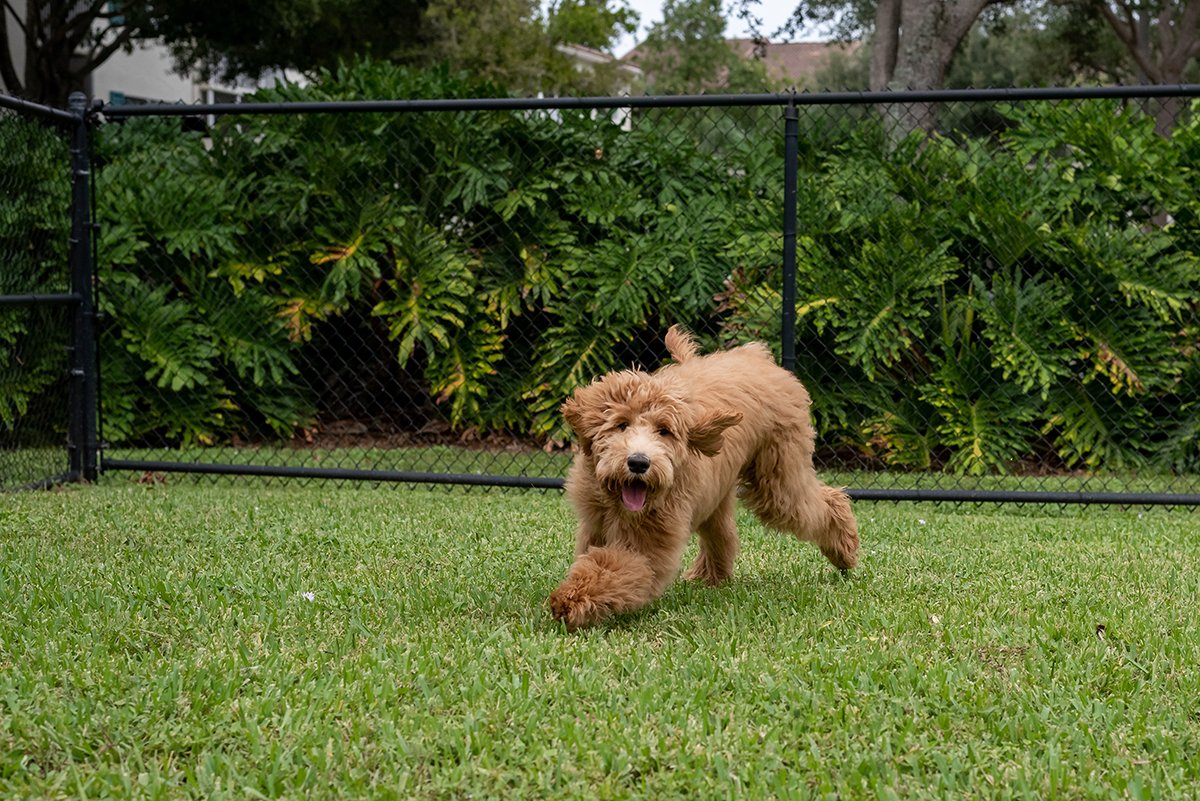 Pets aren't meant to be kept inside your home or caged all the time. But, of course, if it's cold and wet outside, then your pets are going to take refuge inside the house. When the weather permits it, however, there's no better thing for your pets than to run freely in your garden. It's good for their health and overall wellbeing for them to get a feel of fresh air, for their paws to feel the ground, and for them to be able to stretch their legs.
While ideal, many homeowners would also unanimously agree that pets and a beautiful garden are a dangerous combination. Pets are known to dig up soil, eat leaves, and be plain destructive to a garden. It's every homeowner's nightmare to one day wake up with their garden destroyed by their beloved pets.
When you pet-proof your garden, you can enjoy having your pets and a beautiful garden in your home. Thankfully, one doesn't have to be sacrificed anymore, in favor of the other. Here's how you can pet-proof our garden:
1. Plant More Herbs
While there are herbs that are absolute no-nos for your pets, there are also those that serve a good purpose both for the homeowner and the pets. When placed strategically around your garden, the pungent smell of certain herbs can actually help deter pets from going too close to plants.
Some common examples of those pungent herbs are sage and rosemary. If you have cats, there's also an herb known as 'Scaredy Cat Plant,' which comes with a strong smell that felines can't stand. If you're looking for further insights into this matter, this article discusses effective ways you can keep cats away from your lush plants.
2. Avoid Growing Plants That Are Toxic To Your Pets
There are certain plants that are toxic to common house pets, like dogs and cats. There's no uniform enumeration to this to put here, as those plants can differ based on where you're reading this from and what type of pet you have at home.
The best thing you can do is to ask your veterinarian as to what plants you have in your local area that are toxic to dogs, for example. Commonly-known toxic plants, however, can include:
Daffodils
Parsley
Caladium
Sago Palm
Remember that they can very easily sniff and chew on the plants in your garden, so be sure not to plant any of those dangerous and life-threatening ones.
3. Make Sure Your Garden Has Fences
This second tip applies to those households where their pets are allowed to go off-leash every so often. A sturdy fence without holes and with enough ground support to prevent your pet from digging is needed both for the pet's safety and your plants' growth as well.
Fences are very useful especially when you want to section off certain areas from your pet. This gives you a hint of control over where your pet can roam around without necessarily keeping them locked or caged the whole time.
4. Clean Up Any Exposed Soil
Exposed soil is as dirty for your garden as it is enticing for your pets, especially dogs. They'll be more inclined to actually keep digging when they see loose and exposed soil. The love to dig is inherent in dogs, so there's no stopping them from doing so. The best you can do to minimize this is to ensure they see and feel as little exposed soil as possible.
A good solution is to plant more grass around your garden. Or, you can also opt for concrete walkways or pavers instead of just having loose soil.
5. Avoid Growing Thorny Plants
As you avoid planting toxic garden plants and vegetables, another thing to forego are thorny plants. For the simple reason that they've got thorns, those types of plants can be very dangerous to pets.
Thorny plants may result in abrasions or cuts in your dog. If they happen to run through those plants, even serious consequences, like blindness, may ensue. Some of the most dangerous spiky plants to keep away from are blackberries and cacti.
6. Cover Pools When Not In Use
Lastly, if you have a swimming pool, you have to remember to cover it up when not in use. Or, at least, have a neat and well-made glass fence installed around it. While a nice part of your garden, a swimming pool can be difficult to have if you also have free-moving pets. The last thing you'll want is to have spent on chlorine for its maintenance today, ready for a party, only to find your muddy and dirty dog enjoying the water.
Takeaway
Transforming your outdoor space into a pet-friendly area is one that's crucial not just for your garden's beauty but also for your pet's safety. Having a beautiful garden is always a dream for many, but some plants may be harmful for your pets. On the other hand, your pets can also be like monsters toward your own garden. The tips above are worth exploring in the name of finally pet-proofing your garden. Rest assured, now, your pets and your garden can co-exist harmoniously.

8 Modern Features You Need for Your Home Exterior + Bonus Tips
It's not just the inside of your home that sets off the first impression. Your exterior is also important. That's why modern homes are doing things like adding glass walls, radiant heating and cooling systems, skylights, green roofs, and more to their exteriors. Let's explore some of these features in detail!
1. Glass Railing
The first thing that most people see when they step up to your home is the railing. You can make a great impression with a glass railing since this beautiful design sets off both your home's exterior and provides safety for those entering it. You can also find more online if you need new ideas.
Extra Tip: Glass Railing for Stairs on Porches and Added Porch Space
You can add stairs on porches to help protect your house from damage caused by weathering and erosion while adding more living space for you and your guests. When you add a glass railing for the staircase on stairs or porches, it provides an eye-catching look that adds extra safety features.
Adding porches is another way homeowners can enjoy more living space without breaking their budget by moving into a bigger home. With added porch space, families can eat dinner together outside or enjoy time with friends and family around the grill without feeling cramped inside their home! This is also great if you have small children playing nearby in the yard because you can keep a closer watch on them.
2. Green Roofs
You know green roofs provide homes with insulation and natural beauty, but they also help insulate them against noise pollution and bad weather conditions such as high winds or hail. This feature also helps filter pollutants from the air for cleaner indoor air. If you're building a new home, consider adding one to help keep your house cool in the summer and warmer in the winter.
3. Sliding Glass Doors and Energy-Efficient Features
Sliding glass doors are an increasingly popular feature to add to homes because they can turn any room into a fully enclosed patio space. With these types of doors, you can open up several rooms for entertaining or relaxing while enjoying the fresh air!
When you add energy-efficient features to your home, you will have all the above benefits without paying more on your utility bill each month. These features include things like double pane windows, insulation, and radiant heating and cooling systems. With these in place, you can save money by lowering your monthly energy costs. Of course, if budget is not an issue for you, then there are even more modern features that you can choose from – it's truly up to you!
Super Tips: Radiant Heating and Cooling Systems
You can also add radiant heating and cooling features to your exterior design because these types of systems are easier on the eyes when compared with traditional HVAC units. Not only do radiant heating and cooling systems look better, but they also offer the added benefit of keeping your home more environmentally friendly since they recirculate air instead of needing to draw in new air after each cycle.
4. Modern Exterior Lighting
Adding exterior lighting is another way you can turn your house into a modern home. This feature is important because it allows people to see your home more easily at night, but there are some other reasons that exterior lighting is great for homeowners. For instance, security lights will help protect your home against intruders and thieves during the evening hours when most burglaries occur.
5. A Glass Wall on the Garden Side
You can also add glass walls around outdoor spaces like pools or gardens for safety purposes and design appeal. These types of enclosures keep children safe without compromising the look of your property since these glass walls blend in with any kind of architecture that you're using throughout the rest of your property.
6. Placing the Garage at the Front of the House and Front Entrance Areas
With home exteriors all about adding more living space, why not consider placing your garage at the front entrance? This feature is becoming increasingly popular with homeowners because it adds square footage for parking or future expansion room. Plus, this type of layout typically showcases a beautiful front yard and walkway, so you can add amenities like flower gardens or even a water feature to make your home stand out from the crowd!
If you're going to be remodeling or updating your home exterior, then making sure that the front entrance area of your property is just as nice looking as the rest of it is a must! This is why people are choosing to add unique features like glass railing or crystalia glass best railing for staircase with wood accents because they look aesthetically pleasing and keep people safe when walking into their homes.
7. A Roof Suitable for Storms in High-Wind Areas and Skid Resistance Surfaces
Adding a roof suitable for high wind areas is another safety feature you may add to homes in coastal areas or other high-wind regions. This way, when storms roll in, people can remain safe without having to worry about damage to their roof, which could result in expensive repairs.
Because it's common for homeowners in high-traffic areas to walk up to their driveways when returning from work, be sure to consider adding skid-resistant surfaces such as brick pavers or gravel so people don't slip and hurt themselves if it's raining out. Since these walks are typically pretty long, this is an important feature, so people feel safe walking onto their property after a long day at work!
8. A Background That Offers Privacy
Having a background or landscaping that offers privacy is another thing you should consider when updating your home exterior because it will help place more emphasis on your front entrance. This added privacy screen can also minimize noise pollution from nearby roads, so people don't feel bothered by outside distractions once they step onto their property.
And finally, three great bonus tips for your home exterior:
A. Focal Point Decks and Pergolas
When looking at the best ways to add living space without increasing the square footage of your home, be sure to include adding deck areas or pergolas for seating into the plan! Not only are these types of features great for entertaining guests, but they make fantastic outdoor entertaining or living spaces.
B. Brick Accents
Adding brick accents is another detail that homeowners are implementing on their new homes or when updating existing properties because it creates a unique aesthetic appeal beyond wood siding. If done correctly, a brick accent wall can add a lot of personality and flair to your home exterior while also complementing areas like stone or stucco that you may have used on the rest of the structure.
C. Skylights
With all the benefits that skylights bring to the table for homeowners, it's no wonder why people would choose this type of exterior feature for their homes! Not only do skylights allow ample sunlight into your home, which reduces energy costs by cutting down on electricity usage, but they also create a fantastic aesthetic appeal that enhances any room you install them in.