Doing It Yourself: Easy Home Renovations for Amateur Tradespeople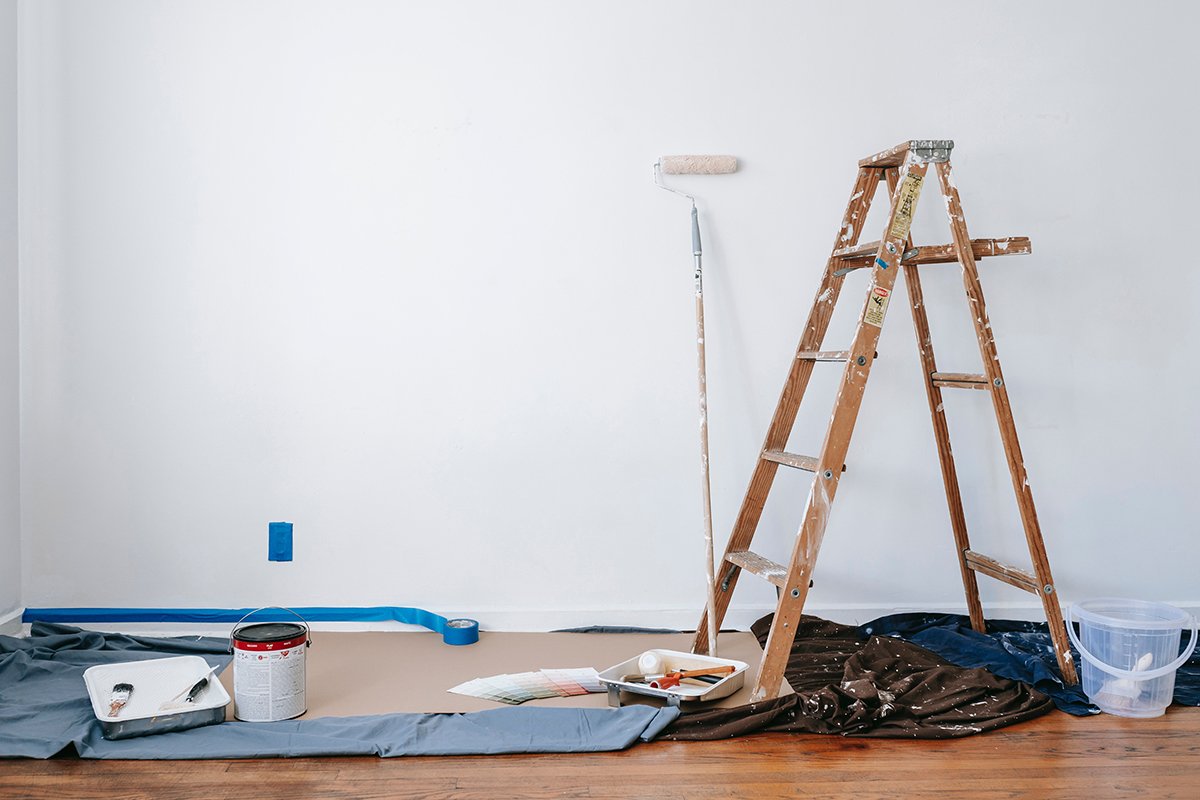 It's shocking how many of us like taking on the challenges associated with homes that are a bit of a fixer-upper, especially for the first homes we purchase. After years of living in apartment complexes where you could only change the configuration of the furniture (if that, depending on how much space you had in your apartment) or condos with noisy neighbors and strict landlord guidelines, buying a house that needs a little bit of TLC presents a bit of a blank canvas on which you, the homeowner, can create.
It isn't enough to own your first home, to be out from under the ever-oppressive heel of leech-like landlords and obnoxious upstairs and downstairs neighbors: you have to be able to do something with it, to make it your own. Homes that need renovations here and there tend to be cheaper than homes that come fully refurbished, and also allow new owners to customize them to their heart's content. While some jobs are a little too complex for your average Joe to do by themselves and require a seasoned professional to avoid serious damage to your health or property, like installing pressure treated wood decks or wiring issues, there are plenty of jobs you can take on yourself if you want to have a direct hand in building your own corner of the world.
A quick note of caution: while many of these jobs are included on this list because they are easy for amateurs to jump into and represent a minimal health or safety risk if things go wrong, you should still be careful. Minimal risk does not mean no risk, and engaging in any kind of construction endeavor carries an inherent danger.
With that said, here are a few home renovation projects you can take on if you want to work on your home, shaping it into your ideal dream home without employing contractors.
Clean Your Home's Façade
Whether your home has been standing for decades or was just built a few years ago, the façade of your home has likely accrued a fair amount of grime: dirt caking the paint, ever so slightly changing its color, as well as present threats like the presence of wasps nests or spider webs. One of the first things you might want to do to improve your home's outer appearance is to take a powerwasher to it, sloughing off years of grime in a matter of seconds.
While deceptively low-effort, not requiring you to don your hard hat or pick up any tools, this can take years off the look of your home, making it appear brand new in a matter of hours. If you have more fragile siding, like vinyl siding, a hose with a brush will also do wonders, though it will take longer.
Refurbish Your Floors
Even if the flooring appears stable, chances are that if you've bought a property that has been well-lived in, the flooring hasn't been changed out in a while: you might want to consider at bare minimum re-finishing and sanding them, as those two processes can take years off the look of your flooring and make your home appear new on the inside as well.
If you should notice structural issues or even dislike the kind of material used in the flooring, you can also take matters into your own hands and replace the flooring material. If you decide to do this yourself, be careful that you do your due diligence, looking over the floorplan of your home to avoid any potential hazards while re-doing the floors. Instead of tearing up the floors yourself, you can also use vinyl tiles that stick onto your current flooring, available from popular e-commerce sites. This is more of a band-aid, though, until you can either do it yourself or hire a professional.
Work on Your Backyard
There are several ways to renovate your backyard, as it's one of the most easily customizable features of any home. With few safety concerns associated with it (as you aren't likely to, say, accidentally cut into some wiring), you can redesign your backyard at will, shaping it into a Wonderland-esqué paradise. Grow a garden, add some new furniture, construct bird feeders or weed-resistant planters for your plants: just make sure for more serious construction projects, like gazebos or decks, that you hire a professional.
With the right tools and information, you can do little things here and there to shape your home into your dream house. Make sure you call a professional for larger-scale projects but feel free to experiment with safe ways to modify your home to your liking.

Transforming Garden Waste: Eco-Friendly Strategies
In this age of skyscraping landfills and ever-rampant pollution, it becomes crucial that you embrace an eco-friendly lifestyle. From your home to your garden, every area can contribute towards a cleaner and greener planet. This article addresses one such area, often overlooked, but having immense potential – your garden waste.
The Issue With Garden Waste
An abundantly growing garden is indeed a sight to behold and relish. Yet, it brings with it a common dilemma – what to do with the ensuing garden waste? Every season cycle, every pruned foliage, every change in your landscape layout leads to a pileup of twigs, leaves, branches, or grass clippings.
If these heaps are left ignored or if not taken care of appropriately, they become contributors to land and air pollution. Now imagine the possibilities if you choose eco-friendly practices for managing your garden waste.
Types Of Garden Waste
Before delving into green waste management strategies, understanding the different types of garden waste can prove beneficial for you. Primarily there are three categories – Green waste comprising lawn clippings, leaves, and plant trimmings; wood waste includes branches and pruned offshoots; and finally, soil and rubble from construction or layout alterations come under the third category.
Impacts On The Environment
Each unattended heap of leaves or branch stack does more harm than might initially seem apparent to you. When decomposing in landfill sites without sufficient oxygen supply, green garden waste gives out methane – a greenhouse gas much worse than CO2. Likewise, burning wood waste results in smoke releasing harmful particulates into the air that we breathe.
Wise Gardening Choices
Now that you are aware of your garden's potential environmental impacts let's adopt some easy practices right at gardening level to minimize waste generation. Embrace native plants as they require less raking due to their harmony with local climate conditions. Similarly choosing perennials or annuals leads to less digging and replacement thus controlling soil and rubble waste.
Nature-Friendly Plant Disposal
While discussing eco-friendly gardening practices it's unavoidable for things like immediate junk removal in Melbourne not to come up since they offer comprehensive eco-focused solutions which should definitely be considered by budding environmentally conscious individuals like yourself.
The benefits gleaned from using these services disprove old ways of practice as they aim for efficient use of resources while minimizing planetary harm.
Employ Composting Techniques
Composting offers a magical solution where your green garden waste transforms into nutrition for your plants! Your kitchen food scraps paired with shredded green garden wastes decompose over time to enrich soil fertility.
Practicing Green Mulching
Applying shredded leaves or grass trimmings provide a protective layer around plants retaining soil moisture and regulating temperature fluctuations while also preventing weed growth.
Creating Wildlife Habitats
Your wood wastes like larger pruned branches can serve as cozy shelters for birds or small mammals assisting local biodiversity.
Implementing Worm Farming
Vermiculture involves worms consuming organic wastes while generating nutrient-rich worm-manure contributing towards robust plant growth.
Building A Garden Incinerator
When designed appropriately according to local environment standards, small incinerators serve as handy tools for disposing woody plant debris like diseased tree trimmings thereby limiting chances of disease spread.
Community Composting Programs
You can tie up with local community groups encouraging collective composting thereby propagating compounded benefits towards reducing landfill burden.
Government Regulations And Support
Many local authorities supply compost bins at subsidized rates which you can avail, promoting your move towards eco-friendly gardening practices.
Achieving Zero-Waste Goals
By incorporating these strategies so far discussed not only are you efficiently managing your garden's aesthetics but also achieving a zero-waste goal!
Choosing Eco-Friendly Products
While adopting eco-friendly waste management practices, it's essential to also consider the products you use in your garden. Opt for natural fertilizers over synthetic ones. Chemical-based products not only harm the soil's natural fertility but can also leach into groundwater, causing environmental harm.
Adopting Sustainable Designs
The design of your garden plays a significant role in determining the amount of waste that is generated. Integrating permaculture principles, such as utilizing every inch of space effectively, can minimize waste production. You can create beds in circular or spiraling shapes rather than classic rows to make efficient use of your garden area.
Raising Awareness and Encouragement
Your efforts towards transforming garden waste don't have to be solitary ones. Encourage your friends, colleagues and neighbors to adopt similar practices.
By having a dialogue with others about such changes and by showcasing the effective and beautiful results yielded from these strategies, you're not just transforming your own garden but you could potentially inspire an entire community to align their lifestyle with nature-aiding practices.
Your Green Thumb Contribution
Every step taken towards transforming how you manage your garden waste contributes significantly towards nature conservation from curtailing pollution levels to enhancing soil productivity through natural means instead of chemical laden artificial substitutes! So roll up those sleeves and get started on making Mother Earth breathe easier!