Deep Clean Your Greenhouse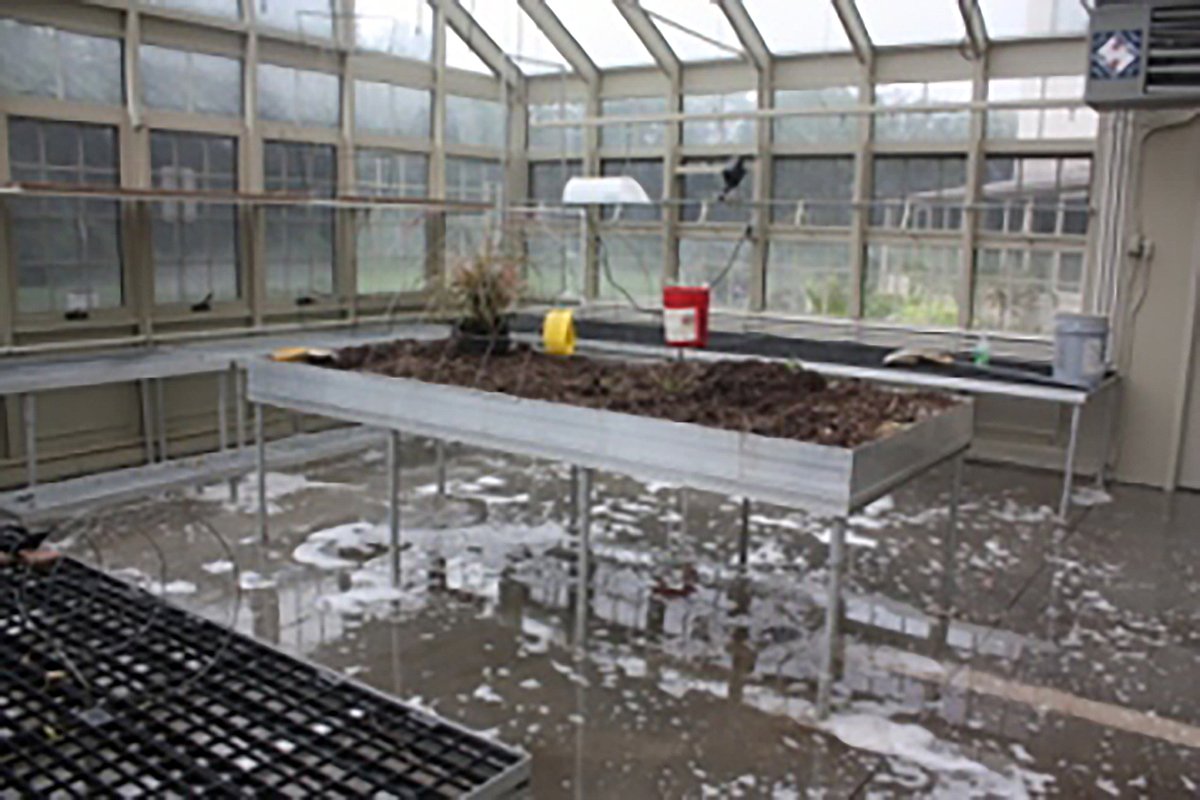 Plants love the warm, humid, cozy protection of a greenhouse. The problem is that pests and diseases do also. We have to get rid of them to keep our precious plants healthy. A deep cleaning does not only that but also improves the overall aesthetics of the greenhouse. It's a job—there's no doubt about that, but it helps if you break the chore down into the simple steps below rather than careen from one task to another and back again. Luckily enough, the folks at HousewaresInsider.com have compiled a short list of handy steps to follow.
Clear Out
That would be everything: plants, soil, weeds, debris of any kind, containers, equipment, clutter that somehow made its way into your greenhouse. There can be no place for any creepy crawlers or pathogens to hide
Sweep
"Shop vac" or sweep down walls, internal structures and peripherals, such as tables, benches and containers. Start at the top where dangerous organisms lurk in such places as rafters and window ledges. Clean the floor of the assorted debris that gathers there: soil, organic matter, weeds, broken pottery shards.
Scrub
Now scrub or power wash everything. If you use soap, be sure that it is a gentle, natural soap that leaves no residue. Otherwise, rinse very thoroughly to remove any residue. Hydrogen peroxide-based products are both user- and environment-friendly. Garden disinfectants work fine, as do specialty greenhouse cleaners combining sulfuric acid and wetting agents. Whatever you use, it is of utmost importance that you follow manufacturer's directions.
Wood tables and benches and any concrete areas (and, actually, any textured surface) need special attention. They are favorite places for root rot diseases, algae and insects to breed. If you are going to reuse containers, clean thoroughly to remove all soil and debris even if there has been no problems with disease.
Let the Sun In
Plants need all the sunlight they can get. Keeping the glass clean is a "must do." Begin by lifting of any moss or algae with any utensil that won't scratch the glass, but you really can't beat those plastic plant labels that can get into every crack and crevice. Wash the glass with a firm brush and a mild all-purpose liquid cleaner that doesn't need rinsing. Open the windows to speed up drying and give the hinges a quick fix of WD-40 while you're at it.
Clean Gutters and Water Butts
To clean the gutters, put on rubber gloves and scoop out the accumulated debris. Use a wire coat hanger to "ream out" the top of fall pipes. Then use the hose to sluice away the remaining dirt.
To clean water butts, tip over to drain out any standing water. Scrub out the inside with a coarse brush and rinse with clean water.
Maintain
Are you ready to resolve to keep the greenhouse clean? Not only to save yourself work but also because it's easier and less expensive to prevent insect infestation and diseases than to deal with them once they have settled in. Some routine preventive measures:
Sanitize tools, containers and equipment immediately after use,
Wash your hands prior to contact with plants, soil or equipment,
Wash your gardening gloves after use,
Keep a pair of shoes or boots to be used only in the greenhouse,
Keep plants (and the floor) free of weeds,
Toss diseased plants immediately, and (believe it or not)
Avoid bright-colored clothing, especially yellow or blue—you'll attract insects who will "stalk" you right into the greenhouse.

How Does a Greenhouse Work?
Gardening is a great way to get fresh air, physical activity, connect with nature, and spend time outdoors. But if you're looking to take your growing operation to the next level, you should look into greenhouse construction. Ideal for large agricultural operations or even just your backyard garden, a greenhouse can extend your growing season, provide optimal growing conditions, and protect your plants from predators.
We've all probably heard of a greenhouse, but before you make the investment, it's wise to do your research and understand your options. It's also important to understand how a greenhouse works and how it affects the growing conditions of your plants. Well, that's why we're here to help. In this article, we're taking a closer look at greenhouses and how this technology can help transform your growing season and plants.
What is a Greenhouse?
We've all heard of this type of structure, but do you really know what a greenhouse is? A greenhouse is a structure that consists primarily of transparent materials for the roof and walls. In the majority of cases, glass is used to allow sunlight into the space, but it then cannot exit, which creates a warming environment. Greenhouses range in size from shed-like structures you might see in someone's backyard all the way to industrial-scale operations where they can take up acres upon acres.
What is this all for? The purpose of this structure is to allow in sunlight, which warms the interior of the greenhouse while protecting the plants inside from cold temperatures, bad weather, and pests and predators like deer or rabbits. Greenhouses are popular and can be used throughout the world, especially in colder climates, to create an ideal growing environment for plants, herbs, or any type of produce.
Greenhouses are versatile and customizable and can be used by anyone, ranging from multinational companies to your neighbor who loves to garden. If you're looking to grow in optimal conditions, a greenhouse could be beneficial for you.
Benefits of a Greenhouse
Greenhouses are popping up everywhere—and for good reason. Take a look at just a few of the top benefits of having your own greenhouse:
Your own growing space: have you ever dreamed of having your own dedicated growing space? If so, you'll need a greenhouse. Don't worry about clutter or determining the best space for your plants. A greenhouse does all that for you and even will help you finally get organized with your growing.
Optimal growing conditions: by trapping heat and sunlight, a greenhouse creates ideal growing conditions for a wide range of plants and herbs. With a greenhouse, you're in control of the growing conditions.
Protection: spending time on your plants only to have them eaten or destroyed by local critters is one of the worst feelings. To keep your plants safe from pests like deer or rabbits, use a greenhouse that provides maximum protection. It's also an ideal method for keeping out disease and fungi that can harm or destroy your entire yield. With a greenhouse, give your plants the protection they need.
Extend your grow season: depending on where you live, you may have a rather short growing season, which can severely limit how much (and what types of plants) you can actually grow. A greenhouse changes all this by providing you with optimal growing conditions throughout the whole year. All you need is sun.
Save money: while the initial construction of your greenhouse will, of course, require some costs, most greenhouse owners end up saving quite a bit of money in the big picture. Since you can extend your growing season, you can grow more and more types of plants or produce. And since a greenhouse provides protection for your grow, you won't waste money on replacing damaged or dead plants nearly as often. It will also cut down on your need to buy expensive fertilizers throughout the year.
How Does a Greenhouse Work?
As you can see, there are quite a few reasons to use a greenhouse for your grow needs. Greenhouses will let you extend your growing season, and at the same time, protect your plants from pests and predators. But have you ever stopped to consider how this technology actually works? Well, let's take a closer look.
A greenhouse works by allowing sunlight to enter your space. This is why it's so important that the building materials are transparent, such as using glass. Light will enter the greenhouse and then the heat from the solar radiation is absorbed by the plants in the interior space of the greenhouse. Remember, the darker the surface area, the more heat is absorbed.
When heat is absorbed, the wavelength of the incoming light is changed. In this new length, the heat cannot exit the greenhouse as it was able to enter. So, effectively, the greenhouse traps these wavelengths of heat inside. The heat remains in the greenhouse and radiates throughout the space, warming up the environment inside. As long as you're receiving sunlight throughout the day, your greenhouse and your plants will stay warm.
Conclusion – How Does a Greenhouse Work?
A greenhouse construction project can truly transform your growing operation—no matter how large or small. From a full-scale operation to a simple home garden, a greenhouse could be the perfect solution to help you grow the best plants yet. By allowing sunlight and heat into the interior space, the greenhouse traps heat and ensures optimal growing conditions for your plants, herbs, and produce. A greenhouse enables you to have complete control over the growing environment, which will end up giving you the best yield yet.
Building a greenhouse is ideal for any space. Since you can customize the size and shape of your greenhouse, it can suit any yard or full-scale operation. Extend your grow season, create an amazing growing environment, protect your plants from pests and predators, and create your own dedicated growing space. All of these are just a few of the benefits when you've added a greenhouse to your space. If you're really looking to take your grow operation to the next level, there's no doubt about it, a greenhouse is a must.