Sanitizing the Greenhouse and Overwintering Plants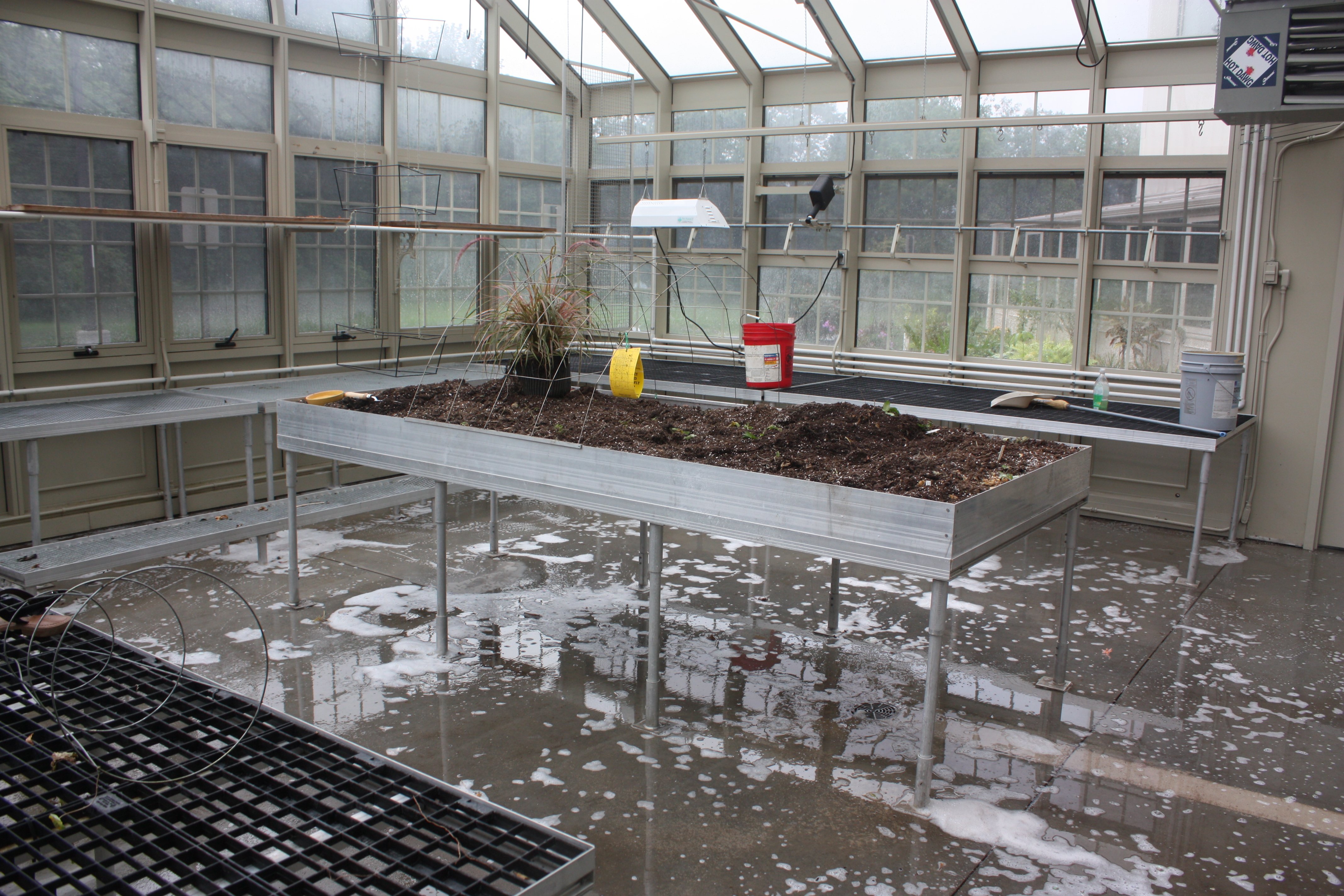 As the cold weather approaches, greenhouse growers should begin preparing their greenhouses for the winter. Before bringing in the plants from outside, a good sanitizing of the greenhouse and the plants themselves is recommended. This can be viewed as a yearly maintenance and preventative procedure which can greatly reduce the likelihood of problems during the winter months. A good cleaning combined with proper placement of the plants in the greenhouse equates to a smoother transition into next year's growing season.
Sanitizing the Greenhouse
Before moving plants into the greenhouse for overwintering, it is a good idea to thoroughly clean the greenhouse. Start by removing any plants that are currently in the greenhouse. After the greenhouse is empty, hose down the entire greenhouse with soapy water. In most cases, soapy water is enough to prevent algae build up on the glaze or framing of the greenhouse. If algae have already built up, a good pressure wash can easily rectify the problem. It is very important for owners of polycarbonate greenhouses to avoid using window cleaners of any kind. Window cleaners can actually damage the polycarbonate panels and make them less transparent.
After using soapy water and/or the pressure washer, it is a good idea to further sanitize the greenhouses with a sterilizing/sanitizing agent. A diluted bleach solution is one sanitizing agent commonly used by greenhouse horticulturists. However, there are two distinct disadvantages to using a bleach solution. First, the odor and fumes created by bleach can be overwhelming, especially when used in a contained area like a greenhouse. Second, a diluted bleach solution works fine for sanitizing the greenhouse itself, but should not be used on the plants that will be coming into the greenhouse from outside. Even a diluted bleach solution would be harmful to the plants. Molds and pathogens often enter the greenhouse by hitching a ride on a plant or in the soil of a plant brought in from outside.
A good solution to this is a cleaning agent called Physan 20. Physan 20 is an algaecide, fungicide, bactericide, and virucide. In other words, Physan 20 helps fight algae, fungi, bacteria, and viruses. After washing the greenhouse with soapy water, an application of Physan 20 will kill any remaining fungi, algae, bacteria, or viruses. Physan 20 is virtually odorless which makes it much easier to work with than a diluted bleach solution. Perhaps the largest advantage of Physan 20 is its ability to be used directly on ornamental plants and their soil. Physan 20 can be used as a soil drench to kill any pathogenic fungi, bacteria, algae, or viruses lurking in the soil of plants kept outdoors. Physan 20 comes in a concentrate form and must be diluted before use. Horticulturists should pay close attention to the manufacturer's recommended dilution rates for the various uses of the product. In other words, the recommended concentration for cleaning the greenhouse material will differ from the concentration for a soil drench.
Preparing the Plants for Overwintering
Before bringing outside plants into the greenhouse for the winter, a gardener should take a few steps to make the transition smoother. Start with cleaning the plants themselves by removing any dead or dying leaves from the plant and soil container. Examine the plants closely for pest insects. Any pest insect issues should be treated before bringing those plants into the greenhouse. If possible, time your watering so that the plants can receive a watering with the Physan 20 mixture right before entering the greenhouse for the winter. As previously mentioned, this will kill any fungi, algae, bacteria, or viruses that may be contained in the soil.
Plant Placement
Plant placement is another important factor to consider when overwintering. Some plants are more sensitive to cold than others. The plants that will better handle cold conditions should be placed along the perimeter of the greenhouse and those more sensitive to the cold should be place closer to the center. If the plan is to grow orchids or food crops, the greenhouse will need to be heated by some sort of heating device in order to keep the ambient air temperature warm enough for flower/fruit production.
Sanitizing the greenhouse is an important preventive measure that can be the difference between a smooth transition and an utter catastrophe come spring. Cleaning and sanitizing the plants before they enter the greenhouse is a vital step to keep the plants healthy and happy all winter long. Proper plant placement is another crucial factor contributing to the heath of the plants. When planning the layout of the greenhouse for winter, do not forget to leave some space for next spring's seedings. After all, winter will be over before you know it and the next chapter of your garden will soon begin.
For more information visit ArcadiaGlasshouse.com.

Budget-Friendly Home Additions
With the current state of the real estate market, affordability is more important than ever when looking for a new place to live. Every day, it seems like there's a new story about how home prices are getting more and more out of control. With more and more people looking for places to live, it's no wonder that prices are continuing to go up. The good news? Even though prices are rising, there are still plenty of ways to get into the real estate market without spending all of your savings. These low-cost DIY home improvement ideas will make you feel like you spent more money than you actually did. Although they may not be as exciting as buying your first home, making additions to your current house can make any place feel more open and inviting!
Add a Deck for Morning Breathing or Evening Sunsets
Even if you can only step outside for a few minutes, having an outdoor space can make a big difference in your daily routine. A deck can be your morning breathing space, a spot to watch the sunset, or the perfect spot to plant a garden. If you're looking to add an outdoor space without breaking the bank, you can set up a tent and bring out furniture, such as a summer outdoor seating. With the right design, an area under a deck can be used as an office or a play area for kids, or even both at the same time. Adding a deck to your home doesn't have to cost a fortune. If your question is, can I paint cedar decking? You can definitely find the answer to that by seeking advice from the experts or you can even read a blog about this.
Add on to the Backyard
If you're lacking the space for a full backyard expansion, another affordable solution is to build an addition or extension onto your existing backyard. By adding an extension to your backyard, you can create additional space to enjoy while also increasing the value of your home. Landscaping can be a popular addition to your backyard, as it can add aesthetic value, as well as decks and pools. If you have any extra space in your yard, you might be able to add a garden, a patio, or even a fence.
Add a Sitting Room
Some people feel most comfortable spending their time in a less-active area of the home, such as the living room or bedroom. By adding a sitting room, you can help create a sense of flow and unity between the kitchen and the other living areas in your home, making your house feel more like a cohesive unit. This can be done by adding a new wall, a desk, a bench, or anything else that would block the view. You can partition off a living room from the rest of your house with a curtain or a special kind of fabric that could be an alternative to a wall. If you would prefer a temporary division, several different upholstery fabrics can be used and changed as necessary.
Add Something That Grows
Incorporating another living thing into your home decor does not have to be a costly endeavor. You can find beautiful plants for a very reasonable price and add them to your home in just a few easy steps. Mushrooms can also be a great, natural addition to your home improvement project. Some mushrooms can actually do well when kept in the house, so you wouldn't have to worry too much about them and can tend to them when needed. If you don't think foraging for mushrooms is for you, then you can always purchase a mushroom growing supply kit that you can keep indoors. Not only are these easy home improvement ideas budget-friendly, but they're also a great way to introduce your family to the rewarding hobby of gardening. If you or anyone in your family is new to gardening, or if you have kids who haven't shown interest in gardening yet, adding something that you can grow in your home is a great way to get them interested.
Remember to Enjoy and Save Money as Well
It's essential to select a home improvement project that is also within your budget. There are a number of ways to renovate on a budget, ranging from small changes to complete overhauls. Depending on the level of renovation you're considering, you can expect to spend anywhere from a few hundred dollars to tens of thousands of dollars. The cost of a home renovation is important to factor in, but it shouldn't be the be-all and end-all of your decision. Where you spend your money matters, and a renovation is an excellent opportunity to make your home more sustainable. If you want to be economical with your renovation project, you should select one that will upgrade the usefulness of your total living area without being too expensive.