Greenhouse Shade Cloth Options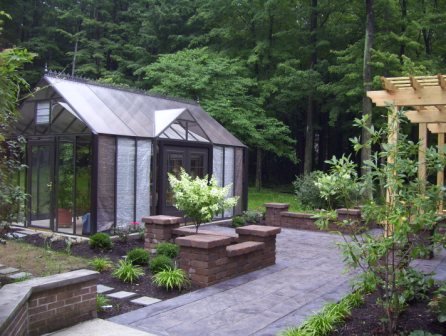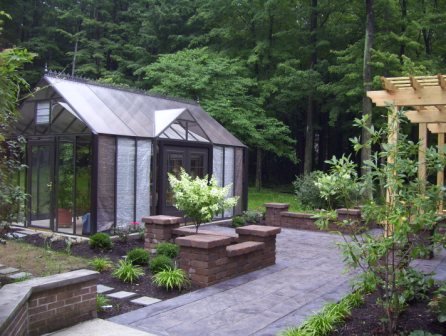 A shade cloth is used in a greenhouse for two reasons. First, to protect plants from getting burned by intense sunlight and second, shade cloth is a way to help keep a greenhouse cooler during the hot summer months. Shade cloth can be made from different materials but all shade cloth can be purchased in different filtration ratings. In other words, a gardener can select a percentage of shading that will best fit his or her needs. In most cases, a shade cloth will shade 50%, 60%, or 70% of the sunlight. The higher percentage (70% or greater) is usually reserved for situations where the greenhouse is receiving an abundance of intense sunlight; such as a south-facing greenhouse that receives full sun in the summer months. Shade cloth is usually sized according to the particular greenhouse. In other words, shade cloth is usually custom built for a particular situation. The shade cloth has grommets placed every four feet for hanging on hooks or guide wires depending on the application. A closer look at some of the shade cloth options will give greenhouse gardeners an idea of which shade cloth option will work best for them.
Aluminet
Aluminet is one of the most affordable and effective shade cloth materials available. Aluminet can be hung on the interior of a greenhouse and placed flush against the walls or ceiling. Aluminet is unique because it not only shades sunlight but it also reflects heat. The biggest advantages of Aluminet are that it not only shades the light but also helps to effectively cool the greenhouse by reflecting a portion of the heat away from the structure. Aluminet is very cost effective and a great choice for home hobbyists. If aesthetics are important (as they are with many home gardeners), the interior hung shade cloth does not take away from the natural beauty of the greenhouse structure.
Black Nylon
Black nylon shade cloth hung on the exterior of the greenhouse is another shade cloth option. The hooks for the grommets are on the outside of the structure and the shade cloth is hung around the exterior of the greenhouse. This type of shade cloth costs about the same as Aluminet and does a good job of filtering the light. Although the greenhouse will be cooler than without the shade cloth, due to its black color, this type of shade cloth does little to reflect the heat away from the structure. As can be imagined, a shade cloth hung on the exterior of the greenhouse will affect the aesthetics of the greenhouse. There is also some additional maintenance with exterior hung shade cloth as they tend to accumulate dirt, dust, etc.
Motorized or Manual Guide Wire Shade Cloths
Motorized shade cloth systems are so expensive they are generally reserved for large, commercial greenhouses. These systems have guide wires where the shade cloth is attached. When needed, a small motor pulls the shade cloth into place. Many commercial greenhouses utilize guide wires without motors as well. Similar to opening or closing a shower curtain, a large span of shade cloth can be opened or closed within the greenhouse. The biggest disadvantage of motorized or manual guide wire shade cloth systems is the shade cloth is never flush with the walls or ceiling of the greenhouse. This means that the heat is still entering the greenhouse. However, there are some situations where it is necessary for the shade cloth to shade a section of the greenhouse. For example, seedlings or light sensitive plants can be protected from intense light by being sectioned off with some shade cloth.
For most hobbyist growers finding a shade cloth that fits the budget and still performs up to par are the priorities. Gardeners with glass greenhouses which have south or west exposures almost always need to implement some sort of shade cloth. If reducing heat in the greenhouse is as important as eliminating hotspots in the garden a product like Aluminet would be a good fit. Regardless of the particular material chosen, a shade cloth is the best way to keep plants from being harmed by the intensity of the sun during the summer months.
For more information please visit ArcadiaGlasshouse.com.

Budget-Friendly Home Additions
With the current state of the real estate market, affordability is more important than ever when looking for a new place to live. Every day, it seems like there's a new story about how home prices are getting more and more out of control. With more and more people looking for places to live, it's no wonder that prices are continuing to go up. The good news? Even though prices are rising, there are still plenty of ways to get into the real estate market without spending all of your savings. These low-cost DIY home improvement ideas will make you feel like you spent more money than you actually did. Although they may not be as exciting as buying your first home, making additions to your current house can make any place feel more open and inviting!
Add a Deck for Morning Breathing or Evening Sunsets
Even if you can only step outside for a few minutes, having an outdoor space can make a big difference in your daily routine. A deck can be your morning breathing space, a spot to watch the sunset, or the perfect spot to plant a garden. If you're looking to add an outdoor space without breaking the bank, you can set up a tent and bring out furniture, such as a summer outdoor seating. With the right design, an area under a deck can be used as an office or a play area for kids, or even both at the same time. Adding a deck to your home doesn't have to cost a fortune. If your question is, can I paint cedar decking? You can definitely find the answer to that by seeking advice from the experts or you can even read a blog about this.
Add on to the Backyard
If you're lacking the space for a full backyard expansion, another affordable solution is to build an addition or extension onto your existing backyard. By adding an extension to your backyard, you can create additional space to enjoy while also increasing the value of your home. Landscaping can be a popular addition to your backyard, as it can add aesthetic value, as well as decks and pools. If you have any extra space in your yard, you might be able to add a garden, a patio, or even a fence.
Add a Sitting Room
Some people feel most comfortable spending their time in a less-active area of the home, such as the living room or bedroom. By adding a sitting room, you can help create a sense of flow and unity between the kitchen and the other living areas in your home, making your house feel more like a cohesive unit. This can be done by adding a new wall, a desk, a bench, or anything else that would block the view. You can partition off a living room from the rest of your house with a curtain or a special kind of fabric that could be an alternative to a wall. If you would prefer a temporary division, several different upholstery fabrics can be used and changed as necessary.
Add Something That Grows
Incorporating another living thing into your home decor does not have to be a costly endeavor. You can find beautiful plants for a very reasonable price and add them to your home in just a few easy steps. Mushrooms can also be a great, natural addition to your home improvement project. Some mushrooms can actually do well when kept in the house, so you wouldn't have to worry too much about them and can tend to them when needed. If you don't think foraging for mushrooms is for you, then you can always purchase a mushroom growing supply kit that you can keep indoors. Not only are these easy home improvement ideas budget-friendly, but they're also a great way to introduce your family to the rewarding hobby of gardening. If you or anyone in your family is new to gardening, or if you have kids who haven't shown interest in gardening yet, adding something that you can grow in your home is a great way to get them interested.
Remember to Enjoy and Save Money as Well
It's essential to select a home improvement project that is also within your budget. There are a number of ways to renovate on a budget, ranging from small changes to complete overhauls. Depending on the level of renovation you're considering, you can expect to spend anywhere from a few hundred dollars to tens of thousands of dollars. The cost of a home renovation is important to factor in, but it shouldn't be the be-all and end-all of your decision. Where you spend your money matters, and a renovation is an excellent opportunity to make your home more sustainable. If you want to be economical with your renovation project, you should select one that will upgrade the usefulness of your total living area without being too expensive.