Easy Ways To Incorporate Plants Inside Your Home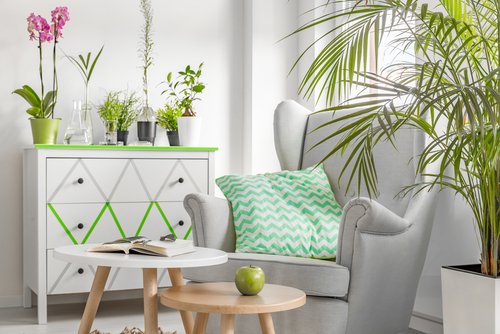 More homeowners these days are discovering the benefits of decorating with plants, and literally greening the home has been on trend in recent years. Besides adding glam and color to your home's aesthetics, another advantage it provides is wellness. They give off oxygen while absorbing carbon dioxide, and helps purify the indoor air you breathe.
When decorating with plants, it's worth keeping these five tips in mind: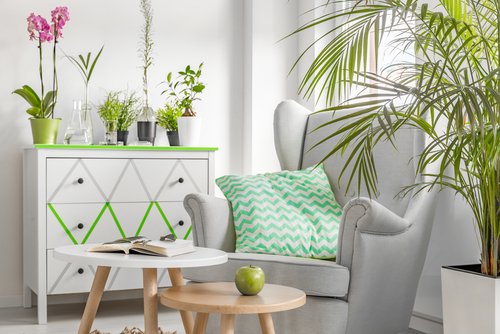 Group pots of greenery in odd numbers for a casual look. The symmetry of an even-numbered grouping makes the arrangement appear more formal.
To add interest, mix plants of various shapes, heights and widths.
Color choice depends on your preference. Similar hues provide cohesiveness but if you're aiming for variety in your décor, opt for foliage featuring different colors.
Like plant color, pots can be expressions of your design taste. You can have a set arrangement using plant containers of the same color and texture, or use variety to lend a more eclectic ambiance.
As living things, plants have preferred conditions. Be aware of these needs and make them part of your houseplant care routine. Some thrive in a moist environment while others like lots of light.
Decorating with houseplants
Incorporating plants in your décor is not that difficult to do. Try bringing nature inside your home with these simple but stylish suggestions.
Empty corners in your home can be tricky to decorate, and plants provide a way for you to get creative. Putting indoor trees like yucca and ficus in colorful Huge Commercial Planters takes care of the awkward space.
Don't throw away old dinnerware. Instead, use these to create tiny indoor gardens in your home. Arrange different kinds of succulents in a soup tureen, teacup or glass and top the soil with colored marbles to add more charm.


Think of indoor plants as living sculptures or artwork. Let them cascade over vessels to lend a sense of movement to your living room.

Alternatively, mimic a still life painting with an assembly of tiny succulents. Combine round and pointy shapes with shiny and matte surfaces, tying them together using a specific color scheme.

Create a green haven within your bedroom by trading one of your bedside lamps with a pot of fern or peace lily. Adding a sturdy plant in a sunny corner provides freshness. Greenery in the bedroom can help absorb pollutants from the air so that you breathe in purer air every time you get your beauty sleep.
Plants are an affordable way to freshen up your interiors. Whether your style preference is modern, traditional, minimalist, or eclectic; there is greenery to match it. Different species provide you with a range of colors, textures, and shapes to choose from. When you incorporate plants in your design, you not only breathe more life into your home but also enjoy the healing properties they provide.

Budget-Friendly Home Additions
With the current state of the real estate market, affordability is more important than ever when looking for a new place to live. Every day, it seems like there's a new story about how home prices are getting more and more out of control. With more and more people looking for places to live, it's no wonder that prices are continuing to go up. The good news? Even though prices are rising, there are still plenty of ways to get into the real estate market without spending all of your savings. These low-cost DIY home improvement ideas will make you feel like you spent more money than you actually did. Although they may not be as exciting as buying your first home, making additions to your current house can make any place feel more open and inviting!
Add a Deck for Morning Breathing or Evening Sunsets
Even if you can only step outside for a few minutes, having an outdoor space can make a big difference in your daily routine. A deck can be your morning breathing space, a spot to watch the sunset, or the perfect spot to plant a garden. If you're looking to add an outdoor space without breaking the bank, you can set up a tent and bring out furniture, such as a summer outdoor seating. With the right design, an area under a deck can be used as an office or a play area for kids, or even both at the same time. Adding a deck to your home doesn't have to cost a fortune. If your question is, can I paint cedar decking? You can definitely find the answer to that by seeking advice from the experts or you can even read a blog about this.
Add on to the Backyard
If you're lacking the space for a full backyard expansion, another affordable solution is to build an addition or extension onto your existing backyard. By adding an extension to your backyard, you can create additional space to enjoy while also increasing the value of your home. Landscaping can be a popular addition to your backyard, as it can add aesthetic value, as well as decks and pools. If you have any extra space in your yard, you might be able to add a garden, a patio, or even a fence.
Add a Sitting Room
Some people feel most comfortable spending their time in a less-active area of the home, such as the living room or bedroom. By adding a sitting room, you can help create a sense of flow and unity between the kitchen and the other living areas in your home, making your house feel more like a cohesive unit. This can be done by adding a new wall, a desk, a bench, or anything else that would block the view. You can partition off a living room from the rest of your house with a curtain or a special kind of fabric that could be an alternative to a wall. If you would prefer a temporary division, several different upholstery fabrics can be used and changed as necessary.
Add Something That Grows
Incorporating another living thing into your home decor does not have to be a costly endeavor. You can find beautiful plants for a very reasonable price and add them to your home in just a few easy steps. Mushrooms can also be a great, natural addition to your home improvement project. Some mushrooms can actually do well when kept in the house, so you wouldn't have to worry too much about them and can tend to them when needed. If you don't think foraging for mushrooms is for you, then you can always purchase a mushroom growing supply kit that you can keep indoors. Not only are these easy home improvement ideas budget-friendly, but they're also a great way to introduce your family to the rewarding hobby of gardening. If you or anyone in your family is new to gardening, or if you have kids who haven't shown interest in gardening yet, adding something that you can grow in your home is a great way to get them interested.
Remember to Enjoy and Save Money as Well
It's essential to select a home improvement project that is also within your budget. There are a number of ways to renovate on a budget, ranging from small changes to complete overhauls. Depending on the level of renovation you're considering, you can expect to spend anywhere from a few hundred dollars to tens of thousands of dollars. The cost of a home renovation is important to factor in, but it shouldn't be the be-all and end-all of your decision. Where you spend your money matters, and a renovation is an excellent opportunity to make your home more sustainable. If you want to be economical with your renovation project, you should select one that will upgrade the usefulness of your total living area without being too expensive.