The Top Benefits of Opting for a Sod Lawn in Your Garden
Many homeowners aspire for a beautifully manicured lawn. However, installing and maintaining a lawn is easier said than done. There are plenty of aesthetically pleasing alternatives to a lawn. From a zen garden to wooden decking or paving slabs, the choices are endless. For some, nothing comes close to the feel of grass beneath your bare feet. If you've ever looked over at a neighbor's yard with envy and wondered how they manage to keep their lawn looking so good, you might find that sodding is the answer.
If you don't know much about sodding, we're here to provide you with some useful insights into the advantage of a sod lawn:
What Is a Sod Lawn?
Let's begin with the basics. Sod can be described as grass and soil held together by a biodegradable root system or material. There are different options when it comes to having a sod lawn. From Bella bluegrass and bermudagrass and centipede grass, the list of choices you'll have is endless. Sourcing a sod lawn and installing it won't be easy, so it is best to speak to experts at The Sod Source for more information. 
It's an Instant Solution
The most obvious advantage of sod is that you'll have yourself an instant lawn. With regular lawns, seeds take at least a year to grow and are fully established, and you'll have to deal with unattractive yard space. Sodding, however, provides an immediate aesthetic change and will be fully established within a matter of weeks. 
Less Soil Erosion
Unlike seeds, which take a while to establish themselves, sod is better able to control soil erosion because it is fully grown. For those with a garden that becomes muddy as soon as it rains, sod is a great option for eliminating the issue of soil erosion, since it acts as a barrier between rainfall and the soil.
You Won't Need to Stress About Irrigation
A seeded lawn needs to be watered at least four times a day at the germination stage. This ensures that the ground will stay moist, but it will also take up a lot of your time. On the other hand, sod only really needs to be watered a few times a day for the first few weeks after it is installed, which makes it a less time-consuming option for the homeowner.
Sod Lawns Are a Professional Solution
Unlike a regular seeded lawn, which will require the homeowner to tend to by themselves, sod is grown by professionals. Sod farms grow their sod using the best quality seeds and use specialist machinery. Furthermore, sod farms harvest to order, so you can guarantee you receive a top-quality product.
Maintaining a lawn requires a lot of hard work and patience. A seeded lawn will take a fair amount of time to establish itself, and that is not to say you won't experience teething issues along the way. Even if you have a green thumb, opting for a sod lawn will save you a lot of time and effort.

Top Landscape Architecture Schools and Colleges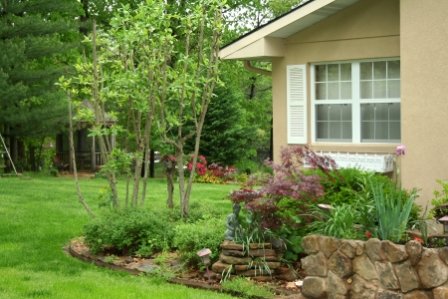 Landscape architecture is one of the most exciting fields of study for those interested in addressing issues of critical significance to the future of our planet and its inhabitants. Through developing projects ranging from intimate gardens to parks, gardens, and cities, landscape architects are poised to intervene at a wide range of scales, in myriad contexts, and for multiple constituencies. Industry reports show that the field will grow exponentially over the next several years. According to the United States Department of Labor, the employment rate for landscape architects will increase by 5% between now and 2024. As populations worldwide continue to expand, they create the need for development. The strain of development on the natural environment also creates the need for trained individuals capable of balancing both facets without causing detriment to either side.
Accordingly, organizations in the landscape architecture industry are increasingly looking for talented and well-trained professionals. They have a strong interest in the education and preparation of students who are the future workforce of the profession. Through hiring and working with graduates of disparate programs, employers have a perspective on the relative strengths of schools and colleges and how graduates are prepared for professional practice. We have researched the best schools for landscape architecture, highly rated by leading architecture firms in the world.
Best Landscape Architecture Schools
If you're looking to study landscape architecture, many programs are available at the bachelor's level. You can earn a BA, BSC, or a BLA (Bachelor of Landscape Architecture), depending on the university you choose to study. The best landscape architecture colleges offer majors and minors in undergraduate and/or graduate degree programs that meet licensure requirements. Students that enroll in these schools can also combine the professional graduate program with an urban or regional planning master's program. Below is the list of the best and most admired landscape design colleges.
Cornell University
Any student pursuing a degree in landscape architecture needs to look into Cornell University. Located in Ithaca, it is the only undergraduate landscape architecture degree among Ivy League schools. The Agriculture and Life Science college at Cornell University is one of the best landscape architecture schools and an international leader in education and research. The Department of Architecture, established in 1904, endeavors to produce socially responsible and creative graduates. Its flexible curriculum allows students to tailor the program to their interests. Students can explore innovative and functional solutions for the challenging problems associated with the profession. The university has world-renowned experts and educators who teach landscape architecture courses. It affords students the benefit of extensive resources related to the college and cutting-edge facilities, including state-of-the-art technology and tools. Cornell University offers the following programs.
Undergraduate degree – Bachelor of Science in Landscape Architecture
Graduate programs – Master of Landscape Architecture & Master of Professional Studies
Online programs – includes CALS Exchange Program
Harvard University
Harvard University is one of the top schools to get your degree in landscape architecture in the U.S. Situated in the midsize city of Cambridge, it offers a graduate-level architecture, landscape architecture, and urban planning program designed to prepare graduates who wish to enter teaching and advanced research careers. The school also offers Doctor of Design and Ph.D. programs that don't meet licensure requirements but are geared towards students interested in pursuing a career in academia or research. Program cohorts in the college are small, enabling one-to-one contact with faculty. Students also get the chance to work with internationally recognized faculty and experts and explore the multiple ways that landscapes positively contribute to the complexities of the contemporary city.
Iowa State University
Admissions to the university's BLA program are very selective, admitting just 36 students per year. Iowa State University offers a limited enrollment, five-year bachelor's degree program that prepares students for state licensure. The available graduate degrees include a Master of Science in Landscape Architecture intended for those pursuing research-oriented careers and a professional Master of Landscape Architecture (MLA) degree. Graduate students can also choose to earn an MLA degree in conjunction with a Master of Community and Regional Planning. They also embark on the traveling studio during the fall semester within and beyond the great Midwest region of North America to study regional natural systems and their respective cultural responses. Both its undergraduate and graduate programs incorporate minors in Critical Studies in Design, Design Studies, and Digital Media.
Why a Student May Need Professional Writing Services
Landscape architecture is a practical and hands-on program, implying that learning can take place in design studies, field trips, lectures, and seminars. Students can find it overwhelming, especially when they have to juggle other essential things in their lives like work and family. Luckily, reliable custom essay writing services help students with all their academic writing needs. CustomWritings.com is a professional essay writing service that helps you get in control of your studies. It has a team of professional writers and experienced specialists in all academic fields, ranging from landscape architecture to nursing to computer science. The experts guarantee quality, original, and personalized papers at pocket-friendly prices. The company has been offering academic assistance for years and great solutions for complex dissertations, research papers, assignments, term papers, admission essays, and many more.
Prominent Colleges for Landscape Architecture
Several other landscape design schools with comprehensive degree programs incorporate experiential training with academic studies. Here are three prominent landscape architecture schools that you can also consider.
Auburn University
The school offers a master's degree in landscape architecture. Students gain experience through field trips and research assistantships. Auburn University also has a dual degree in landscape architecture and community.
University of Florida
The university's Department of Landscape Architecture offers the only professionally accredited Bachelor of Landscape Architecture program in Florida and is considered among the top schools in the field. The program covers a broad spectrum of practice and theory and provides opportunities to study abroad.
Clemson University
The Department of Landscape Architecture's focus on the values of the art and science of design, innovation, engagement, and ethical environmental and social justice has made the university prominent across the country. Clemson offers a bachelor's and master's degree in landscape architecture and provides the option of pursuing the programs off-campus within and outside the U.S.
Most Sought-after Landscape Design Schools
Whether you are looking for two-year or four-year programs, there are dozens of landscape-related design programs offering dynamic instruction that students highly sought-after. While these schools are not at the level of Ivy League colleges or among the top 10 landscape design colleges, they offer landscape design programs that you can use to kickstart your professional career. You can jumpstart your landscaping career by pursuing any of the following programs near you.
American River College
Bergen Community College
Chicago Botanic Gardens
Columbus State Community College
The Conway School
Southwestern College
Saddleback College
Final Thought!
Today, landscape architecture enjoys greater public visibility, cultural relevance, and potential for professional leadership than at any time in recent history. Accordingly, obtaining an education in landscape architecture from schools with comprehensive programs incorporating practical, abstract, and experiential training is crucial. The above-listed programs have quality landscape architecture programs that meet licensure requirements.