What Is Xeriscaping and Why Should You Consider It For Your Lawn?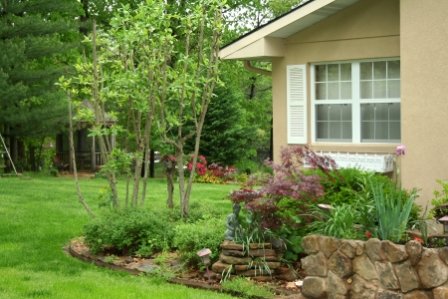 Grass lawns aren't sustainable in many parts of the United States. They require a lot of maintenance and water to stay green and look nice. This amount may be too much maintenance for many people, but you may still want a gorgeous lawn.
If this is you, you should consider xeriscaping!
What is xeriscaping?
Xeriscaping means dry scaping. It is a style of landscaping that lowers the need for irrigation. If you own a lawn in hotter parts of the United States, you may have heard of xeriscaping already. Xeriscaping is for people who want a beautiful yard while saving water, especially during droughts.
Xeriscaping may be the solution to a lawn with high water needs. With xeriscaping, you can transform your yard with native plants with lower water needs. Xeriscaping is excellent in places like Nevada and Utah, which have sweltering and dry summers.
Native plants
Xeriscaping uses drought-tolerant, native plants, which you can get from Utah seed companies. These native plants can survive on the amount of water that the area typically gets, which often results in these plants being drought-tolerant in locations like Nevada and Utah. 
These may be plants like succulents or drought-tolerant ground cover like Allegheny spurge. Purple coneflower, a plant native to Texas, is popular for being incredibly drought-tolerant while still being a striking flower.
Replacing the lawn
Xeriscaping typically replaces a grass lawn with rocks and mulch or soil. Using these eliminates the water needs that grass has. You plant the drought-tolerant native plants and group them with plants of similar water needs.
Irrigation
Another part of xeriscaping is using more efficient irrigation for your lawn. Drip irrigation systems work well for xeriscaped lawns. These save on water usage by delivering water to the plants more efficiently than using a hose or traditional sprinklers.
Why should you consider xeriscaping for your lawn?
You should consider xeriscaping your lawn if you live in a dryer area that often goes through droughts or a place that doesn't have access to a lot of water. Your yard can still look beautiful, green, and colorful while not needing as much water as a traditional lawn.
It lowers the amount of work you have to do to maintain your lawn because the plants need the same amount of water that the area naturally gets. They also have the exact sunlight needs the area offers. So if you want to keep that look, you don't have to eliminate the whole grass lawn.
You can use beautiful hardscaping like rocks and footpaths, which reduces the amount of space you have to dedicate to plants while still having a beautiful lawn.
Xeriscaping cuts down on cost, too, since it saves water and needs less upkeep. Drip irrigation systems can drastically cut your water bill. Grouping plants together based on water needs can, too. Needing to mow less also reduces your water bill and helps the environment by lowering gas consumption.
Before you go
Xeriscaping is a great way to keep an eco-friendly lawn without sacrificing beauty. If you live in hot regions, you may greatly benefit from trying this landscaping method. Anyone anywhere can benefit from planting native plants in their lawn.

What Kind of Rubbish Can You Put in Skip Bins?
Waste Types Explained
A skip bin is an easy way for you to get rid of rubbish, especially if you have significant amounts of waste to deal with. However, most skip bins are categorized on waste types – which means you cannot simply lump everything together in the bin. Failing to do so may lead to extra charges from the skip bin company, or it may even cause the waste to be returned.
But exactly what kind of rubbish can go in a skip bin? How do you categorize the types? At Pro Skip Bins Brisbane https://www.proskipbinsbrisbane.com.au these are common questions that we get asked all the time. To help clear things up, we thought we'd write a quick blog post explaining the different types of waste that can be put in skip bins. Hopefully, this will help you make better decisions about what goes in your bin and what doesn't. So, without further ado, let's get started.
The government of Australia has quite a strong National Waste Policy. Policy means that you should only dispose of your waste in a certain way to protect the environment. Skip bin companies follow that rule, so here is how the waste is categorized.
1. General Household Waste
As the name suggests, general household waste is the kind of waste that can be found around the house. Typically, these bins are hired during times of spring cleaning, garage cleaning, or when moving a residence.
Many things can go in a general waste bin. You can put in anything from clothes and toys to furniture, books, kitchenware, non-electrical fittings, and many more. White goods can also be added to a skip bin. As long as they are in an appropriate size, you may put in refrigerators, dryers, dishwashers, washing machines, etc.
Remember that this skip bin is only designed for general household items. Therefore, you cannot place things such as bricks, soil, or concrete. As a rule of thumb, you may place items that were once part of your décor or household function.
2. Renovation Waste
Renovation waste is the kind of waste that results after a renovation project. For example, if you take a wall down, remove paint from a wall or otherwise make any kind of alterations to your home, the waste may go in the bin.
Renovation waste includes bricks, concrete, tiles, metal, sand, pavers, roof tiles, and steel. All types of general waste that have resulted from your renovation efforts may be cleaned up and added to the bin.
No other material may be added, even if it is in smaller quantities. If you have general waste, then you should get a general household bin as well. Skip bin companies strictly enforce this rule. Thus, if you include any other material than construction waste, you will be charged an extra fee.
3. Dirt & Soil
Dirt, sand, and soil also have to be separated from a general waste skip bin. Nothing else aside from these types of waste can be lumped together. This includes everything from cardboard to bricks. Simply put, as long as it has the fine structure of sand or dirt, it can go in the bin.
4. Concrete
While concrete and bricks can be added to a renovation waste bin as renovation waste, some companies will categorize it as its own type of rubbish. This means that if you have any tiles or metal items that you want to get rid of after the renovation, you may not do it with this skip bin.
Make sure that when you want to get a skip bin for renovation waste, you don't accidentally get one for concrete and bricks alone. This may end up costing you extra. This is because companies have strict guidelines for you to only dispose of this type of waste.
5. Green Waste
Green waste is organic waste that you collect from your garden or your backyard. This kind of waste gathers quite frequently, so individuals contacting a skip bin company will likely have a skip bin over regularly.
This waste category includes most types of organic materials that can be found in your garden. They are grass, leaves, wood chips, branches, bark, and many more. Pieces of wood and fence palings that resulted from your yard spring cleaning may also be added to this skip bin.
Other types of waste may not be added to the bin. This includes sand, soil, dirt, putrescible waste, or pet waste. Many of these types of waste may be added to different skip bins. If you have hazardous waste, then one may place it next to the bin and ask the company pros to get rid of it.
The Bottom Line
While all of these types of waste may be placed in a skip bin, bear in mind that this does not mean they can be placed together. Depending on your volume of waste and the types, you may need to hire multiple skip bins in the appropriate sizes. By mixing the waste, you might end up increasing the costs.