Maintaining Trees in the Landscape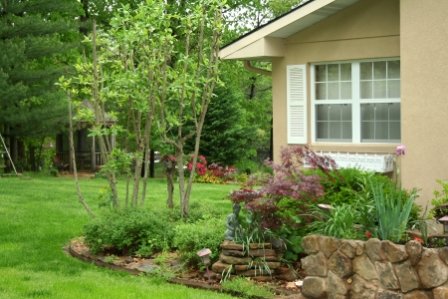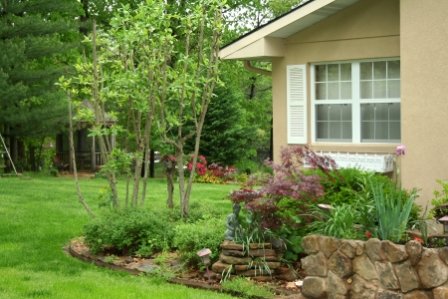 Trees in the landscape are there for important reasons, imparting beauty and balance within the landscape, and proving shade.
At the entrance into a bank building, there was a large raised bed in which a young pin oak tree had been planted. It was unique in its shape and gave beautiful fall color. Wanting to add additional color to the raised bed, a local garden club was given the responsibility for periodically placing annual flowering plants in the raised bed surrounding the tree, starting in the early spring, and then during the summer and fall months, making for a colorful display during the entire growing season. Over the next several years, no one paid any attention to the pin oak tree whose growth had slowed. Dead branches began to appear within its canopy each spring, but no one took notice. Finally, after several years, the pin oak tree failed to leaf out in the spring as it had died during the winter. Why? The constant stirring of the soil around the tree adversely affected tree root function, while the added fertilizer elements accompanying the annual flowering plant's rooting medium added nutrient elements that were detrimental to the tree.
It should be remembered that feeder tree roots grow up toward the soil surface, not down into the soil. The roots that grow down into the soil provide a firm brace for the tree, but are not the major avenue for the uptake of water and nutrient elements. The most active area of root function is at what is called the "drip line," that circle around the edge of the tree where rain water falls as the tree foliage acts as an umbrella. If the tree is to be irrigated and fertilized, it is at the drip line that such additions are most effective. Compaction of soil under the tree can also adversely affect root function, restricting the movement of air and water into the soil. Therefore, foot and vehicular traffic under a tree can reduce growth, and may even result in death.
For many trees, the absorption and movement of water and nutrient elements is in a direct pathway from the root up the truck of the tree and out to the branches and leaves as there is no distribution into the whole plant canopy. Therefore, any damage or root absorption restriction will be seen as a slow or impaired development on that side of the tree.
A homeowner had 2 pecan trees in his front yard, just at that age when they begin producing sizeable quantities of nuts. At this time, the homeowner was required to tie into a newly installed sewer line that went down his street in the front of the house. This required cutting a trench from the street to his house which was cut between the 2 pecan trees. Over the following years after the trenching for the sewer line installation, the sides of the pecan trees facing the trench developed more slowly than the other portions of the tree, looking as if that side of both trees were being manually pruned yearly.
Since the vascular vessels are just under the tree bark, any restriction around the trunk, or scaring of the bark, can interfere with the upward movement of water and nutrient elements from the roots into the plant canopy of branches and leaves.  Support wires placed around the trunk and/or the hitting of the trunk of the tree with mowing machines can affect tree growth if the vascular vessels are being pinched or damaged. In an orange grove, the trees at the end of the double rows were being periodically hit by the edge of mowers when rounding the corners, sufficiently hard to cut through the vascular tissue. The result was that those trees were growing slower and produced fewer orange fruits than the trees next to them.
Most trees have fairly low nutrient element requirements and are sensitive to excessive levels of applied essential plant nutrient elements, particularly the 3 fertilizer elements, nitrogen (N), phosphorus (P) and potassium (K). Trees in the landscape that are surrounded by managed turf (lawns), or are in flower beds, can be adversely affected by fertilizer that is being applied to meet the requirements of the turf or flowering plants. Trees located on golf courses will be adversely affected by fertilizer and chemicals being applied to tee areas, fairways and greens unless steps are taken to minimize runoff that would carry these substances into the rooting zone of the trees.
I accompanied a County Agent who was making a visit to a home owner who was concerned about the status of several large pine trees in her front yard. They were dropping their needles and had a number of dead limbs in their canopy. There were fairly large flowering beds around these trees. In addition, the turf (lawn) under these trees was being well managed, frequently irrigated and fertilized to keep the warm-season grass growing in order to remain good "green" color during the hot summer months. The irrigation water and fertilizer nutrient elements being applied were adversely affecting pine tree growth. The solution did not set well with the home owner who was advised to move the flowering beds elsewhere and to be more judicious in irrigating and fertilizing the lawn under these trees.
Maintaining a tree or trees in the landscape in a healthy state can be a challenge. Understanding how trees grow and knowing their sensitivities can assist in making the correct decisions necessary to keep landscape tree or trees healthy.
Dr. J.B. Jones, Jr. is the author of several books including. Instructions for Growing Tomatoes in the Home Garden and Greenhouse. GroSystems, Inc., Anderson, SC (available in soft cover and e-book format for Kindle at Amazon.com).
Want more information? Read these articles:
How to Grow Beautiful, Flowering Dogwood Trees from Seed
Saving Snow Damaged Trees and Shrubs

Which Are the Еasiest Vegetables to Grow (and How to Grow Them)
Have you ever considered taking up gardening? It is a wonderful activity and hobby for many. It beautifies your surroundings and provides a vast plateau of health benefits. It's a great way to get some exercise, reduce stress and even boost your vitamin D intake.
In this article, we will show you the many benefits of gardening, what you need to get started and which are the easiest vegetables to grow as a beginner.
The Many Benefits of Gardening and Why It's Great
Gardening is a fantastic way to get outside, enjoy the fresh air and soak up some sunshine. It is also an excellent form of exercise that can help you burn calories, build strength, increase flexibility and improve cardiovascular health. Not to mention that it can also be a great way to spend time with family and friends or just to enjoy some peaceful time alone.
In addition to the physical health benefits, it has been proven to impact your mental health positively. Numerous studies have shown that spending more time with nature helps you avoid stress and anxiety. It also improves mood and even reduces the risk of dementia.
Taking up gardening indirectly boosts your vitamin D intake. You can bask in the sun's rays by spending time outside in your garden. Of course, always make sure to wear sun-safe gear, such as a hat and sunglasses. Needless to say, during the more extreme heat, you should also apply sunscreen to avoid burns.
What You Need to Get Started on Your Gardening Journey
If you're looking to get started in the wonderful world of gardening, there are a few things you'll need to get yourself in advance:
Gardening gloves – A good pair of gloves will help protect your hands from cuts, scratches, and dirt. Moreover, nowadays, you can find some pretty fancy in stores that will add some more fun to your hobby.
Watering can or hose – Water is essential for plants to thrive, so having a watering can or hose to keep them hydrated is a must. You need to consider the size of your garden and the type of plants you want to add before choosing the best option.
Soil – Good soil is crucial for healthy plants. You can buy it at a gardening store, or you can make your own by using compost. Remember that you need to have healthy soil, so your plants can be healthy too. Additionally, you should check what type of soil the plants you want prefer before buying any.
Seeds or seedlings – Whether you get them online or from the gardening store, it's best to start with plants that are easy to grow. A fantastic way is to collect seeds from plants you already have access to, like tomatoes. You can also ask friends and family to give you some of theirs.
The perfect place – Finally, you'll need to choose a spot for your garden. The ideal location in your garden has a lot of sunlight. You'll also need to ensure the area is well-drained so your plants don't get too wet.
Once you have the essentials, you must decide what type of beds you want for your garden. You need to decide this before the planting process. Of course, there are a few options to consider:
Pots – if you have limited space in your garden, pots are the ideal solution for you. They come in all shapes and sizes, providing much-needed flexibility for your crops. Many common plants grow well in pots, such as tomatoes, lettuce, beans, peppers and radishes.
Raised beds – If you have a more spacious garden, then raised beds are ideal for you. They are a very cheap option that makes for a great weed barrier. The downside to raised beds is that they are not easily movable, unlike pots.
Directly in the soil – This is the traditional method of growing vegetables, which has been used for centuries. To make this method work, you must first till and amend the soil.
Tilling – Tilling is relatively straightforward nowadays as you can borrow or rent a tiller, making the work much easier. Before you add any soil amendments, consider testing your soil to check what it needs. An advantage of sowing directly in the soil is that it's ideal for companion planting.
The Easiest Vegetables to Grow
Gardening is supposed to be fun. Yes, we can grow our food, which is part of our survival skills, but it must be fun. Along with that, growing vegetables is not that hard to do. Many vegetables are pretty easy to be grown and require little gardening maintenance. Some of these are:
Tomatoes – They are an excellent choice for beginners as they are easy to grow and produce a lot of fruit. They thrive in warm weather and look beautiful in your garden. Moreover, there are a lot of different kinds in different colours and flavours you can try to grow.
Leafy Salad Greens – The easiest varieties to look after indoors are spinach, kale, and arugula. It takes them about 30 days to grow, and they do not require special attention. They prefer warm weather and grow best at 15.5°C. In no time, you will be able to create the perfect salad for your healthy diet.
Zucchini – This is a fast-growing vegetable that is easy to grow and produces a lot of fruit. They need 6 hours of direct sunlight each day, so choosing a sunny spot is vital.
Carrots – Carrots are very space-efficient as they don't require much room to grow. They do, however, require deeper soil than other veggies. Like salad greens, they are
cool-tolerant and thrive at around 60° F(15.5°C).
Radishes – They are one of the easiest vegetables to grow and can be harvested in as little as four weeks. They do not require much sunlight. What you need to take into consideration if you decide to grow radishes is that you need to leave enough space for their bulbs to grow.
Conclusion
In conclusion, gardening is a great way to get out into the sun, exercise, and improve your overall health and well-being. It doesn't require a lot of equipment, and you can start with easy-to-grow vegetables. So, grab your gloves, trowel, watering can, soil and seeds, and start your gardening journey today!