Why Should You Learn About Gardening: The Benefits
Most of us enjoy the experience of a tranquil, relaxing garden. Beautifully planned and professionally planted, these spaces offer a fantastic sense of peace and calm, with perfectly selected aromas and a dazzling display of colors, all of which seamlessly fit together as though by magic.
While we may enjoy the end result, the truth is that many of us are clueless when it comes to the fundamentals of gardening. It can be a subject which seems overwhelming, with jargon such as 'soil pH' and 'seasonal planting' making this sound like a dry and theoretical bore, as opposed to a fundamental basic. In truth, learning about gardening can be a huge benefit for your home and life, changing the way you relax, exercise, and even eat. Whether you are keen to grow your own veggies or learn more about lawn care.
You are what you eat
Gardening is not merely restricted to beautiful flowers; it is a fundamental part of the food chain. Leaning to grow and harvest your own food is not only a hugely satisfying experience, but it could also help you cut your food budget. In addition, growing your own fruit and vegetables helps you to develop a better understanding of what you are putting in your body, and can provide inspiration for creative new meal ideas.
Extend your home
If you are a homeowner, gardening offers a chance to extend your living space at a little extra cost. By learning the basics of gardening, you can identify things that will thrive in your garden, and use this knowledge to create a relaxing and stunning space which is perfect for late-night entertaining, chilled summer barbeques, and informal family picnics. Make the most of every inch of your home by transforming the outside.
Improve your health
As well as helping to change your diet, gardening is also an excellent form of exercise. The bending, stooping, and squatting required can provide a full-body workout, and burn more calories than a traditional gym session! As a bonus, you can feel satisfied that you are doing something productive while exercising, whether that is pruning, weeding, or digging a brand new bed. By having visible results, you will increase your motivation, helping to turn a workout from a necessary evil to a productive and genuinely useful task.
Save the planet
Having a good knowledge of plants and flowers is also beneficial in helping save the planet. Plants provide the oxygen which keeps us alive, and so learning to respect and maintain them is essential. In addition, you can help attract bees and insects to your garden with the right combination of foliage. These are creatures that are in danger of being lost, and so we need to invite them in at any opportunity. By maintaining a garden, you will be doing your bit to generate a whole new ecosystem, and play a valuable part in the lifecycle of many creatures—not merely humans.

How to Make the Most of Your Small Garden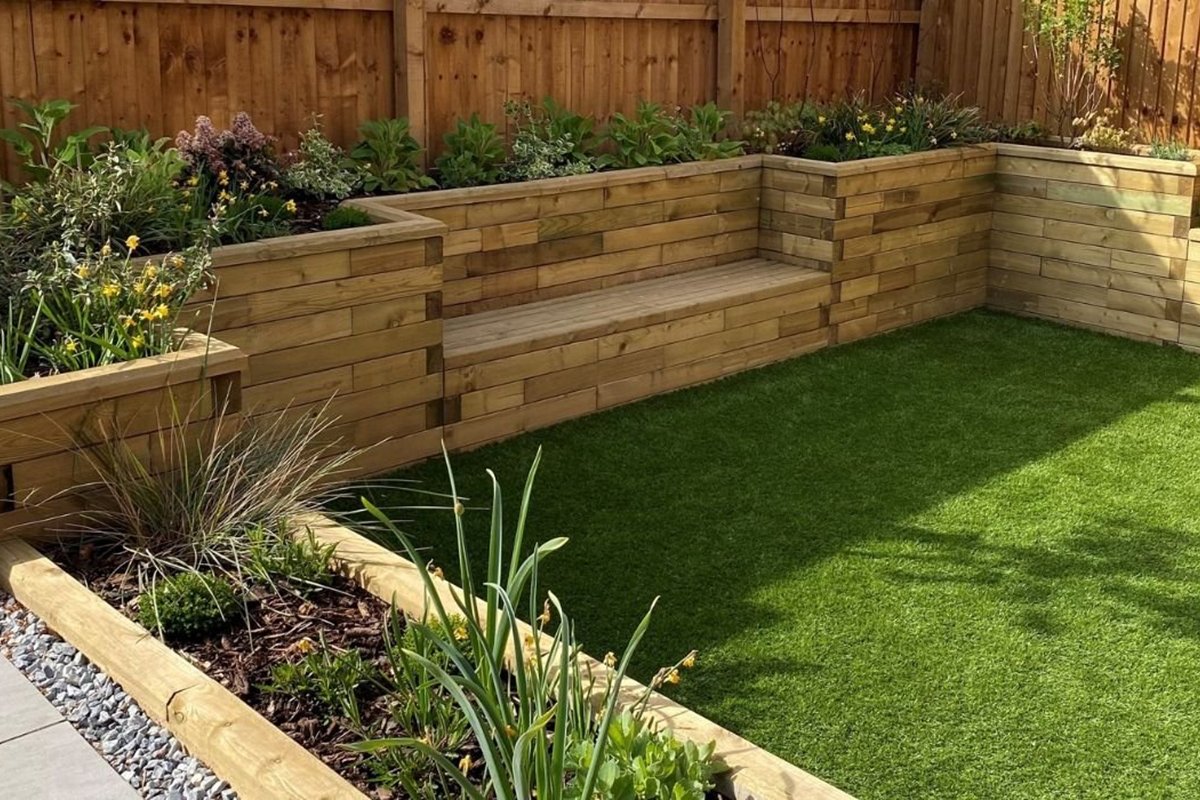 Limited outdoor space needn't limit your dreams of nurturing a flourishing garden. With some creative solutions and ingenious tricks, you can easily maximise the potential of even the tightest of spaces!
Vertical Gardening
With small gardens, it's crucial to utilise every inch of available space. Creating a vertical garden does just that. By using walls, archways, trellises, fences, and window boxes, you not only maximise your potential growing area but adding height to the garden also creates the illusion of space by drawing the eye upwards. 
Succulents can be grown in even the smallest cracks and crevices in boundary walls. Climbers like passionflower and clematis need very little square footage on the ground to produce beautiful blooms, and hanging baskets provide the perfect home for pretty flowers like trailing lobelia and verbena, without using up precious floor space.
Create Different Levels and Zones 
It may seem peculiar, but splitting up a small space can actually make it seem much larger. Concealing areas using trellises, hedges, and low walls tricks the mind into thinking there's more to discover than there really is, giving the garden an air of mystery and intrigue because not every part can be seen at once.
Raised beds can be simple to build and are a great, practical way to divide your garden. They provide plenty of growing space for plants and even double up as seating areas if the sidewalls are wide enough. They can also be constructed in just about any size and shape imaginable, perfect for utilising awkward corners! Consider staggering a few raised beds of different heights, as creating multiple levels and layers will add to the illusion of space by introducing diverse depths and perspectives.
Smart Storage
Scarce storage can be problem in small gardens. Affixing shelves, hooks, or even old boxes and crates to vertical surfaces offers nifty storage solutions for tools, plant pots, and other gardening paraphernalia. Disguise unsightly wheelie bins and maximise growing space by installing a wooden storage unit with a miniature green roof that can be used for shallow rooted plants and herbs.
Be Creative With Colour 
Colour choices are really important in small spaces. Opt for lighter colours on boundary walls and fences, as these reflect light, making the area feel more spacious. This doesn't necessarily mean white; light blue, off-white, and pale grey all bring a contemporary but airy feel to the garden. Alternatively, mimicking the colour of your foliage by using a natural green paint will give the impression of bountiful borders that extend far beyond your boundary.  
Plant Choices
Ingenious planting can bring a sense of abundance in a small space. Select plants that don't spread wildly, taking up too much space. Create the illusion of depth by choosing plants of varying heights, structures, and textures. Ornamental grasses will add fluidity and movement to a small border, whilst tall flowering plants like lupin, honeysuckle, or salvia add a hint of drama with their vivid blooms and towering height, all requiring minimal ground space.
If you want to create a vegetable garden, choose crops like tomatoes and beans which grow vertically. Strawberries are happy in hanging baskets, and chilis are perfectly content in a small pot or container.
Most importantly of all, small gardens tend to be much less labour-intensive than bigger spaces, requiring minimal maintenance and leaving you with plenty more time to relax and enjoy your petite, but perfectly formed, garden!