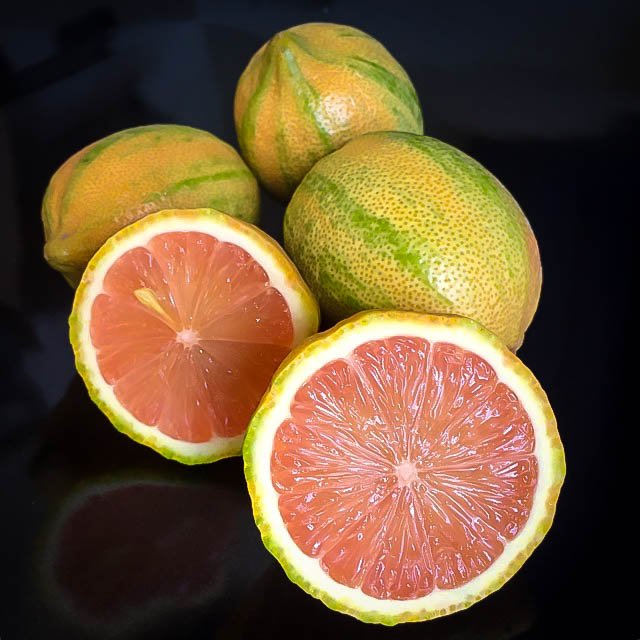 There are many fruit-bearing trees and plants that do quite well in a greenhouse or on a windowsill. These are six fruits than can be grown in a greenhouse or even a home.
Lemons
Even though most varieties of lemon tree prefer outdoor areas, the Meyer lemon and the Variegated Pink lemon, whose skin looks like a watermelon and flesh is a lovely shade of pink, are well-suited for indoor growing. If patience is not your virtue, choose a three-year-old dwarf plant from a local nursery.
To create a suitable indoor environment for a lemon tree increase the humidity around it by adding a humidity tray. Even though citrus plants tolerate temperatures between 55°F and 85°F degrees, 65°F degrees is ideal. Lemon trees strongly dislike abrupt temperature shifts, such as drafts and heaters at full blast, so shield them from both. Use a slightly acidic, loam-based potting mix and water it frequently. Lemon trees require up to 12 hours of full sun so place them in a sun-drenched location.
Ginger
Though not a fruit, ginger root is an ideal edible plant for indoor growth, as it thrives in full or partial shade and prefers a reasonably warm environment. Look for a plump root (which can be purchased at your local grocery store) with tight skin and eye buds then soak the root overnight in warm water. Fill a wide, shallow pot (ginger grows horizontally) with rich, well-draining soil then place the ginger root in the soil with the eye buds facing upward. To water, simply use a spray bottle to keep the soil moist. Some shoots will appear a few weeks after planting and the roots can be harvested a few months later, by cutting off rhizomes at the edge of the pot.
Watermelon
There are varieties of watermelon that can grow in very limited space. Those with names such as Sugar Baby, Early Moonbeam and Golden Midget can be grown indoors. Watermelons are rapid growers and need plenty of water. Start them in a 5-gallon container with drainage holes with a tray underneath the container. Plant a fresh, un-soaked seed about an inch deep, and once the seedling grows, provide it with a trellis-like support system. Because the watermelon plant will not be able to benefit from insects, it will need to be hand pollinated. Once the fruit has sprouted, create extra support, such as a makeshift hammock made with soft fabrics, and fasten it to the trellis.
Apricots
As with citrus trees, there are several apricot varieties, both native dwarfs and otherwise, that can be easily grown in a container. Try Shipley's Blenhein, Goldcot, St. Julien, and Stella varieties for your indoor garden. Simply remove the pit from an apricot, place it in a bag with germinating mix, and refrigerate it for three to four weeks. Remove and lightly crack the seed before planting about one inch into the soil in a pot that is at least 18 inches in diameter. Apricots need a sunny area and a well-draining soil with a pH of 6.0 to 6.5. Water the new plants abundantly, and as the plant grows, water when the soil feels dry.
Strawberries
Strawberries are quite easy to grow, and because they are especially susceptible to pests and fungi, this fruiting
plant thrives indoors. If you're limited on space, try the Alpine strawberry variety, which is clump forming. Since their root system is quite shallow, strawberries can thrive almost anywhere provided you give them the right conditions. Plant soaked roots in a long, shallow planter and use soil with a pH between 5.6 and 6.3. Make sure they receive at least six hours of sunlight and daily waterings until they produce fruit. Water when the top inch of soil is dry.
Avocados
With great patience, avocados can be grown directly from the pit. Remove the pit from the avocado and pierce it halfway with four toothpicks then suspend it in a glass of water. Place the glass containing the pit in the sun and after a few weeks, you will notice both a small root and a small stem. Once the root system develops a more intricate pattern, you can plant the seed in a well-draining pot. The soil must be kept moist, but take care to not over-water or the avocado leaves will curl and the stem will soften. It takes patience to get the first fruits from a tree grown from a seed—up to 10 years. If you want faster results, pick a sapling from a nursery, which can fruit in two to three years.
Some background information for this article was supplied by HouseMethod.com.
Read More Articles
Growing Fruit Using Hydroponics
Strawberries are the Most Exciting Fruit of Summer
Tomato Fruit Yield and Solar Radiation Intensity

How can the effects of climate change be mitigated?
Climate change will affect us all and it's important to consider how climate change will have wide reaching consequences for generations to come.
This article investigates how the effects of climate change will affect all of us and what measures we can take to mitigate the effects of climate change.
What is climate change mitigation?
Climate change mitigation refers to actions taken to limit climate change by either reducing greenhouse gas emissions or removing those gases from the atmosphere.
Mitigation actions can include using new technologies and renewable energies, making existing equipment more energy efficient, and ensuring carbon sinks continue to absorb carbon and remain intact.
What are some strategies to mitigate climate change?
Climate change mitigation strategies include retrofitting buildings to make them more energy efficient; adopting renewable energy sources like solar, wind, and small hydro; helping cities develop more sustainable transport such as bus rapid transit, electric vehicles, and biofuels; and promoting more sustainable uses of land and forests.
Celestial Green Ventures looks at the benefits and drawbacks for some of the solutions for climate change mitigation and adaptation.
Retrofitting
Retrofitting can help to improve the energy efficiency of homes, reduce fuel bills and create comfortable even temperatures all year round as well as helping to eliminate draughts.
There are plenty of challenges when it comes to retrofitting. Whether it's the social and income divide, or a lack of funds, policy, trust, and experts to carry out the work, it's still an uphill struggle to bring retrofitting to the fore, regardless of any climate change commitments.
Renewable Energy
The main benefit of renewable energy is that renewable energy sources will not run out.
Examples of renewable energy sources are solar power, wind power, bioenergy and hydroelectricity. The most important difference between renewables and fossil fuels, is that renewable energy sources provide an infinite source of energy.
Why invest in renewable energy?
Renewable energy is reliable, as opposed to fossil fuels which are always subject to disputes and wars between countries. Renewable energy is also environmentally friendly as they use natural sources for energy generation and can therefore be considered clean.
Although renewable energy technologies can cause some emissions, overall, they are minimal and certainly lower than generating traditional fossil fuels.
There are also the economic benefits too as renewable technologies can create many jobs. This is especially important in some poorer regions. In fact, this is an emerging job market that can empower people in many parts of the world.
Renewable energy can help reduce turmoil in global energy prices, therefore helping to make the global energy market more stable.
What are some of the challenges related to renewable energy?
Unfortunately, most natural forces are strongly dependent on the weather conditions. Therefore, it is advisable to utilise a mix of sustainable power sources, to maximise the production of power across multiple inputs.
Another challenge regarding renewables is the initial cost and investment required for implementing them is high. The initial cost for renewable energy solutions is disproportionately high and sometimes unaffordable, in comparison with how much energy would be produced.
Celestial Green Ventures PLC is extremely aware that renewable energy requires significant resources to harness nature's energies but this can present numerous challenges to providing the world with cleaner energy.
Sustainable Travel
Transportation is one of the largest contributors to climate change. By choosing sustainable travel methods, you can significantly help in the mitigation of climate change.
There are many benefits to sustainable transportation. Whether it be the benefits to your health, the Earth, the community or even financial benefits, sustainable travel can be better for them all.
Why is sustainable travel good for the planet?
Sustainable travel emits less pollution. Transportation accounts for nearly 24% of greenhouse gas emissions in the United Kingdom.
However, about 82% of those emissions come from personal vehicles. Buses and trains only account for a mere 6% of greenhouse gas emissions, making these modes of transportation much greener than cars and vans. Additionally, sustainable travel also promotes good health because it reduces emissions and air pollution.
A further benefit is that as people choose sustainable transportation over driving themselves, leading to a decrease in congestion and lower emissions.
Celestial Green Ventures PLC recognises that the main disadvantage of implementing a sustainable travel infrastructure to any city or town is the initial cost and disruption.
Biofuels
Fuels that have been extracted from plants and crops are known as biofuels. Of these, the most commonly extracted and used one is Bioethanol or simply Ethanol and Biodiesel.
It is blended with gasoline and can be used as an alternative fuel for your car. Plant-based fuels come from renewable sources, can be grown anywhere and have lower carbon emissions as compared to fossil fuels.
Biofuel is made from renewable resources and relatively less-flammable compared to fossil diesel. It has significantly better lubricating properties.
Some things that biofuels are made out of include:
Manure
Waste from crops
Other farming by-products
Algae and plants grown specifically for biofuel.
Why are biofuels important in terms of economic security?
Economic security is also an interesting opportunity brought to light due to the increased demand for biofuels. Not every country has large reserves of crude oil.
For these countries that don't have the natural crude oil resources, importing the oil puts a huge strain on the economy. If more people start shifting towards biofuels, a country can reduce its dependence on fossil fuels.
Some of the disadvantages of using biofuels are that even with all the benefits associated with biofuels, they are quite expensive to produce in the current market. Biofuels also promote the use of fertilisers and consume vast amounts of water to produce the crops.
Growing these crops can also lead to other problems such as monocultures and potential food shortages. With the attractive yield for growing biofuel friendly crops this may sway farmers away from growing other crops we use for day to day food consumption.
What are some land-use strategies for mitigating climate change?
Nature-based solutions are recognised as being able to contribute significantly to the mitigation of climate change.
Land use strategies include sustainable forestry practices, reforestation and avoided deforestation actions.
These actions also help to conserve biodiversity within these areas which is a further positive consequence from implementing these mitigation actions.
What are some policies that will implement change?
The Paris Agreement is an example of policy change to help mitigate climate change and to avoid dangerous climate change.
The agreement sets out the global framework for limiting global warming to well below 2° C and to limit the increase to 1.5° C.
195 countries signed the Paris Agreement in 2015 agreeing to these targets. The expectation was that keeping to the Paris Agreement, the risks and impact of climate change would be significantly reduced.
Conclusion
Celestial Green Ventures recognises that climate change is the most significant problem facing the world.
Global warming is increasing day by day and it cannot be ignored. If we continue the current trajectory, our world will face undesirable consequences.
Celestial Green Ventures PLC is concerned the expected effects of climate change could seriously compromise the ability of the agriculture sectors to feed the world, and severely undermine progress toward eradicating hunger, malnutrition and poverty.
It is now as important as ever to focus on the mitigation of climate change, both individually and collectively.