Practical and Affordable Home Improvement
Social life in Australia involves quite a few outdoor events, blessed as we are with such a wonderful climate for much of the year, though the weather isn't perfect every day, which is why so many homes and businesses are adding some cover for their outdoor areas. A shower of rain can really put a dampener on your barbecue, or have customers trying to grab their bits and pieces, along with their lunch, to scurry inside quickly. And of course, sometimes the weather is just too good, with a clear blue sky, without a cloud in sight, with you and your guests cooking almost as fast as the food on the grill. Once mostly seen on camping sites, attached to the caravan or tent, the awning has found a new lease of life not only to provide shade and shelter in the back yard, but for many of our favourite eateries too.
Functional and Simple
One of the beauties of an awning, is that it provides an excellent level of cover from the sun's rays, and will keep everyone dry in all but very nasty and blustery storms. There is nothing really complicated about them and even the kids can extend or retract them simply. While many choose the retractable type operated by a simple crank handle, the motor operated variety sees it slide out smoothly, providing cover in seconds.
Aesthetics and Style
Awnings are available in an immensely wide range of colours and styles, so you can choose one which fits in perfectly with your home and surroundings, or choose something bright and vibrant, to catch the eye and reflect your mood. Restaurants and cafes can similarly use them for advertising themselves, or key brands available within, providing marketing opportunities as well as protection.H
Simple to Install
Fixed and retracting folding awnings in Melbourne and across the country are finding themselves in more and more places around the home and business. We have come to think of them as jutting out from a building to provide cover for the garden deck, or the café, but are more frequently being used in other areas too. Many a balcony now sports an awning, to provide shade and cover, while people enjoy the elevated views. Freestanding models also offer the same great looks and protection for the swimming pool or an extended garden patio.
Fitting an awning to your property is an extremely simple and fairly cheap home improvement, with the majority of installations installed in a very short period of time, especially when fitted to the side of a building. Any of your outdoor areas where you seek an extension to the natural shade provided can be inexpensively achieved. Not only do you have the benefit of the cover right now, to keep everyone protected while you are in the property, it can also be beneficial when it comes time to sell, by providing extra style and flare, though you also have the option of swiftly uninstalling it and taking it with you. Such is its versatility, it's pretty likely to be able to be swiftly refitted to your new home too.
With remote control options, as well as sensors for sun, rain, wind and even timers, making the property look good while controlling the outdoor environment has never been so easy.

How to Make the Most of Your Small Garden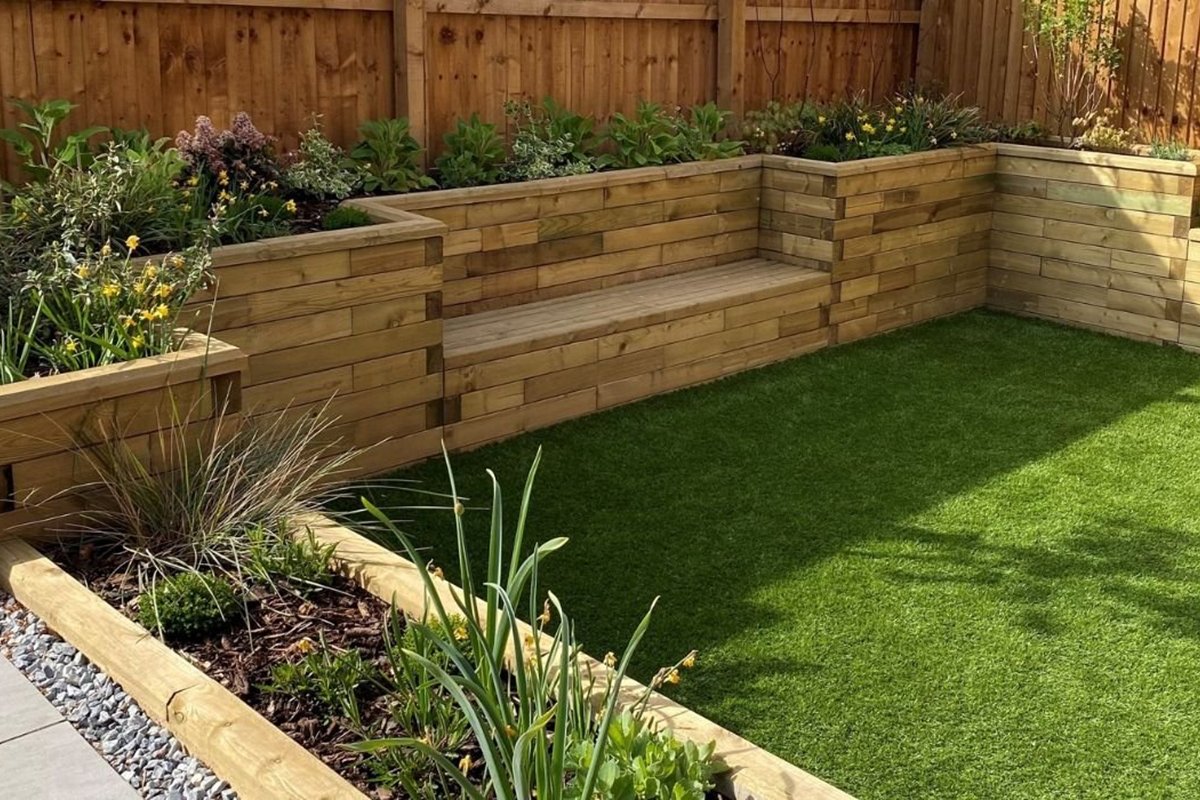 Limited outdoor space needn't limit your dreams of nurturing a flourishing garden. With some creative solutions and ingenious tricks, you can easily maximise the potential of even the tightest of spaces!
Vertical Gardening
With small gardens, it's crucial to utilise every inch of available space. Creating a vertical garden does just that. By using walls, archways, trellises, fences, and window boxes, you not only maximise your potential growing area but adding height to the garden also creates the illusion of space by drawing the eye upwards. 
Succulents can be grown in even the smallest cracks and crevices in boundary walls. Climbers like passionflower and clematis need very little square footage on the ground to produce beautiful blooms, and hanging baskets provide the perfect home for pretty flowers like trailing lobelia and verbena, without using up precious floor space.
Create Different Levels and Zones 
It may seem peculiar, but splitting up a small space can actually make it seem much larger. Concealing areas using trellises, hedges, and low walls tricks the mind into thinking there's more to discover than there really is, giving the garden an air of mystery and intrigue because not every part can be seen at once.
Raised beds can be simple to build and are a great, practical way to divide your garden. They provide plenty of growing space for plants and even double up as seating areas if the sidewalls are wide enough. They can also be constructed in just about any size and shape imaginable, perfect for utilising awkward corners! Consider staggering a few raised beds of different heights, as creating multiple levels and layers will add to the illusion of space by introducing diverse depths and perspectives.
Smart Storage
Scarce storage can be problem in small gardens. Affixing shelves, hooks, or even old boxes and crates to vertical surfaces offers nifty storage solutions for tools, plant pots, and other gardening paraphernalia. Disguise unsightly wheelie bins and maximise growing space by installing a wooden storage unit with a miniature green roof that can be used for shallow rooted plants and herbs.
Be Creative With Colour 
Colour choices are really important in small spaces. Opt for lighter colours on boundary walls and fences, as these reflect light, making the area feel more spacious. This doesn't necessarily mean white; light blue, off-white, and pale grey all bring a contemporary but airy feel to the garden. Alternatively, mimicking the colour of your foliage by using a natural green paint will give the impression of bountiful borders that extend far beyond your boundary.  
Plant Choices
Ingenious planting can bring a sense of abundance in a small space. Select plants that don't spread wildly, taking up too much space. Create the illusion of depth by choosing plants of varying heights, structures, and textures. Ornamental grasses will add fluidity and movement to a small border, whilst tall flowering plants like lupin, honeysuckle, or salvia add a hint of drama with their vivid blooms and towering height, all requiring minimal ground space.
If you want to create a vegetable garden, choose crops like tomatoes and beans which grow vertically. Strawberries are happy in hanging baskets, and chilis are perfectly content in a small pot or container.
Most importantly of all, small gardens tend to be much less labour-intensive than bigger spaces, requiring minimal maintenance and leaving you with plenty more time to relax and enjoy your petite, but perfectly formed, garden!