Essential Spring Gardening Tips
When spring is around the corner, it's time to step up and do your chores! Going back to your garden after a long, cold winter might seem a bit overwhelming, but you could also see it as a relief. The air might still be chilly, but there are lots of things you can start doing little by little to get your garden ready for warmer weather.
The beginning of spring is a great time to assess your garden's state – leftover effects of winter, condition of your tools, landscape, lawn, pruning plans, flower beds, soil feeding, and new ideas for planting. Your garden will certainly need help to get back in shape, so it's best to have a plan for how to make it all happen. This is also an ideal time to install a deer fence to keep those winter starved deer from invading your garden. Here are several essential spring gardening tips that you might find helpful.
Inspect your yard
The first step would be to inspect your yard and assess the trees. Decide which tree limbs need to be removed or supported, particularly those that overhang structures. You can also enlist the help of an arborist to tackle larger trees.
The next step is to assess the mid-level. You should cut down and clear out last year's perennial foliage, and add it to your compost pile. Then, move to the ground level and rake out all the mulch from beds planted with bulbs before foliage starts growing. Also, mulch in other planting areas should be refreshed after the soil warms. Finally, inspect all your hardscaped areas –check your steps, pathways, and fences for any necessary repair.
Tune-up your tools
You have probably stored your essential gardening tools properly before the onset of winter, but just in case, give them some attention to make sure all is functioning when the time comes for garden work. Pruning tools might need sharpening and wooden handles can benefit from a good clean and another layer of linseed oil. Also, if anything is missing or broken, you have time to buy new tools for the season.
Prune shrubs
While the shrubs are still in their winter sleep, it's perfect timing to do some clearing up – remove dead, damaged, and diseased branches. With the exception of once-bloomers, you should thin and you're your roses and summer-blooming shrubs such as hydrangea and butterfly bush. Cold-damaged wood should be pruned after plants start growing in the spring and those shrubs and trees that bloom in the spring should be pruned after flowering.
Refresh the lawn
If you have a lawn, spring is the right time to give it some TLC. Have your mower and leaf blower serviced and sharpened. Refill your mower with oil, replace old spark plugs, and lubricate all the moving parts. Clear the winter debris off your lawn and check out if there are any areas that might need reseeding before you start mowing.
Address the gaps
If you see there are empty or bare spots in your garden, choose new plants that could fill up those spaces. You could opt for perennials, trees, or shrubs. Nurseries are generally quite helpful when it comes to ordering whatever variety you want even if they currently don't have it in stock.
Prepare new beds
If you feel like creating a new planting bed where there was none before, this is a perfect time. Start by digging the soil, adding oxygen, and relieving compaction. The next step is to add compost to kick-start the development of nutrient-rich soil. As soon as the soil can be worked on, clear the planting area from debris, weeds and sod spread the amendment of your choice, and cultivate it 10 to 12 inches deep. Then, rake it well and smooth before you start planting.
Plant new flowers and shrubs
Once you've done all this preparatory work in your garden, you can finally being to add some new plants. When it comes to choosing what to plant come springtime, it's best you first check with what grows well in your climate. Different zones are suitable for different plants, so picking the right plants will mean much less hassle and worry later on.
The general advice is to pick more perennials rather than annuals since annuals have to be replanted every year. This means investing in plants that will die every year and need replacement the next.
Fertilize
As your garden begins to wake up from the winter slumber, it'll appreciate some fuel. Choose a balanced fertilizer or fish emulsion to spread around trees and shrubs once the new growth starts appearing. Also, fertilize perennials when they start actively growing. You can also use high-acid fertilizer and pine-needle mulch around shrubs like blueberries, azaleas, camellias, or citrus.
Add mulch
In addition to fertilizers and compost, consider adding mulch to flower beds. A couple of inches of mulch can help prevent weeds and diseases. It also locks in the moisture in the garden and maintains the optimal temperature.
Put up supports
If you've taken down your trellises and stored them safely into the shed for winter, early spring is a perfect time to put them back up in the garden. Make sure their structure is still solid and apply a fresh coat of paint if necessary. If you grow peonies, or any other perennials that need support, set them out and when they start to grow, gently wrap their stems to help them grow up. This is easier done now than when the leaves start unfurling.
Start a compost pile
This is also a perfect time to start your compost pile – begin by collecting plant debris and all the leaves you have previously raked up. Combine equal amounts of brown and green materials – dried leaves and straw and grass clippings and weeds. There are different ways you can take to forming your compost pile so pick the one that most suits your preferences and possibilities.
Be prepared for the weather
If you live in an area where there are late spring frosts and freezes, be ready to cover up plants. The tender emerging buds or foliage need protection if freezing temps have been predicted. However, if the buds haven't started opening yet, you don't need to cover them.
Old sheets and towels are a good option to use but you can also get professional row covers. One thing you shouldn't do is to cover tender plants with a tarp or plastic sheeting. This will only amplify the cold's effect, rather than reduce it.
With these tips, your spring won't be a hectic time any longer! On the contrary, it'll become a productive period and as it slowly turns into summer, you'll be pleasantly surprised how all the good work you have done has paid off!

Why Should You Consider Planting Spring-Planted Bulbs in Your Garden?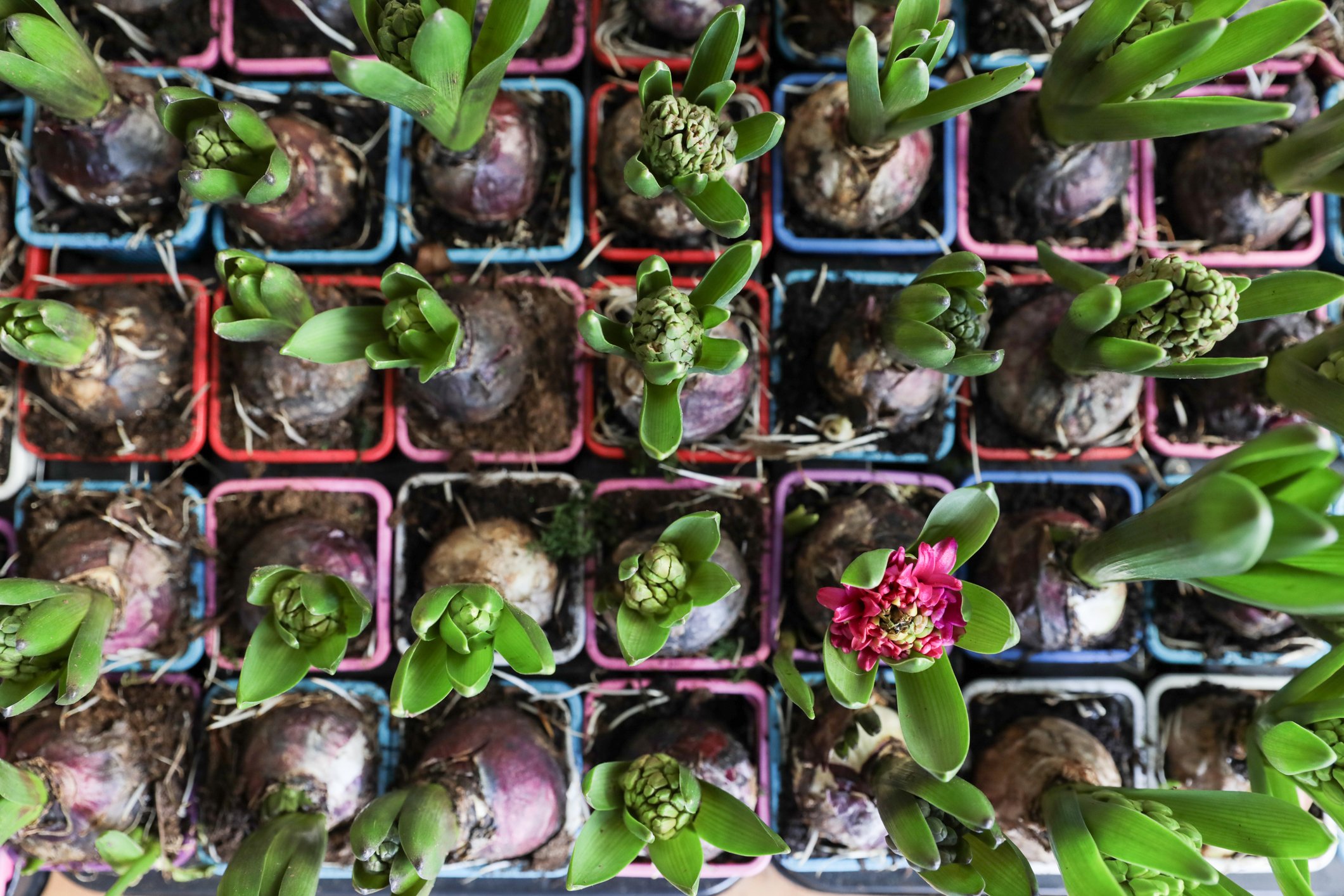 Spring is a great time to plant bulbs in your garden! Not only do they add a pop of color, but they also provide a number of benefits. In this blog post, we'll outline the benefits of planting spring planted bulbs in your garden. We'll discuss what bulbs are, what flowers come from bulbs, how to plant them, when to plant them, and how to care for them. So, go ahead and plant some spring-planted bulbs in your garden this spring!
What Are Spring Bulbs?
Do you love the beauty and colors of springtime? If so, then you should consider planting spring bulbs in your garden. Spring bulbs are a popular type of flower that is planted in the springtime. They come in many different colors and are known for their beautiful blooms. Not only do they add beauty to your garden, but they are also easy to care for.
When selecting spring bulbs for your garden, it's important to choose ones that look good together and have a variety of colors. Some of the most popular types of spring bulbs include tulips (a yellow bulb), daffodils (a blue or purple bulb), crocuses (a white or multicolored bulb), and hyacinths (an orange or yellow flower). When selecting which ones to plant, it's best to choose a mixture so that your garden looks colorful throughout the year.
What Flowers Come from Spring-Planted Bulbs?
There's no better way to add color and brightness to your garden than by planting bulbs. Not only are they easy to care for, but they also come back year after year. When choosing which bulbs to plant in your garden, it's important to consider what flowers you want them to produce. Some common bulbs you can plant include tulips, daffodils, hyacinths, and crocuses. All these bulbs will produce beautiful flowers that will add a touch of color and brightness to your garden. You can also choose to plant other types of bulbs, such as grape hyacinths or lily-of-the-valley bulbs. These plants produce smaller flowers but are very fragrant.
The Advantages of Planting Spring-Planted Bulbs
Do you love the look of brightly colored flowers in your garden, but you don't have the time or energy to tend to them? Planting spring-planted bulbs is a great way to add color and interest to your garden without any of the work. Bulbs are easy to care for and require very little maintenance—all you need is some water and sunshine. Plus, bulbs can be planted in a wide variety of locations, including in pots and containers. This makes them perfect for adding interest to any area of your garden.
Another advantage of planting bulbs is that they are relatively inexpensive. You can buy a large container of bulbs for just a few dollars, and they will last for many years with proper care. Plus, bulb plants are relatively easy to transplant if you ever want to move them somewhere else in your garden. Last but not least, planting bulbs is a great way to add color and brightness to your garden all year long!
How to Plant Spring Bulbs?
Color is one of the most important factors when it comes to garden design, and spring-planted bulbs are a great way to add some extra color to your landscape. Not only are they beautiful on their own, but they also provide a wonderful contrast against the cooler colors that will be in season during the summer. Spring-planted bulbs are easy to plant and care for, and there are a variety of different varieties available that will perfectly complement your garden.
When Should You Plant Spring Bulbs?
With the arrival of spring, it's time to start thinking about planting bulbs in your garden. There are a variety of beautiful bulbs that can be planted in the spring, and they're easy to care for, making them a great choice for someone who wants to add color and interest to their yard without much effort.
Consider the season when deciding which bulb to plant in your garden. Spring-planted bulbs will typically bloom earlier than bulbs planted in the fall, so make sure you choose the right one for your garden. There are a variety of different types of spring-planted bulbs to choose from, so find one that will fit well into your landscaping. With a little planning and effort, you can have a beautiful garden that blooms all year.
How to Care for Spring-Planted Bulbs?
Spring is a wonderful time to plant bulbs in your garden. Here are a few tips on how to get started:
First, be sure to research which types of bulbs work best for your garden and climate. Some popular choices include tulips, daffodils, hyacinths, and crocuses. Once you've selected the bulbs you want to buy, purchase them in advance so that you have plenty of time to plant them in the ground or in pots.
Once you have your bulbs home, it's time to take care of them! Make sure that their soil is moist but not soggy – this is crucial for bulb growth. Water them regularly during dry weather, and be sure not to overwater them, as this can damage their roots. When the flowers start blooming, cut the stems close to the ground so that the bulb will continue flowering indoors. After the flowers fade away (usually around mid-March), allow the foliage (orchids tend not to shed their leaves) to die back naturally. Enjoy your beautiful spring-planted bulbs!
In Short
Spring bulbs are a great way to add color and life to your garden. Planting these bulbs will provide you with beautiful flowers throughout the spring and summer. Bulbs are easy to care for and can be planted in almost any type of soil. Be sure to plant your bulbs in the fall so that they have time to establish themselves before the first frost. With a little love and care, your spring bulbs will thrive and bring you enjoyment for years to come.