4 Tools to Start Your Career as a Professional Gardener
Working as a gardener can be intensely rewarding. You'll spend your time out in the sun, and you'll be physically active. What's more, you'll have the flexibility that comes from working for yourself.
Professional gardeners have slightly different requirements when it comes to tools than amateur ones have. You'll need equipment that's able to cope with constant use, and deliver reliable results every time.
Several items stand out as particularly
Heavy Duty Gloves
When you're gardening, you're going to be dealing with rough, spiky and potentially finger-damaging equipment and environments. Consequently, it's essential that you invest in appropriate protection for your hands, in the form of a solid pair of work gloves.
If you injure your hands, or even just expose them to chronic low-level damage, then you might quickly find yourself unable to work effectively. This will hurt your income.
Spades
Spades come in many shapes and sizes. You'll want to have a selection of them to hand, so that you can turn to them when the relevant task presents itself. You'll want a border spade and a digging spade. The former comes with a slightly flatter blade that's more manoeuvrable in tight spaces.
Carbon steel is lighter and more resilient than the stainless variety, but it'll need to be treated well and looked after if you're going to get the best from it. Similarly, the shaft of the handle can be made of metal, fibreglass, wood or plastic. Personal preference, and the task at hand, will influence your decision.
Hand Trowels
Similarly, you'll want several different types of hand trowels at your disposal. You might look for trowels with different lengths and breadths, or with bladed edges for easy sawing and chopping through any roots that get in your way. You can pay anything from £10 to £100 for a quality trowel – and it's better to get a handful of good ones than to have to keep replacing the cheap alternatives.
Landscaping Rake
A rake is one of the tools that you'll reach for frequently. Look for one that's matched to your height, so that you don't have to waste energy, or stoop unnecessarily. Like all of the tools we've mentioned, rakes come in a range of different styles to suit a range of different purposes. The landscaping rake is the one with many short metal wires that shoot out of the end in a fan formation. It's ideal for levelling out surfaces, and for collecting debris, like leaves.

Why Should You Consider Planting Spring-Planted Bulbs in Your Garden?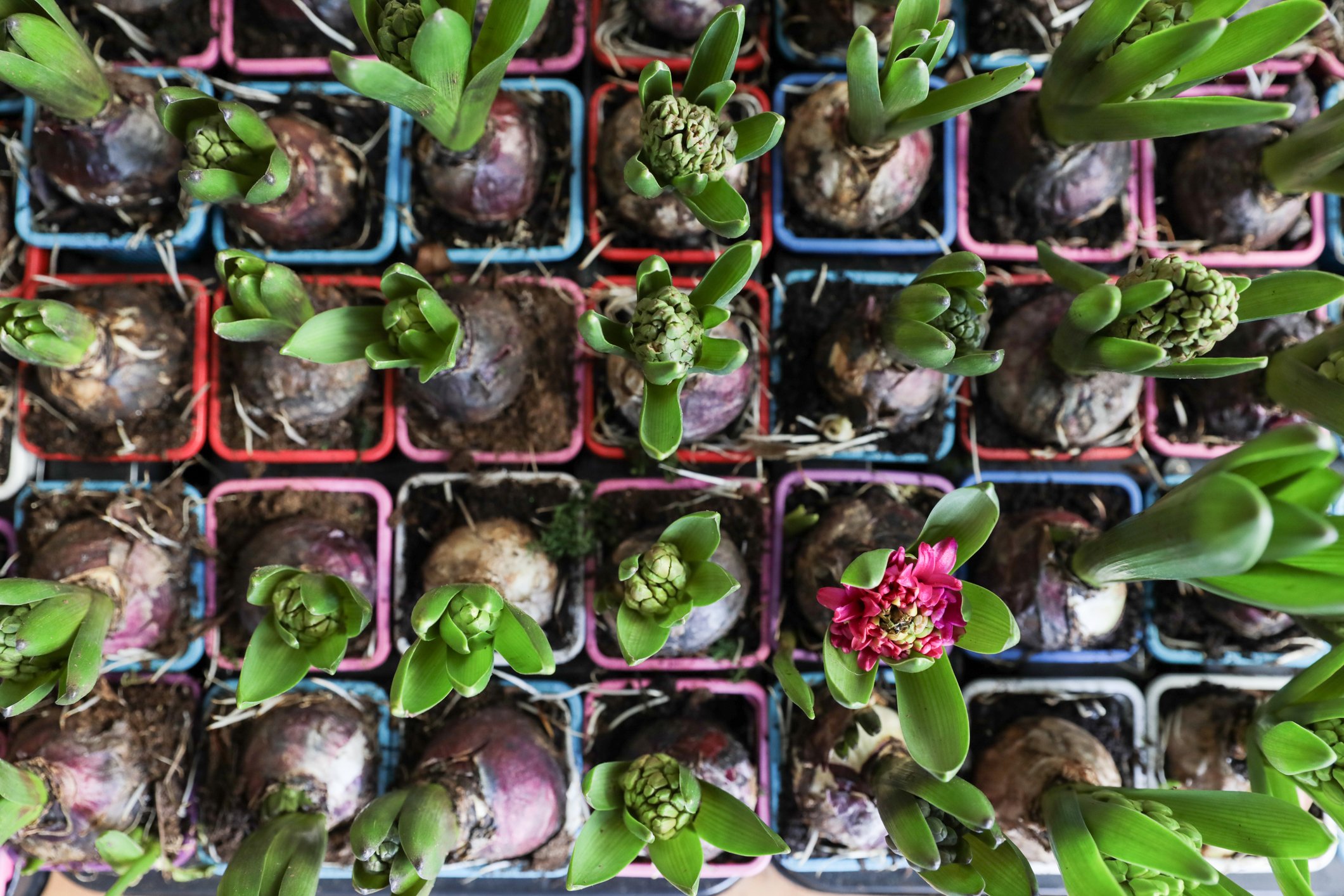 Spring is a great time to plant bulbs in your garden! Not only do they add a pop of color, but they also provide a number of benefits. In this blog post, we'll outline the benefits of planting spring planted bulbs in your garden. We'll discuss what bulbs are, what flowers come from bulbs, how to plant them, when to plant them, and how to care for them. So, go ahead and plant some spring-planted bulbs in your garden this spring!
What Are Spring Bulbs?
Do you love the beauty and colors of springtime? If so, then you should consider planting spring bulbs in your garden. Spring bulbs are a popular type of flower that is planted in the springtime. They come in many different colors and are known for their beautiful blooms. Not only do they add beauty to your garden, but they are also easy to care for.
When selecting spring bulbs for your garden, it's important to choose ones that look good together and have a variety of colors. Some of the most popular types of spring bulbs include tulips (a yellow bulb), daffodils (a blue or purple bulb), crocuses (a white or multicolored bulb), and hyacinths (an orange or yellow flower). When selecting which ones to plant, it's best to choose a mixture so that your garden looks colorful throughout the year.
What Flowers Come from Spring-Planted Bulbs?
There's no better way to add color and brightness to your garden than by planting bulbs. Not only are they easy to care for, but they also come back year after year. When choosing which bulbs to plant in your garden, it's important to consider what flowers you want them to produce. Some common bulbs you can plant include tulips, daffodils, hyacinths, and crocuses. All these bulbs will produce beautiful flowers that will add a touch of color and brightness to your garden. You can also choose to plant other types of bulbs, such as grape hyacinths or lily-of-the-valley bulbs. These plants produce smaller flowers but are very fragrant.
The Advantages of Planting Spring-Planted Bulbs
Do you love the look of brightly colored flowers in your garden, but you don't have the time or energy to tend to them? Planting spring-planted bulbs is a great way to add color and interest to your garden without any of the work. Bulbs are easy to care for and require very little maintenance—all you need is some water and sunshine. Plus, bulbs can be planted in a wide variety of locations, including in pots and containers. This makes them perfect for adding interest to any area of your garden.
Another advantage of planting bulbs is that they are relatively inexpensive. You can buy a large container of bulbs for just a few dollars, and they will last for many years with proper care. Plus, bulb plants are relatively easy to transplant if you ever want to move them somewhere else in your garden. Last but not least, planting bulbs is a great way to add color and brightness to your garden all year long!
How to Plant Spring Bulbs?
Color is one of the most important factors when it comes to garden design, and spring-planted bulbs are a great way to add some extra color to your landscape. Not only are they beautiful on their own, but they also provide a wonderful contrast against the cooler colors that will be in season during the summer. Spring-planted bulbs are easy to plant and care for, and there are a variety of different varieties available that will perfectly complement your garden.
When Should You Plant Spring Bulbs?
With the arrival of spring, it's time to start thinking about planting bulbs in your garden. There are a variety of beautiful bulbs that can be planted in the spring, and they're easy to care for, making them a great choice for someone who wants to add color and interest to their yard without much effort.
Consider the season when deciding which bulb to plant in your garden. Spring-planted bulbs will typically bloom earlier than bulbs planted in the fall, so make sure you choose the right one for your garden. There are a variety of different types of spring-planted bulbs to choose from, so find one that will fit well into your landscaping. With a little planning and effort, you can have a beautiful garden that blooms all year.
How to Care for Spring-Planted Bulbs?
Spring is a wonderful time to plant bulbs in your garden. Here are a few tips on how to get started:
First, be sure to research which types of bulbs work best for your garden and climate. Some popular choices include tulips, daffodils, hyacinths, and crocuses. Once you've selected the bulbs you want to buy, purchase them in advance so that you have plenty of time to plant them in the ground or in pots.
Once you have your bulbs home, it's time to take care of them! Make sure that their soil is moist but not soggy – this is crucial for bulb growth. Water them regularly during dry weather, and be sure not to overwater them, as this can damage their roots. When the flowers start blooming, cut the stems close to the ground so that the bulb will continue flowering indoors. After the flowers fade away (usually around mid-March), allow the foliage (orchids tend not to shed their leaves) to die back naturally. Enjoy your beautiful spring-planted bulbs!
In Short
Spring bulbs are a great way to add color and life to your garden. Planting these bulbs will provide you with beautiful flowers throughout the spring and summer. Bulbs are easy to care for and can be planted in almost any type of soil. Be sure to plant your bulbs in the fall so that they have time to establish themselves before the first frost. With a little love and care, your spring bulbs will thrive and bring you enjoyment for years to come.