What Tools Do You Need to Start a Vegetable Garden?
Any beginner gardener can get easily overwhelmed by the variety of gardening tools available. Don't let this confusion keep you from growing a thriving edible garden of your own, especially when there are a lot of references online that can help you out.
Garden Tools and Accents is always here to help you out. Today, we'll list down all the essential tools you will need to get you started.
Hand Trowel
Any gardener needs a hand trowel. It should be one of the first tools that you need to get. You'll find it especially helpful when transplanting your herbs, regardless of whether you're opting for an actual outdoor bed or a small container garden in a bright corner of your kitchen. It will also give you more control when you're pulling out weeds.
When choosing a trowel to work with, we recommended getting one with a handle that fits comfortably in your hand. If you expect to work with rocky soil, getting one with a longer, narrower blade will be ideal. Meanwhile, getting a broad blade will allow you to move more soil and work on larger areas at a time.
You also need to consider the sharpness and material of your trowel blade. Investing in a stainless steel piece is worth it as it will be more durable. The sharp blade will prove helpful if you're thinking of planting bulb vegetables such as garlic and onions.
Pruning Shears
Speaking of blades, you will also need a pair of pruning shears. Depending on your location, it is also referred to as hand pruners and secateurs.
Like getting a hand trowel, we highly advise getting one that fits the palm of your hand. Being comfortable handling your pruning shears is crucial, or else you'll risk hurting your plants by accident.
There are different types of pruning shears. We personally recommend getting bypass pruners since they can minimize the risk of bruising fresh, green stems. We're not saying that you shouldn't consider getting anvil shears, though, especially if you expect to be dealing with a lot of dead wood.
Regardless of the type you choose or whether you decide to get both, the most important thing is to keep them nice and sharp. This will give them more cutting power, minimize plant bruising, and, more importantly, prolong their life.
Gardening Gloves
Most beginner gardeners don't really prioritize getting gardening gloves, and we get it. A lot of us don't really worry about getting our hands dirty. However, you should still consider them since certain vegetables are known to be prickly.
For instance, specific varieties of turnips are known to have prickly leaves. Having gardening gloves on will protect your hands from getting scratches and blisters. It will also come in handy during pruning sessions. After all, one can never predict when accidents happen, especially if you're handling sharp tools and trying hard to be as gentle as you can.
That said, we recommend getting padded gloves for that added protection. Just make sure that it won't be too bulky to the point that it will get in the way when you're handling seeds and delicate seedlings.
Cinchable wrist straps are also a nice feature to consider. They will keep soil from getting inside your gloves.
Flat Hoe
Like other gardening tools, there are different hoes to choose from. Those who want to start a vegetable garden should consider getting a wide, flat hoe. It will make your life easier when you're removing weeds and turning the soil of your rows.
The width of the blade will get your job done faster, but don't forget to consider the space between your rows as well. Getting one with a shorter handle will give you more accuracy for smaller gardens.
As you have probably guessed already, you won't need this tool if you're only planning to start a container garden.
Watering Tool
Here's something that every garden will need: a watering tool. The ideal one for you will depend on the scale of the vegetable garden you're planning to grow. If you're planning a small container garden, a watering can suit you perfectly. On the other hand, getting a hose with an adjustable nozzle will suit larger gardens better.
The National Wildlife Federation suggests timing your watering sessions accordingly to help conserve water. You'll be pleased to learn that hose nozzles can also help reduce water consumption. It's something that we highly recommend every gardener should consider getting.
The Joys of Growing a Vegetable Garden
We cannot put into words how much joy our vegetable garden gives us. The health benefits alone make every drop of sweat we put into our garden worth it.
There is a way to reduce all that sweat, though. Getting reliable gardening tools will significantly make everything easier. We hope that our quick lineup has given you an idea of which tools to get first. After all, you can always expand your gardening tool shed in the future.
Happy gardening!

Why Should You Consider Planting Spring-Planted Bulbs in Your Garden?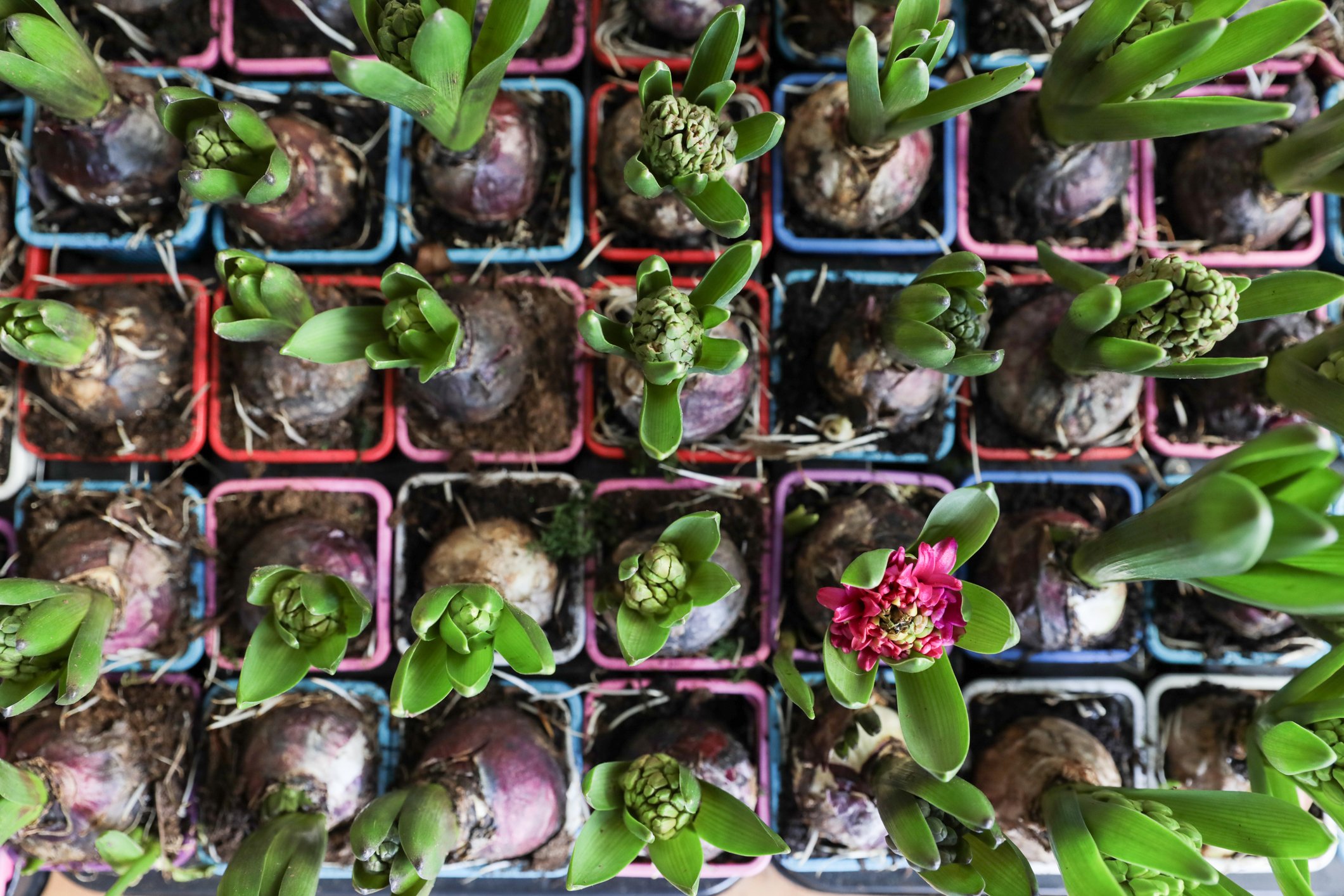 Spring is a great time to plant bulbs in your garden! Not only do they add a pop of color, but they also provide a number of benefits. In this blog post, we'll outline the benefits of planting spring planted bulbs in your garden. We'll discuss what bulbs are, what flowers come from bulbs, how to plant them, when to plant them, and how to care for them. So, go ahead and plant some spring-planted bulbs in your garden this spring!
What Are Spring Bulbs?
Do you love the beauty and colors of springtime? If so, then you should consider planting spring bulbs in your garden. Spring bulbs are a popular type of flower that is planted in the springtime. They come in many different colors and are known for their beautiful blooms. Not only do they add beauty to your garden, but they are also easy to care for.
When selecting spring bulbs for your garden, it's important to choose ones that look good together and have a variety of colors. Some of the most popular types of spring bulbs include tulips (a yellow bulb), daffodils (a blue or purple bulb), crocuses (a white or multicolored bulb), and hyacinths (an orange or yellow flower). When selecting which ones to plant, it's best to choose a mixture so that your garden looks colorful throughout the year.
What Flowers Come from Spring-Planted Bulbs?
There's no better way to add color and brightness to your garden than by planting bulbs. Not only are they easy to care for, but they also come back year after year. When choosing which bulbs to plant in your garden, it's important to consider what flowers you want them to produce. Some common bulbs you can plant include tulips, daffodils, hyacinths, and crocuses. All these bulbs will produce beautiful flowers that will add a touch of color and brightness to your garden. You can also choose to plant other types of bulbs, such as grape hyacinths or lily-of-the-valley bulbs. These plants produce smaller flowers but are very fragrant.
The Advantages of Planting Spring-Planted Bulbs
Do you love the look of brightly colored flowers in your garden, but you don't have the time or energy to tend to them? Planting spring-planted bulbs is a great way to add color and interest to your garden without any of the work. Bulbs are easy to care for and require very little maintenance—all you need is some water and sunshine. Plus, bulbs can be planted in a wide variety of locations, including in pots and containers. This makes them perfect for adding interest to any area of your garden.
Another advantage of planting bulbs is that they are relatively inexpensive. You can buy a large container of bulbs for just a few dollars, and they will last for many years with proper care. Plus, bulb plants are relatively easy to transplant if you ever want to move them somewhere else in your garden. Last but not least, planting bulbs is a great way to add color and brightness to your garden all year long!
How to Plant Spring Bulbs?
Color is one of the most important factors when it comes to garden design, and spring-planted bulbs are a great way to add some extra color to your landscape. Not only are they beautiful on their own, but they also provide a wonderful contrast against the cooler colors that will be in season during the summer. Spring-planted bulbs are easy to plant and care for, and there are a variety of different varieties available that will perfectly complement your garden.
When Should You Plant Spring Bulbs?
With the arrival of spring, it's time to start thinking about planting bulbs in your garden. There are a variety of beautiful bulbs that can be planted in the spring, and they're easy to care for, making them a great choice for someone who wants to add color and interest to their yard without much effort.
Consider the season when deciding which bulb to plant in your garden. Spring-planted bulbs will typically bloom earlier than bulbs planted in the fall, so make sure you choose the right one for your garden. There are a variety of different types of spring-planted bulbs to choose from, so find one that will fit well into your landscaping. With a little planning and effort, you can have a beautiful garden that blooms all year.
How to Care for Spring-Planted Bulbs?
Spring is a wonderful time to plant bulbs in your garden. Here are a few tips on how to get started:
First, be sure to research which types of bulbs work best for your garden and climate. Some popular choices include tulips, daffodils, hyacinths, and crocuses. Once you've selected the bulbs you want to buy, purchase them in advance so that you have plenty of time to plant them in the ground or in pots.
Once you have your bulbs home, it's time to take care of them! Make sure that their soil is moist but not soggy – this is crucial for bulb growth. Water them regularly during dry weather, and be sure not to overwater them, as this can damage their roots. When the flowers start blooming, cut the stems close to the ground so that the bulb will continue flowering indoors. After the flowers fade away (usually around mid-March), allow the foliage (orchids tend not to shed their leaves) to die back naturally. Enjoy your beautiful spring-planted bulbs!
In Short
Spring bulbs are a great way to add color and life to your garden. Planting these bulbs will provide you with beautiful flowers throughout the spring and summer. Bulbs are easy to care for and can be planted in almost any type of soil. Be sure to plant your bulbs in the fall so that they have time to establish themselves before the first frost. With a little love and care, your spring bulbs will thrive and bring you enjoyment for years to come.