What Tools Do You Need to Start a Vegetable Garden?
Any beginner gardener can get easily overwhelmed by the variety of gardening tools available. Don't let this confusion keep you from growing a thriving edible garden of your own, especially when there are a lot of references online that can help you out.
Garden Tools and Accents is always here to help you out. Today, we'll list down all the essential tools you will need to get you started.
Hand Trowel
Any gardener needs a hand trowel. It should be one of the first tools that you need to get. You'll find it especially helpful when transplanting your herbs, regardless of whether you're opting for an actual outdoor bed or a small container garden in a bright corner of your kitchen. It will also give you more control when you're pulling out weeds.
When choosing a trowel to work with, we recommended getting one with a handle that fits comfortably in your hand. If you expect to work with rocky soil, getting one with a longer, narrower blade will be ideal. Meanwhile, getting a broad blade will allow you to move more soil and work on larger areas at a time.
You also need to consider the sharpness and material of your trowel blade. Investing in a stainless steel piece is worth it as it will be more durable. The sharp blade will prove helpful if you're thinking of planting bulb vegetables such as garlic and onions.
Pruning Shears
Speaking of blades, you will also need a pair of pruning shears. Depending on your location, it is also referred to as hand pruners and secateurs.
Like getting a hand trowel, we highly advise getting one that fits the palm of your hand. Being comfortable handling your pruning shears is crucial, or else you'll risk hurting your plants by accident.
There are different types of pruning shears. We personally recommend getting bypass pruners since they can minimize the risk of bruising fresh, green stems. We're not saying that you shouldn't consider getting anvil shears, though, especially if you expect to be dealing with a lot of dead wood.
Regardless of the type you choose or whether you decide to get both, the most important thing is to keep them nice and sharp. This will give them more cutting power, minimize plant bruising, and, more importantly, prolong their life.
Gardening Gloves
Most beginner gardeners don't really prioritize getting gardening gloves, and we get it. A lot of us don't really worry about getting our hands dirty. However, you should still consider them since certain vegetables are known to be prickly.
For instance, specific varieties of turnips are known to have prickly leaves. Having gardening gloves on will protect your hands from getting scratches and blisters. It will also come in handy during pruning sessions. After all, one can never predict when accidents happen, especially if you're handling sharp tools and trying hard to be as gentle as you can.
That said, we recommend getting padded gloves for that added protection. Just make sure that it won't be too bulky to the point that it will get in the way when you're handling seeds and delicate seedlings.
Cinchable wrist straps are also a nice feature to consider. They will keep soil from getting inside your gloves.
Flat Hoe
Like other gardening tools, there are different hoes to choose from. Those who want to start a vegetable garden should consider getting a wide, flat hoe. It will make your life easier when you're removing weeds and turning the soil of your rows.
The width of the blade will get your job done faster, but don't forget to consider the space between your rows as well. Getting one with a shorter handle will give you more accuracy for smaller gardens.
As you have probably guessed already, you won't need this tool if you're only planning to start a container garden.
Watering Tool
Here's something that every garden will need: a watering tool. The ideal one for you will depend on the scale of the vegetable garden you're planning to grow. If you're planning a small container garden, a watering can suit you perfectly. On the other hand, getting a hose with an adjustable nozzle will suit larger gardens better.
The National Wildlife Federation suggests timing your watering sessions accordingly to help conserve water. You'll be pleased to learn that hose nozzles can also help reduce water consumption. It's something that we highly recommend every gardener should consider getting.
The Joys of Growing a Vegetable Garden
We cannot put into words how much joy our vegetable garden gives us. The health benefits alone make every drop of sweat we put into our garden worth it.
There is a way to reduce all that sweat, though. Getting reliable gardening tools will significantly make everything easier. We hope that our quick lineup has given you an idea of which tools to get first. After all, you can always expand your gardening tool shed in the future.
Happy gardening!

How to Make the Most of Your Small Garden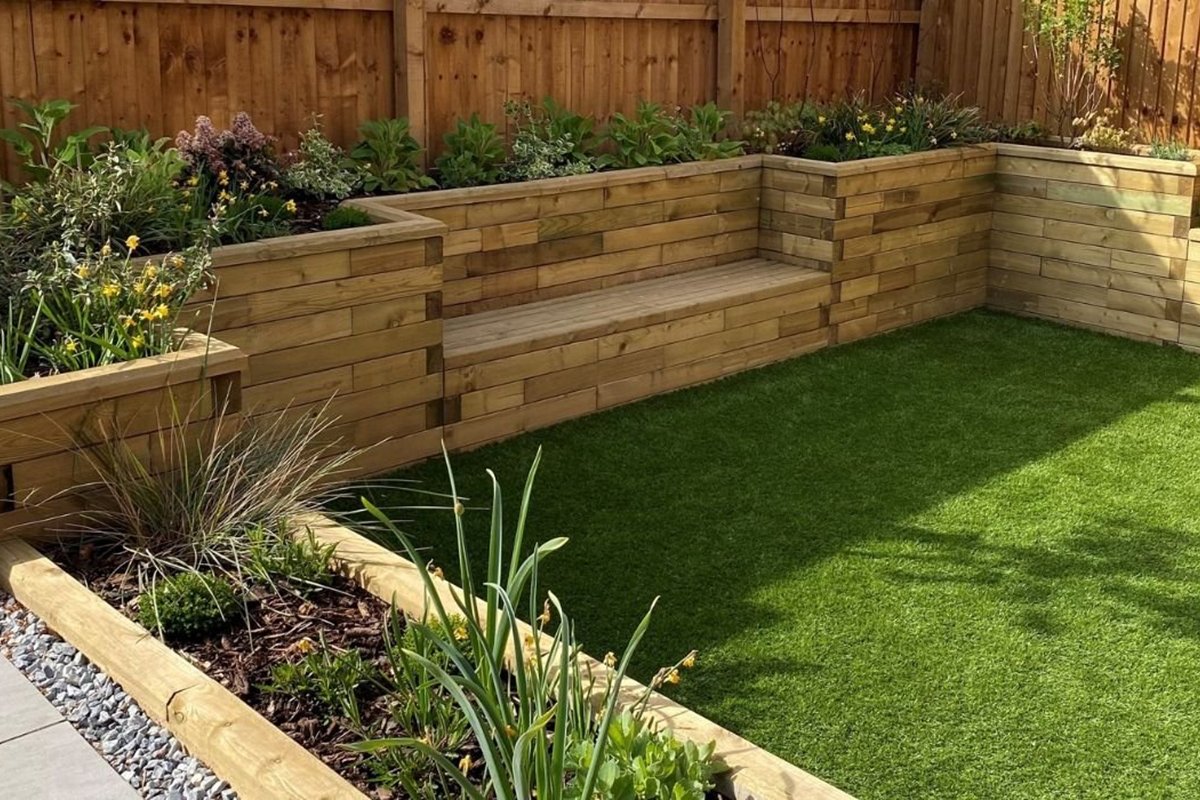 Limited outdoor space needn't limit your dreams of nurturing a flourishing garden. With some creative solutions and ingenious tricks, you can easily maximise the potential of even the tightest of spaces!
Vertical Gardening
With small gardens, it's crucial to utilise every inch of available space. Creating a vertical garden does just that. By using walls, archways, trellises, fences, and window boxes, you not only maximise your potential growing area but adding height to the garden also creates the illusion of space by drawing the eye upwards. 
Succulents can be grown in even the smallest cracks and crevices in boundary walls. Climbers like passionflower and clematis need very little square footage on the ground to produce beautiful blooms, and hanging baskets provide the perfect home for pretty flowers like trailing lobelia and verbena, without using up precious floor space.
Create Different Levels and Zones 
It may seem peculiar, but splitting up a small space can actually make it seem much larger. Concealing areas using trellises, hedges, and low walls tricks the mind into thinking there's more to discover than there really is, giving the garden an air of mystery and intrigue because not every part can be seen at once.
Raised beds can be simple to build and are a great, practical way to divide your garden. They provide plenty of growing space for plants and even double up as seating areas if the sidewalls are wide enough. They can also be constructed in just about any size and shape imaginable, perfect for utilising awkward corners! Consider staggering a few raised beds of different heights, as creating multiple levels and layers will add to the illusion of space by introducing diverse depths and perspectives.
Smart Storage
Scarce storage can be problem in small gardens. Affixing shelves, hooks, or even old boxes and crates to vertical surfaces offers nifty storage solutions for tools, plant pots, and other gardening paraphernalia. Disguise unsightly wheelie bins and maximise growing space by installing a wooden storage unit with a miniature green roof that can be used for shallow rooted plants and herbs.
Be Creative With Colour 
Colour choices are really important in small spaces. Opt for lighter colours on boundary walls and fences, as these reflect light, making the area feel more spacious. This doesn't necessarily mean white; light blue, off-white, and pale grey all bring a contemporary but airy feel to the garden. Alternatively, mimicking the colour of your foliage by using a natural green paint will give the impression of bountiful borders that extend far beyond your boundary.  
Plant Choices
Ingenious planting can bring a sense of abundance in a small space. Select plants that don't spread wildly, taking up too much space. Create the illusion of depth by choosing plants of varying heights, structures, and textures. Ornamental grasses will add fluidity and movement to a small border, whilst tall flowering plants like lupin, honeysuckle, or salvia add a hint of drama with their vivid blooms and towering height, all requiring minimal ground space.
If you want to create a vegetable garden, choose crops like tomatoes and beans which grow vertically. Strawberries are happy in hanging baskets, and chilis are perfectly content in a small pot or container.
Most importantly of all, small gardens tend to be much less labour-intensive than bigger spaces, requiring minimal maintenance and leaving you with plenty more time to relax and enjoy your petite, but perfectly formed, garden!