Super Easy Homegrown Foods You Should Plant Now
Introduction:
We are all caught eating junk and fast food almost all the time. The toll it takes on our health and bills are significant if you look at the accumulated costs at the end of the year. Going green is the best option we have these days. Given the nature of the planet's health along with our individual health, we ought to start taking better care of ourselves. The benefits and profits are far more than the effort required. Like growing your own food. Imagine saving all the costs you could on food and be sure of its quality because it literally grew on your own backyard.
Top Tips for Homegrown Food Items:
You can have a long list of items that you can grow in your own home. You just need to get a sense of what it takes to be a good gardener and you'll be eating your homegrown delicious vegetables in no time. You can also have a digital setup with smart devices that can take care of the plantation for you. For which, you can also have apps on your phones that allow you to monitor their growth and health so you can leave them without a worry.
Items to Grow:
Potatoes:
When you are planting potatoes, make sure you do so in February or March. Potatoes are healthy and they can make for a great side vegetable that can be added to any dish to make it worthwhile. Potatoes are grown in potato bags. Add compost to the bag and keep adding compost when you see buds shooting up from the ground. Patience is the key with all vegetables and after 10-20 weeks, you will start to see the foliage die back. That's the time you should dig up the soil and get your potatoes.
Peas:
If you are looking for an evergreen veggie, you should try Peas. Not only are they available all through the year, they only take 2-3 months to grow. Although some experts would advise a chicken wire or something similar to make the stem erect. Peas are nutritious, tasty and go well with other ingredients.
Spring Onions:
Spring onions are known for making any salad crunchy and enjoyable. One problem with Spring Onion plants is that they can be a target of onion fly but if you plant mint near it, that should resolve the issue. These plants can be grown in pots as well as under the ground. Try sowing them in March to provide favorable conditions. You can expect the onions to be ripe in about 8 weeks. You should let them flower before you harvest.
Conclusion:
Use enhanced tech to help you grow your own food. You can search online for smart sprinklers and monitor systems and read reviews like mobicip to get a better understanding of the kind of tech that's available these days. Let's use our tools to save ourselves rather than to amuse ourselves.

How to Make the Most of Your Small Garden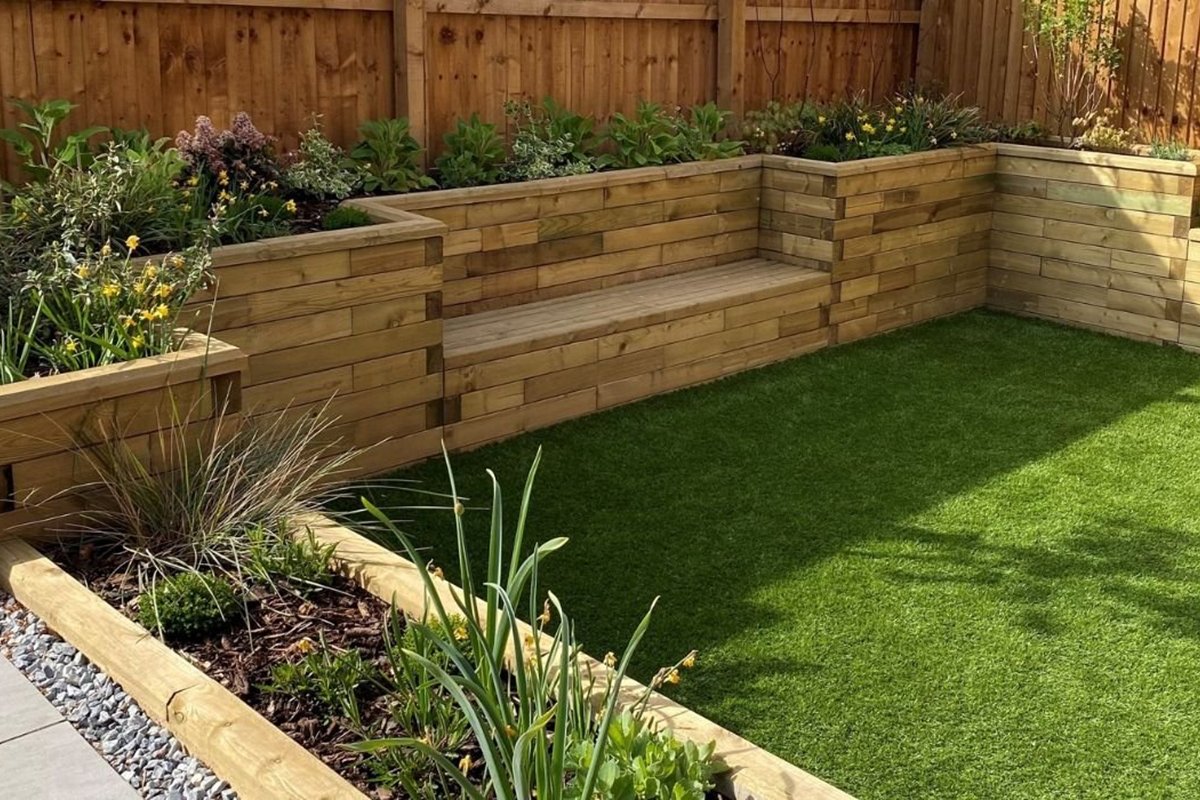 Limited outdoor space needn't limit your dreams of nurturing a flourishing garden. With some creative solutions and ingenious tricks, you can easily maximise the potential of even the tightest of spaces!
Vertical Gardening
With small gardens, it's crucial to utilise every inch of available space. Creating a vertical garden does just that. By using walls, archways, trellises, fences, and window boxes, you not only maximise your potential growing area but adding height to the garden also creates the illusion of space by drawing the eye upwards. 
Succulents can be grown in even the smallest cracks and crevices in boundary walls. Climbers like passionflower and clematis need very little square footage on the ground to produce beautiful blooms, and hanging baskets provide the perfect home for pretty flowers like trailing lobelia and verbena, without using up precious floor space.
Create Different Levels and Zones 
It may seem peculiar, but splitting up a small space can actually make it seem much larger. Concealing areas using trellises, hedges, and low walls tricks the mind into thinking there's more to discover than there really is, giving the garden an air of mystery and intrigue because not every part can be seen at once.
Raised beds can be simple to build and are a great, practical way to divide your garden. They provide plenty of growing space for plants and even double up as seating areas if the sidewalls are wide enough. They can also be constructed in just about any size and shape imaginable, perfect for utilising awkward corners! Consider staggering a few raised beds of different heights, as creating multiple levels and layers will add to the illusion of space by introducing diverse depths and perspectives.
Smart Storage
Scarce storage can be problem in small gardens. Affixing shelves, hooks, or even old boxes and crates to vertical surfaces offers nifty storage solutions for tools, plant pots, and other gardening paraphernalia. Disguise unsightly wheelie bins and maximise growing space by installing a wooden storage unit with a miniature green roof that can be used for shallow rooted plants and herbs.
Be Creative With Colour 
Colour choices are really important in small spaces. Opt for lighter colours on boundary walls and fences, as these reflect light, making the area feel more spacious. This doesn't necessarily mean white; light blue, off-white, and pale grey all bring a contemporary but airy feel to the garden. Alternatively, mimicking the colour of your foliage by using a natural green paint will give the impression of bountiful borders that extend far beyond your boundary.  
Plant Choices
Ingenious planting can bring a sense of abundance in a small space. Select plants that don't spread wildly, taking up too much space. Create the illusion of depth by choosing plants of varying heights, structures, and textures. Ornamental grasses will add fluidity and movement to a small border, whilst tall flowering plants like lupin, honeysuckle, or salvia add a hint of drama with their vivid blooms and towering height, all requiring minimal ground space.
If you want to create a vegetable garden, choose crops like tomatoes and beans which grow vertically. Strawberries are happy in hanging baskets, and chilis are perfectly content in a small pot or container.
Most importantly of all, small gardens tend to be much less labour-intensive than bigger spaces, requiring minimal maintenance and leaving you with plenty more time to relax and enjoy your petite, but perfectly formed, garden!