How to Create an Eco-Friendly Garden
One would think that conventional gardening is inherently eco-friendly, after all, it's just working with soil and plants, isn't it? What's there to improve? Should the grass be greener? Should the flowers that we tend to so carefully grow higher or attract more buzzing bees?
Well, let's just say that while certain things might seem to be already perfect, there's always something that can be improved. You've probably already heard about being more environmentally conscious, but what does it mean in practice? Here are 5 sustainable gardening ideas you can consider when trying to help the planet and make the local wildlife love you!
Learn a Safe Way of Dealing With Uninvited Visitors
Whether just a beginner or a pro, at some point, every gardener has to deal with the type of guests who don't call before paying you a visit. They just show up in your prettiest begonias, and while most of the time their presence is just slightly annoying, they can also cause some serious damage. What's a safe solution to the problem, then?
If it's a deer that's wreaking havoc in your garden, try planting plants with fuzzy and fragrant leaves like verbena or boxwood. The strong scent should keep them away. Got some rabbits? Hot peppers, spicy basil, mint, and garlic is the way to go. Protecting individual plants with physical barriers like picket fences or chicken wire should also do the trick. And, just so you know, gophers hate daffodils, while squirrels will leave you (and your plants!) alone if you provide them with some free nuts or maybe a few extra tomatoes from time to time.
If you think that all of this sounds great, but your main problem is that you have no space for a garden, you might want to check Sea Pines Real Estate website and see whether anything catches your eye.
Know Your Allies (And Your Enemies)
While it doesn't quite mean being at war with your own garden, learning which plants enjoy growing next to each other could work to your advantage. Just like people can have their likes and dislikes when it comes to who they associate with, plants also enjoy some of their neighbors' companionship more than the others. Let's see some examples:
Corn will enjoy growing next to cucumbers, squash, peas, beans, and pumpkins, but it doesn't do well next to the tomatoes.
And on a more positive note:
Tomatoes should go next to basil because it actually makes them taste better.
Bright and fragrant nasturtiums help protect the courgettes from aphid attacks.


Balance the Landscaping
While planning which materials to use while arranging the most beautiful garden, remember to be mindful. Try to resist the urge to go straight to your local home improvement and gardening retailer. Instead, use what you already have. Got some wood pieces laying around that would look great if sanded and stained a natural color? There goes your own flowerbed! Rather than replace that old garden furniture that had seen some better days, opt for a new layer of paint and maybe do some repairs. Why buy new, when you can use what you already have. And save some money on the way!
Appreciate What's Already There
Don't be shy – celebrate the native plants. Instead of going grey while trying to figure out how to grow those stubborn exotic seeds you got online, look around and let into your garden more native plants. While some of them might not look as impressive as, let's say, a sequoia tree growing in the middle of the lawn, they're much easier to sustain because they're already used to the climate, soil, and even the rainfall in your region.
If you tend to feel just a tad bit lazy from time to time, you'll be happy to hear that they also require much less effort than rare flowers or exotic plants. If you're not sure where to start, try asking your local gardening experts for some tips, or check GIY Plants to learn more about how to grow your plants the right and easy way..
Be More Efficient With Water
Now, if you really want to call yourself eco-friendly, don't you dare to waste that precious rainwater. Get yourself a nice-looking big barrel and start collecting. Do you have a tendency to over-water? There's an easy solution — remember to always turn off your sprinkler system when it rains and try to water your garden in the morning; this way, less water is going to evaporate from your precious plants.
If you have the opposite problem and live in a dry place, look up some drought-tolerant plants. And no, succulents aren't the only ones! Herbs like rosemary and lavender, shrubs like lilac and forsythia ensure beautiful colors, even better smells, and they don't require that much water!
Conclusion
Becoming more environmentally conscious doesn't have to mean a complete revolution in your garden. So don't feel pressured to flip everything upside-down in one day. Start by taking one small step after the other and improve your space in ways that feel most natural to you. Whether you introduce the changes in one month or one year, the rush is not necessary. Just like anything in life, creating an eco-friendly garden is a learning process and there are no gardening mistakes, only experiments along the way to becoming more mindful of the world around us and the ways that we can give back to it.

Why Should You Consider Planting Spring-Planted Bulbs in Your Garden?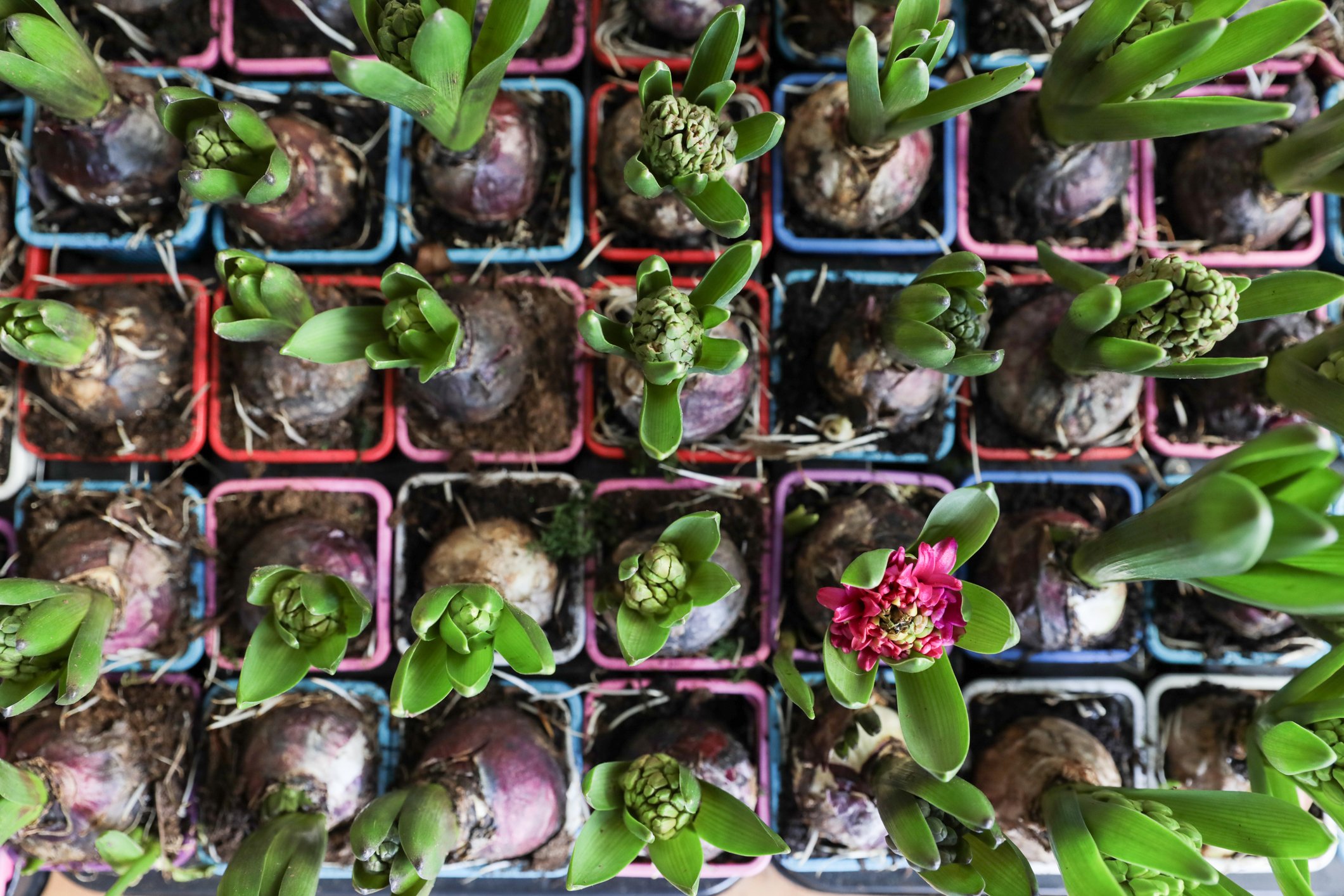 Spring is a great time to plant bulbs in your garden! Not only do they add a pop of color, but they also provide a number of benefits. In this blog post, we'll outline the benefits of planting spring planted bulbs in your garden. We'll discuss what bulbs are, what flowers come from bulbs, how to plant them, when to plant them, and how to care for them. So, go ahead and plant some spring-planted bulbs in your garden this spring!
What Are Spring Bulbs?
Do you love the beauty and colors of springtime? If so, then you should consider planting spring bulbs in your garden. Spring bulbs are a popular type of flower that is planted in the springtime. They come in many different colors and are known for their beautiful blooms. Not only do they add beauty to your garden, but they are also easy to care for.
When selecting spring bulbs for your garden, it's important to choose ones that look good together and have a variety of colors. Some of the most popular types of spring bulbs include tulips (a yellow bulb), daffodils (a blue or purple bulb), crocuses (a white or multicolored bulb), and hyacinths (an orange or yellow flower). When selecting which ones to plant, it's best to choose a mixture so that your garden looks colorful throughout the year.
What Flowers Come from Spring-Planted Bulbs?
There's no better way to add color and brightness to your garden than by planting bulbs. Not only are they easy to care for, but they also come back year after year. When choosing which bulbs to plant in your garden, it's important to consider what flowers you want them to produce. Some common bulbs you can plant include tulips, daffodils, hyacinths, and crocuses. All these bulbs will produce beautiful flowers that will add a touch of color and brightness to your garden. You can also choose to plant other types of bulbs, such as grape hyacinths or lily-of-the-valley bulbs. These plants produce smaller flowers but are very fragrant.
The Advantages of Planting Spring-Planted Bulbs
Do you love the look of brightly colored flowers in your garden, but you don't have the time or energy to tend to them? Planting spring-planted bulbs is a great way to add color and interest to your garden without any of the work. Bulbs are easy to care for and require very little maintenance—all you need is some water and sunshine. Plus, bulbs can be planted in a wide variety of locations, including in pots and containers. This makes them perfect for adding interest to any area of your garden.
Another advantage of planting bulbs is that they are relatively inexpensive. You can buy a large container of bulbs for just a few dollars, and they will last for many years with proper care. Plus, bulb plants are relatively easy to transplant if you ever want to move them somewhere else in your garden. Last but not least, planting bulbs is a great way to add color and brightness to your garden all year long!
How to Plant Spring Bulbs?
Color is one of the most important factors when it comes to garden design, and spring-planted bulbs are a great way to add some extra color to your landscape. Not only are they beautiful on their own, but they also provide a wonderful contrast against the cooler colors that will be in season during the summer. Spring-planted bulbs are easy to plant and care for, and there are a variety of different varieties available that will perfectly complement your garden.
When Should You Plant Spring Bulbs?
With the arrival of spring, it's time to start thinking about planting bulbs in your garden. There are a variety of beautiful bulbs that can be planted in the spring, and they're easy to care for, making them a great choice for someone who wants to add color and interest to their yard without much effort.
Consider the season when deciding which bulb to plant in your garden. Spring-planted bulbs will typically bloom earlier than bulbs planted in the fall, so make sure you choose the right one for your garden. There are a variety of different types of spring-planted bulbs to choose from, so find one that will fit well into your landscaping. With a little planning and effort, you can have a beautiful garden that blooms all year.
How to Care for Spring-Planted Bulbs?
Spring is a wonderful time to plant bulbs in your garden. Here are a few tips on how to get started:
First, be sure to research which types of bulbs work best for your garden and climate. Some popular choices include tulips, daffodils, hyacinths, and crocuses. Once you've selected the bulbs you want to buy, purchase them in advance so that you have plenty of time to plant them in the ground or in pots.
Once you have your bulbs home, it's time to take care of them! Make sure that their soil is moist but not soggy – this is crucial for bulb growth. Water them regularly during dry weather, and be sure not to overwater them, as this can damage their roots. When the flowers start blooming, cut the stems close to the ground so that the bulb will continue flowering indoors. After the flowers fade away (usually around mid-March), allow the foliage (orchids tend not to shed their leaves) to die back naturally. Enjoy your beautiful spring-planted bulbs!
In Short
Spring bulbs are a great way to add color and life to your garden. Planting these bulbs will provide you with beautiful flowers throughout the spring and summer. Bulbs are easy to care for and can be planted in almost any type of soil. Be sure to plant your bulbs in the fall so that they have time to establish themselves before the first frost. With a little love and care, your spring bulbs will thrive and bring you enjoyment for years to come.