Low Maintenance Ideas for Your Garden
Tackling your garden can often seem like an overwhelming task but it doesn't have to be! Here are some low-maintenance ideas for creating the garden of your dreams, so you can spend less time worrying and more time relaxing.
Start Early
The best way to create a stress-free gardening experience is to start as early as possible. Start planning for spring and summer in the winter months and get a jump on your garden preparation. The first thing to do is to brainstorm some ideas for what you would like to achieve in your garden. Once you have a plan together, it's time to start planting.
Plant spring bloomers nice and early, then when the sun starts shining, you'll have a garden full of flowers without any work on your part. The same goes for seeding your lawn – plant grass seed early on to ensure you have a lush lawn ready for the summer months.
Install Composite Decking
It's all well and good creating a beautiful garden full of shrubs and flowers but you need somewhere to sit and enjoy it. Installing some composite decking is a great way to create a low-maintenance seating area to relax on summer evenings with a glass of wine or for a barbecue.
Composite decking is a man-made material, unlike natural timber. This comes with a few unique benefits. Firstly, it is much hardier than traditional lumber, meaning it will last longer. Secondly, it is far easier to clean and keep in good condition, only requiring basic cleaning to keep it looking fresh and new. Thirdly, since it is man-made, it is often crafted from recycled materials, meaning it is much better for the environment. Finally, the nature of the material allows it to be very flexible in how it is designed, providing lots of options for the exact style you would like to fit in your garden.
The cost of composite decking tends to be slightly higher than that of traditional timber, and will of course depend on the size of the area you are hoping to have decked. However, the long-lasting nature and easy upkeep of composite decking will offset the cost significantly. Have a look at the options available and see if they would work for you!
Start a Low Maintenance Project
There are plenty of fun garden projects for the whole family that can really add something to your space, but without lots of hassle! A compost heap is a great way to recycle food waste and help the environment. Even better, it is a very easy thing to get started with, only needing a place for you to store your compost. Once you have a heap going, it will take care of itself with minimal input from you and produce fertilizer to keep the rest of your garden healthy. Win-win.
Another great, low-maintenance project is installing some insect houses in your garden. Unlike bird feeders or tables, insect houses do not need to be periodically filled with food – just hang them and leave them to attract their occupants. Different types of houses will attract different types of insects, so have a look around and decide on which critters you would like to welcome into your garden.
Plant Evergreens
There is nothing worse in the winter than watching your borders turn into a barren wasteland as all of your plants lose their leaves. A great way to combat this is to plant evergreens in the borders of your garden. These plants won't lose their leaves when the cold comes and will ensure that your garden is always surrounded by a thick layer of greenery for a luscious space every month of the year.
Reduce the Size of Your Lawn
Related to the previous idea, consider reducing the size of your lawn by expanding your borders. While it is nice to have lots of space to move about on, lawns require a lot of upkeep, water, and nutrients. Border plants and shrubs on the other hand need far less maintenance. By increasing the size of your borders, particularly with evergreens, you will have a garden that feels rustic and bountiful all year round, as well as one that requires much less water and input from you. An added bonus is that the reduced water usage will also make your garden more environmentally friendly and better for the planet.
Consider an Artificial Lawn
While reducing the size of your lawn will reduce the upkeep you have to do on it, consider going one step further and putting down an artificial lawn. There are now many options available for synthetic turf that looks and feels like real grass but does not come with any of the associated maintenance. There is of course an upfront cost to having artificial grass put in, but the money and time you will save not needing to look after your lawn will quickly add up. Plus, with artificial grass gone are the days of your lawn turning into a mud bath over the winter, ensuring you have a rich layer of turf year-round.
Hopefully, this has given you some ideas for how you can start to create a low-maintenance garden for the whole family to enjoy. There are many ways for you to reduce the hassle of your outdoor spaces, so let your creativity run wild and start crafting the perfect, low-maintenance garden now in time to enjoy it this summer.

Why Should You Consider Planting Spring-Planted Bulbs in Your Garden?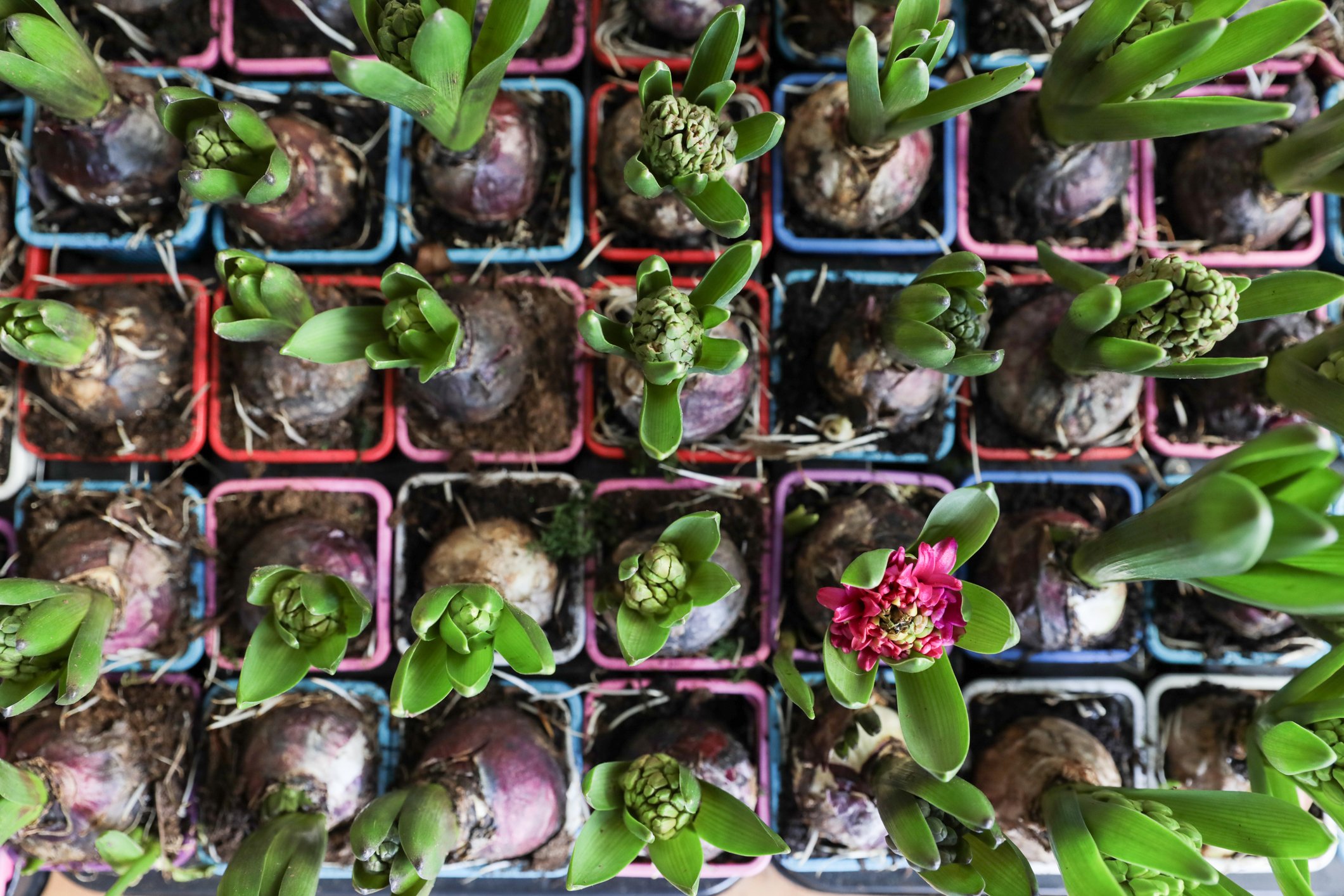 Spring is a great time to plant bulbs in your garden! Not only do they add a pop of color, but they also provide a number of benefits. In this blog post, we'll outline the benefits of planting spring planted bulbs in your garden. We'll discuss what bulbs are, what flowers come from bulbs, how to plant them, when to plant them, and how to care for them. So, go ahead and plant some spring-planted bulbs in your garden this spring!
What Are Spring Bulbs?
Do you love the beauty and colors of springtime? If so, then you should consider planting spring bulbs in your garden. Spring bulbs are a popular type of flower that is planted in the springtime. They come in many different colors and are known for their beautiful blooms. Not only do they add beauty to your garden, but they are also easy to care for.
When selecting spring bulbs for your garden, it's important to choose ones that look good together and have a variety of colors. Some of the most popular types of spring bulbs include tulips (a yellow bulb), daffodils (a blue or purple bulb), crocuses (a white or multicolored bulb), and hyacinths (an orange or yellow flower). When selecting which ones to plant, it's best to choose a mixture so that your garden looks colorful throughout the year.
What Flowers Come from Spring-Planted Bulbs?
There's no better way to add color and brightness to your garden than by planting bulbs. Not only are they easy to care for, but they also come back year after year. When choosing which bulbs to plant in your garden, it's important to consider what flowers you want them to produce. Some common bulbs you can plant include tulips, daffodils, hyacinths, and crocuses. All these bulbs will produce beautiful flowers that will add a touch of color and brightness to your garden. You can also choose to plant other types of bulbs, such as grape hyacinths or lily-of-the-valley bulbs. These plants produce smaller flowers but are very fragrant.
The Advantages of Planting Spring-Planted Bulbs
Do you love the look of brightly colored flowers in your garden, but you don't have the time or energy to tend to them? Planting spring-planted bulbs is a great way to add color and interest to your garden without any of the work. Bulbs are easy to care for and require very little maintenance—all you need is some water and sunshine. Plus, bulbs can be planted in a wide variety of locations, including in pots and containers. This makes them perfect for adding interest to any area of your garden.
Another advantage of planting bulbs is that they are relatively inexpensive. You can buy a large container of bulbs for just a few dollars, and they will last for many years with proper care. Plus, bulb plants are relatively easy to transplant if you ever want to move them somewhere else in your garden. Last but not least, planting bulbs is a great way to add color and brightness to your garden all year long!
How to Plant Spring Bulbs?
Color is one of the most important factors when it comes to garden design, and spring-planted bulbs are a great way to add some extra color to your landscape. Not only are they beautiful on their own, but they also provide a wonderful contrast against the cooler colors that will be in season during the summer. Spring-planted bulbs are easy to plant and care for, and there are a variety of different varieties available that will perfectly complement your garden.
When Should You Plant Spring Bulbs?
With the arrival of spring, it's time to start thinking about planting bulbs in your garden. There are a variety of beautiful bulbs that can be planted in the spring, and they're easy to care for, making them a great choice for someone who wants to add color and interest to their yard without much effort.
Consider the season when deciding which bulb to plant in your garden. Spring-planted bulbs will typically bloom earlier than bulbs planted in the fall, so make sure you choose the right one for your garden. There are a variety of different types of spring-planted bulbs to choose from, so find one that will fit well into your landscaping. With a little planning and effort, you can have a beautiful garden that blooms all year.
How to Care for Spring-Planted Bulbs?
Spring is a wonderful time to plant bulbs in your garden. Here are a few tips on how to get started:
First, be sure to research which types of bulbs work best for your garden and climate. Some popular choices include tulips, daffodils, hyacinths, and crocuses. Once you've selected the bulbs you want to buy, purchase them in advance so that you have plenty of time to plant them in the ground or in pots.
Once you have your bulbs home, it's time to take care of them! Make sure that their soil is moist but not soggy – this is crucial for bulb growth. Water them regularly during dry weather, and be sure not to overwater them, as this can damage their roots. When the flowers start blooming, cut the stems close to the ground so that the bulb will continue flowering indoors. After the flowers fade away (usually around mid-March), allow the foliage (orchids tend not to shed their leaves) to die back naturally. Enjoy your beautiful spring-planted bulbs!
In Short
Spring bulbs are a great way to add color and life to your garden. Planting these bulbs will provide you with beautiful flowers throughout the spring and summer. Bulbs are easy to care for and can be planted in almost any type of soil. Be sure to plant your bulbs in the fall so that they have time to establish themselves before the first frost. With a little love and care, your spring bulbs will thrive and bring you enjoyment for years to come.