Just What is An Orchid and Then Some
Orchids are the largest group of plants in the plant kingdom. Most are classified as Epiphytes, meaning they grow upon some other substrate for support; they are not, however, parasitic, as they derive no nutritional value from anything they grow upon. Others are terrestrial; they grow and live in the earth, not upon anything else. The flowers range from exotic and bizarre to plain, downright, stunningly gorgeous, to as many as hundreds of blooms on one plant to merely one. Some Orchids are the size of a pinhead and others as large as your hand. Flower color can run the gamut of the rainbow, in essentially every color except true blue and black. Orchid flowers can be incredibly fragrant, especially at night, when there fragrance lures the nighttime pollinators.
Although there are literally thousands of different genera of Orchids, the most common and most popularly grown in the home or in a greenhouse are:
Cattleya and its family
Phalaenopsis (Moth Orchid)
Cymbidium (not recommended for indoor culture)
Cypripedium & Paphiopedilum (Ladyslippers)
Dendrobium Oncidium
Vanda
A Very Simple and Basic How To for Orchid Culture
All orchids require certain things for life and growth: air, light, water and food.
Give your plant as much light as it will stand. Light into your greenhouse is measured in foot-candles. Your hand held above the leaves should create a light shadow; a light meter (even from a camera) is a very useful tool. Light is measured in footcandles and will vary from the type of plant you choose to grow. The leaves should be a pale light green color. Dark green, lush looking leaves make a nice looking plant, but it will never bloom. Based upon the type of Orchid you choose to grow, you must meet its basic cultural needs and the more you're able to mimic its natural conditions, the more success you'll have. Air movement is critical. Orchids typically grow high in the forest canopy that is subjected to constant air movement.
Temperature and Humidity
Based upon the plant you choose to grow, you'll need to adjust its growing condition accordingly. Maintain humidity to at least 50% and provide the appropriate temperature, based upon warm, intermediate or cool. Water your plant when it's dry, simple as that. If it feels light in its pot, chances are it needs some water. If you must err, err on the side of dry. Most Orchids can go quite some time without water and are adapted to dry periods in their natural environment. Watering should be done as early in the day as possible but in any case, be absolutely sure the plant (it's leaves) are dry by at least by afternoon.
Feed your plant when you water…yes… every time you water. Practice the "weakly, weekly" routine. Mix your fertilizer to one-quarter the recommended rate and water; you'll be surprised at the results. Use quality fertilizers formulated especially for Orchids, advertisers in this publication provide some excellent products. But remember, what feeds your Roses won't feed an Orchid!
Buy from an Orchid Nursery. Search the web for orchid nurseries; there are hundreds all over the nation. The plants are guaranteed healthy, disease free and bred and grown especially for the Orchid hobbyist. Sure the plants at Big Box stores look great and will probably grow and bloom, but they frequently will not have a "tag" with the Hybrids name, including its parentage, which is very important if you're a collector.
Keep your growing area clean and free from debris. Use a high quality fungicide and bactericide on a regular schedule and check for pests and insects periodically. Always, sterilize your cutting tools when working with your plants and do so between each and every cut. Once an Orchid is infected with a virus (which you'll know from its leaves and when the plant blooms) it's best to dispose of the plant right away to avoid the spread of the virus. There is no cure or solution to the Orchid virus.
Repot your plants when necessary. Assuming the plant is not in sheath, bud or bloom, it's best to repot when the plant is in active growth and the lead and roots are growing outside the pot. Choose a pot that will accommodate one years growth (avoid over-potting) then repot with clean potting mix suitable for the plant. Use a rhizome clip to secure the plant in place.
Tom Capranica has been a hobby collector and hybridizer of Orchids for nearly 20 years, and an active member of the American Orchid Society (AOS) for about the same length of time.

Why Should You Consider Planting Spring-Planted Bulbs in Your Garden?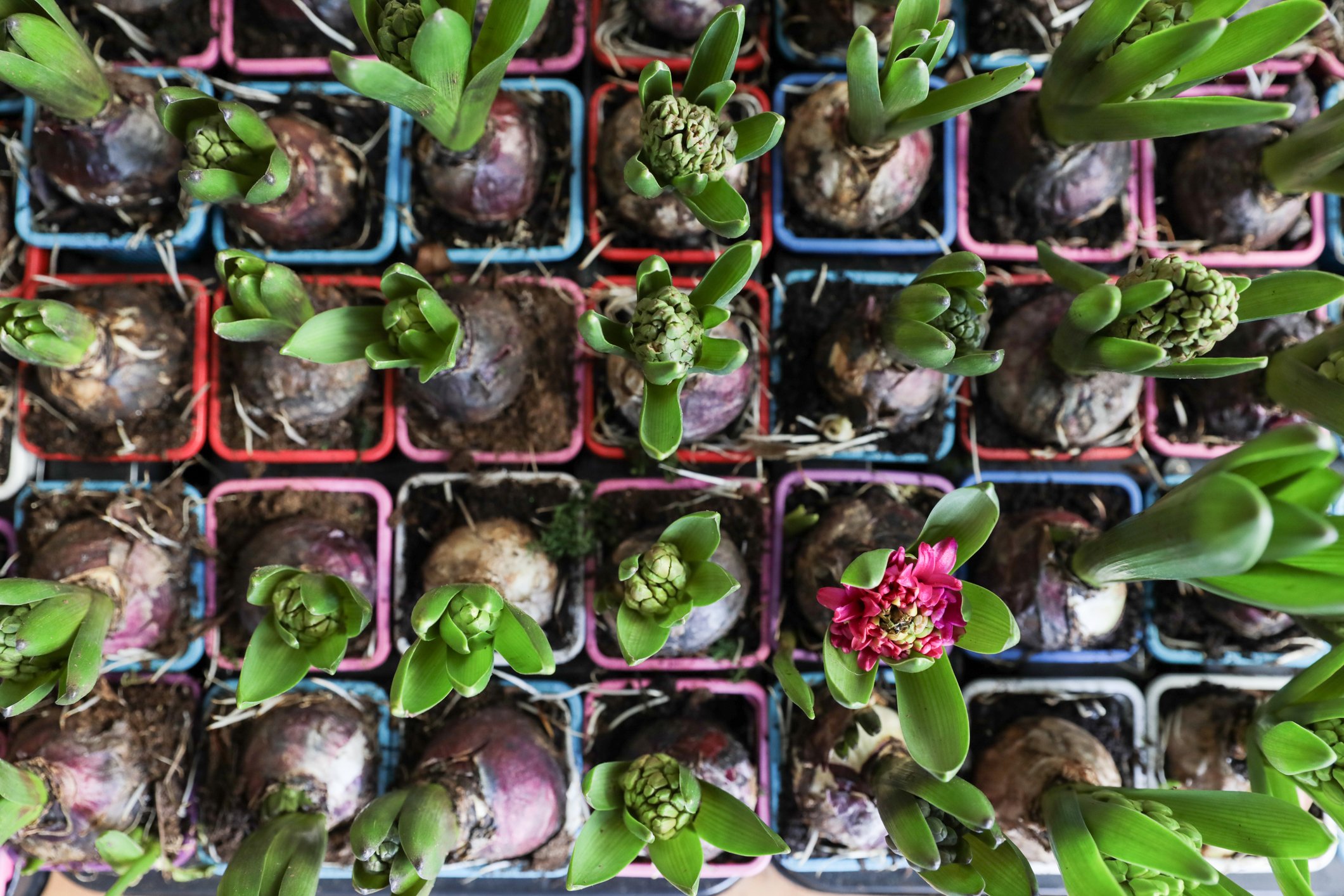 Spring is a great time to plant bulbs in your garden! Not only do they add a pop of color, but they also provide a number of benefits. In this blog post, we'll outline the benefits of planting spring planted bulbs in your garden. We'll discuss what bulbs are, what flowers come from bulbs, how to plant them, when to plant them, and how to care for them. So, go ahead and plant some spring-planted bulbs in your garden this spring!
What Are Spring Bulbs?
Do you love the beauty and colors of springtime? If so, then you should consider planting spring bulbs in your garden. Spring bulbs are a popular type of flower that is planted in the springtime. They come in many different colors and are known for their beautiful blooms. Not only do they add beauty to your garden, but they are also easy to care for.
When selecting spring bulbs for your garden, it's important to choose ones that look good together and have a variety of colors. Some of the most popular types of spring bulbs include tulips (a yellow bulb), daffodils (a blue or purple bulb), crocuses (a white or multicolored bulb), and hyacinths (an orange or yellow flower). When selecting which ones to plant, it's best to choose a mixture so that your garden looks colorful throughout the year.
What Flowers Come from Spring-Planted Bulbs?
There's no better way to add color and brightness to your garden than by planting bulbs. Not only are they easy to care for, but they also come back year after year. When choosing which bulbs to plant in your garden, it's important to consider what flowers you want them to produce. Some common bulbs you can plant include tulips, daffodils, hyacinths, and crocuses. All these bulbs will produce beautiful flowers that will add a touch of color and brightness to your garden. You can also choose to plant other types of bulbs, such as grape hyacinths or lily-of-the-valley bulbs. These plants produce smaller flowers but are very fragrant.
The Advantages of Planting Spring-Planted Bulbs
Do you love the look of brightly colored flowers in your garden, but you don't have the time or energy to tend to them? Planting spring-planted bulbs is a great way to add color and interest to your garden without any of the work. Bulbs are easy to care for and require very little maintenance—all you need is some water and sunshine. Plus, bulbs can be planted in a wide variety of locations, including in pots and containers. This makes them perfect for adding interest to any area of your garden.
Another advantage of planting bulbs is that they are relatively inexpensive. You can buy a large container of bulbs for just a few dollars, and they will last for many years with proper care. Plus, bulb plants are relatively easy to transplant if you ever want to move them somewhere else in your garden. Last but not least, planting bulbs is a great way to add color and brightness to your garden all year long!
How to Plant Spring Bulbs?
Color is one of the most important factors when it comes to garden design, and spring-planted bulbs are a great way to add some extra color to your landscape. Not only are they beautiful on their own, but they also provide a wonderful contrast against the cooler colors that will be in season during the summer. Spring-planted bulbs are easy to plant and care for, and there are a variety of different varieties available that will perfectly complement your garden.
When Should You Plant Spring Bulbs?
With the arrival of spring, it's time to start thinking about planting bulbs in your garden. There are a variety of beautiful bulbs that can be planted in the spring, and they're easy to care for, making them a great choice for someone who wants to add color and interest to their yard without much effort.
Consider the season when deciding which bulb to plant in your garden. Spring-planted bulbs will typically bloom earlier than bulbs planted in the fall, so make sure you choose the right one for your garden. There are a variety of different types of spring-planted bulbs to choose from, so find one that will fit well into your landscaping. With a little planning and effort, you can have a beautiful garden that blooms all year.
How to Care for Spring-Planted Bulbs?
Spring is a wonderful time to plant bulbs in your garden. Here are a few tips on how to get started:
First, be sure to research which types of bulbs work best for your garden and climate. Some popular choices include tulips, daffodils, hyacinths, and crocuses. Once you've selected the bulbs you want to buy, purchase them in advance so that you have plenty of time to plant them in the ground or in pots.
Once you have your bulbs home, it's time to take care of them! Make sure that their soil is moist but not soggy – this is crucial for bulb growth. Water them regularly during dry weather, and be sure not to overwater them, as this can damage their roots. When the flowers start blooming, cut the stems close to the ground so that the bulb will continue flowering indoors. After the flowers fade away (usually around mid-March), allow the foliage (orchids tend not to shed their leaves) to die back naturally. Enjoy your beautiful spring-planted bulbs!
In Short
Spring bulbs are a great way to add color and life to your garden. Planting these bulbs will provide you with beautiful flowers throughout the spring and summer. Bulbs are easy to care for and can be planted in almost any type of soil. Be sure to plant your bulbs in the fall so that they have time to establish themselves before the first frost. With a little love and care, your spring bulbs will thrive and bring you enjoyment for years to come.