Emerald Green Arborvitae – Thuga occidentalis 'Smaragd'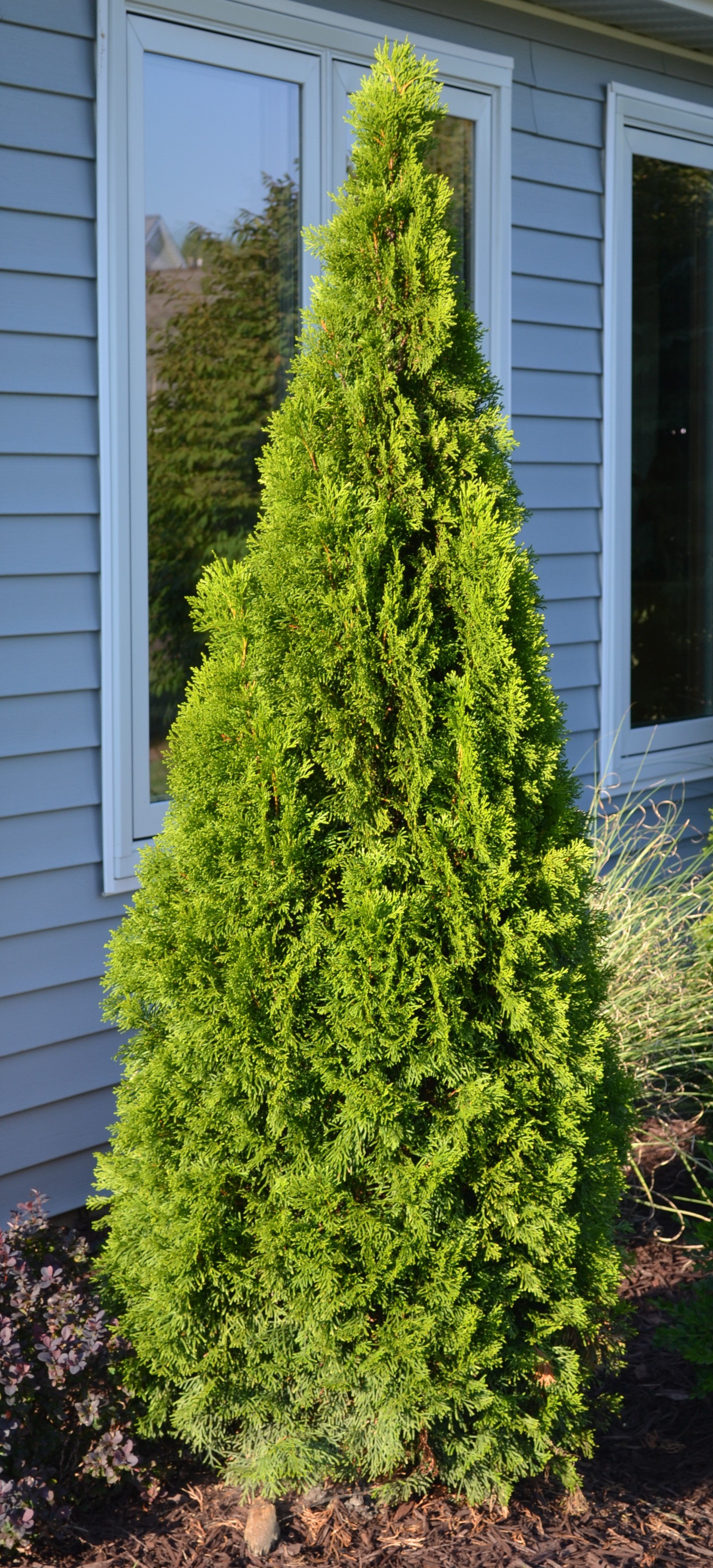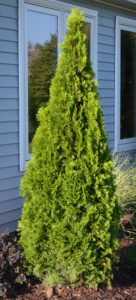 All pyramidal Arborvitae are not created equal! Some look similar but they grow and perform over time very differently. There are two upright, pyramidal Arborvitae that I really like because the look great, and over time they perform exactly as you expect them to. They are very different and should be used in different situations. One is Techney arborvitae, also known as Mission Arborvitae but I'm going to discuss Emerald Green Arborvitae, also known as 'Smaragd'
Emerald Green Arborvitae is an excellent plant and is a great choice when you are looking for a narrow, upright evergreen that doesn't get too tall. This evergreen has an interesting color. Instead of the really dark green color that many arborvitaes have, this plant is a lighter green with what appears to be a bit of a gold tinge to the foliage.
Many upright arborvitae grow so fast and so tall that before long they are hooping over and growing away from the house. During the winter months when the snow clings it will pull them almost to the ground. If they are grown with multiple leaders as many are, they open up, spread apart and look absolutely terrible.
I've never seen Emerald Green do that. It just doesn't get tall enough for that to happen. Even plants that are over 15 years old are normally only about 10′ tall. That's what makes Emerald Green unique to so many other upright arborvitaes.
Emerald Green Arborvitae are narrow and the closer to the top the narrower they get.  If they are planted in a single row you need to plant them about 24″ on center to get a nice, full hedge. Even then because they are quite narrow at the top, it still is not likely to be a complete screen that can't be seen through. For a thicker hedge you can plant them in a double row and staggered, about 30″ to 36″ apart, then plant the back row with the same spacing but is stagger it to fill in the gaps. This makes for a very tight screen that you cannot see through.
For about 20 years I spent a great deal of time re-landscaping over 500 homes. I can't even begin to tell you how many times we removed really tall arborvitae that were completely concealing the front of the house, leaning over and just plain looking bad. In almost every case inside of the plants we found fence posts and wire holding the plants together and the stakes attempting to hold the plants upright. That's why I am very picky about which arborvitae that I will use in or recommend for a landscape.
Emerald Green Arborvitae is also easy to propagate and easy to grow. You can root cuttings and sell them as soon as they are rooted. This is a great plant to grow at home and sell at a small size.
Mike McGroarty is the owner of McGroarty Enterprises and the author of several books. You can visit his website at FreePlants.com and read his blog at MikeBackYardNursery.com.
Want more information? Try these articles:
Maintaining Trees in the Landscape
Plants Do Not Grow Well in Displaced Soil
Using Caladiums in Your Landscape
5 Factors to Consider When Renting Out Your New Jersey Home
Renting out your New Jersey property is a terrific way to supplement your income. With New Jersey's higher-than-average family income of $73,702 compared to the national average of $55,322, the potential for profit in the rental business is substantial.
The apartment renting business, which includes more than 500,000 rental units in buildings of five or more units each, is a vital component of the New Jersey economy. The industry has helped produce nearly 44,000 jobs in 2010, accounting for 1.2 percent of total state employment.
Furthermore, the industry actively or passively contributed 1.2 percent of total state GDP, amounting to $5.7 billion to state GDP. The renting business also generated local tax revenues worth more than $1 billion. The rental apartment business in New Jersey has significant revenue potential for you. However, before you get started in the rental business, you should consider the following.
1. The Cleaning Upkeep
It is critical to present a clean rental property to potential tenants. However, don't expect your rental property to be impeccably clean and in good shape once the previous tenant has left.
A well-kept property reflects highly on you and your property. You're sending the message to your tenants that you care about your property and want them to keep it in good condition. However, cleaning between each guest can be quite challenging and time-consuming.
You can either get to someone to perform this or save money by doing it yourself. Remember to account for the time it will take to clean between each guest. Make sure that everything left behind by your prior tenant is removed. Double-check closets and shelves, and clean up any stains on the walls.
Some other cleaning basics include:
Empty all cabinets and refrigerators.
Vacuum the carpets, cabinets, and other areas of the house.
Make sure your property is spotless and freshly painted.
Take a video to record the property's condition for your next client.
2. The Little Details
With over 500,000 rental units available, competition can be intense. Therefore, you must ensure that your house stands out from the crowd. Adding additional decor and providing items such as shampoo and conditioner can help set your rental apart from the competition.
To finish your house makeover:
Add paintings and accessories.
Place a vase on the table or arrange various boxes, candles, and books on the shelf.
Arrive at your property at least 20 minutes early to meet with prospective tenants (unless you have a lockbox).
Clean the front porch, vacuum the carpets, set a lightly scented candle, and open the shades to allow in natural light.
3. Have Services On-Hand
Renting out your property has several responsibilities, and you should always be prepared for unexpected events. While tenants are living in the rental home, everything from bug infestations to leaks can occur. You must be prepared to deal with common household pests such as cockroaches, bugs, ants, and beetles. These pests have the potential to contaminate your tenant's food and personal items.
It is better to be prepared with service providers to remedy the problem ahead of time and have services readily on hand. Be ready to contact pest control services in NJ or a handyman that can fix a leak and do minor repairs easily.
4. Protect Yourself
You must ensure that your property is protected before renting out your home. Make sure you have a signed lease that outlines your tenant's rights and responsibilities. A decent lease contract should be following insurance laws and other housing, rental, and tenant requirements.
It is critical to protect your property with the appropriate insurance policy. You'll be required to have rental home insurance as a landlord. This covers policy that protects your home, as well as medical expenditures, legal fees, and loss of rental income.
5. Think Seasonally
Typically, visitors to New Jersey come during the early summer months. That would be from July to August when the weather is usually hot and humid. As a result, this season should see an increase in the number of prospective tenants.
Most tourists avoid winter because it is too cold, preferring the milder weather of autumn and spring. So people likely won't travel to New Jersey as much during the winter. So consider this to be your low season for rentals. Try to rent out your house during peak season if possible.
Be Ready to Deal With Tenants
Renting can generate additional revenue if the rent is greater than the mortgage payments. So, if you have a vacant property, one alternative to explore is renting it out to generate rental revenue. But, of course, you must be prepared to deal with tenants and maintenance along the way.