Underground pit greenhouses are not new. They date back to the cold climate of early New England. One of the earliest known earth sheltered greenhouses was built on the famous Lyman estate in Waltham Massachusetts in the 1798. It was expanded into the 1800's to protect rare grape and fruit tree varieties and is thought to be the oldest greenhouse complex in the United States. The Lyman greenhouses were heated with wood stoves.
Pit greenhouses are actually large cold frames that take advantage of the heating and cooling properties of the earth. Ideally built into hillsides, they can be a useful addition to a sustainable permaculture design. These types of greenhouses are not suitable everywhere, specifically in areas with high water tables.
Interest in these types of greenhouses waned with the advent of cheap coal fired, gas and electricity. Now in the 21st century and due to a renewed interest in sustainability and permaculture, people have once again become interested in available passive solar and geothermal energy use. Many people and groups are once again designing year-round growing spaces in harsh climates. The cold-sink "Walipini" according to Wikipedia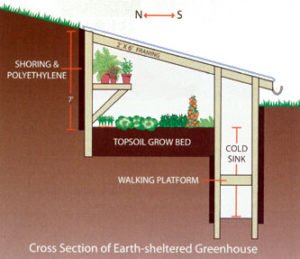 and other sources is an Aymara Indian word for a "place of warmth. This principal of the cold sink greenhouse was rediscovered by an independent inventor, Mike Oehler. In his 2007 publication The Earth-sheltered Solar Greenhouse Book: How to Build an Energy Free Year-round Greenhouse which describes how to build these structures. Mr. Oehler (who recently died this year at the age of 78) was a huge influence on the Permaculture movement as an expert in sustainable structures.
One of the key elements of the design of a Walipini greenhouse is that it needs air circulation to move cold air down and out in winter and to cool help cool the greenhouse in summer. There are many types of structures that can be fabricated from this design and they can be as inexpensive or expensive as one wants to build. A very practical aspect and where they are really useful is at high altitudes where night time temperatures drop below freezing most of the year. Fresh greens and lemon trees growing at 13,000 feet is a comforting thought.
An internet search will show construction videos and plans for these structures. World-wide the Walipini type
greenhouse is providing fresh vegetables, improving diets and contributing to local economies while providing women farmers with much needed income. They are real example of appropriate technology usage.
Caron Wenzel is an Environmental Educator, writer, and owner of Blazing Star Inc. a 26-year-old native plant seed nursery, soil amendment and environmental consulting business. Blazing-Star.com.
Want more information? Read these articles:
A Do-It-Yourself Greenhouse Built From Local Materials
Going Green with Your Greenhouse
Have a Plan Before Purchasing a Greenhouse
How to Build a Plastic Greenhouse
Organic Gardening in the Greenhouse
Use a Cold Frame Greenhouse to Maximize The Natural Warmth Of The Sun
5 Practical Box Opener Hacks
Your package arrives in the mail, and you grab the first pair of scissors or keys to pry it open. Or, maybe you have a box opener handy to see what the delivery carrier brought you. While you may have initially bought that box opener for obvious reasons, don't just think it's for opening packages. In fact, this versatile tool might just become one of your favorite "go-to" gadgets once you see the many life hacks it can be used for.
A box opener also called a box cutter or utility knife is a nifty little tool that consists of a handle and a blade. Typically, the blade is retractable and stores neatly inside the handle housing when not in use. There are many different styles, colors, and designs to choose from. Finding a box opener should be fairly easy. One should take into account the blade style and handle, as well as the material that they are made of. For instance, ceramic is a really great material, especially from a safety point of view. A practical box opener is really durable and easy to grip. So let's find out more about why you need one and how to make the most of your purchase. 
Why Do You Need a Box Opener?
As the name suggests, a box opener is great for opening and breaking down cardboard boxes. However, box openers are also handy for: 
Home Improvement Projects: Cutting drywall and insulation board; scoring vinyl tile or veneer; trimming linoleum or carpet; deburring polyvinyl chloride (PVC); removing caulk seals
Landscaping Applications: Cutting landscape fabric or sod; opening bags of mulch or granular fertilizer; pruning small unruly bush stems
In the Kitchen: Opening food packages; slicing through meats, cheeses, and small fruits and vegetables.
For Hobbies and Crafts: Scrapbooking; wood carving; bookbinding; soap and candle making; leather and fabric crafting
Outdoor Adventures: Cutting fishing lines; cleaning fish; trimming rope or twine; making emergency repairs
Do Box Openers Really Have Hacks?
While this isn't a comprehensive list, here are a few very practical hacks for box openers that you may want to try.
Hack #1 – Perfect Edge Painting
Have you ever taken the time to carefully apply painters tape to trim and other woodwork before painting your wall, only to be frustrated when the tape tears away bits of your freshly painted wall when removed? A box opener tool can be used to remedy this pesky problem.
Before pulling off your painter's tape, simply make a neat cut with your box opener tool right at the edge of the tape, where it connects with the wall paint. This small step will help your tape pull off cleanly, leaving the wall paint intact.
Hack #2 – Cardboard Template Cutting
Mounting items on the walls of your home is often necessary—but tedious. It can be difficult to know exactly where to place your nails or screws, especially when there are multiple brackets and you are working alone. The next time this problem arises, reach for your box opener tool and some basic cardboard to help.
Use a pen to trace the shape of the item onto the cardboard, and then cut it out with the box opener tool. Mark appropriate places where brackets or mounting hardware is located and then place your newly created template on the wall for reference to narrow down where you will need a drill or hammer.
Hack #3 – Softening Ice Cream
Having a good working freezer is a fabulous thing until you try to scoop hard-as-rock ice cream from a carton. The next time you want ice cream and it's frozen solid, skip the mess and try this box opener hack instead.
With your box cutter blade fully exposed, run it under hot tap water for about 30 seconds. Using the warmed blade, cut several horizontal lines straight across the surface of the ice cream. Turn your carton into a vertical position, and make similar cuts perpendicular to the first ones. This will result in a checkerboard pattern in the ice cream. Once all cuts are made, use your ice cream scooper to get your dessert.
Hack #4 – Trimming Photos
Whether you print your own images or you cut apart sheet photographs delivered from a print studio or photographer, a box opener tool and a straight-edged ruler make this task quick and easy.
Start by laying your photo on a solid-cut, proof surface. Then lay the ruler along the photograph's edge. Score carefully with the box cutter tool, and then discard any unwanted scraps. Your photos are now ready to frame!
Hack #5 – Replacing Screens
Everything from pets to the weather can wreak havoc on a home's window and door screens, and replacing the screen material seems to be on every homeowner's to-do list at some point in time or another. With the help of a box opener tool, this becomes a relatively simple DIY project to tackle.
Once you have removed the old, torn screen material, cut your new screen just a few inches larger on all sides than the screen's frame. After aligning the new screen with the frame and pressing in your rubber seal strips, use your box cutter tool to trim off the excess screen material, leaving a clean-cut finish.
Whether your project involves a sweet tooth, a do-it-yourself project, or showing off your favorite pics, here's hoping these five handy tips make your life a little easier courtesy of your box opener.